Gerotek was a hive of activity on Thursday, 30 October and Friday, 1 November as judges convened at this world-class testing facility to evaluate the finalists in the 2019/20 Cars.co.za Consumer Awards, powered by WesBank.
The judges, who included the full Cars.co.za editorial team and a host of celebrity judges, tested 39 vehicles across 13 different categories.
Their scores will now be tabulated by auditors PwC and combined in equal measure with the feedback of thousands of vehicle owners from the Cars.co.za Ownership Satisfaction Survey to decide each category winner. The customer feedback has been compiled in partnership with vehicle information specialists, Lightstone Auto.
Have your say and complete our Ownership Satisfaction Survey here
The Cars.co.za Consumer Awards, powered by WesBank, made waves five years ago when they were launched as a comprehensive and statistically significant evaluation of the thousands of models available on the South African market.
Unlike other automotive competitions, the Cars.co.za Consumer Awards, powered by WesBank, considers all vehicles that are on sale on a given date (1 September 2019, in this case). From this pool, the judges pick semi-finalists and finalists using a very rigorous set of criteria, including the feedback from owners and market insight from Cars.co.za's deep knowledge of the automotive market.

The #CarsAwards finalists undergo thorough testing at Gerotek. Judge, Ernest Page, testing practicality.
The finalists are then pitted against each other over two days at Gerotek, with specific judges assigned to each category. Their inputs are weighted, based on the category, and combined with the customer data from the Ownership Satisfaction Survey to truly find the best vehicle in each category.
This process means that poor service support or sub-par vehicle durability will show up in the Ownership Satisfaction Survey and act as a counterbalance to excellent on-track performance at Gerotek. Similarly, a vehicle may prove to offer exceptional service and durability, but not represent automotive excellence, causing it to fall short at the Gerotek testing. Both emotion and reason have to be present for a vehicle to win its category.
"In the past five years, we conducted over 1 800 test drives and considered hundreds of thousands of customer inputs. This, along with the insights from our partner, WesBank, has allowed us to perfect our judging process and build an unmatched database of vehicle data," says Hannes Oosthuizen, Cars.co.za Consumer Experience Manager.
As part of its process of refinement, Cars.co.za has introduced a new Crossover segment, removed the Executive Sedan category due to its low sales and a lack of new models and redefined the Hot Hatch category to a Fun Hatch category.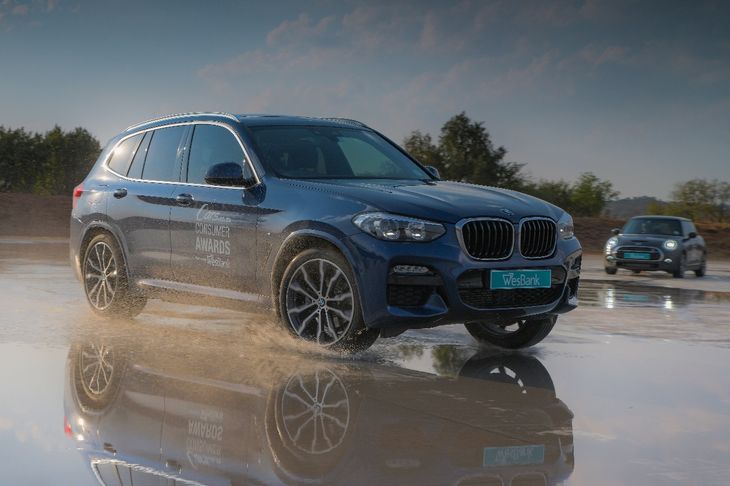 The #CarsAwards gala event will take place in February 2019, where the winners across all 13 categories will be announced.
"Through our partnership with the Cars.co.za Consumer Awards, we have further broadened our understanding of the vehicle market and made it available to customers and manufacturers alike. This helps would-be buyers take the stress out of buying a vehicle, meaning they can make an informed choice, apply with our FastFinance app and drive away in their dream car in minutes," says Lebogang Gaoaketse, Communications, Social & PR Manager at WesBank.
Aside from celebrating the fifth running of the Cars.co.za Consumer Awards – powered by WesBank, Cars.co.za also popped the champagne on its tenth anniversary and its status as South Africa's largest vehicle portal.
Cars.co.za currently has over 75 000 vehicles listed on its site and it welcomes over 5 million monthly visitors. It also hosts South Africa's top-ranked YouTube channel and, thanks to its vehicle restoration programme and editorial initiatives like SentiMETAL, has become a custodian of South Africa's automotive heritage.
The 2019/20 #CarsAwards finalists in their respective categories are:
Budget Car
Kia Picanto 1.2 Style

Suzuki Swift 1.2 GLX

Volkswagen Polo Vivo Trendline
Compact Hatch
Ford Fiesta 1.0 Trend Auto

Mazda2 1.5 Individual Auto

Volkswagen Polo 1.0 TSI Comfortline Auto
Premium Hatch
Mazda3 2.0 Astina

Mercedes-Benz A200 AMG-Line

Volkswagen Golf GTI
Executive SUV
BMW X3 xDrive20d M-Sport

Range Rover Evoque D180 R-Dynamic SE

Volvo XC60 D5 R-Design
Compact Family Car
Renault Duster 1.5 dCi Prestige

Suzuki Vitara 1.4T GLX Auto

Volkswagen T-Cross 1.0 TSI 85kW Highline R-Line
Family Car
Mazda CX-5 2.0 Dynamic Auto

Peugeot 3008 2.0 HDI Allure

Toyota RAV4 2.0 GX Auto
Adventure SUV
Ford Everest 2.0 Bi-Turbo 4WD Limited

Haval H9 Luxury

Toyota Fortuner 2.8GD-6 4x4 Auto
Premium SUV
Audi Q8 55 TFSI Quattro

BMW X5 xDrive30d M-Sport

Range Rover Velar D300 R-Dynamic HSE
Crossover
Audi Q3 35 TFSI S Line

Jaguar E-Pace D180 AWD R-Dynamic

Volvo XC40 D4 R-Design
Leisure Double Cab
Ford Ranger 2.0 BiTDi Wildtrak 4x4 Auto

Toyota Hilux 2.8 GD-6 Legend 50 4x4 Auto

Volkswagen Amarok 3.0 V6 TDI Highline 4Motion
Business Class
BMW 320d Sport Line

Mercedes-Benz C300 AMG Line

Volkswagen Arteon 2.0 TSI 4Motion R-Line
Fun Hatch
Mini Cooper S Sports-Auto

Suzuki Swift Sport 1.4T

Volkswagen Polo GTI
Performance Car
BMW M2 Competition M-DCT

Ford Mustang GT 5.0

Toyota Supra 3.0T
Also See:
Read more about the finalists in the 2019/20 Cars.co.za Consumer Awards – powered by WesBank here!