Meet the finalists in the Premium SUV category of the 2020/21 #CarsAwards powered by WesBank!
Now in its 6th year, the #CarsAwards was conceived to be South Africa's definitive automotive awards programme and is backed, for the 5th year running, by the country's leading supplier of vehicle finance, WesBank.
Read more about the 2020/21 Cars.co.za Consumer Awards powered by WesBank
Best Premium SUVs in SA
Luxurious SUVs may primarily appeal for irrational and emotional reasons such as design and status, but at their core, they are some of the most sophisticated and capable vehicles on the market. Blending station wagon spaciousness with high-tech off-road equipment and powerful engines, as well as luxuriously trimmed cabins and prestige badges was always going to be a hit with image- and practicality obsessed buyers.
This category is guided by both eligibility factors and Pillars of Success.
Eligibility factors for this category include a list price between R1 000 000 and R1 500 000 (as of October 1, 2020) to ensure a healthy measure of exclusivity and status. Eleible vehicles in this category must a large SUV of the BMW X5/Mercedes GLE category, but crossover derivatives such as the BMW X6 and Mercedes GLE Coupe are also included. All-wheel-drive must be standard.
Pillars of success for this category include powertrain technology, luxury, brand strength, design and quality appeal, driving dynamics and space and practicality.
Visit www.carsawards.co.za for more information. In no particular order, the finalists are as follows:
BMW X5 xDrive30d M-Sport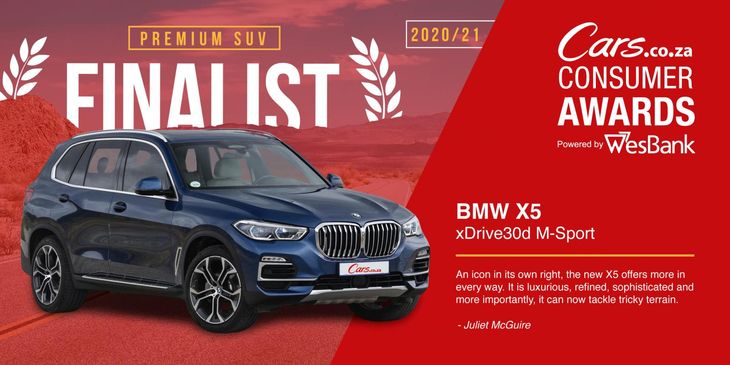 The BMW X5 is the sheer embodiment of a premium SUV. The G05-generation X5, which was introduced at the end of 2018, improved on several facets of its predecessor, plus the range includes some potent diesel engines, an all-new infotainment system and more. BMW won this hotly-contested category in the 2019/20 #CarsAwards, but will the X5 be able to defend its title?
View specification details for the BMW X5 xDrive30d M-Sport
Land Rover Defender D240 HSE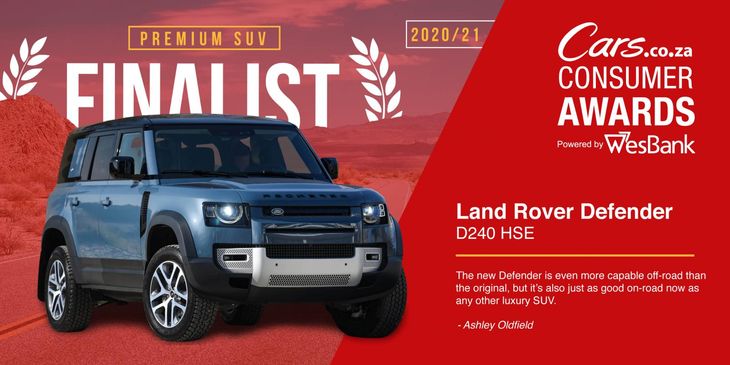 Land Rover's all-new Defender has finally arrived in South Africa. In addition to offering an impressively-equipped and technologically advanced cabin, the Defender offers formidable performance both on tar and off-road. The new Defender has all the premium appeal that this category demands, but it offers even more, making it a strong contender in this category.
View specification details for the Land Rover Defender D240 HSE
Volvo XC90 T8 Twin Engine AWD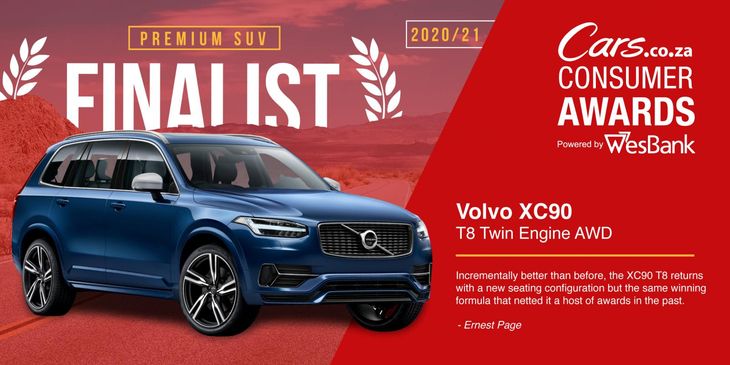 Since the inception of the #CarsAwards, the Volvo XC90 has won the Premium SUV category no fewer than three times, albeit with different derivatives. Could the facelifted model unseat the BMW X5 in the 2020/21 programme to win a fourth trophy? The T8 features Volvo's hybrid technology with a 4-cylinder turbopetrol engine paired with a battery-powered electric motor.
View specification details for the Volvo XC90 T8 Twin Engine AWD
See last year's #CarsAwards winners here!