Meet the finalists in the Hot Hatch category of the 2020/21 #CarsAwards powered by WesBank!
Now in its 6th year, the #CarsAwards was conceived to be South Africa's definitive automotive awards programme and is backed, for the 5th year running, by the country's leading supplier of vehicle finance, WesBank.
Read more about the 2020/21 Cars.co.za Consumer Awards powered by WesBank here
Best Hot Hatches in SA
With very few compact fun cars currently available in South Africa, our focus falls on the traditional hot hatch, which these days offers sportscar-humbling performance while retaining admirable practicality. In this category, we're looking for a total package that is not priced in fantasy land. This is one for the petrolheads – a car that must leave the die-hard enthusiast smiling after every drive, in the way it looks, handles, sounds and, yes, performs.
This category is guided by both eligibility factors and Pillars of Success.
Eligibility factors for this category include a list price between R650 000 and R900 000 (as of October 1, 2020) to ensure that this doesn't become a category dominated by extravagant and unattainable exotics.
Pillars of success for this category include drivetrain engagement, handling, sensory appeal and standard features.
Visit www.carsawards.co.za for more information. In no particular order, the finalists are as follows:
Honda Civic Type R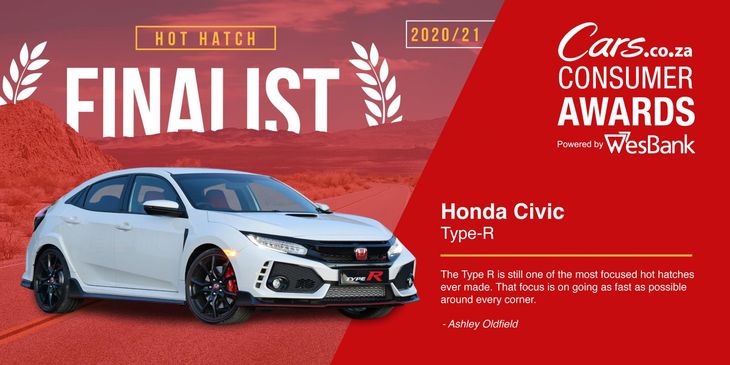 The latest Honda Civic Type R blends hot hatch and sedan looks into one. It has been refined from the previous model in ways that have vastly improved its comfort and driving dynamics. Its exterior suggests something exceptionally wild, but all of the little winglets and vents are functional in either keeping the R stuck to the ground or cooling its components. The new Civic's major drawcard is that it's somehow brilliant on the track and suitably comfortable "when the red mist isn't visible".
View specification details for the Honda Civic Type R
Hyundai i30 N
Hyundai has finally introduced the i30 N in Mzansi. It's the first N model from Hyundai, which is seeking to establish its N division in a similar way as Volkswagen has done with its R brand. The i30 N is an excellent first hot hatch that, much like the Golf GTI, blends power and poise.
View specification details for the Hyundai i30 N
Volkswagen Golf GTI TCR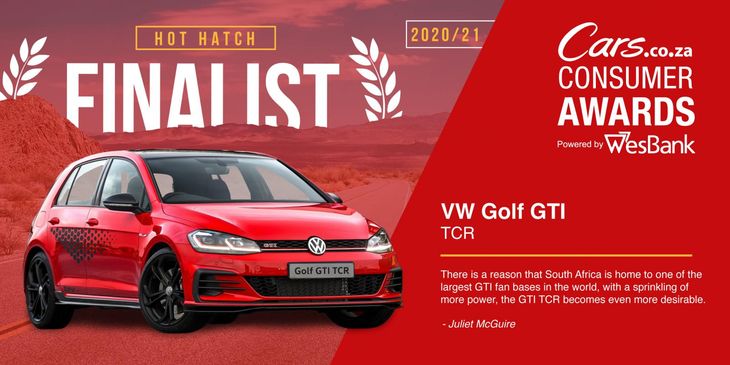 As a last hurrah to the outgoing Golf 7.5 GTI Volkswagen has seen fit to give the GTI TCR the power to compete with the hottest hot hatches of the moment. It's limited to just 300 units locally, each with their own specific number adding to its collectibility.
View specification details for the Volkswagen Golf GTI TCR
See last year's #CarsAwards winners here!