Meet the finalists in the Family Car category of the 2020/21 #CarsAwards powered by WesBank!
Now in its 6th year, the #CarsAwards was conceived to be South Africa's definitive automotive awards programme and is backed, for the 5th year running, by the country's leading supplier of vehicle finance, WesBank.
Read more about the 2020/21 Cars.co.za Consumer Awards powered by WesBank here
Best Family Cars in SA
The typical family car fulfils a wide variety of duties and needs to be a practical, safe all-rounder. The winner of this category should be ideal not only for the morning school run, but also the school holiday run to a distant location. In judging this category we've placed particular emphasis on interior flexibility, comfort and safety.
This category is guided by both eligibility factors and Pillars of Success.
Eligibility factors for this category include a list price between R450 000 and R600 000 at the time of semi-finalist voting (October 1, 2020), including the cost of all necessary optional extras to meet the eligibility criteria.
Eligible vehicles must be equipped with ABS (Anti-lock Braking System), ESP (Electronic Stability Control), a minimum of 6 airbags, split/fold rear seats, service plan, air conditioning and the vehicle must be fitted with an automatic transmission (including CVT and dual-clutch).
Pillars of Success for this category include engine flexibility, fuel economy, space and practicality, design and quality appeal, comfort, safety and In-Car Entertainment (ICE).
Visit www.carsawards.co.za for more information. In no particular order, the finalists are as follows:
Mazda CX-5 2.0 Dynamic Auto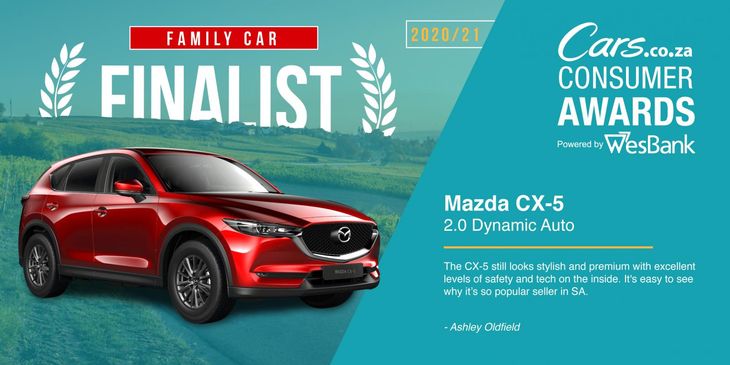 The CX-5 is a stalwart of the #CarsAwards family-car category, which it won in the 2017/18 and 2019/20 instalments of our programme. For 2020/21, the 2.0-litre Dynamic Auto derivative has again been nominated to uphold Mazda's honour. The stylish CX-5 continues to offer excellent build quality, practicality and a balance of comfort and safety features that is hard to beat at the price.
View specification details for the Mazda CX-5
Toyota RAV4 2.0 AWD GX-R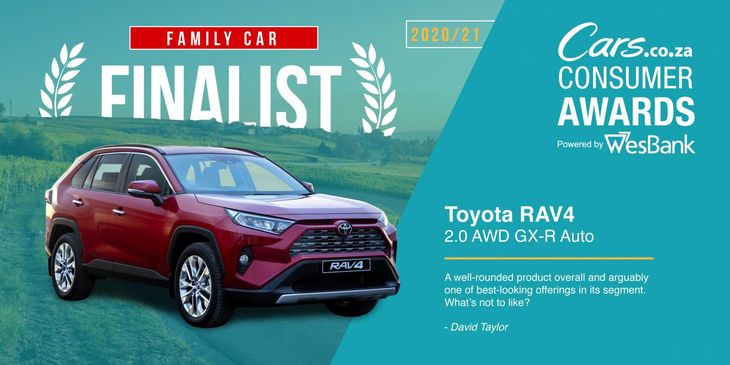 The RAV4 is distinctly different from its understated forebears and is based on the TNGA platform, which underpins a variety of Toyota models. It's been a perennial top-seller for the brand and the XA50 generation builds on that legacy, with improved practicality, driving refinement, comfort levels and interior features. In GX-R trim, you get a stylish package with the bonus of all-wheel drive.
View specification details for the Toyota RAV4
Citroen C5 Aircross 1.6T Shine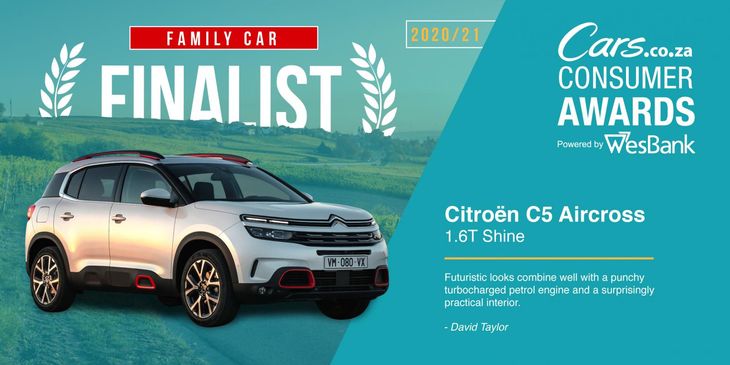 After a lengthy absence, Citroen is back in the South African new-vehicle market. The French marque offers an array of fresh, stylish and well-priced products; competing in the family-car category is the striking C5 Aircross – possibly the most impressive model in Citroen's line-up.
View specification details for the Citroen C5 Aircross