Meet the finalists in the Executive SUV category of the 2020/21 #CarsAwards powered by WesBank!
Now in its 6th year, the #CarsAwards was conceived to be South Africa's definitive automotive awards programme and is backed, for the 5th year running, by the country's leading supplier of vehicle finance, WesBank.
Read more about the 2020/21 Cars.co.za Consumer Awards powered by WesBank here
Best Executive SUVs in SA
Increasingly regarded as the status symbol to have, most premium brands now offer road-biased SUVs that combine prestige and practicality in a package that is characterised by superior refinement. Drivetrain performance and refined road manners are a priority as is a cabin that features upmarket materials and the most up-to-date technology.
This category is guided by both eligibility factors and Pillars of Success.
Eligibility factors for this category include a list price between R800 000 and R1-million (as of October 1, 2020) to ensure exclusivity and status. Eligible vehicles must be a medium-sized SUV of the Audi Q5/Merc GLC category, including their "coupe" derivatives.
Pillars of success for this category include powertrain technology, luxury, brand strength, design and quality appeal, driving dynamics and space and practicality.
Visit www.carsawards.co.za for more information. In no particular order, the finalists are as follows:
BMW X3 20d M-Sport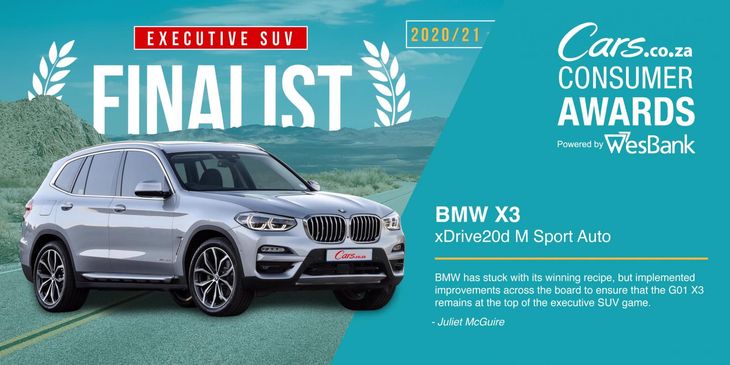 The BMW X3 has found notable favour with buyers looking for a stylish, practical and lifestyle-oriented SUV. Not only does its larger dimensions afford passengers with more space, it's a pleasingly refined and well-balanced product overall. The X3 is also the reigning #CarsAwards winner in this category and is looking to successfully defend its title in the 2020/21 programme.
View specification details for the BMW X3 20d M-Sport
Range Rover Evoque P250 R-Dynamic SE
Depending on whom you ask, the new Range Rover Evoque is arguably the most stylish offering in the Executive SUV segment and, while it's the smallest model in Land Rover's stable, it's more spacious than its predecessor and offers impressive levels of tech and refinement.
View specification details for the Range Rover Evoque P250 R-Dynamic SE
Volvo XC60 D5 R-Design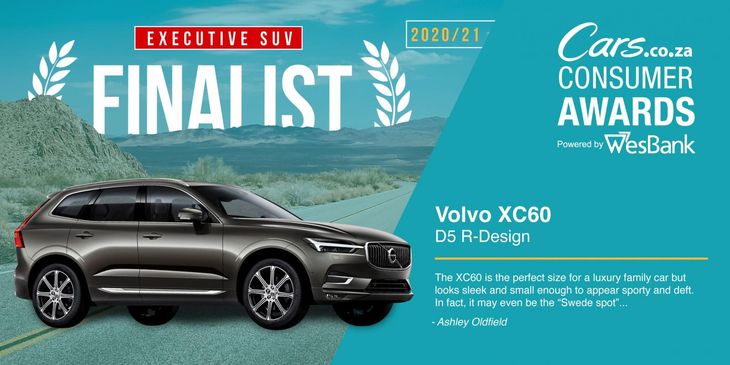 Gothenburg-based brand Volvo is on a roll and the XC60 – which won this category in the 2018/19 #CarsAwards – is one of its most popular SUV models. Built on the same platform as the XC90, it's superbly refined to drive and offers one of the most luxurious cabins in its class.
View specification details for the Volvo XC60 D5 R-Design
See last year's #CarsAwards winners here!