Meet the finalists in the Entry Level category of the 2020/21 #CarsAwards powered by WesBank!
Now in its 6th year, the #CarsAwards was conceived to be South Africa's definitive automotive awards programme and is backed, for the 5th year running, by the country's leading supplier of vehicle finance, WesBank.
Read more about the 2020/21 Cars.co.za Consumer Awards powered by WesBank here
Best Entry Level Cars in SA
Budgets are tight. Fuel costs are rising. Yet buying an affordable car doesn't mean you should compromise on safety, technology and quality. The winner of this category represents as much good car as possible for the money. Value is very important, as are running costs and all such "common sense" considerations. The price cap in this category is set at R200 000.
This category is guided by both eligibility factors and Pillars of Success.
Eligibility factors for this category include a list price that does not exceed R200 000 (as of October 1, 2020) and pricing must include the cost of all necessary optional features to meet the eligibility criteria.
Eligible vehicles must be equipped with ABS and dual front airbags.
Pillars of success for this category include fuel economy, value for money, practicality and brand strength.
Visit www.carsawards.co.za for more information. In no particular order, the finalists are as follows:
Hyundai Atos 1.1 Motion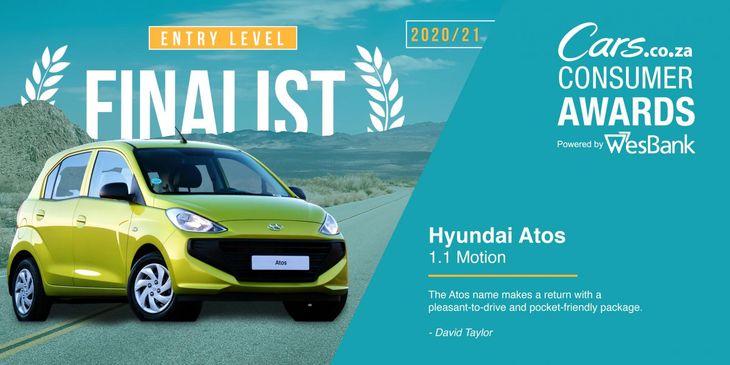 Hyundai's popular Atos nameplate returned to South Africa in 2019 and represents an attractive value offering in the entry-level car segment. The 1.1 Motion offers good build quality, generous specification, a surprisingly refined driving experience, as well as commendable fuel efficiency.
View specification details for the Hyundai Atos 1.1 Motion
Suzuki S-Spresso 1.0 S-Edition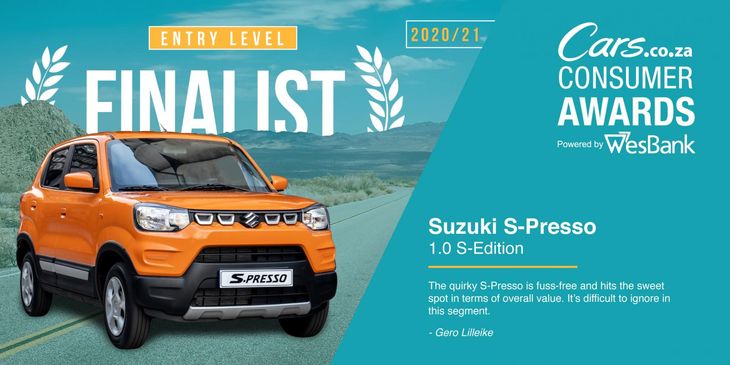 Suzuki introduced the pint-sized S-Presso, which offers quirky, youthful styling and a host of desirable features that entry-level buyers will appreciate, during 2020. It has some high-riding appeal with a ground clearance of 180 mm, but, more than that, it's interior is cheery and the newcomer is powered by a perky engine that consistently returns excellent fuel consumption.
View specification details for the Suzuki S-Presso 1.0 S-Edition
Suzuki Swift 1.2 GL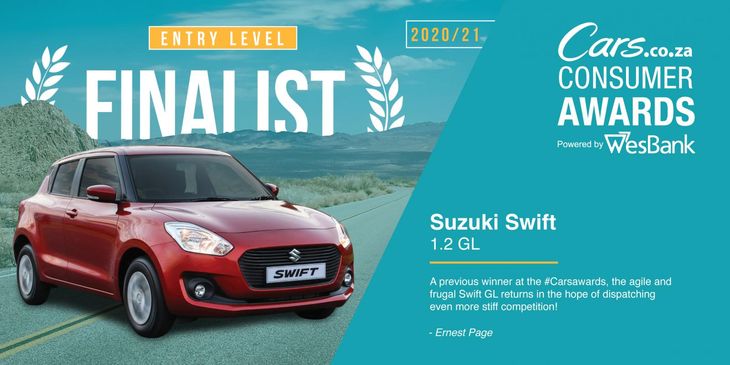 The Swift accounts for most of Suzuki South Africa's new vehicle sales and is, therefore, a very important model for the award-winning Japanese manufacturer. The Swift has won the Budget Car category for the last 2 years (2018/19 and 2019/20), but the Indian-made hatchback's value for money proposition is so competitive that the 1.2 GL derivative fits into the entry-level category.
View specification details for the Suzuki Swift 1.2 GL
See last year's #CarsAwards winners here!