Meet the finalists in the Compact Hatch category of the 2020/21 #CarsAwards powered by WesBank!
Now in its 6th year, the #CarsAwards was conceived to be South Africa's definitive automotive awards programme and is backed, for the 5th year running, by the country's leading supplier of vehicle finance, WesBank.
Read more about the 2020/21 Cars.co.za Consumer Awards powered by WesBank here
Best Compact Hatches in SA
In this extremely competitive category, we're looking for a balanced offering that is excellent across the board. Cars in this segment must appeal to a very wide audience – from the young professional or family buying up from an entry-level car, to pensioners buying down from something larger and more expensive. The winner of this award must truly reflect what is best about modern automotive design and engineering, but present it in a concentrated, reasonably affordable form.
This category is guided by both eligibility factors and Pillars of Success.
Eligibility factors for this category include a list price from R300 000 to R350 000 (as of October 1, 2020) and pricing must include the cost of all necessary optional features.
Eligible vehicles must be equipped with ABS, ESP, minimum of 4 airbags, air-conditioning, Bluetooth and service plan.
Pillars of success for this category include balance of fuel economy, power and performance, value for money, brand strength, design and quality appeal, ride & handling and safety.
Visit www.carsawards.co.za for more information. In no particular order, the finalists are as follows:
Volkswagen Polo 1.0TSI Comfortline Auto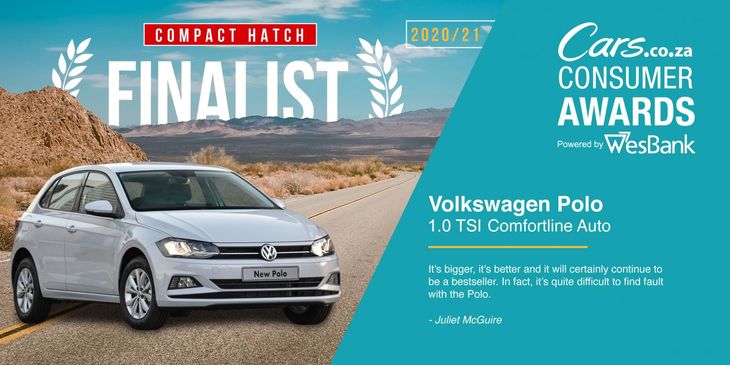 The Volkswagen Polo remains the most popular choice in the compact hatchback segment. Released in 2018, this generation Polo is built on the brand's sophisticated MQB platform and is larger (and, therefore, more spacious) than its predecessor. Apart from its perky and fuel-efficient 1.0-litre turbopetrol engine, the Polo arguably offers the best build quality in its segment.
View specification details for the Volkswagen Polo 1.0TSI Comfortline Auto
Ford Fiesta 1.0 Trend Auto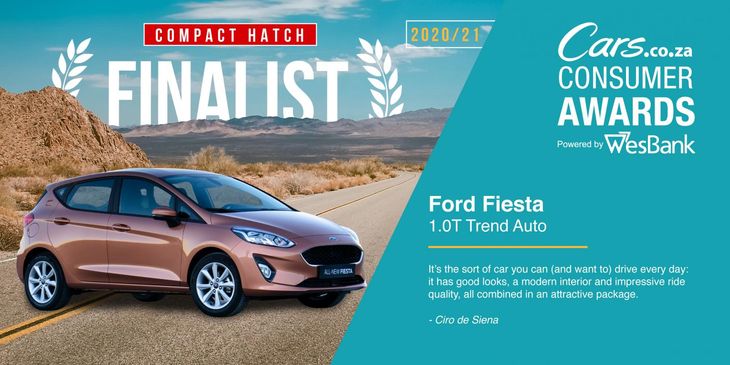 The latest-generation Fiesta is a vastly improved product, featuring refined exterior styling and a higher-quality interior. Not only is the Fiesta reasonably equipped in 1.0T Trend guise, but it's also a strong value proposition with perky performance and dynamic ability that makes it a strong contender in this category.
View specification details for the Ford Fiesta 1.0 Trend Auto
Suzuki Swift Sport 1.4T Auto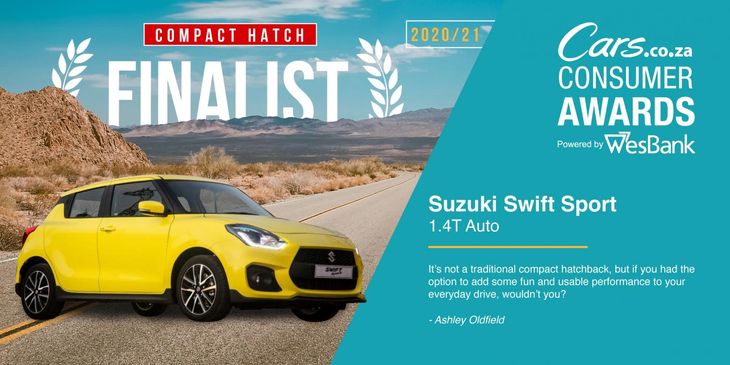 The Suzuki Swift Sport is perhaps the most feisty contender in this category, but in addition to its punchy performance, the Japanese fun hatch is also a reasonably practical – and generously equipped – compact 5-door car that represents commendable bang-for-buck in this segment.
View specification details for the Suzuki Swift Sport 1.4T Auto
See last year's #CarsAwards winners here!