Meet the finalists in the Compact Family car category of the 2020/21 #CarsAwards powered by WesBank!
Now in its 6th year, the #CarsAwards was conceived to be South Africa's definitive automotive awards programme and is backed, for the 5th year running, by the country's leading supplier of vehicle finance, WesBank.
Read more about the 2020/21 Cars.co.za Consumer Awards powered by WesBank here
Best Compact Family Cars in SA
With household budgets stretched to breaking point, the reasonably affordable modern-day family car has to wear many hats – from compact traffic dodger to spacious school-run specialist and even weekend getaway machine. Practicality and spaciousness are important considerations, but so are safety, technology, fuel efficiency and a modicum of lifestyle flexibility.
This category is guided by both eligibility factors and Pillars of Success.
Eligibility factors for this category include a list price between R350 000 and R450 000 (as of October 1, 2020) and pricing must include the cost of all necessary optional features to meet the eligibility criteria.
Eligible vehicles must be equipped with ABS, minimum of 4 airbags, electronic stability control (ESC), split-folding rear seats, service plan and air conditioning.
Pillars of success for this category include engine flexibility, fuel economy, space and practicality, design and quality appeal, comfort, and safety.
Visit www.carsawards.co.za for more information. In no particular order, the finalists are as follows:
Volkswagen T-Cross 1.5 TSI R-Line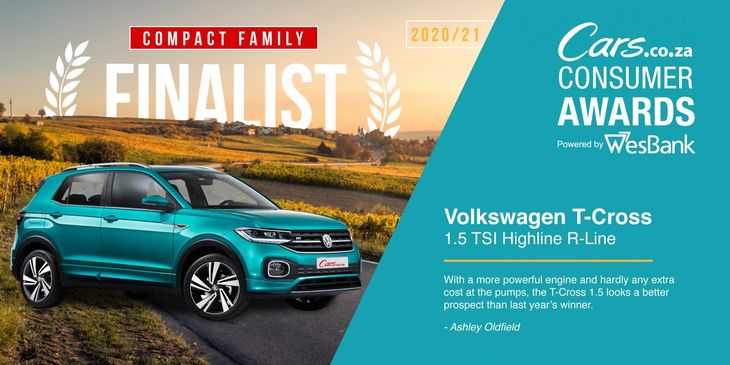 Volkswagen won the compact family category at its first attempt in the 2019/20 #CarsAwards. With funky looks, spaciousness and a solid engine line-up, the T-Cross is one of VW and the segment's top-sellers. For the 2020/21 programme, we've nominated the 110kW derivative.
View specification details for the Volkswagen T-Cross 1.5 TSI R-Line
Renault Duster 1.5 dCi Prestige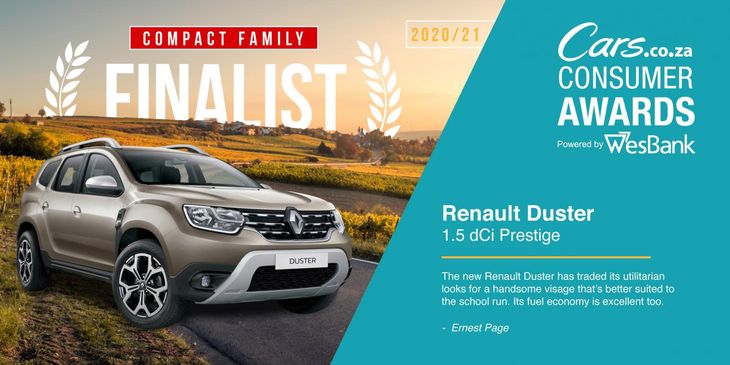 In late 2018, the plucky Renault Duster was replaced by an extensively reworked model (with a fresher face and improved levels of build quality) to continue the rich legacy of its predecessor. Powered by a potent, yet extremely frugal, turbodiesel motor, the Duster is a strong candidate.
View specification details for the Renault Duster 1.5 dCi Prestige
Kia Seltos 1.5CRDi EX+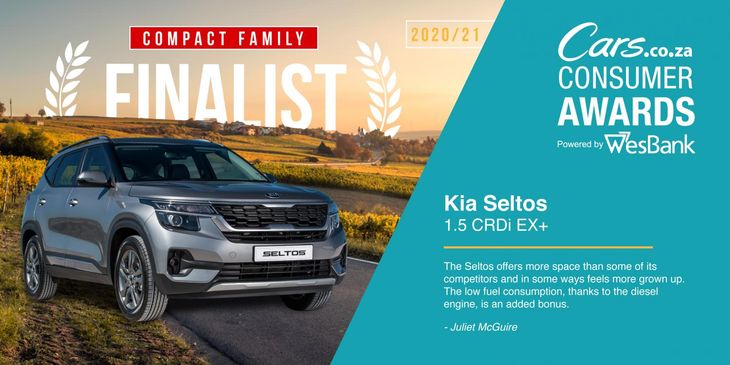 Kia has earmarked an assortment of SUVs for introduction in South Africa and the Seltos is the first of those new products. The stylish newcomer, whose line-up was recently bolstered by the addition of a turbodiesel-powered derivative, offers commendable levels of spec, plus great fit and finish. With this new punchy-yet-frugal motor, the Seltos isn't here to make up the numbers.
View specification details for the Kia Seltos 1.5CRDi EX+
See last year's #CarsAwards winners here!