Meet the finalists in the Adventure SUV category of the 2020/21 #CarsAwards powered by WesBank!
Now in its 6th year, the #CarsAwards was conceived to be South Africa's definitive automotive awards programme and is backed, for the 5th year running, by the country's leading supplier of vehicle finance, WesBank.
Read more about the 2020/21 Cars.co.za Consumer Awards powered by WesBank here
Best Adventure SUVs in SA
We're looking for the ultimate recreational vehicle to transport a family and all their holiday and lifestyle gear in comfort to almost any destination, on- or off-road. Off-road ability is emphasized, in combination with practicality, comfort, and long-distance cruising.
This category is guided by both eligibility factors and Pillars of Success.
Eligibility factors for this category include a list price between R600 000 and R800 000 (as of October 1, 2020) and pricing must include the cost of all necessary optional features to meet the eligibility criteria.
Eligible vehicles must be equipped with Electronic Stability Control (ESC), a minimum of 6 airbags, split/fold rear seats, a minimum ground clearance of 200 mm and all-wheel-drive ability.
Pillars of success for this category include performance, space and practicality, in-car entertainment, comfort and all-surface ability.
Visit www.carsawards.co.za for more information. In no particular order, the finalists are as follows:
Toyota Fortuner 2.8 GD-6 4x4 VX Auto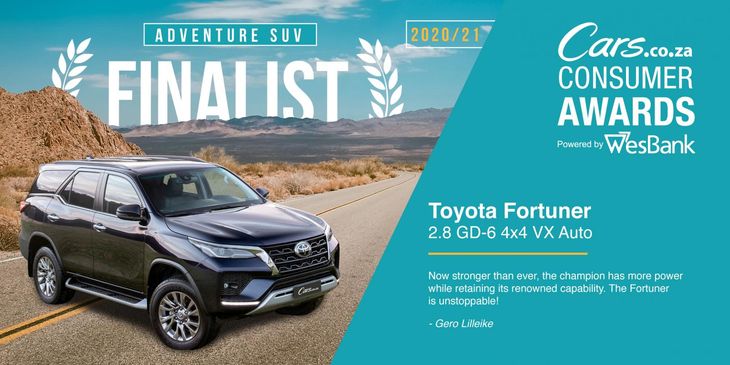 South Africa's favourite adventure SUV and current #CarsAwards category champion has received an update for 2020 and while it gains minor styling tweaks, engine outputs have increased appreciably. More so, Toyota has updated the Fortuner's spacious interior, which features enhanced connectivity features as well as offering improved safety specification.
View specification details for the Toyota Fortuner 2.8 GD-6 4x4 VX Auto
Ford Everest 2.0 Bi-Turbo 4WD XLT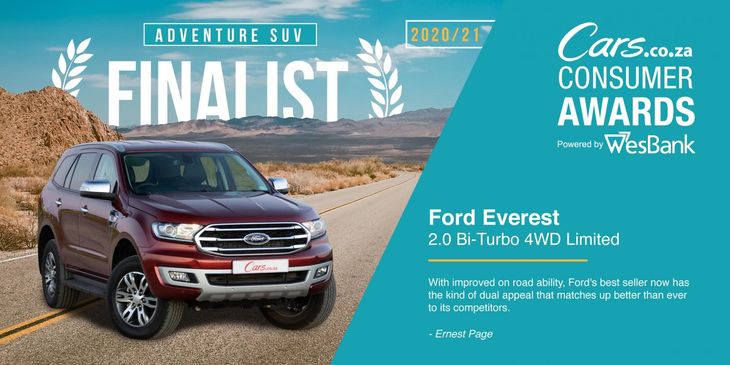 Ford's Everest is a spacious, well-specified and capable 7-seater variant of the Ranger bakkie and the range received a thorough update during 2019. South Africans have a love affair with large, rugged SUVs and Ford has served up exactly what they've been asking for… a macho, versatile machine that can tackle the rough stuff and transport a large family in comfort.
View specification details for the Ford Everest 2.0 Bi-Turbo 4WD XLT
Isuzu MU-X 3.0 4WD
The MU-X is based on the underpinnings of the soon-to-be-replaced Isuzu D-Max and is, of course, powered by the Japanese bakkie's bulletproof turbodiesel motor. The MU-X was updated during 2020 with most of the updates focused on improving interior feel and luxury. Renowned for excellent after-sales service and reliability, Isuzu is also one of the most respected brands in South Africa.
View specification details for the Isuzu MU-X 3.0 4WD
See last year's #CarsAwards winners here!