Land Rover – the world's most iconic adventure vehicle brand – is in trouble. Could the relaunch of the model that started it all for the Solihull-based manufacturer make a difference?
"When the going gets tough, the tough get going", a popular proverb suggests. And, right now, for Land Rover, things are tough.
The British off-road vehicle brand is facing an unprecedented crisis as customer markets resist its mostly diesel engine line-up and Brexit politics threaten to cripple its production supply chain.
New Land Rover Defender Revealed - SA Pricing
Land Rover knows crisis. Born from the ashes of post-war Europe, its vehicles were always tools, rather than trends. The successful adaption of Land Rover's go-anywhere ability to its luxury SUVs gave the company an impressive customer profile – which nearly evaporated as German rivals started building luxury gravel travellers of their own, during the mid- to late 1990s.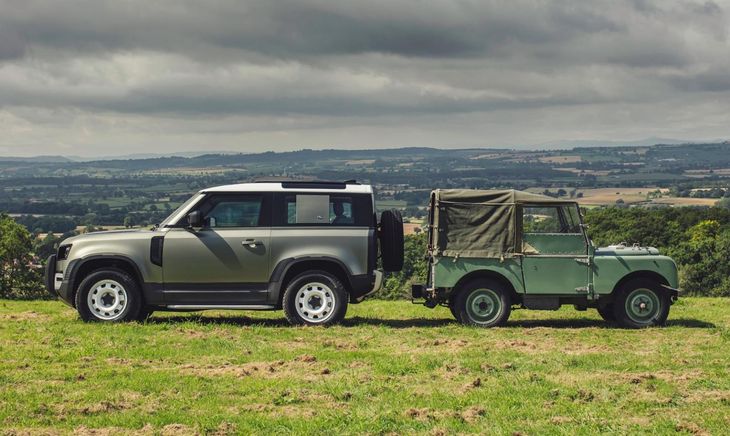 Respecting the heritage and recognizing the changing customers and lifestyles, in two different centuries.
Land Rover was under the custodianship of BMW from 1994 to 2000, after which it was passed into the hands of the Blue Oval. Land Rover kept struggling under the ownership of Ford, who did not quite know what to do with the brand. Indian recapitalisation happened in 2008, courtesy of Tata, which resurrected Land Rover. Its success in product design and customer satisfaction spurred an inspirational growth story from 2009-2018.
Along the way, the original Land Rover, then rebranded as the Defender, was discontinued. The vehicle more recognisably Land Rover than any other of its models went out of production in 2016. There was no replacement. Land Rover had other priorities. The Defender disappeared from the United States market in 1997 and had no heritage in China (the biggest markets for sales growth). There seemed no urgency to replace it...
JLR teams up with BMW for electrification - read why here
The wait for a new Defender has been a long one. And compounding expectations have been tremendous. Land Rover traditionalists wanted a new Defender that was exactly like the old one, only with better engines and ergonomics. Management and shareholders wanted a vehicle that would conform with stringent emissions and crash safety regulations so that it could be sold in more lucrative markets, such as the US and China.
New Defender could never please everyone. The burden of expectation for such a legendary vehicle nameplate is simply too heavy. But is the new one a true Defender for the 21st century or simply a restyled Discovery?
Round lights and steel wheels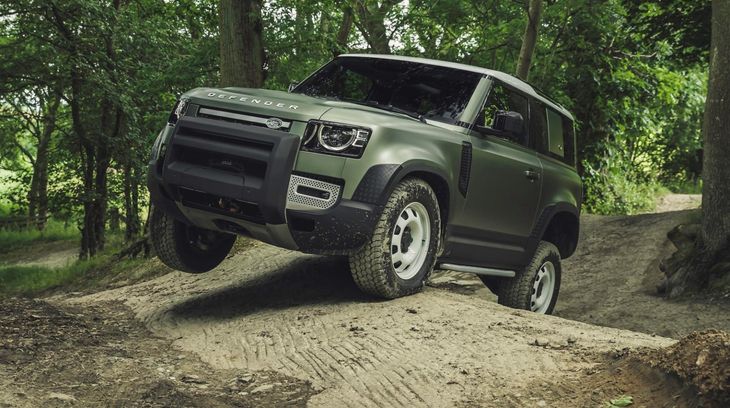 Think of another brand which offers steel wheels on a modern SUV? Exactly. A very simple Defender USP. ​
Land Rover's designers have delivered an enviable run of vehicles, many of which enjoy massive market acceptance. In the last decade, Range Rover has captured an entirely new audience with the Evoque; the latest Discovery is arguably the only LR design that has missed the mark.
New Defender posed a substantial risk for Land Rover. Customers wanted the new iteration to retain its predecessor's 2-box proportions. When Mercedes-Benz managed to deliver a 2nd-generation G-Class that looked virtually indistinguishable from the original, that pressure doubled.
What defines a Defender's silhouette and design details? Angular lines, a high-volume roof section and round headlights. The new Defender has spherical LED pattern headlights – which is a feature of distinction among truly capable off-road vehicles, a trait it shares with the Jeep Wrangler and Geländenwagen (G-Class), which also feature round headlights.
Watch as we put a heritage edition Defender through its paces
A squared-off roof section is present too and the tailgate features that sheer angular drop from roofline to bumper. There is a spare wheel mounted on the tailgate and you can even have steel wheels and, to aficionados, they are a rather big deal.
If you hit a pothole at speed, a "steely" would absorb that impact better than any magnesium alloy wheel. You can also attempt to fix a bent steel wheel with some rudimentary tools. By contrast, alloy wheels require a specialist to repair them if they sustain damage on an off-road excursion.
It is better inside
Any vehicle that remains on sale for no less than half a dozen decades without a significant platform update will suffer numerous ergonomic compromises. And nowhere was this better illustrated than the erstwhile Defender.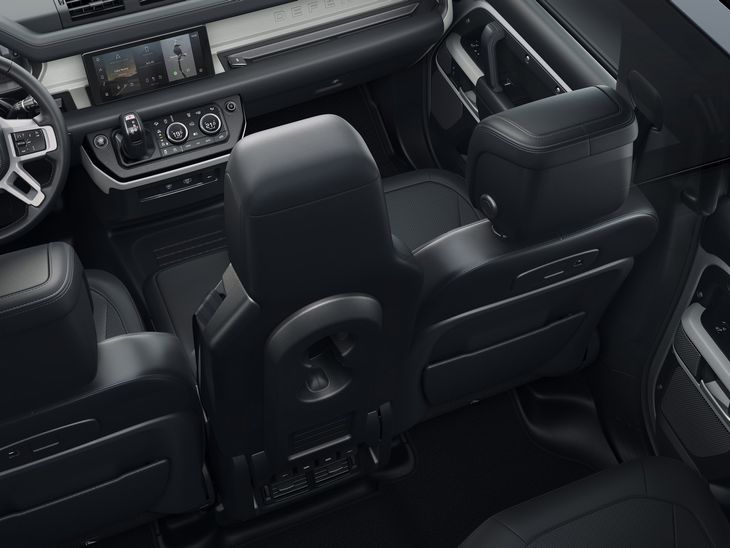 The 3-seat front bench option. The middle seat can still be folded flat when not in use.
Its driving position was awful. For such a large vehicle, it had remarkably poor cabin space. The packaging was atrocious. New Defender changes all of that and gives a unique utility appeal.
There are various seating configurations, including a 3-seater front row, which was proven as a great concept by MPVs such as Fiat's Multipla and Honda's FR-V. It was also used on some of the very first Land Rover Defenders.
Superior on and off-road
The Defender built its off-roading reputation on suspension travel instead of drivetrain-assisted traction. With the benefit of Range Rover coil-springs being added in 1983, it gained enormous individual wheel stroke. A Defender could slowly crawl up tricky off-road terrain without lifting a wheel.
But there were always weaknesses, like if it was particularly slippery along the entire wheelbase, within either the left or right wheel channel. Without a lockable rear-differential, Defenders could be disabled by terrain that even the simplest 4x4 bakkie with a lockable rear differential could conquer.
The Journey: Search for the sunken Land Rovers in Mozambique
Towards the end of its lifecycle, the classic Defender did gain a traction control system, which made it vastly more capable, without bloating the venerable vehicle's turning circle. The 2.0 version promises to deliver tremendous off-road ability too...
New Defender has more ground clearance than its predecessor (291 mm versus 250 mm) and although the front axle is now independently sprung, its chassis is stiffer and, an electronically lockable rear differential has been fitted, at long last.
Some of the most iconic Land Rover images ever photographed feature Defenders attempting to submarine through rivers. The new version is graded at 900 mm of wading depth, which means it is 80% more capable of crossing water than the old one.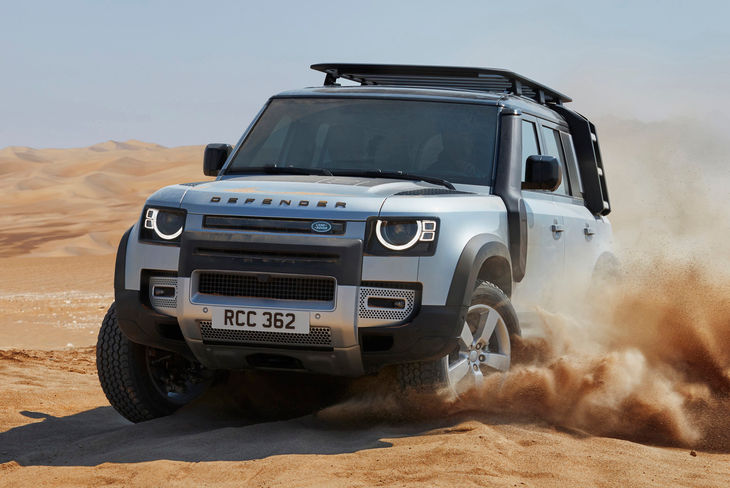 Engine outputs have surged, which should finally make the Defender a capable gradient terrain dune vehicle.
The most significant advancement for New Defender relates to its driveability. Even the most ardent Defender owners spend most of their time toiling along on tar and there are few vehicles worse at cruising on the N1, than a previous-generation 90, 110 or 130.
Land Rover's array of contemporary turbocharged petrol and -diesel engines will make the new Defender a vastly better cruising vehicle, capable of confidently overtaking slower long-haul trucking traffic.
The improved power-to-weight ratios will also address another off-roading issue of the classic Defender: sand driving ability. Although part of the Defender legend was established by its service in desert warfare, the combination of heavy mass and small-capacity diesel engines rendered Defenders incapable of scaling enormous sand dunes.
With an abundance of power from the 294 kW/550 Nm turbopetrol engine option, New Defender promises to be an effortless dune raider.
The double-cab issue?
In New Defender, we have a vehicle that is hugely off-road capable and available in the calibre of specification that adventurers prefer, with steel wheels and simpler cabin materials.
The presence of automatic transmissions will make it more capable with a novice off-road driver at the helm and as for the daily commute, well, those snatch-shifting Defender manual gearboxes certainly won't be missed.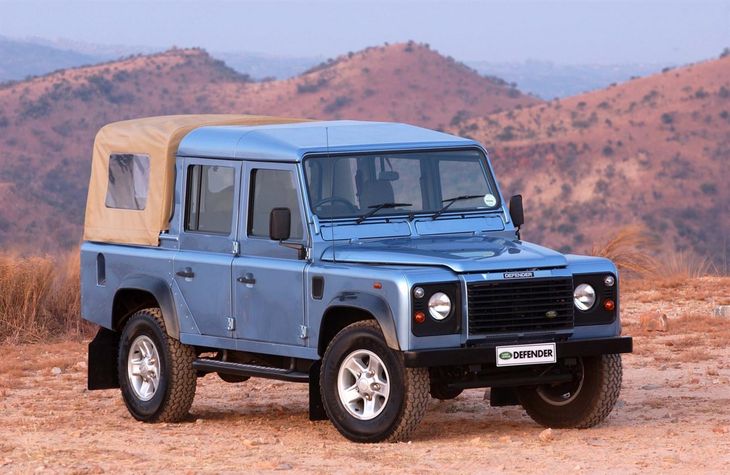 Few people remember Land Rover as a bakkie brand.
It has all the best modern power- and drivetrain features, without needlessly overcomplicated controls or vulnerable luxury cabin trim.
Land Rover's Defender bakkie business was always underrated, but in a world where double-cabs are burgeoning, Land Rover could do what Mercedes-Benz failed with X-Class: a true European premium double-cab.
Imagine a 130 bakkie powered by New Defender's 294 kW in-line 6-cylinder engine, with all 170 of those Land Rover factory accessories to choose from... It would be a South African product planner and marketing manager's dream. Just the same as it would be in America or Australia.
Tragically, Land Rover will apparently not be following Jeep's example with the Wrangler Gladiator and offer a double-cab version of the new Defender.
Land Rover needs saving. And it might just be poetic justice that its saviour is the better-late-than-never New Defender.