Mercedes-AMG has revealed another amazing turbocharged engine. Will BMW's M Division ever be able to produce a 4-cylinder motor that could rival Mercedes-AMG's 310-kW M139, which will debut in the upcoming A45 superhatch?
The rivalry between Mercedes-AMG and BMW sets the agenda for South African performance enthusiasts. Demand for cars from either brand are terrifically strong within the local market and whereas all AMG- and M-badged models were once sedans, the last few years have seen engineers from both brands experimenting with SUVs and... hot hatches.
We say experiment, but we actually mean: dominate. In a world where all-wheel-drive hot hatchbacks can now run turn-of-the-century supercars close in the 0-100 kph stakes, it has been Mercedes-AMG and BMW that have shattered expectations, time and again.
Of late there has been a divergence in approach between the German premium marques, however. BMW entered the hot hatch fray late and was unique for offering a 3.0-litre 6-cylinder engine and rear-wheel drive in the M135i and, more recently, M140i derivatives of the outgoing 1 Series hatchback. However, in 2013 AMG altered the entire hot hatch realm with its A45, offering previously unimaginable power and all-wheel drive.
In the competition between Mercedes-AMG and BMW's hot hatches, the Affalterbach cars have surged in popularity due to their class-leading power claims. Can BMW counter, and does the Bavarian brand even want to be drawn into a horsepower race?
Double or nothing in a decade
To contextualise the absence of diminishing returns within the engineering capability of AMG's hot hatches, just consider the progress of 2.0-litre turbocharged engines in the last decade.
Volkswagen's Golf GTi was generally considered the class standard for 2-litre hot hatches. In 2009, the Golf 6-generation of the GTi was launched in South Africa and, at the time, it produced a tidy 155 kW from 2.0 litres of swept capacity. It was a wonderfully adaptable engine too, capable of idling and crawling along in congested freeway traffic, but also powerfully responsive when roads opened and traffic dissipated.
Ten years on, Mercedes-AMG has released an evolved version of its 2.0-litre turbo engine. It is called the M139 and the Affalterbach-based firm tells us it is good for a reliable 310 kW. It will also pass emissions regulations, idle along in crushing peak-hour traffic and hold true to its warranty.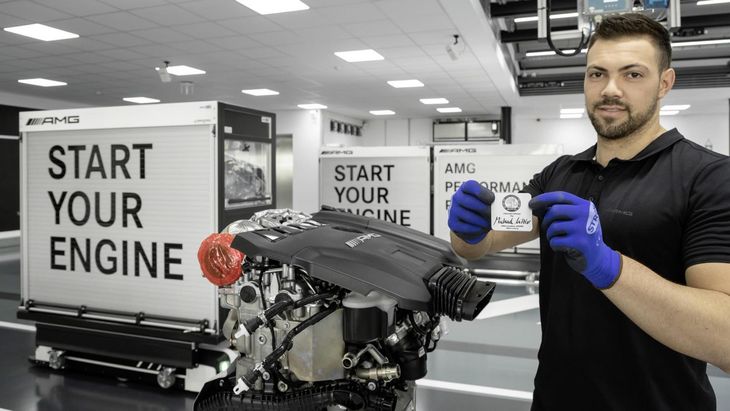 Merc-AMG's tiny 2.0-litre pumps out a mighty peak output of 310 kW.
Do the math and compound the timeline: Mercedes-AMG has built an engine of the same size as VW's Golf GTi (from 10 years ago) that conforms to stricter emissions control but produces twice the power. If ever there was a compelling argument that the internal-combustion engineers are still making huge development strides after more than a century, this AMG M139 engine is it.
Futurists might be hailing the age of battery-powered cars, but Mercedes-AMG engineers have proven that they can extract an incredible amount of latent performance, which still resides generally undiscovered, within the internal combustion engine.
AMG steals the show – again
Mercedes-Benz's hugely successful performance car engineering division has essentially streamlined its business into three powertrains: 4.0-litre V8s, 3.0-litre sixes (V- or in-line configuration) and the new 2.0-litre 4-cylinder. All these engines are turbocharged and their abilities to produce outrageous power, excellent throttle response and relatively low levels of frictional and thermal losses, are deeply impressive.
Mercedes-AMG engineers act as consultants on Mercedes-Benz's F1 engines and some of those fantasy features are now a technical given in the brand's road car engines. The M139 has nanoglide cylinder coatings. Its block is chill-cast aluminium. AMG's technicians pour molten aluminium into a water-cooled mould to create it (it's not machined) – a technique engineers would never even have attempted for a road car 10 years ago.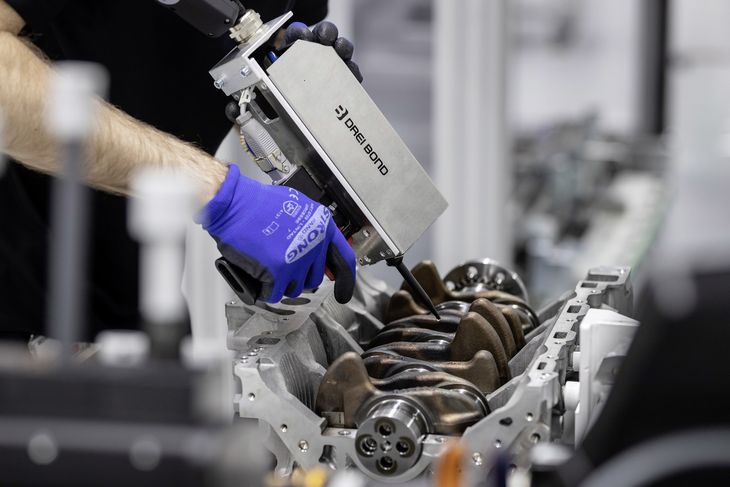 The new Mercedes-AMG powerplant sets a new record for production 2.0-litre engines.
Mitsubishi and Subaru might have established the 2.0-litre turbocharged compact performance car genre in the 1990s and held ascendancy for a considerable period, but Mercedes-AMG's M139 turbocharging technology is nearly otherworldly by comparison. Its turbocharger runs on roller bearings, which allow the highest possible impeller speeds (169 000 rpm), and is cooled by air, oil and water.
The engineers have confidently designed and delivered a production engine with no rival. And we mean that in absolute terms, not only in its 2.0-litre capacity class. The specific output of 155 kW per litre is superior to any non-hybrid Ferrari, McLaren or Porsche engine. Obviously, those 3 brands won't be too bothered, as they don't produce a car in the hatchback segment, but for BMW, it does present a troubling prospect.
How can BMW counter?
Mercedes-AMG's M139 engine announcement has come at a most awkward time for BMW. Its new 1 Series, which is set to rival the 310-kW A45, which is due to be released later this year, will test the faith of BMW's followers.
The 3rd-generation 1 Series is a massive divergence from BMW's traditional brand values of rear-wheel drive and longitudinally mounted powertrains. This new BMW hatchback platform is engineered as a dedicated front-wheel-drive architecture. The M135i hot hatch version might have been confirmed as an xDrive derivative, but its engine is mounted sideways – unlike any hot hatch BMW has built before.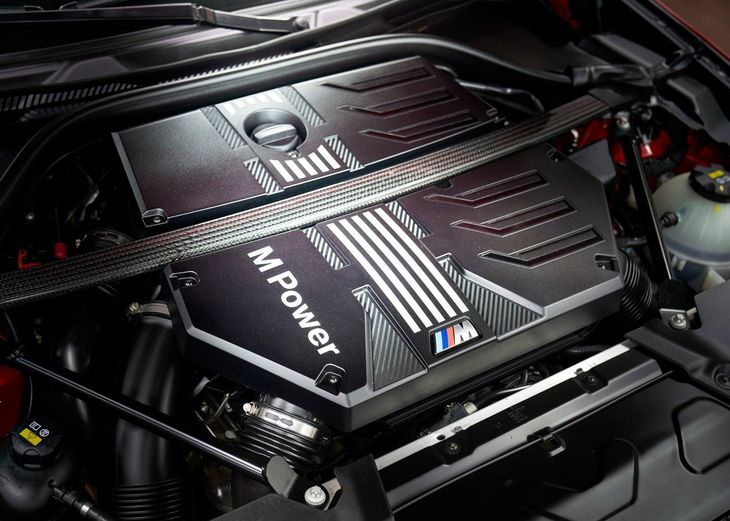 BMW's new X3 M motor boots 375 kW to all 4 wheels.
BMW's 2.0-litre engine in the F40 series M135i produces peak outputs of 225 kW and 450 Nm. Those are compelling numbers, more powerful per-litre than the brand's own M5/M8 engines, but the M135i xDrive will still be a 3rd less potent than Mercedes-AMG's new A45.
What are BMW's options to find a workable solution to equal the M139 engine's output? In the past, the brand's M Division has managed to simply drop-in a 6-cylinder solution whenever a compact M-car was required. The celebrated 1M Coupe was created in this way, so too its successor, M2. But with the F40 architecture being front-wheel drive biased, simply borrowing a detuned M3/4 engine (as BMW did in the case with the current-generation M2 Competition) is no longer possible.
Scrutinise the engine bay images of BMW's new M135i xDrive and the issue becomes apparent: this is now a transverse architecture and none of the contemporary BMW 6-cylinder engines is compatible with that layout. BMW's only option is to use the largest engine that its F40-series platform has been designed for, a 2.0-litre, and make it more powerful. A lot more powerful.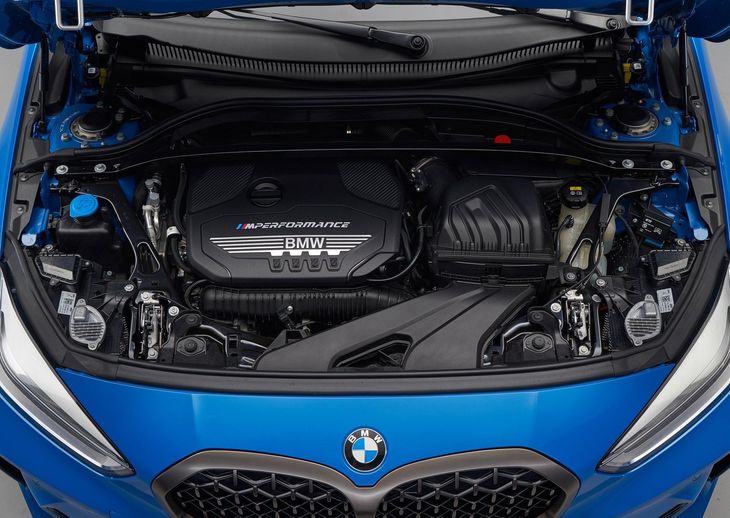 It's clear that the new 1 Series engine bay only works with a transverse engine layout.
The question is: how close could BMW get to AMG's M139? And is this a priority for the 'Werke?
In the past, BMW has appeared unbothered at the notion of besting AMG's 2.0-litre cars in a comparable conflict of peak engine outputs. Even when the 1 Series could still accept an in-line 6-cylinder engine, the most powerful 140i ever marketed was a 250 kW car, when its rival A45 was good for 280 kW – despite having a litre less engine capacity and 2 fewer cylinders.
BMW's influential 3.0-litre in-line 6 has shown tremendous adaptability to turbocharging. The latest version (375 kW) powers the new BMW X3 M and shifts that output to all 4 wheels. Problem is, it needs to be longitudinally mounted and the new 1 Series is a transverse-engine platform.
Will VW enter the fray?
Before its role in America's diesel emissions scandal curtailed the brand's performance-car ambitions and redirected R&D resources to electric vehicle development, Volkswagen was readying a rival to the Mercedes-AMG A45.
The Golf R400 concept was projected to produce 298 kW (its name referencing 400 horsepower), but after being revealed in 2015, it was never put into production. With the pending introduction of Golf8, there are rumours that a high-output Golf R could finally make good on VW's ambition to have its own near-300 kW hot hatch. It would put Golf R in direct competition with Mercedes-AMG's A45 and leave BMW out of the running.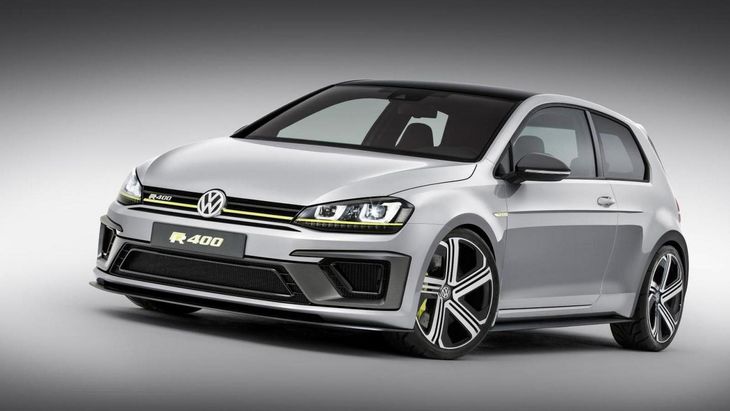 VW had thoughts about entering the hyper hatch market with the R400.
With AMG in an inarguable position of 2.0-litre hot hatch supremacy, has BMW been lured into shadowing a market segment it has limited interest in, but has now been baited into pursuing by the A45? Is there real urgency at BMW to produce a 300 kW hot hatchback with only 4-cylinders?
The Munich-based company's engineers have always prided themselves at being master engine builders and they can draw on the marque's rich tradition of high-performance 4-cylinders.
Of all the German brands, BMW incubated the compact 4-cylinder turbocharged performance car (with its original 2002 Ti turbo), back in 1973. The first (E30-generation) M3 was also powered by a legendary 4-cylinder engine. BMW will need to channel the inspiration of its 2002 Ti and E30 M3 heritage to respectfully close the gap between its 1 Series hot hatch derivatives and those of bitter rivals, AMG.
Related content:
Fiat/Chrysler and Renault/Nissan Merger: It was doomed
The Problem With Building an Electric Bakkie
Will Speed Limiters Really Arrive by 2022?
Car Industry 2019: A Looming disaster?