South Africans love the outdoors and, consequently, the vehicles that can take them there. So, while it is true that the rise of the crossover and "soft-roader" has made the truly off-road capable SUV something of a niche purchase globally, there are still a large number of enthusiasts in this country.
For the purpose of this Buyer's Guide, we have focused on the popular 7-seat, 4x4 segment, dominated by the likes of the Toyota Fortuner and Ford Everest. Most of the vehicles detailed here are bakkie-based, but not all of them. Are there solid alternatives to consider? Let's investigate.
The Champion: Toyota Fortuner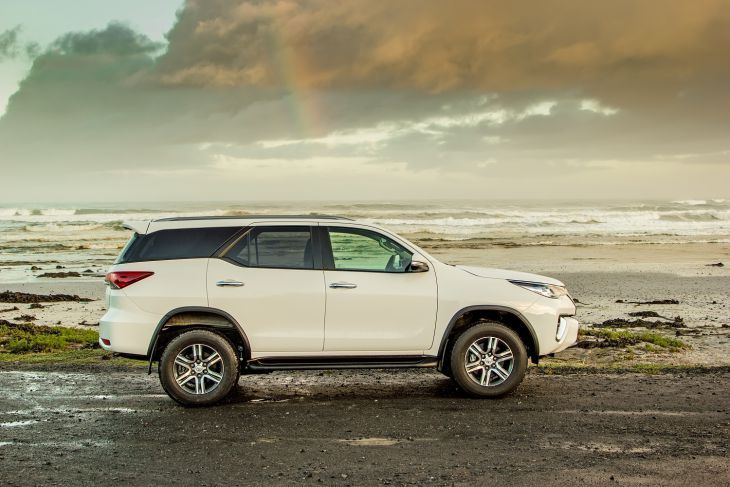 The 2.4-litre turbodiesel engine is superb and is offered in 4x4 automatic guise.
The Toyota Fortuner is the best-selling 7-seater SUV in South Africa and the Fortuner 2.8 GD-6 4x4 Automatic is the 2017/18 Adventure SUV champion in the Cars.co.za Consumer Awards – Powered by WesBank. Compared with its predecessor, it is a significantly more refined, upmarket offering that has seemingly lost none of its predecessor's practicality and off-road ability. The new-generation turbodiesel engines are refined and strong.
Price Range: R454 500 – R690 500
Pick of the Range: 2.8 GD-6 4x4 Automatic
Total units sold thus far in 2018 (as of April): 4 477 units
Reason to Buy: Peace-of-mind, trusted all-road capability and resale value
Criticisms: Clumsy, limited infotainment system. Fold-up rear seats impractical for some users.
Extended test - Toyota Fortuner 2.8 GD-6 4x4 Auto (2017)
Winners of 2017/18 Cars.co.za Consumer Awards – powered by WesBank
Find a Toyota Fortuner to buy on Cars.co.za

The Strong Challenger: Ford Everest

Everest 2.2-litre is an impressive engine but it's sadly not offered in 4x4 automatic guise.
The Ford Everest line-up is offered with more affordable 2.2-litre turbodiesel derivatives as well as more powerful 3.2-litre turbodiesel derivatives. We rate the Everest highly for its all-around comfort and practicality levels – it suspension copes better with a wider variety of road surfaces than the Fortuner. The new 2.2-litre models also don't feel underpowered compared with the flagship 3.2-litre derivatives.
Unfortunately, it is not yet possible to buy a 2.2-litre Everest 4x4 with an automatic transmission, and the market reaction to the manual XLS 4x4, priced at R552 800 shows that a self-shifter is definitely required. For that reason, and if off-roading is something you're likely to do frequently, the 3.2-litre remains the pick of the bunch.
Price Range: R467 100 – R716 600
Pick of the Range: 3.2 XLT AWD Auto
Total units sold thus far in 2018 (as of April): 1 600 units
Reason to Buy: Spacious, comfortable cabin. Ride quality.
Criticisms: 3.2-litre engine has good grunt on paper, but can feel "lethargic" compared with the smaller engine in the Fortuner. Comparatively heavy fuel consumption.
Watch: Ford Everest 2.2 XLT Auto (2017) video review
Comparative Review: Ford Everest vs Toyota Fortuner (with video)
Find a Ford Everest to buy on Cars.co.za
The Looker: Land Rover Discovery Sport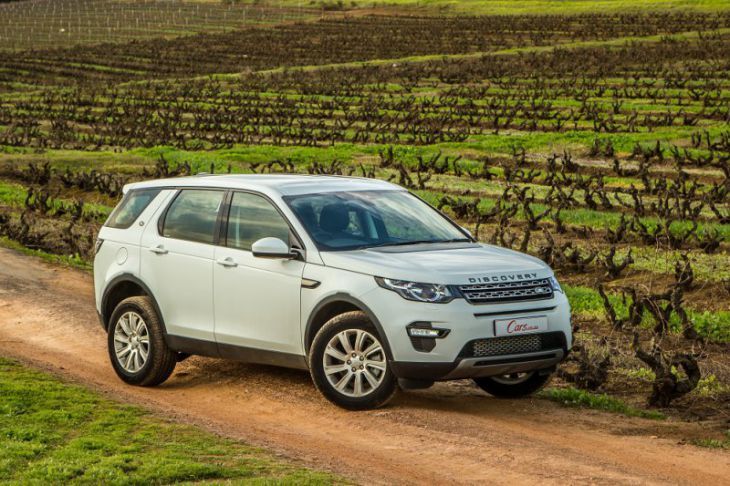 Looking to combine adventure with premium appeal - look no further than the Land Rover Discovery Sport.
The Land Rover Discovery Sport TD4 SE has scooped the Lifestyle SUV trophy twice in the Cars.co.za Consumer Awards – Powered by WesBank, which testament to its worthiness as a stylish adventure vehicle. While third-row seating is an optional extra with this model and the pricing is heady (starting from R680 443), the Discovery Sport offers a blend of premium finishes, road-biased comfort and status, yet maintains Land Rover's reputation for being excellent in the rough. It is offered with a range of refined turbopetrol and turbodiesel engines that deliver an excellent balance of performance and efficiency, and the cabin is both spacious and upmarket.
Price Range: R680 443 – R886 804
Pick of the Range: 2.0-litre turbodiesel, in SE specification
Total units sold thus far in 2018 (as of April): 303 units
Reason to Buy: Premium product that places an emphasis on daily, on-road comfort but can still get its boots dirty convincingly.
Criticisms: Very expensive these days, and many features are optional. It may be too "city-slicker" for frequent and serious off-road use.
Land Rover Discovery Sport SD4 SE (2015) Review
Find a Land Rover Discovery Sport for sale on Cars.co.za
The Trail Eater: Mitsubishi Pajero Sport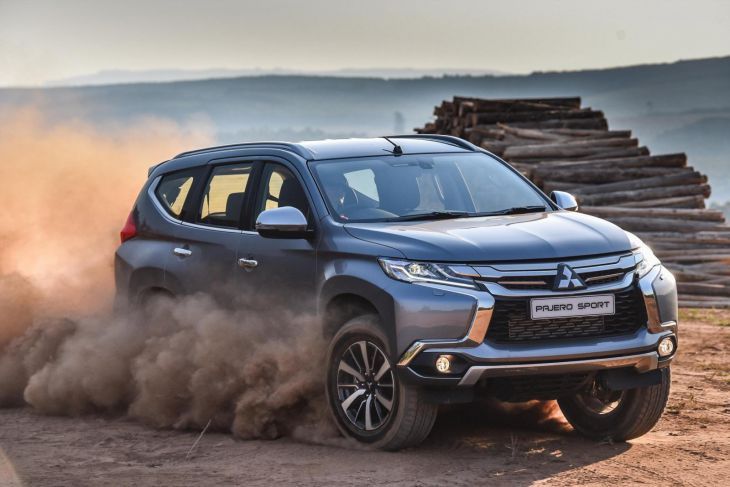 The new Pajero Sport is capable and versatile, offering a good 2.4-litre turbodiesel engine and smooth 8-speed automatic transmission.
The new-generation Pajero Sport was introduced to market in the second half of 2017 and although it may not be as popular and the Fortuner or Everest, the Pajero Sport is very capable offroad and offers good levels of refinement. Only one engine is offered for the Pajero Sport and it's the same 2.4-litre turbodiesel engine found in the Triton bakkie with outputs of 133 kW and 430 Nm of torque. An 8-speed automatic transmission is standard and the Pajero Sport can be had in either 2WD or 4WD guise.
Price range: R569 995 - R599 995
Pick of the Range: 2.4-litre D4 4x4 automatic
Total units sold thus far in 2018 (as of April): 148 units
Reason to Buy: Refined powertrain, good engine power/efficiency balance, offroad capability.
Criticisms: Infotainment system is outdated, polarising rear-end styling, low maximum tow rating (1 800 kg)

Mitsubishi Pajero Sport 2.4 D4 4x4 Auto (2017) Review
Mitsubishi Pajero Sport (2017) Video Review
Browse for a new / used Mitsubishi Pajero Sport on Cars.co.za

The Survivor: Nissan Patrol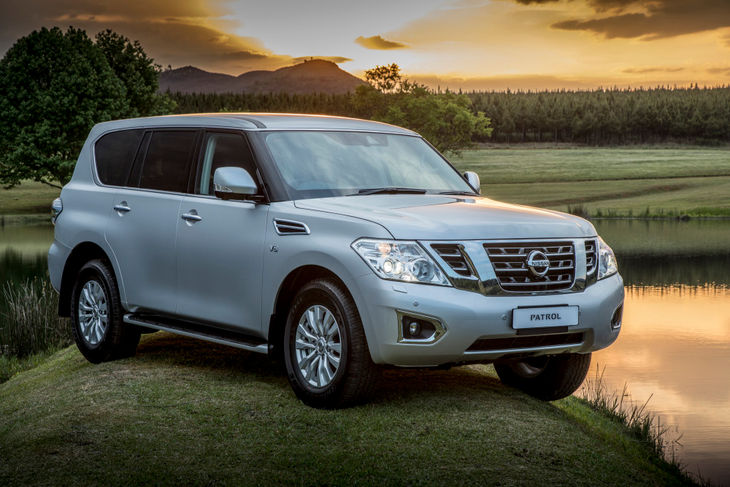 The Nissan Patrol's history spans over 66 years and although it's hefty price tag of R1 339 900 might scare you, it has the size to match. It's a lumbering juggernaut that offers utilitarian luxury and a burly naturally-aspirated 5.6-litre V8 with 298 kW and 560 Nm of torque, mated to a 7-speed automatic transmission. Despite its price and age, the Nissan Patrol is a formidable offroad vehicle that will conquer the toughest terrains.
Price Range: R1 339 900
Pick of the range: 5.6 V8 LE Premium
Total units sold thus far in 2018 (as of April): 38 units
Reason to buy: Offroad ability, old-school appeal, comfort.
Criticisms: It's old, heavy fuel consumption, clumsy around town.
Nissan Patrol (2017) Launch Review
Buy a new / used Nissan Patrol on Cars.co.za

The Luxo Cruiser: Toyota Land Cruiser Prado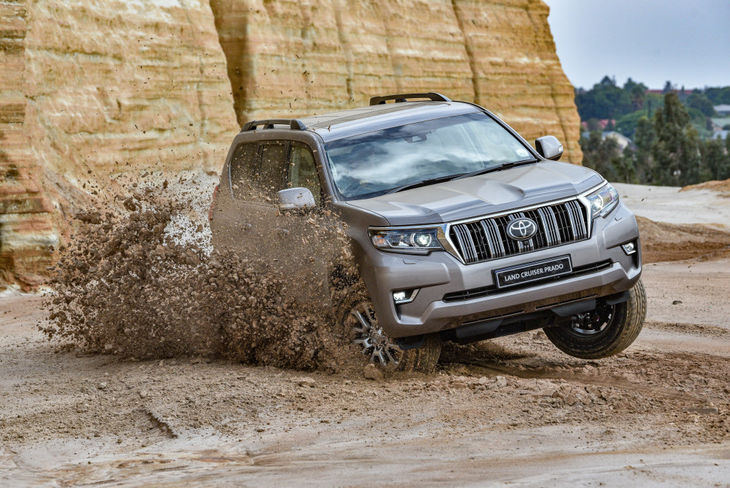 Toyota's Land Cruiser Prado received an update in 2017, which ushered in both styling improvements and interior enhancements with a host of luxury features. Buyers have the choice between an ageing 120 kW/400 Nm 3.0-litre turbodiesel and a 202 kW/381 Nm 4.0-litre V6 petrol engine. A rather dated 5-speed automatic is offered too. The Prado is not a great option if on-road comfort and performance matter to you. Its true worth comes to the fore in the rough stuff...
Price Range: R830 400 - R979 600
Pick of the range: 3.0 DT VX
Total units sold thus far in 2018 (as of April): 510 units
Reasons to buy: Offroad capability, robust build quality, go-anywhere ability
Criticisms: Disappointing drivetrains, poor on-road performance
Toyota Land Cruiser Prado (2017) Launch Review
Buy a new/used Toyota Land Cruiser Prado on Cars.co.za
The New Contender – Isuzu m-uX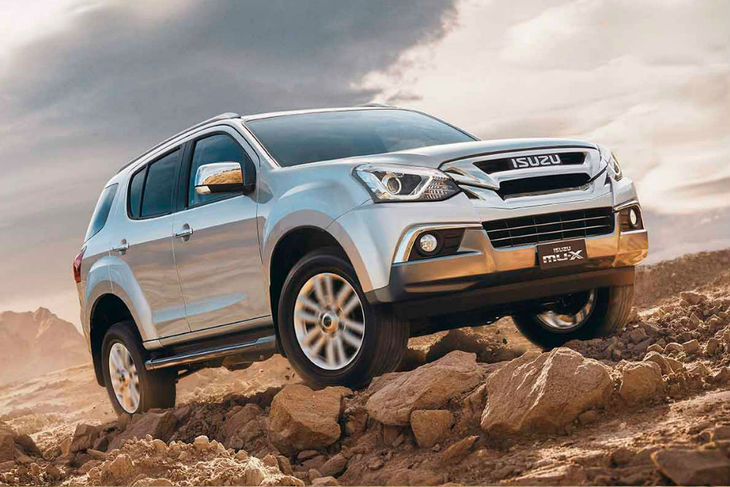 The Isuzu mu-X will go up against stiff competition, but with Isuzu's notable 4x4 reputation, it should be reasonably well-received.
Isuzu has introduced its first new model since General Motors' departure from the South African market: a 7-seater Adventure SUV named the MU-X.
The MU-X shares its workmanlike 3.0-litre 4-cylinder turbodiesel engine with the venerable KB bakkie and it offers 130 kW and 380 Nm of torque and comes mated with a 6-speed automatic transmission. It's available in both 4x2 (R568 000) and 4x4 guise (R629 100), the latter of which employs Isuzu's Terrain Command 4x4 system with electronically selected 2-High, 4-High and 4-Low modes. Furthermore, the mu-X has a braked tow rating of 3 000 kg and offers ground clearance of 230 mm and a wading depth of 600 mm.
Notable standard features include leather seats a 9-inch touchscreen infotainment unit along with an 8-speaker audio system with DVD/MP3-compatible CD player, Bluetooth connectivity and audio streaming, as well as Apple CarPlay and Android Auto functionality. Satellite navigation is standard, plus front and rear USB slots are provided, in conjunction with an auxiliary iPod and HDMI ports. Overall, it's a well-specified, practical family vehicle with a pliant ride quality courtesy of its multi-link rear suspension.
Price Range: R568 000 - R629 100
Pick of the Range: MU-X 3.0 4x4 AT6
Total units sold thus far: Just launched
Reason to buy: Reliability, value, 5-year/120 000 km warranty
Criticisms: Engine not as refined as rivals
Watch our video review of the top-spec Isuzu mu-X below!

Isuzu MU-X (2018) Specs & Price
Isuzu MU-X (2018) International Launch Review
Isuzu mu-X confirmed for SA: 3 Rivals It Needs to Beat

A More Affordable Alternative: Mahindra XUV500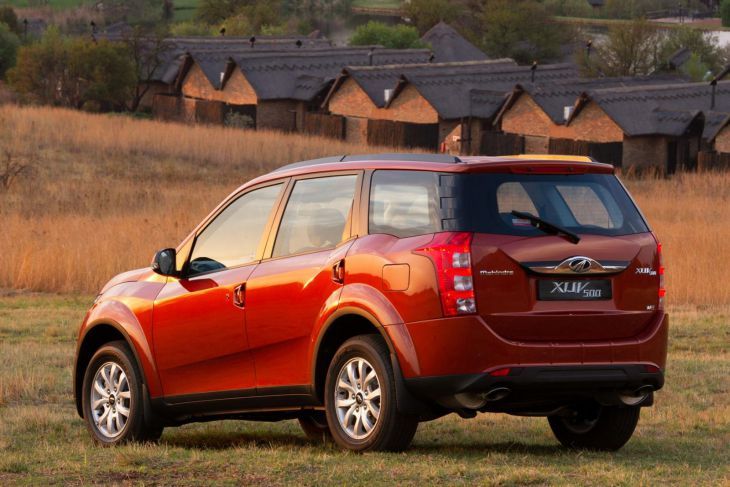 The Mahindra XUV500 continues to offer outstanding value for money.
Priced from as low as R282 995, the Mahindra XUV500 appears to offer a serious amount of car for the money. The refreshed XUV500 features a more modern and refined cabin that offers sufficient space for 7 occupants. However, given the XUV500's slightly more compact dimensions it can't match its more expensive rivals for outright spaciousness and practicality. Nevertheless, at the price (R390 495), the W8 AWD model offers a very comprehensive standard specification sheet that includes such niceties as leather upholstery, touch-screen navigation, park-distance control, cruise control and a 5-year warranty and service plan. It's just a pity that the AWD model is not offered in automatic guise.
Price Range: R282 995 – R397 995
Pick of the Range: W8 AWD (manual only)
Total units sold thus far in 2018 (as of April):185
Reason to Buy: Value for money, standard features
Criticisms: 2.2-litre turbodiesel engine not as powerful as rivals, limited off-road ability
Mahindra XUV 500 2.2 CRDe W8 Auto (2017) Launch Review
Mahindra XUV500 gains automatic transmission
Find a new / used Mahindra XUV500 to buy on Cars.co.za

Not a serious off-roader?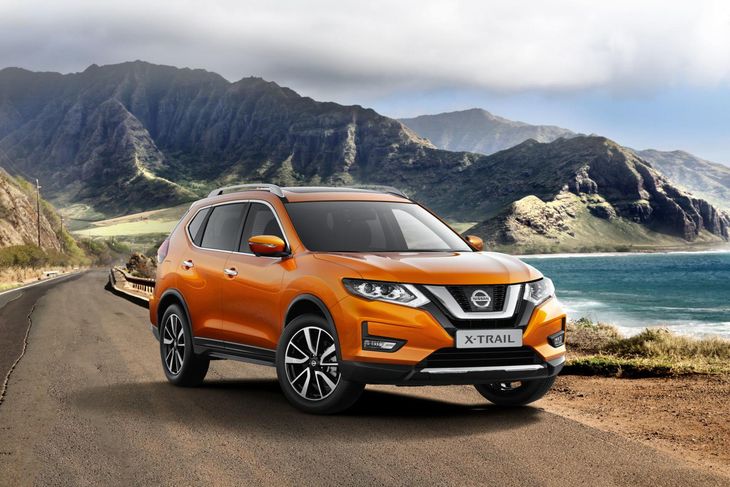 The facelifted Nissan X-Trail undercuts its bigger rivals in price, but is still a flexible and capable offroader.
If regular, challenging off-road activities are not on the agenda but you're looking for a spacious, practical 7-seater with at least some all-wheel-drive traction, consider the Korean duo (Hyundai Santa Fe and Kia Sorento). Both are road-biased, near-premium offerings with the Kia, in particular, offering very attractive standard features as standard. On a tighter budget, you may want to consider the newly facelifted Nissan X-Trail, which can in some derivatives be specified with 7 seats. We rate the 2.5-litre AWD model as being particularly good value, though it is thirsty. You may also be interested in:
Something even more rugged? - Mitsubishi Pajero 3.2 DI-D GLS Legend 2 (2016) Review
A more rugged/cheaper alternative - Mahindra Scorpio (2016) lands in SA