German tuner Brabus is famous for its performance upgrades, but this time the focus on enhancing the G-Class' offroad abilities.
The G-Class didn't exactly need its offroad abilities enhanced, with its 3 differentials, ground clearance and excellent approach/departure angles, but Brabus has been hard at work.
This is the Brabus Adventure, essentially a kit for the G 350d. Comprising some serious upgrades both visual and mechanical, the Brabus Adventure features a bodykit with huge intakes, undercar guard and tow winch. There is an abundance of carbon fibre thrown into the mix too. There's also a wind deflector with spot lights, a luggage rack and monstrous Brabus alloy wheels wrapped in chunky offroad tyres. There's an increase in the vehicle's ground clearance and the vehicle sits an extra 40 mm higher on top of the 217 mm already offered.
The diesel engine has also been given a tweak and thanks to a Brabus tune, it now offers up 243 kW and 690 Nm (210 kW and 600 Nm as standard) from a 3.0 straight-6 turbodiesel, giving it a claimed 0-100 time of 7.2 seconds. Top speed is claimed at 202 kph and there's a stainless sports exhaust system with plumbing either side.
Inside, the cabin gets some tasteful Brabus treatment in the form of pattern quilting and aluminium pedals, paddle shifters and door lock pins.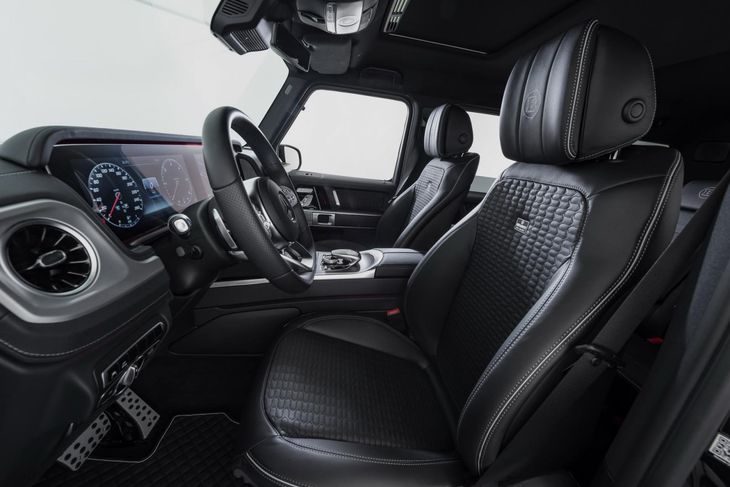 Further Reading
Brabus Announces V12-Powered G-Class
All-New Mercedes-Benz V250 Gets Brabus Treatment