BMW has put a lot of effort into making its new Z4 a more dynamic machine than its immediate predecessor, but is it possible for those sharpened reflexes to shine when coupled with the "baby" engine in the line-up? Let's find out...
We like: Impressive performance, build quality, good dynamics/comfort balance
We don't like: Steering response sharpens up too dramatically, not quite enough grunt for "tail-out" fun
Fast Facts
Price: R759 442 (July 2019, without options)
Engine: 2.0-litre 4-cylinder turbopetrol
Gearbox: 8-speed automatic
Fuel economy: 6.5 L/100 km (claimed)
Power/Torque: 145 kW/320 Nm
Own a BMW? Tell us about your experience here.
SERIOUS ABOUT BUYING?
Where does it fit in?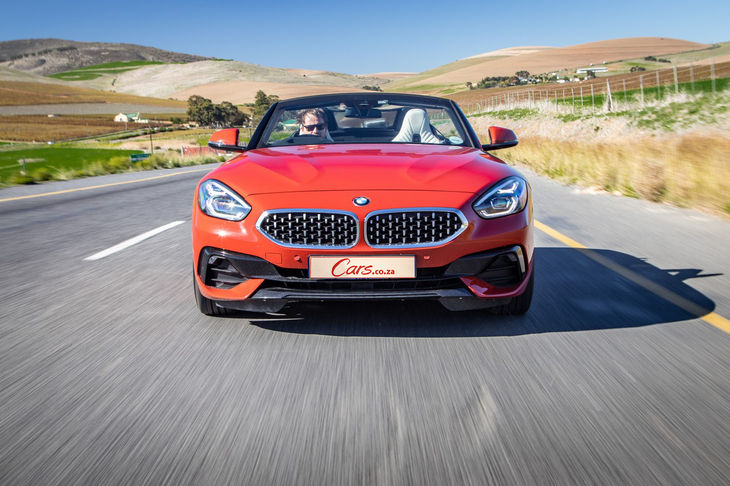 The baby in the Z4 line-up still looks the part, particularly in the ballsy San Francisco Red finish.
Compact coupes and roadsters used to appeal to fashion- and style-conscious buyers (in the main), but, to quote Bob Dylan, the times they are a-changing... Audi has announced plans to kill off its TT, and Mercedes-Benz's ageing SLC limps on without a confirmed replacement in sight. Mazda's MX-5 sells in small numbers and Porsche's Boxster competes at a higher price level. So, from an objective point of view, it seems as if BMW has wasted many years, millions and millions of Euros, not to mention a great deal of effort, to develop this new-generation Z4...
Then again, in several ways, the compact roadster represents what BMW has always stood for – high-performance rear-wheel-drive fun, in a stylish, upmarket package. This time round, BMW has also managed to save some costs by co-developing the newcomer with Toyota (the Z4 shares its platform with the new Supra coupe). So, perhaps it makes sense after all. But what about this sDrive20i entry-level derivative? Its pricing and specification position it in a no-man's land between the Mazda MX-5 and Porsche Boxster. Is it a boulevard cruiser, or cut-price dynamic marvel?
How it fares in terms of...
Design & Packaging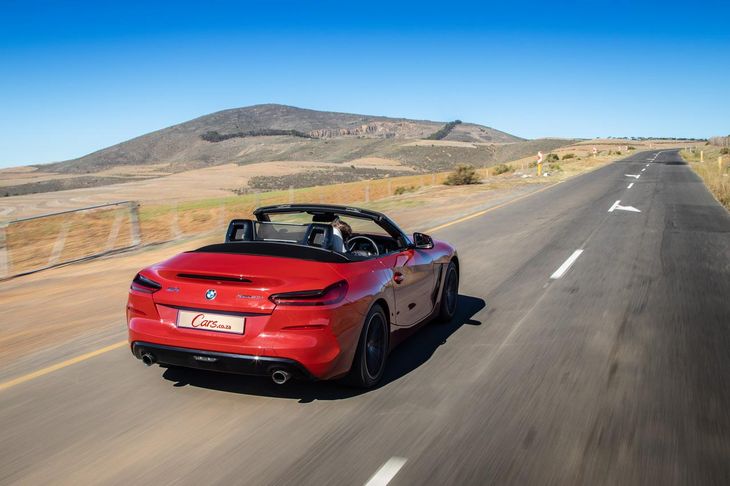 In our view the new Z4's best angle...
The new BMW Z4's exterior design continues to split opinion. Compared with its predecessor, it is considerably wider (especially at the front) and the wheelbase is truncated, yet BMW was obviously determined to maintain that classic long-nose, short rear-end look (new Z4 is actually longer than before). When one views the roadster in profile, its proportions seem unbalanced, at least in most of our reviewers' opinion. Nonetheless, the test unit drew plenty of admiring glances (particularly from BMW drivers) during its tenure in our fleet; we appreciate it looks great from the rear.
Of course, in a significant departure from its predecessor, the Z4 has reverted to a classic soft-top configuration, which also saves weight (the canvas roof can be electronically raised or lowered at speeds of up to 50 kph). In BMW's pursuit of a stiffer, lighter platform to work its magic on, further weight-savings have been realised through a new suspension setup. As ever, the goal was a 50/50 weight distribution and a lower centre of gravity, both of which the Munich-based firm (and its Japanese partner) achieved. Sounds like a recipe for a serious performance machine, then...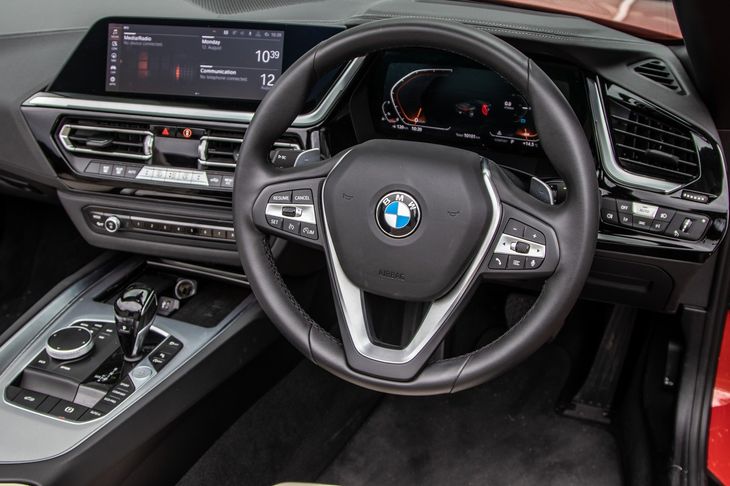 The new Z4's cabin is spacious, constructed of solid, quality materials and can be specified with all of the latest tech.
When you swing open the wide-opening driver's door and sink your posterior into the low-slung seat, you're greeted by a cabin that slavishly follows the style of contemporary BMWs. That's not a bad thing – there is appreciably better attention to detail than in previous-generation Bimmers; the build quality (specifically the standard of materials used) is right up there with the Audi TT. The resolution and crispness of the displays are also impressive. As expected, a wide variety of trim options are available, including 4 upholstery colours, as well as "Mesheffect" aluminium trim finishers (R3 000). That said, even though this is the baby of the Z4 range, the specification level is very good (see next section, Comfort and Features).
An area in which the Z4 shines particularly brightly is its packaging. There's great head- and legroom for the occupants, and generous load space behind the seats, too. It's lacking a little in practical oddments storage spaces, and we found the positioning of the drinks holders rather awkward. The boot, which has a claimed capacity of 281 litres (with the roof open or closed), endows the Z4 with considerable weekend-getaway appeal.
Comfort & Features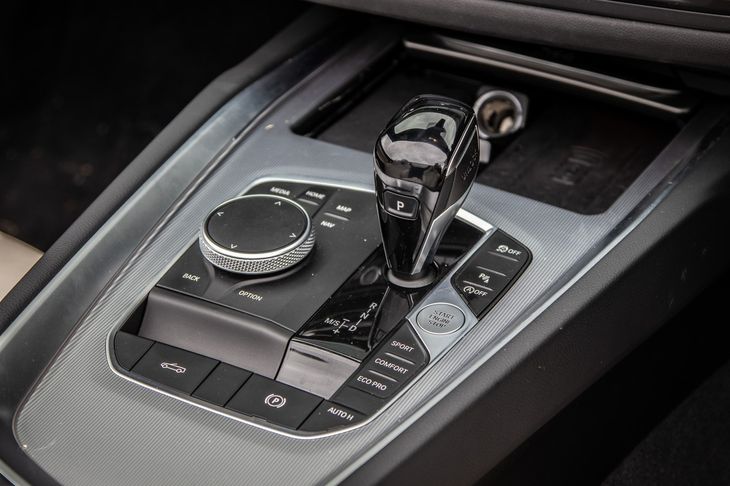 The wide transmission tunnel and its neatly clustered drive settings and iDrive controls.
The entry-level Z4 is by no means poorly equipped. As standard, you get LED headlights, satin-finish aluminium exterior trim and 18-inch V-spoke, bi-colour, Orbit Grey wheels as part of the package. The interior is trimmed in fine leather upholstery and, of course, features those lovely M Sport seats. If you want the chunky M Leather steering wheel (as specified here), that will cost you an extra R3 300. We'd ideally have wanted an electrically adjustable driver's seat (with memory) as standard, but it's an R18 000 option instead. Still, an ambient lighting package is included, as are cruise control (with a braking function) and climate control. We do find the brand's latest HVAC control interface a bit fiddly to use, however.
The BMW Live Cockpit Professional system (with navigation) is included, as are ConnectedDrive services (incl. Connected Package Professional), wireless charging for smartphones. Preparation for Apple CarPlay costs an extra R4 300 and a Harman/kardon surround sound system: R6 000.
Overall, and combined with the car's good ride quality and effective ventilation system (especially heating with the top down), the Z4 is a pleasure to pilot on a daily basis.
Performance & Efficiency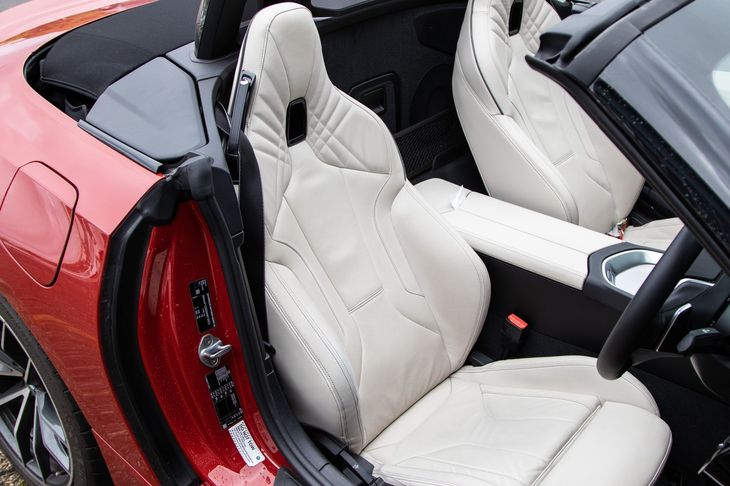 The BMW Z4 sDrive20i comes with these sporty and comfortable seats.
Now, as for that "little" 4-cylinder engine... The turbocharged 2.0-litre unit delivers 145 kW from 4 500 to 6 500 rpm and 320 Nm from 1 450 rpm all the way to 4 200. The engine is mated with BMW's slick, responsive 8-speed automatic (with different "modes") and the package is claimed to a deliver a 0-100 kph time of 6.6 seconds, which is undeniably brisk, as well as a 240-kph top speed. So, the sDrive 20i certainly has the numbers.
We're happy to report that it also delivers in the real world, though it doesn't quite have enough grunt to overwhelm those rear tyres into regular tail-sliding action. Still, it pulls strongly, smoothly and punches well higher up in the rev range. BMW has ably matched the motor's performance characteristics with the transmission's gear ratios and programmed in those aurally satisfying "bruhbs" on the overrun for good measure.
Oh... and the sDrive20i delivers excellent fuel economy, at least by sportscar standards. BMW claims a combined cycle consumption figure of 6.5 L/100 km, which you'll obviously struggle to match. A realistic real-world figure is around 8.2 L/100km, which is still quite acceptable.
Ride & Handling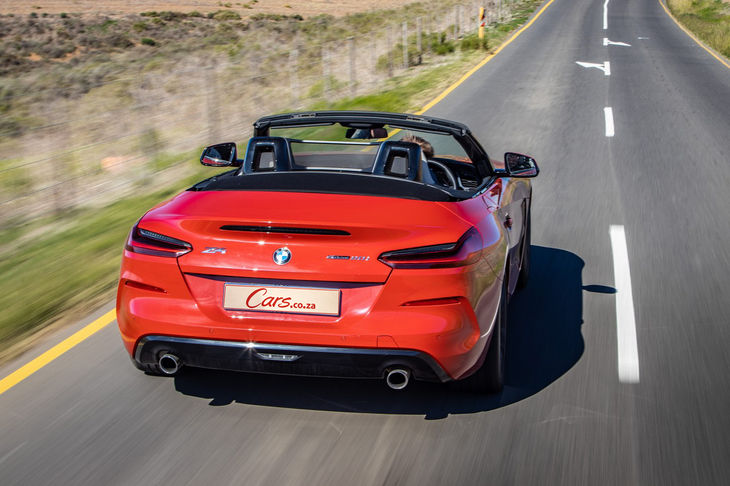 With its wider tracks, shorter wheelbase and stiffer platform, the Z4 is a purpose-built sportscar, but the steering feel divides opinion.
The new Z4 has notably wider tracks than its forebear (98 mm at the front and 57 mm at the rear) and rides on a stiffer platform that is derived from the one that underpins the current 5 Series executive sedan. It also features a new 5-link rear axle and, to reiterate, BMW has managed to achieve a 50:50 weight distribution, as well as a lower centre of gravity with this car. Two optional suspension set-ups are available: M Sport (R5 900) and Adaptive M Suspension (R14 900). Our car had a standard suspension and the latter is probably unnecessary on a vehicle of this power output...
We might, however, advise ticking the M Sport box to specify a slightly firmer suspension setup. Some international reports suggest the standard setup is slightly too soft for a car that's particularly responsive to throttle and steering inputs. The latter was a topic of some debate in the office – the steering feels relatively slow initially, and but speeds up so quickly (when you apply greater steering angles) that it can upset your driving rhythm.
So, with familiarisation, it's possible to get used to the Z4's particular traits (or idiosyncrasies, depending on how you few them), and then it's fun to hustle this little roadster along a challenging ribbon of tar. Owners who opt to explore the car's dynamic and performance potential will find enough to keep them busy (and entertained). Those who just want a stylish, quality roadster for everyday use, will also be pleased, however, because the Z4 rides well on most surfaces, and despite being covered by a soft-top, the cabin is reasonably insulated from road and exterior noise. For the record, a wind-deflector is included as standard – it facilitates a greater level of occupant comfort when you're driving the BMW with its top down.
Price and warranty
The BMW Z4 sDrive20i Sport Line costs R759 442 (without options). The price includes a 2-year/unlimited km warranty and 5-year/100 000km maintenance plan. There are many extra-cost optional features to choose from... You may want to consider the larger 19-inch wheels (R14 300), while the aforementioned preparation for Apple CarPlay and Harman/kardon surround sound audio systems come highly recommended.
View the derivative's full specs here
Verdict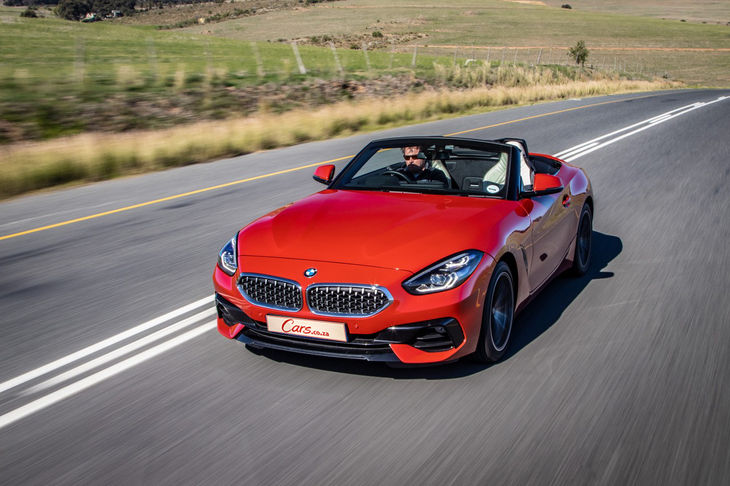 With no real rivals in the local market, the baby Z4 provides sufficient thrills and great every-day usability.
At its price positioning, and in this particular configuration, the BMW Z4 sDrive20i Sport Line has no direct rivals except for the ancient Mercedes-Benz SLC (the latter of which we wouldn't recommend). Meanwhile, the Audi TT Roadster is no longer listed for sale in South Africa and the excellent Porsche Boxster is significantly more expensive than this particular derivative of BMW's compact roadster range.
This Z4 is a stylish daily runner (with an impressive level of touring capability) that still offers sufficient performance and dynamic depth to excite and engage enthusiast drivers on the odd occasion. Consequently, we expect that a typical buyer for this BMW model will be a style-conscious driver who wants to enjoy relaxed top-down cruises to scenic locations (while ensconced in a cosy, high-quality and tech-laden cabin). However, we anticipate the sDrive20i's drivetrain's responsiveness, in particular, may tempt said driver to take a more challenging route on their way home...
Looking to buy a new/used BMW Z4?
Find one on Cars.co.za by clicking here