We've had a chance to sample both iterations of BMW's Z4 and after experiencing the pleasant and charming nature of the sDrive20i, it was time to sample its more potent sibling. Can the BMW Z4 M40i tick all the boxes as a luxurious, performance-oriented roadster?
We like: Styling, raw performance, driving thrills, connectivity.
We don't like: Weird steering feel, can be a handful at the handling limit.
Fast Facts
Price: R1 036 699 (August 2019)
Engine: 3.0-litre 6-cylinder turbopetrol
Gearbox: 8-speed auto
Fuel economy: 7.4 L/100 km (claimed)
Power/Torque: 250 kW/500 Nm
Performance: 0-100 kph in 4.5 seconds (claimed)
Own a BMW? Tell us about your experience here.
SERIOUS ABOUT BUYING?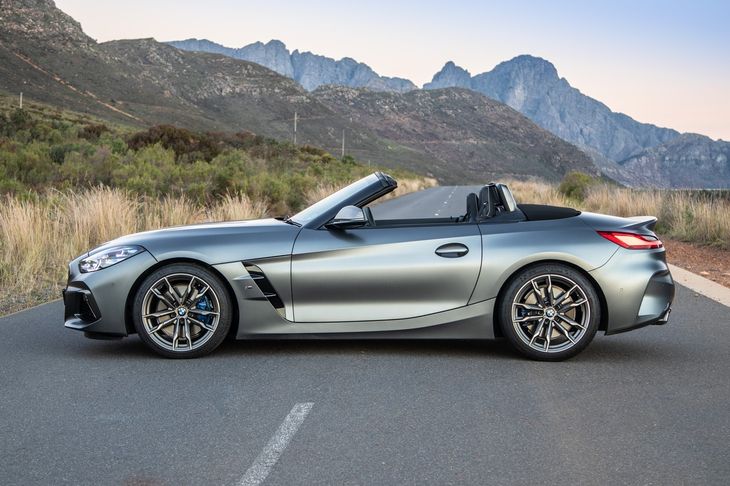 The profile of the 3rd-generation Z4 is unmistakable; it's vented front fenders sprout delectable swage lines along the car's flanks.
Where does it fit in?
This is the all-new BMW Z4, tested here in flagship M40i guise. Most contemporary compact roadsters have focused on lifestyle applications (most notably the previous Z4, its potent sDrive35iS flagship notwithstanding), but this particular iteration of the Z4 (codenamed the G29, in case some anoraks were wondering) aims to buck the trend and show that stylish roadsters can deliver the goods in terms of performance and dynamism.
Essentially, the newcomer has been given a distinct sporty directive. The Z4's track is wider and the wheelbase shorter, and the vehicle is said to be a lot stiffer than the model it replaces. While the M40i is not marketed as a full-blown M car, there has been some component-borrowing. The tyres are the same as those found on the M4 and BMW claims that its M division has had a hand in developing the M40i's braking system. There's a B58 engine too, which also does duty in the M240i and a few of the M40i-badged SUVs. It sounds a lot like BMW is desperate to prove that the Z4 didn't suffer the same image issue as its Mercedes-Benz SLK/SLC rival – the Bavarians demand Sheer Driving Pleasure from compact ragtops too.
Available with just two engine choices in South Africa, this is the flagship G29 derivative and we spent some quality time with it to get to know its idiosyncrasies. Oh, before someone brings it up, much has been said about a Japanese brand's revival of a certain sportscar name (Toyota and the Supra, in case you've just returned from outer space), but we're going to try our best to evaluate the Z4 M40i as a standalone entity. Here goes!
How it fares in terms of...
Performance & Efficiency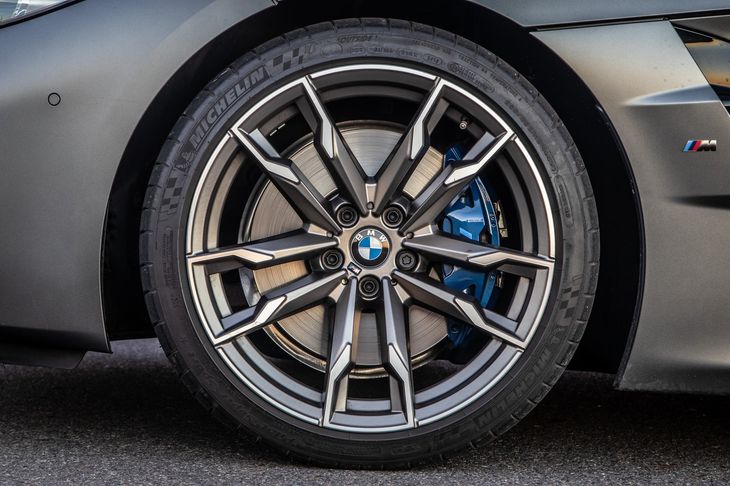 Eye-catching double-spoke 19-inch rims are wrapped in Michelin rubber; the blue brake callipers are courtesy of the M Division.
In BMW performance parlance, one particular letter is sacrosanct. If a Bimmer has an M in any part of its nomenclature, you know that it'll have performance as one of its KPIs. Indeed, this Z4 M40i is not a soft poseurmobile and has aspirations of being a proper driver's car. With the popular B58 3.0-litre turbocharged 6-cylinder lurking under the bonnet, rear-wheel drive and a quick-shifting transmission, the M40i's performance would never be piecemeal. It offers 250 kW and 500 Nm, with a twin-scroll turbocharged setup designed to eliminate lag, which it near-as-dammit does.
BMW claims a 4.5-second sprint time from 0 to 100 kph for the M40i and it'll run to an electronically limited top speed of 250 kph. We tried the off-the-line acceleration test in the Z4's sportiest driving mode on a few occasions (with and without launch control engaged) and found that the terrific engine's sheer torque delivery was prone to overwhelm the rear 275/35 rubber. Fun? You bet, especially as we weren't expecting it to be so wild!
The M40i real strength is in-gear, where the engine's torquey nature comes into play. With all 500 Nm available from 1 600 to 4 500 rpm, you don't need to frantically shift down through the gears to summon urgent acceleration. In full auto mode, the car will kick down once or twice, depending on the angle of throttle-pedal travel, but seeing as this is a baby M roadster, we wanted full control and made the most of the steering wheel-mounted paddles. They're really a joy to use and feel pleasingly tactile, plus they're on the wheel itself, not the column. The engine delivers impressively flexible performance as the M40i surges along at a deceptively quick pace. Without too much effort at all, you can get to "straight-to-jail" speeds...
If there was a winning combination for a happy motoring life, it would be a soulful engine note mated with a convertible body. This straight-6 engine is best enjoyed with the roof down in Sport Plus, so that you can perfectly savour the induction bark emanating from the front and the majestic howl emitted by the twin exhausts. Even better, if you come off the throttle, the Z4 obliges with pops, bangs and gurgles galore. In an age where cars are becoming bland and predictable (blame the herd mentality), it's fantastic to find a vehicle that offers a smorgasbord of emotional and sensory stimuli.
The best part? Drive sedately and in Eco mode and you'll get not-too-unreasonable economy from the 3.0-litre mill. At the end of our tenure, we saw an indicated 9.0 L/100 km, which we consider fair, given the extensive, repeated testing through mountain passes. One must be thorough, not so?
Ride & Handling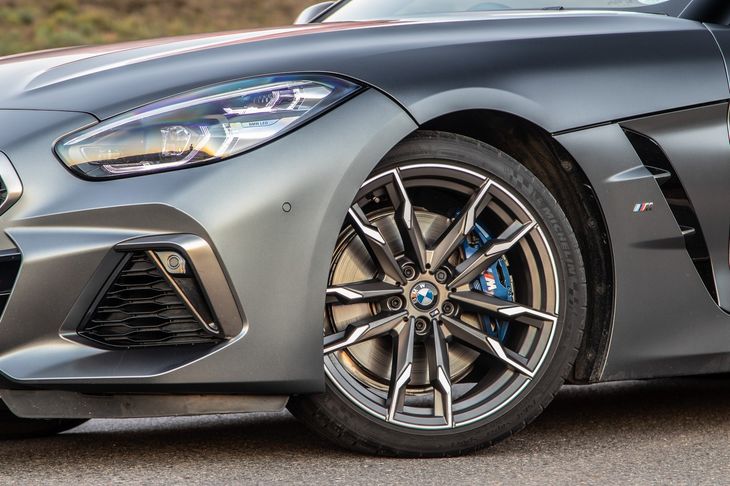 The Z4 has a handsome front-end treatment, aided by distinctive LED headlamps and a front bumper with elaborate air intakes.
The laws of physics cannot be broken, despite humanity's best efforts. Speaking in general terms, most convertibles suffer from an affliction known as scuttle shake, where the lack of a solid metal roof diminishes a vehicle's structural rigidity (and poise). In previous iterations of BMW convertibles, for example, you could hear the cars' chassis flexing and twisting when cornering on a bumpy road. Fortunately, engineering advances have made it possible to dial this affliction back significantly. The G29 BMW Z4, despite our efforts to test it on some marginal roads, does not exhibit this trait. The M40i's grip levels are impressively high; if you show any interest in extracting some tail-sliding action, however, the roadster responds in kind.
Whereas the flagship Z4's rear-end can get a little squirrelly even when you abuse the throttle pedal in Comfort mode, the tail will readily slide out in the Sport setting, but the dynamic stability control (DSC) and electronic-differential keep things from spiralling out of control. This is a vehicle that commands respect: although it's mostly forgiving, the M40i will take no prisoners if you're foolish (or brave) enough to disengage DSC... Ideally, you're in for one of the most thrilling driving experiences of your life. If you get it wrong, you may need to break bad news to your insurance provider.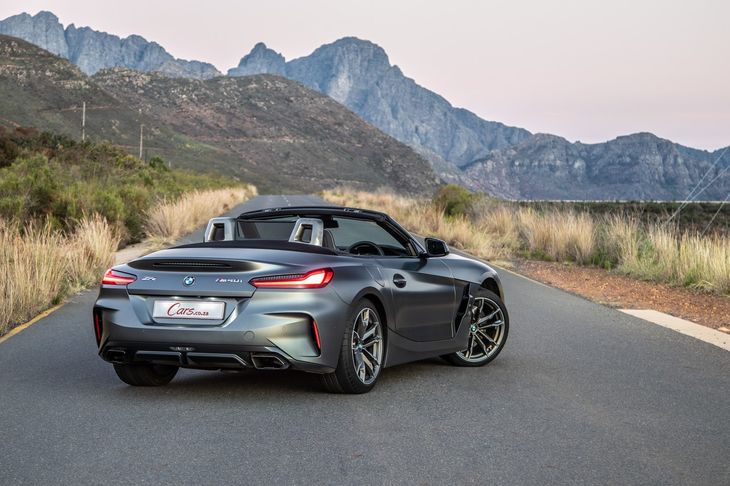 The Z4's "shoulders" are broader than they appear to the naked eye, but the slimline LED tail lamps flatten out the BMW's rear aspect.
Performance vehicles call for steering wheels so moulded that they can be merrily wielded by enthusiasts' hands, yet the M40i's thick-rimmed M Sport steering wheel doesn't feel perfect in everyone's hands. Interestingly, the entry-level Z4 sDrive20i's wheel rim (of a thinner girth) is terrific. Speaking of steering, this is one of our few criticisms: the Z4's steering is a textbook example of how artificial/software interference can detract from the overall driving experience. It's direct, but there's a disappointing lack of feel when you're trying to balance direction, stability and performance.
Fortunately, the Bimmer's well-sorted chassis and adaptively damped suspension are delightful. The chassis is more than capable of handling all that power/torque and the inherent grip levels at a driver's disposal are lofty – until you reach a patch of damp and cool tarmac, of course. In its softest mode, the suspension delivers a smooth and pliant ride, even on some awful and damaged roads. This ability increases the breadth of the Z4 M40i's talents. While most of this review thus far has focused on the Z4's performance and prowess on the limit, the average customer will likely spend the majority of their time commuting to work with the roof up on dreary weekdays, with their minds focused anywhere but on the car. For what it's worth, it is completely possible to drive the M40i daily without ever dialling up its most hardcore modes, but you'd be missing out on quite a lot!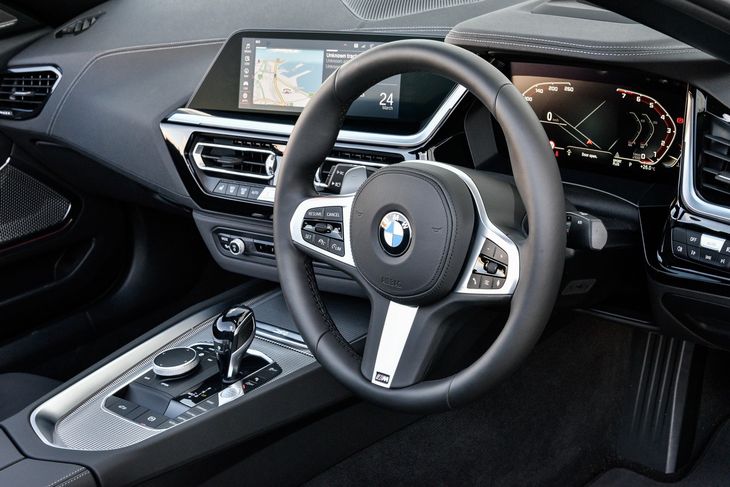 Well hewn and engagingly laid out, the Z4's cockpit offers kicks for driving enthusiasts and comfort for lazy weekend cruisers.
Design & Packaging
The BMW Z4 is a strict 2-seater, but unlike other compact roadsters, it offers a modicum of practicality as well. The boot serves up a reasonable amount of luggage space (around 280 litres) and you can actually go away for a weekend and pack more than a wallet, sunglasses and toothbrush. Try that with a Jaguar F-Type Convertible or a Mazda MX-5 – their boot spaces are woefully small by comparison! Our test unit came in a gorgeous near-matte dark silver finish. Dubbed Frozen Grey metallic, this R49 500 paint option makes the Z4 M40i look like a military-grade weapon.
The roadster's cabin is tight (as one would expect it to be), but BMW has cleverly worked some storage solutions into the mix. There's also a wireless charging pad for those who need to charge their devices. We get the impression that everything in the cabin has been ergonomically arranged around the Z4's driver. Most buttons are within easy reach and if all else fails, say "Hey BMW" and the electronic assistant will be able to assist with navigation, trip data and so on. The all-new BMW infotainment system is a revelation... We've had the chance to sample it a few times before in the new 3 Series, 8 Series and X5/X7, and each time we've come away deeply impressed with how sophisticated, yet intuitive, it is. It took BMW some time to update its centre cluster, but it was worth the wait. We'd also rate the digital instrument cluster in the top three of its kind.
The roof mechanism's performance often slips under reviewers' scrutiny, but not today. What we really liked was the speed at which the Z4's canvas top opened/closed. BMW claims it can be done in 10 seconds and at speeds up to 50 kph, so if it starts to rain while you're in gridlock traffic, there's no need for a frantic dive into the emergency lane to put the roof up. We've always been wary of the material quality of the canvas roof, but it took the brunt of some fierce Cape winter storms and insulated the cabin nicely. In our opinion, the best times to have "convertible experiences" are during the cooler months, when there's less risk of direct sun exposure, plus it offers many opportunities to make use of the seat-heating function.
Price and warranty (August 2019)
The BMW Z4 M40i retails for R1 036 699, which includes a 5-year/100 000 km maintenance plan.
Verdict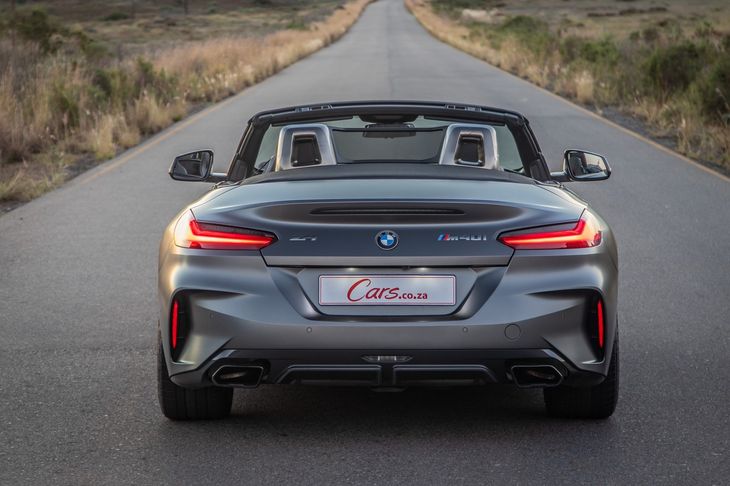 It would have been understandable if BMW decided to shelve the low-volume Z4, but we're relieved that the firm chose not to.
Compact roadsters, such as the G29-generation Z4, are sadly becoming less important to manufacturers as the cars' profit margins and sales volumes are minimal (Audi is set to discontinue the TT/TT Roadster in future and it's unclear what will happen to the Mercedes-Benz SLC when its production ends). Therefore, it's completely understandable that BMW chose to team up with Toyota to share development costs and produce the Z4 and Supra in tandem. BMW South Africa offers the Z4 Roadster in 2 flavours, but they are poles apart. At the entry point to the range is the sDrive20i, which offers a relaxed and refined boulevard cruising experience with just enough performance to offer an engaging driving experience.
The M40i, on the other hand, is as subtle as using a hammer to squash a mosquito. Don't mistake those smart looks for graceful elegance, because its performance is potent. This is a serious driving machine and it will evoke many emotions in its pilot. Your adrenaline will cascade like a waterfall when you accelerate out of a corner and explore that oh-so-fine line between grip and tail-out action. Plus, your heart rate will soar the first time you engage Sport Plus and open the taps. As far as visceral experiences go, the BMW Z4 M40i is right up there, although Porsche Boxster owners will argue, with some merit, that their machines are ultimately better sportscars. Yeah, we hope they enjoy the thrum of their cars' 4-pot motors too...
Should you buy one? If you're looking for a compact roadster that offers performance that widens eyes and whitens knuckles, you'd be hard-pressed to find an offering that matches the Z4 M40i's unfettered thrills. Its wild side is scarily accessible and it'll take some dexterity coupled with talent and confidence to get the best out of it. Many ragtop sportscars could easily be accused of being poser vehicles, but this Bimmer is far from it. We get the impression that it has been engineered to be a thrilling sportscar from the ground up, replete with its 50/50 weight distribution and thumping 6-cylinder engine. It's little wonder (here's the last mention of the Supra) that ever-resourceful Toyota elected to use this platform for its newcomer.
While armchair pundits will crudely lump the Z4 and Supra together (as if they are clones), the reality is yes, they share a number of components, but their executions and driving experiences are divergent. This author recalls reading that if you gave 2 skilled chefs the same set of ingredients and asked them to prepare dishes, their creations wouldn't be identical, but they'd be tasty all the same. That's pretty much what's happened here.
Looking to buy a new/used BMW Z4?
Find one on Cars.co.za by clicking here