The BMW X7 has finally arrived on South African shores and we had a chance to sample both turbodiesel derivatives. If you're in the market for a 7-seater 1st-class SUV, should the X7 be on your shopping list? We think so... Here's why.
What is it?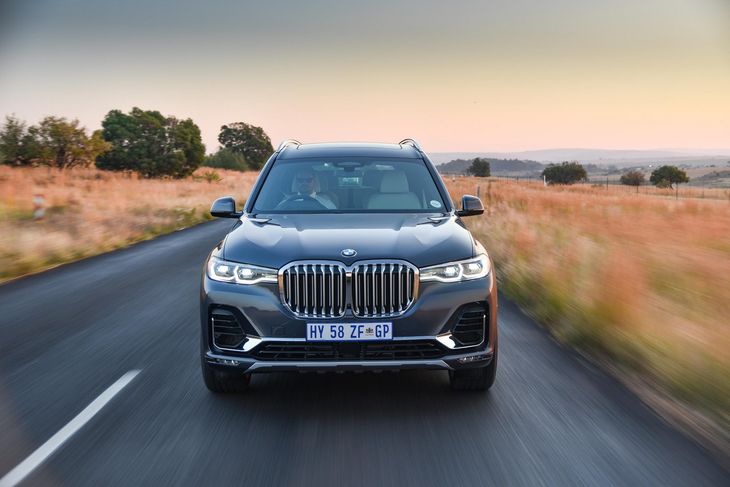 Can you imagine this appearing in your rearview mirror?
When BMW first announced it was building an X7, many of us had a little "what the?" moment. Given the luxury, performance and breadth of capability of the BMW X5, was there really a need for a bigger flagship SUV? Then, when pictures of the newcomer emerged, its styling raised a few eyebrows and to be fair, you have to see it in the metal to get a better understanding of the X7's design language.
It's a cliche, but photos really don't do it justice! It's an immense vehicle. At just over 5 metres in length, there's no denying that this is a beast of an SUV. As for that grille, we completely understand that a flagship offering needs a bold and imposing design element. What's more imposing than seeing that grille in your rear-view mirror?
Essentially, the BMW X7 takes the existing X5 recipe and expands on it, both figuratively and literally. Built in the USA at BMW's plant in Spartanburg, the X7 stands tall at 1 805 mm, has a width of 2 000 mm and a wheelbase of 3 105 mm. There are 7 seats as standard, with the option of a 6-seat setup where the 3-row middle bench is replaced by 2 individual seats.
Own a BMW? Tell us about your experience here.
What's on offer?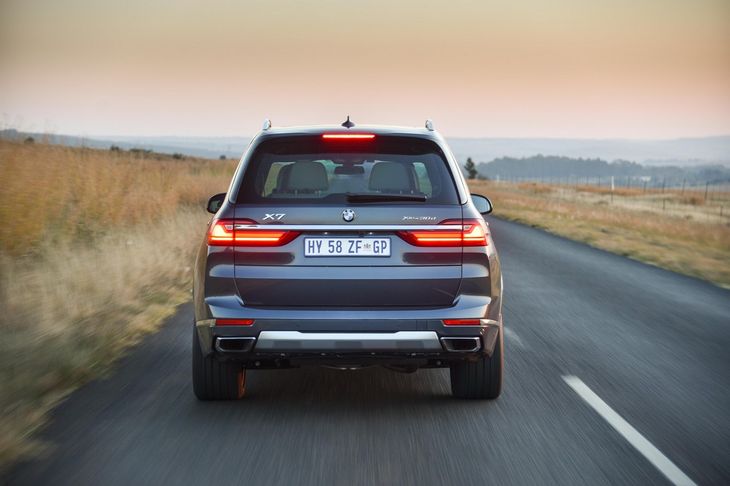 The BMW X7 is a big, bold and spacious 7-seat SUV that boasts a touch of offroad capability.
The BMW X7 is available with 3 engines: 2 turbodiesels and a turbopetrol (the latter of which is a twin-turbocharged 4.4-litre V8 that will arrive in October 2019). Kicking off the range is the 30d, which is a 3.0-litre turbodiesel 6-cylinder engine that produces 195 kW and 620 Nm. The X7 xDrive30d is claimed to be capable of hitting 100 kph from standstill in a claimed 7 seconds and consume between 6.5 and 6.8 L/100 km.
The next engine is the mighty M50d, which is also a 3.0-litre turbodiesel motor, but in this application, it features not 1, not 2, but 4 turbochargers. This quad-turbo setup produces 294 kW and 760 Nm, and BMW claims a 0-100 kph sprint time of 5.4 seconds, which is impressive given the immense size of the X7. The M50i arrives later in the year and promises the most performance, thanks to its peak outputs of 390 kW and 750 Nm.
Being the flagship SUV offering in BMW's product line-up, the X7's standard specification and equipment levels are high. There are 2 trim levels: Design Pure Excellence and the popular M Sport package. Prospective buyers who want to specify their X7s to their particular tastes can dip into the BMW Individual catalogue. The BMW X7 comes with an assortment of big wheels ranging from 20- to the massive 22-inch units that the local launch vehicles were shod with. We were very impressed with the build quality and cabin materials. It looks luxurious and certainly feels that way.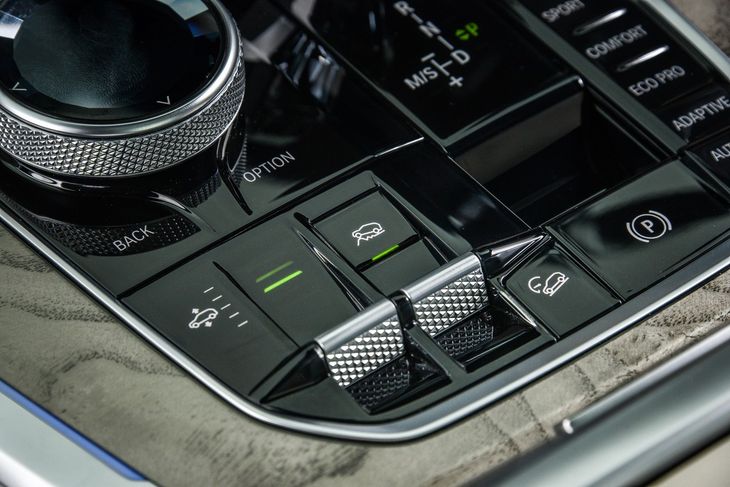 Adaptive 2-axle air suspension is fitted to the BMW X7 as standard.
All derivatives feature 8-speed automatic transmissions, adaptive 2-axle air suspension, adaptive LED headlights, automatic tailgate and xDrive permanent all-wheel drive. Inside, you have active cruise control, heated/cooled front seats, wireless charging, digital instrument cluster, 12.3-inch infotainment screen, 10-speaker Harmon Kardon audio system, 2x USB-C ports for the rear passengers, window blinds for the rear passengers, panorama glass sunroof, satellite navigation, and ConnectedDrive services with real-time traffic info.
There are few options of interest, such as bigger wheels, a Bowers&Wilkins sound system and a towbar. We would also recommend investigating the rear passenger entertainment system if you're considering the X7 30d. It's standard on the M50d.
Interestingly, the BMW X7 is offered with an xOffroad Package (as is the X5), but whether anyone would be brave enough to take their expensive first-class SUVs on off-road excursions is another story. This package comprises some off-road modes such as Sand, Snow, Rock as well as an off-road-specific differential lock. For additional peace of mind, there's some underbody protection at the front.
Thanks to its massive dimensions, the X7's cargo-carrying capacity is generous. There are 326 litres of space with the 3rd row of seats upright. Fold these down and space increases to 750 litres. If you fold the 2nd row down as well 2 120 litres of utility space becomes available, which is immense.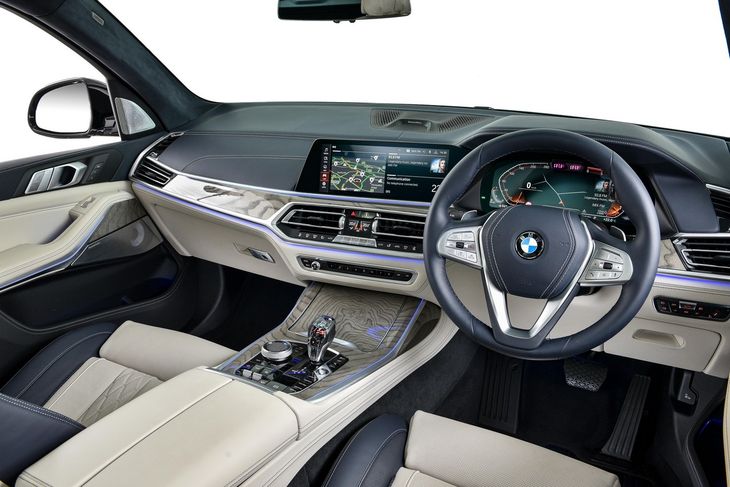 We feel the cabin is the best BMW can offer in terms of luxury and high-quality materials used
What is it like to drive?
Let's start with a preamble: When it comes to driving the new X7, it's not the BMW's length that'll oblige you to manoeuvre the vehicle in a gingerly manner in confined spaces, it's its sheer width. Going through parking booms, for instance, requires a watchful and gentle approach.
The current BMW turbodiesel engine lineup is an impressive one. Not only do the 3.0-litre units offer commendable levels of power and grunt, but the power delivery is smooth and refinement is superb. Inside the cabin, there's no trace of any telltale diesel noise or "chatter", but we assume there's an artificial soundtrack which overrides it. This isn't a bad thing, as the engine note under acceleration is not unpleasant.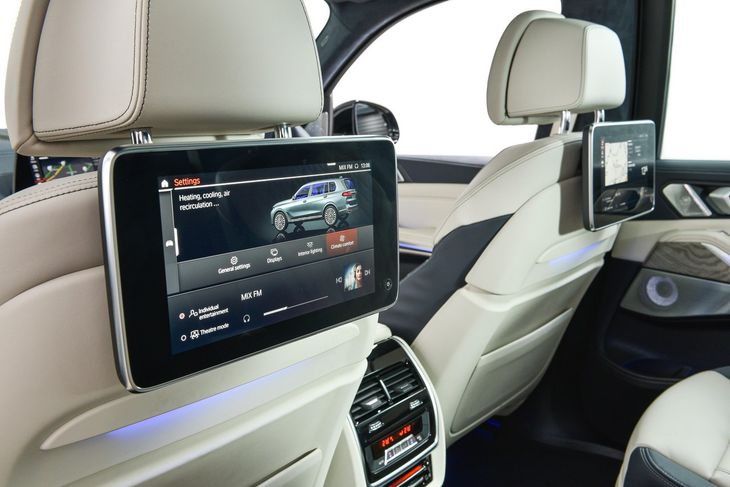 Top-spec models get the rear entertainment package as standard
Despite our initial fears, the xDrive30d's 195 kW/620 Nm motor wasn't overwhelmed by the X7's heft... it felt surprisingly nimble off the line and when executing overtaking manoeuvres. By contrast, the quad-turbo M50d's sledgehammer torque delivers comparatively eye-widening in-gear acceleration accompanied by a pleasant 6-cylinder rumble. Both vehicles feature BMW's renowned 8-speed transmission, which does a fine job of shifting cogs in a silky, almost unobtrusive manner. Impressively, the high level of torque means that the transmission will not immediately find a shorter gear, resulting in a more relaxed ride. If ever there was a vehicle that epitomised the Comfort setting, it's the BMW X7.
We suspected the beautifully-crafted cabin was an exceptionally quiet and refined place to be, which we confirmed by turning off the ventilation and audio system at the national speed limit in our first test unit which was a 30d without the M Sport package. It was whisper quiet with only a hint of a hum coming from the engine, barely ticking over. Wind noise? Absent. Road noise? What road noise? It's deeply impressive how noise has been shut out. Interestingly, when we drove the M Sport-equipped M50d, we noticed the ride was a little firmer and road noise was evident.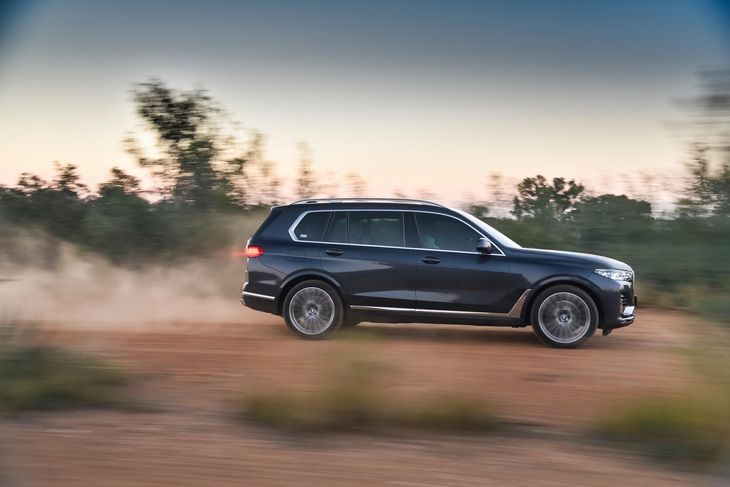 Whether you'd take the ultra luxurious X7 offroad is another story, but the vehicle can soak up some rough gravel with ease
Speaking of ride quality, the BMW X7 excels, despite our test units for the day riding on the biggest 22-inch wheels. Granted, the M Sport package firms things up a bit, which is why we'd opt for the Design Pure Excellence package all day and every day. The way it rides with the big wheels is excellent which we're putting down to the air suspension and CLAR architecture, and it took some rough gravel driving for us to notice some ruts and bumps. The steering feel perplexed us initially. For a vehicle this big, it's wonderfully light, has substantial weighting and easy to wield. There were times that it felt as if we were piloting a much smaller vehicle. You can pitch the vehicle into some corners and because the laws of physics can't be completely engineered out, there is some body roll, but nothing you wouldn't expect when piloting such a behemoth.
Usually, on these media drives, you land up sharing a car with a colleague from another publication. Given the vehicle's luxury appointments and cabin space, we figured the next best place to be in the X7 (after the driving seat) was in the diagonally-opposite rear passenger seat. Not only is rear legroom generous, but the seats are superbly comfortable and can recline. To sweeten the deal, the rear headrests feature pillows for those seeking some shut-eye on longer journeys. Our test units featured rear entertainment screens and we're glad to see the new BMW Infotainment software has been applied to these too. Not only does it look fresh and modern, but the clean layout and user experience are a pleasure to use.
Should you buy one?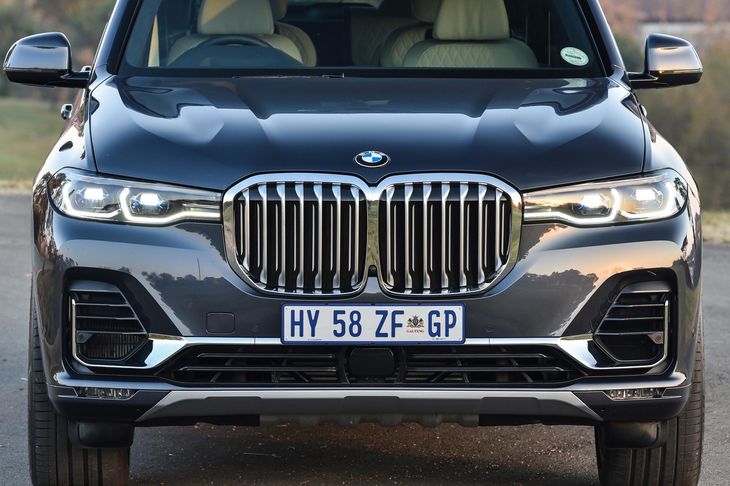 It's big, bold and very impressive. BMW has nailed it with the new X7.
The luxury SUV market is booming and will do so for some time to come. BMW's first attempt at making an ultra-luxurious 7-seat SUV is more than respectable... in fact, we think the Bavarian brand has nailed the product brief. The majority of its X7 units will be sold in the United States and China, which gives you an indication of the newcomer's target market: clients who want the utmost luxury, refinement and a status symbol, and we think BMW's first go at tackling the market dominated by the Mercedes-Benz GLS is commendable. Given the fact the X7 has reached the market before the recently-updated GLS, means the Mercedes-Benz is going to need something quite special if it's to match Munich's offering.
Granted, that bold and imposing front-end styling is not to everyone's taste, but we like it for that very reason. Pricing for the BMW X7 is particularly interesting. Officially, BMW claims its X7 is the 7 Series of the SUV world, but when you consider where the 1st-class sedan sits in the pricing hierarchy, it makes you wonder why customers wouldn't default to an X7. An entry-level BMW 7-Series comes in at R1 645 990, which you can compare to the pricing of the X7 below. With additional seating, xDrive and more space, the X7 makes a compelling alternative to its sedan sibling.
BMW X7 Price in South Africa (May 2019)
The new BMW X7 comes standard with a 5-year/100 000 km Motorplan.
BMW X7 30d R1 562 849
BMW X7 M50d R1 605 949
BMW X7 M50i R1 862 308
Further reading:
BMW adds mighty M50i engine to X5 and X7
BMW X7 (2019) International Launch Review
BMW X7 Revealed: The Biggest X yet