For those who considered the BMW X5 too small for their needs (or image!), there's an X7 first-class SUV. And, where better to test it than the open roads of Texas and Arizona in the land of SUVs itself – the USA? Our UK Correspondent Shane O' Donoghue got behind the wheel of the "7 Series of SUVs" and herewith his findings...
At times, the endless skies and straight roads of Texas and Arizona make the two US states feel as vast and as endless as the Northern Cape. And size most certainly matters around these parts. The roads are big, the burgers are big, the personalities are big, the "barbecue" grills are big and, of course, so are the cars. Other than SA, this is probably the only place in the world where the new BMW X7 doesn't immediately strike you as simply ginormous.

BMW's biggest car yet was launched in the wide open spaces of South West USA.
Photographs may suggest that the X7, BMW's newest SUV, is little more than a restyled and slightly stretched X5, but it's considerably bigger and shares zero body panels. The Munich-based firm's maiden first-class SUV measures in at 5 151 mm long, 2 000 mm wide and 1 805 mm tall, on a wheelbase of 3 105 mm, making it a significant 265 mm longer, 62 mm wider, 43 mm taller and 172 mm longer in the wheelbase than its "kid" brother. Sure, it gets bigger badges and sneaky trim detailing to help disguise the bulk, along with the option for wheels of up to 22 inches in diameter, but when you make your way around to the front, you're tasked with taking in the largest (most controversial) kidney grille BMW has ever made. We've yet to find anyone that loves this, though it certainly gives the X7 "get out of my way" presence. Besides, BMW wanted to align the X7 closer to the 7 Series first-class sedan than the X5.
When you hasten away from the controversial nose and return to the side of the X7, the 7 Series influence becomes apparent in the shape of the newcomer's door openings – the rear one is longer, which hints that the X7 is intended to accommodate the front and rear passengers in comparable levels of comfort. Pull any of the doors open and you're greeted by a sumptuous interior that uses all the latest in BMW's technology arsenal, including dual 12.3-inch screens and sharp graphics. The central touchscreen is fast to respond and offers gesture control to toggle a few of the iDrive functions, although we found ourselves falling back on using the rotary controller when on the move – it's simply more precise.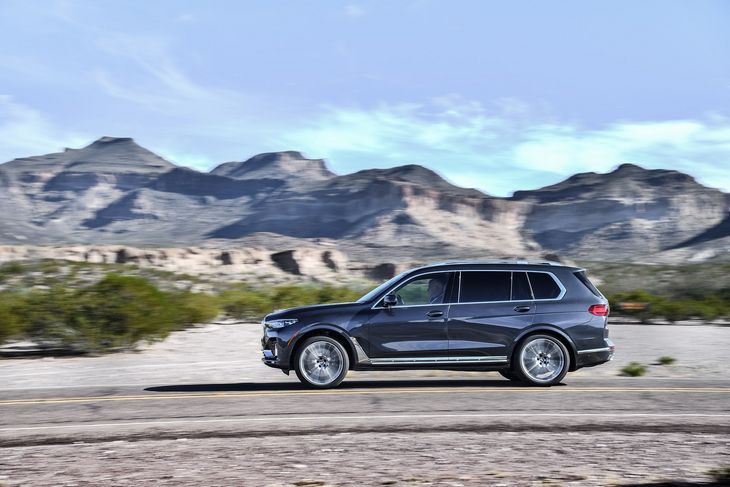 With a wheelbase of 3 105 mm (just shy of a long wheelbase Range Rover), you'd expect to fit 7 people in absolute comfort.
Up front, the new X7 doesn't feel very different from the X5, but the rear seating is all-new. All X7s will feature 3 rows of seating, but the 2nd-row bench design can be optionally replaced by 2 individual chairs, making the X7 a 6-seater. This really is the X7 at its best, setting it apart from the X5 as a luxury vehicle. These individual chairs have electric adjustment and are just as comfortable as those up front, while the space between them is sheer indulgence. There's enough room there to get into the rearmost seats, and they're genuinely big enough to accommodate a pair of average-sized adults in comfort for long journeys. A neat touch is the fitment of a glass panoramic roof as standard that has an extra panel above the back row, ensuring that occupants don't feel like 2nd-class citizens. Buyers can specify 5-zone climate control for the same reason, and there are several rear-seat infotainment options.
Usefully, there's still some luggage space when all seats are in use. Access is via an electrically operated (and split) tailgate and inside you'll find a cluster of tactile buttons to automatically alter the seating layout, including shortcuts for maximum passenger seating or -luggage space. This is all very easy to use, though it seems to take the electrically moving seats an age to change their positions...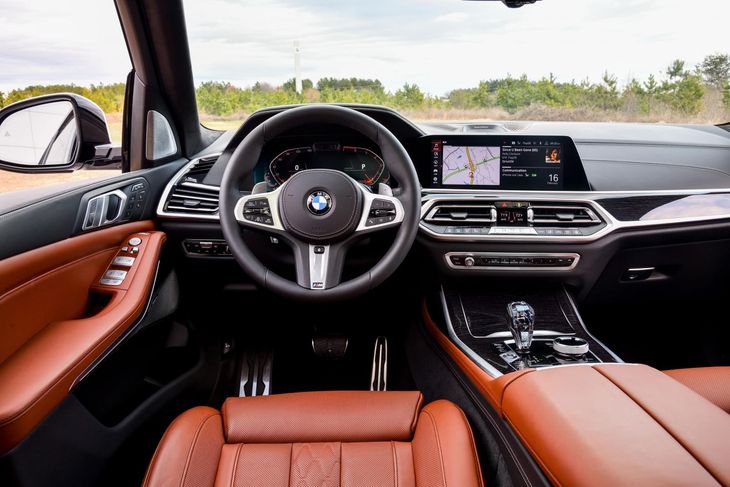 Up front the X7 isn't much different from an X5. It's in the back where differences occur.
Kicking off the X7 range in SA is the turbodiesel xDrive30d and M50d derivatives, priced at R1 562 849 and R1 862 308 respectively. The M50d gets its own specification and equipment, while the rest of the line-up can be had in standard, Design Pure Excellence and M-Sport guises. The X7's main rivals are the Mercedes-Benz GLS and Range Rover.
Own a BMW? Tell us about your experience here.
What's it like to drive?
Given the location of the international launch of the BMW X7, it should perhaps be of no surprise to discover that we only had access to petrol versions, which won't reach South Africa until late 2019, while the range-topping xDrive50i, with its twin-turbocharged 4.4-litre V8, may never hit Mzansi's shores at all. So let's focus on the petrol model that will: the xDrive40i. It's powered by BMW's turbocharged 3.0-litre straight-6, which produces 250 kW and 450 Nm of torque. Even though the X7 looks and feels like a large car, this engine doesn't feel overwhelmed for the most part. Only when the roads turn mountainous do you detect more frequent down-changes in the silky smooth 8-speed automatic transmission (when you've got cruise control set and the car is aiming to keep at a consistent speed, regardless of inclines). And even if you extend this 6-pot to the redline it maintains a cultured and distant note.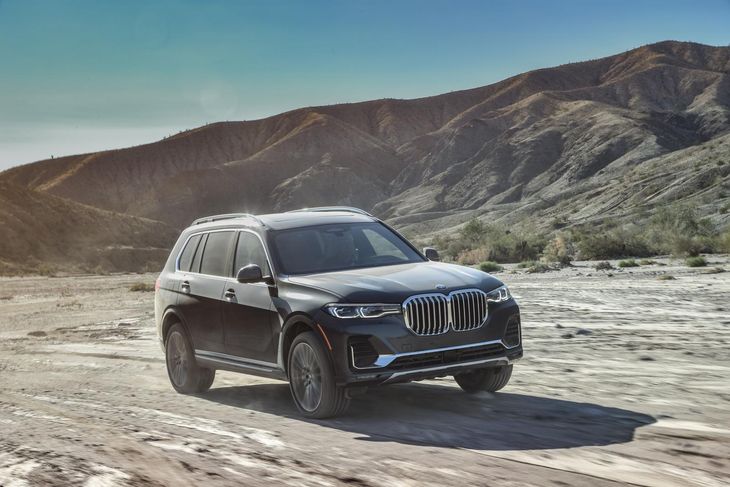 Don't expect to see many X7s off-road. BMW has fitted the X7 with all the off-roading kit it will ever need, however.
That's when you realise just how quiet the X7 is in general. Wind noise, road noise and engine noise are all absent for the most part, reinforcing the upper-end luxury-car message.
Despite that, the X7 is more biddable than you might expect from something this large. At legal road speeds, it feels like it isn't even trying, which is all most will want from it, though keener drivers will find it lives up to the badge on the bonnet in the way it can take more "enthusiastically driven" corners with little body lean and even some feedback from the steering.
That depends, of course, on how you specify your X7. As standard, it gets air suspension front and rear with adaptive damping, but buyers can add Integral Active Steering (rear-wheel steering) to help it feel more agile. That's worth going for even if you don't foresee twisty corners on your horizon, as it makes the X7 far wieldier around town.

Air suspension is standard on the new X7, rear wheel steering is optional but recommended.
And off the beaten track, the X7 should be able to more than hold its own thanks to BMW's fully-active xDrive four-wheel-drive system. Those not afraid to risk the X7's big rims and chrome trim can even specify an Off-Road Package to enhance the first-class SUV's ability.
The X7 does everything you'd expect a jacked-up BMW 7 Series to do, and a little more. Suffice to say, no other full-size SUV in its segment feels quite as good to drive as the Bimmer.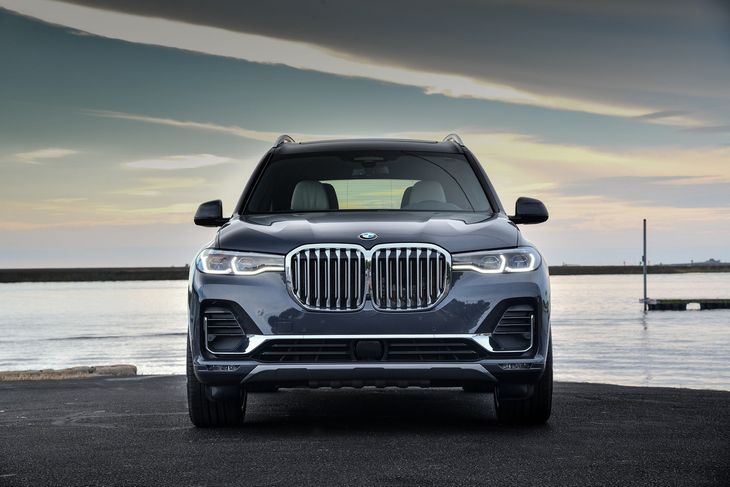 The huge grille on the X7 should appeal to the South African's love of braaing.
Nobody will buy the BMW X7 to go seriously off-road, or to drive it hard on a race circuit, but the Bavarian firm's own standards demanded that its largest SUV had to cope with extremes and maintain the driving dynamics that has made its badge one that signifies "this is a car people will want to drive". Thankfully, it doesn't appear to have compromised on a high-quality and spacious cabin in that pursuit. The X7 deserves its billing as top SUV dog in the BMW line-up, that's for sure.
BMW X7 Price in South Africa
BMW X7 xDrive30d R1 562 849
BMW X7 M50d R1 862 308
Related content:
BMW X7 Revealed: The Biggest X yet
Mercedes-Benz GLS 500 (2016) Review