It may not be the top-of-the-range BMW X5 derivative, but the M50i is about R1 million more affordable than its 460-kW M Competition sibling – and arguably represents all the performance-oriented premium SUV that you're ever likely to need...
We like: Stonking performance, pliant ride quality, good build quality & cabin insulation
We don't like: Fuel consumption, paying extra for heated seats
Fast Facts:
Price: R1 690 084 before options (September 2020)
Engine: 4.4-litre twin-turbopetrol V8
Power/Torque: 390 kW/750 Nm
Transmission: 8-speed Tiptronic
Fuel consumption: 11.5 L/100 km (claimed)
Boot capacity: 650-1 870 litres
Performance: 0-100 kph in 4.3 sec.
What is it?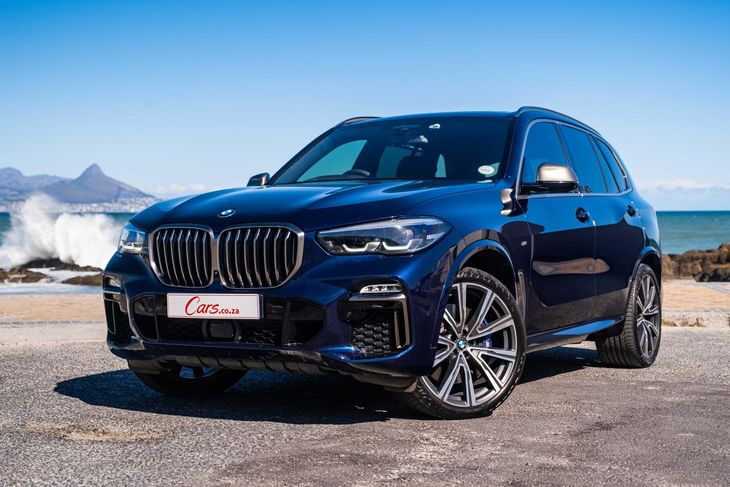 The X5 M50i's imposing presence benefits from the addition of M Design elements and striking 22-inch (optional) alloy wheels.
The BMW X5 is, in xDrive30d form, our current Cars.co.za Consumer Awards – powered by WesBank Premium SUV champion by virtue of offering a breadth of talents (as well as solid brand support, of course) that its rivals struggle to match. However, if you're looking for a performance-oriented, full-sized, luxury family vehicle and your budget can't quite stretch to the full-fat X5 M Competition (which has an asking price of around R2.6 million), this M50i derivative could very well be for you. And, best of all, you could be saving in the region of R1 million by opting for the latter!
Rivals? Well, although the M50i is not a fully fledged member of the BMW M gang, in terms of price and performance it competes with the likes of the Mercedes-AMG GLE53 4Matic and Porsche Cayenne S, which also have sporty pretensions. The BMW is, however, more powerful and faster than either of those (fellow German) derivatives...
How it performs in terms of...
Performance, fuel economy and ride/handling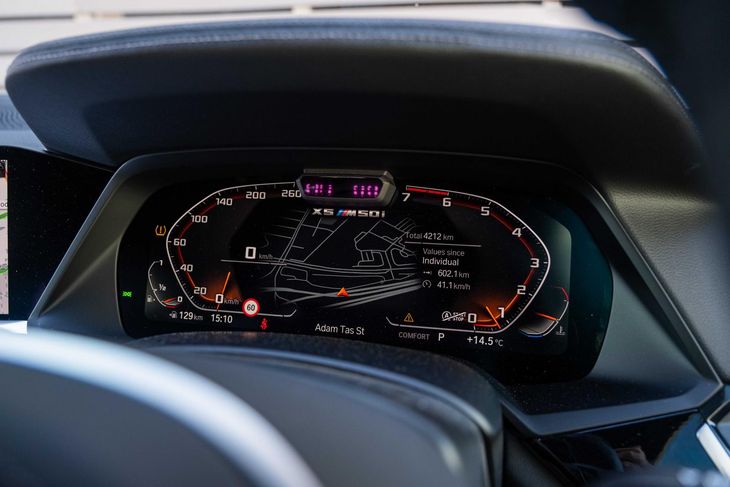 Digital instrumentation screen boasts crisp, clear graphics. Maximum power is developed between 5 500 and 6 000 rpm.
Under the sculpted bonnet of the M50i sits BMW's twin-turbo 4.4-litre V8, which produces a mighty 390 kW (from 5 500 to 6 000 rpm), which may be well short of the M Competition's 460 kW, but it matches its sibling's peak torque output (750 Nm, between 1 800 and 4 600 rpm). This means the M50i doesn't exactly "hang about". BMW claims a 0-100 kph time of 4.3 seconds, which comfortably beats the Mercedes-AMG GLE53 4Matic and Porsche Cayenne S' times. To be honest, we can't fathom why you'd want to go faster in something that is this big... and obviously not a sportscar.
Mated with BMW's slick-shifting 8-speed automatic transmission, the engine offers a lovely, crisp throttle response and just enough of an urgent soundtrack to make matters interesting when you mash the X5's accelerator pedal. Still, it doesn't "crackle and pop" like an M car; the emphasis here is more on delivering an "iron fist in velvet glove" driving experience. The M50i does that exceptionally well.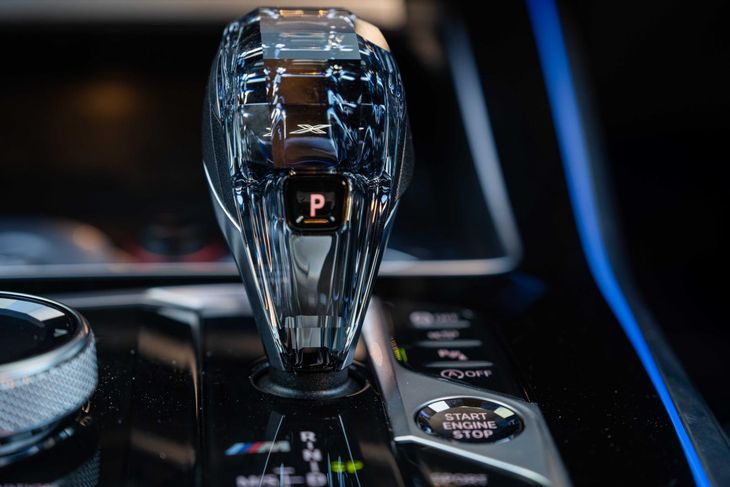 The CraftedClarity transmission lever may look the part, but it doesn't feel substantial enough in hand.
Don't forget the M50i utilises BMW's xDrive all-wheel drive system, which can direct all the torque to the rear axle (if required) and an M sports-differential is standard. While the X5 is one of the sweetest-handling and best-riding Premium SUVs on the market (even the more affordable variants), dynamic sharpness is probably the one area in which there is an appreciable difference between the M50i and X5 M Competition. The latter's extra stiffness and track-honed dynamics result in a firmer ride and better steering precision than what the M50i can muster, but that's not to say it's clumsy.
Far from it – it's just that the emphasis of the M50i package is on providing a comfortable, refined driving experience. Interestingly, air suspension is not standard on this derivative (it costs R18 100 extra), but adaptive dampers are. Our test car was also fitted with the Adaptive M Suspension Professional package, which costs R52 000. Select Sport mode and the steering acquires a reassuring heft and you can lean on the chassis in the corners because there is so much grip. The standard wheels are 21-inchers, but our test car rode on even larger 22-inch items (they cost R15 300).
Only less-than-frugal fuel consumption is an issue, but not unexpectedly so. BMW claims an average figure of 11.5 L/100km, but you'd have to drive quite gingerly to achieve that. Expect a return of approximately 13 L/100 km as a more realistic day-to-day number.
Exterior design & Packaging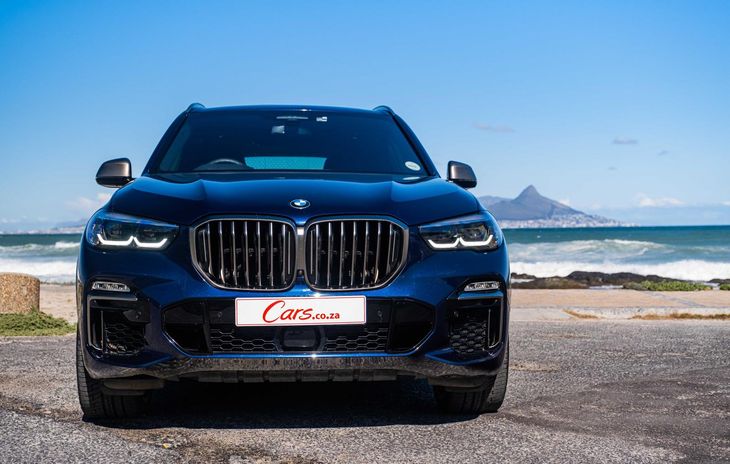 You've seen the X7's front end, so do you still think the X5's grille is too big?
By now we've all grown accustomed to the latest X5's exterior design and, in particular, what was initially considered an oversized grille... In the metal, the X5 has an imposing presence, due to its wide stance – for the most part – and especially the way those large (optional) 22-inch wheels fill their arches. There are some nice details, such as the subtle fender flares just above the rear wheels, and a tasteful hint at a shark's nose in the angle of that grille. With menacing detailing in the headlamps (courtesy of the adaptive LED lights), the X5 gains an aggressively sporty "face". Our test unit did not feature the optional LaserLights, which offer genuinely impressive illumination and might just be worth the R18 900 extra if you intend doing long nocturnal stints behind the 'wheel on regular occasions.

The X5's luggage area is one of the largest in its class. Note levers to fold down second row of seats when standing behind the vehicle.
The sheer size of the X5 translates into excellent cabin space, whether you're seated fore or aft. There's also a large load bay (650 litres), which is more capacious than those of most of the BMW's rivals, but ultimate utility space (with the rear seats folded down), doesn't quite measure up to what is offered by the Mercedes-Benz GLE. A nice touch is the split-opening tailgate, which is particularly helpful when you need somewhere to sit following a muddy outdoor activity, for example. Press a button inside the luggage area and a towbar pops out from underneath the car (a R11 500 option).
Interior execution and features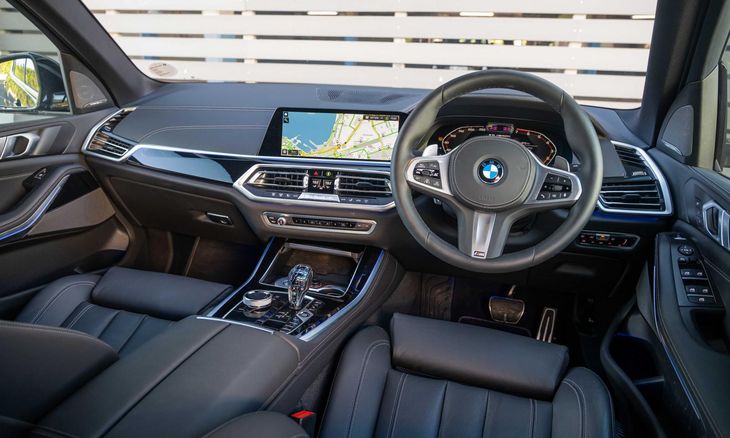 The cabin is not as decked out in touchscreens as some rival offerings, but strikes a nice balance between traditional luxury and modernity.
Thanks to the arrival of the X7, the X5 is no longer BMW's SUV flagship, but you'd never say that when you're seated behind its tiller – the M50i feels like a 7 Series on stilts. You sit high in a superbly supportive driver's seat that can be upgraded to offer heating (R5 550) and cooling (R9 800), but we think seat heating (at the very least) should be standard – you can even get massaging front seats (R14 400). The fascia's leather (a R17 600 option) and wood (or piano black, in the case of our test car) are juxtaposed with just enough high-tech satin silver finishes and LED screens to create a milieu of modern luxury, augmented by LED ambient lighting. On the move, the quietness of the cabin is immediately apparent, undoubtedly aided by the standard noise-reducing "acoustic" windscreen.
The quality and solidity of the X5's cabin is impressive, as one would hope, but for us the "blingy" CraftedClarity glass interior elements actually detract from the overall feeling of build integrity. As has been the case before, several testers mentioned that the sculpted glass transmission lever just doesn't feel particularly substantial... and that its plastic backing smacks of marginal quailty.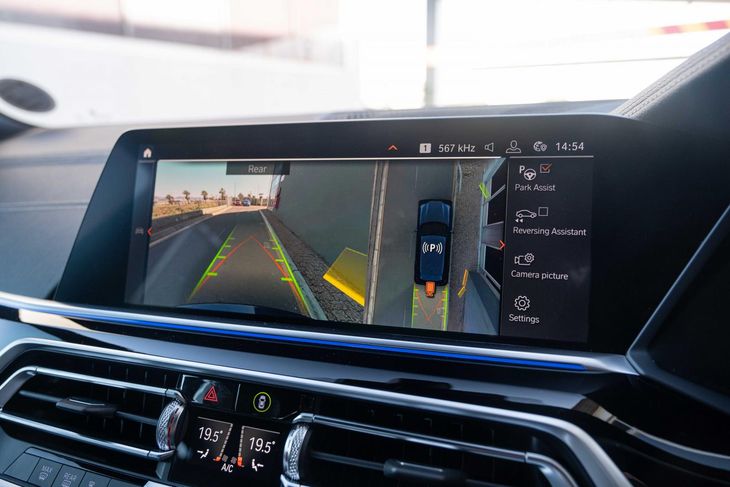 Excellent Park Assist Plus system is a good option box to tick, and it costs "only" R8 900.
There are myriad optional extras to choose from, but the M50i is reasonably equipped with stock features such as BMW's Live Cockpit Professional system, which consists of a 12.3-inch digital instrument cluster and 12.3-inch infotainment monitor. Controlling the various features is no longer only done via the iDrive controller – you can access features via Gesture Control, Voice Control, the steering wheel buttons and inputs to the touchscreen. A 20 GB hard-drive-based multimedia system is also standard, as are a pair of USB ports, Bluetooth/Wifi connectivity and a wireless charging pad.
Also included as standard is cruise control (with a braking function), collision warning and pedestrian warning. A nice-to-have optional extra is adaptive cruise control with a stop-and-go function (R11 600). Also on offer is a very impressive surround-view camera system (Parking Assist Plus, R8 900), which makes parking or manoeuvering the bulky X5 a significantly less-intimidating exercise.
Pricing and warranty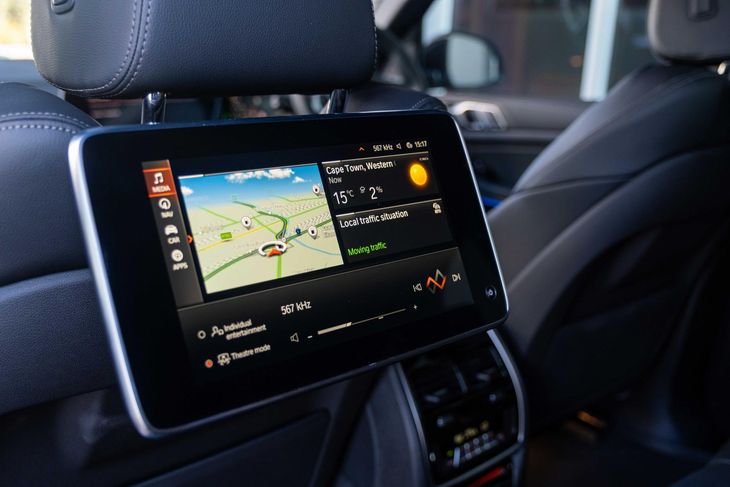 The rear seat entertainment system costs an extra R38 400.
The BMW X5 M50i's list price is R1 690 084, before options (our test unit was specced to just shy of R2 million). A 2-year/unlimited km warranty and 5-year/100 000 km maintenance plan are included.
Take a look at specification details
Browse for a used or new BMW X5 on Cars.co.za
Verdict

Arguably as much "M" as you'll ever need in a large SUV... the M50i may be thirsty, but that's about our only complaint.
The BMW X5 M50i offers a deeply impressive blend of performance, refinement and luxury – one that is arguably unmatched at the price. Yes, the Cayenne S may dynamically be more engaging and the Mercedes-AMG GLE offers a more dramatic cabin ambience, but neither of those SUVs can match the M50i's outright grunt and ride refinement. In fact, the M50i looks like comparatively good value compared with what else is in the market of similar size and power. The only real negative is the fuel consumption. If that's a concern, may we suggest you look at the M50i's diesel sibling, the M50d?
Related content:
BMW, Mercedes-Benz or Audi: Who's winning the design war?