BMW has unveiled a new concept car. It's called the BMW M Performance Parts Concept and it showcases what's possible with the extensive use of carbon fibre, reduced weight and smart aerodynamics.
We're big fans of the BMW M2 compact sportscar. Not only does it deliver a pure driving experience, it's devastatingly quick in the right hands. It also bagged back-to-back wins in the #CarsAwards – Powered by WesBank. Our team would even to go as far as to suggest that out of the entire BMW M family, they'd opt for the M2. There's also a hotter and more focused (if that's even possible) BMW M2 Competition on the way with over 300 kW on tap.
However, BMW is keen to show off what can be done with the significant use of carbon fibre, weight saving and optimised aerodynamics. This is the BMW M Performance Parts concept, which takes the idea of the M2 and enhances it. Finished in a matte Frozen Black finish with extensive use of gold detailing, this BMW M2 looks mean and imposing.
There's plenty of carbon fibre parts which serves two purposes. Firstly it looks awesome and secondly, it reduces overall weight. The front radiator grille saves 8kg, the front side panels each save 3 kg while helping with aerodynamics, the roof shaves a further 6 kg and the rear spoiler reduces weight by 5 kg. How nice are these wheels too? These are lighter-than-standard 19-inch M Performance forged alloys in a Frozen Gold colour, wrapped in Michelin semi-slick rubber. A further 6 kg is saved with these wheels. The obsession with weight reduction is even evident in the battery, which has been replaced by a unit which is 14 kg lighter.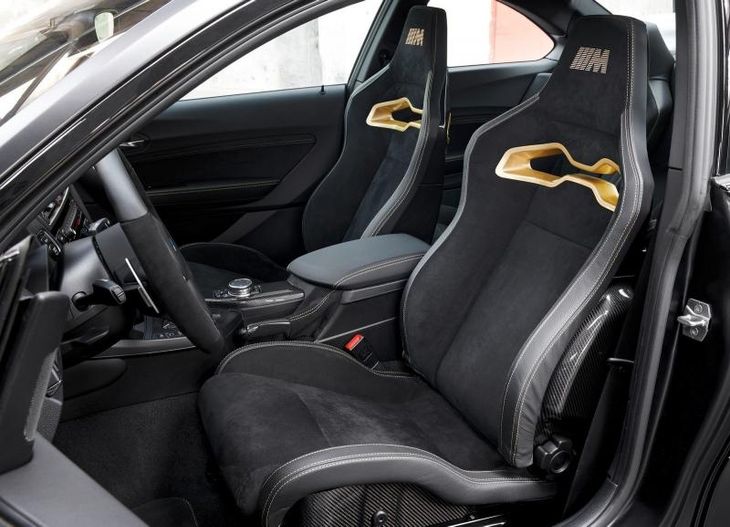 These seats are both beautiful to look and form a critical part of the weight-saving process as they're substantially lighter than the standard units
Inside, there's further focus on weight reduction and there are striking M Performance carbon fibre sport seats, an M Performance steering wheel as well as plenty of Alcantara and carbon fibre touches. The changes are not just limited to the cabin and exterior. Under the skin, the BMW M Performance Parts Concept features the M Performance suspension. The car is 20 mm lower, the dampers are independently adjustable to 12 different compression stages and 16 different rebound stages
While this car is strictly a concept, we're happy to report that you'll be able to purchase these optional parts for your new BMW M2, while some options can be retrofitted. The vehicle will be showcased at the 2018 Goodwood Festival of Speed.
Find a BMW M2 on Cars.co.za
Get a quote / Book a test drive
Further Reading:
BMW M2 Competition (2018) Specs & Price
BMW M2 Coupe Auto (2016) Review
Classic Battle of the Brands: M2 vs RS3 vs A45
Audi RS3 vs BMW M2 (2017) Drag Race
Audi RS3 vs BMW M2 (2017) Track Race
Drag Race: BMW M2 vs Mercedes A45 AMG [Video]
BMW M2 vs Audi RS3 (2017) Comparative Review Video
Winners of 2017/18 Cars.co.za Consumer Awards – powered by WesBank