BMW's first-ever M8 is also available in convertible guise. While undeniably fast and seductive, the M8 Competition Convertible is also very, very heavy – and prohibitively expensive. Then, of course, the big question remains: Is this R3.6-million drop-top powerhouse a true M car?
We like: Rocketship performance, excellent build quality
We don't like: Not as "tactile" as an M car should be, eye-wateringly expensive
Fast Facts
Model tested: BMW M8 Competition Convertible
Price: R3 630 862 (as of April 2021, no options fitted)
Engine: 4.4-litre V8, twin-turbocharged petrol
Power/Torque: 460 kW/750 Nm
Transmission: 8-speed automatic gearbox
Fuel Consumption: 10.7 L/100 km
Load capacity: 280-350 litres
​Top speed: 250 kph
What is it?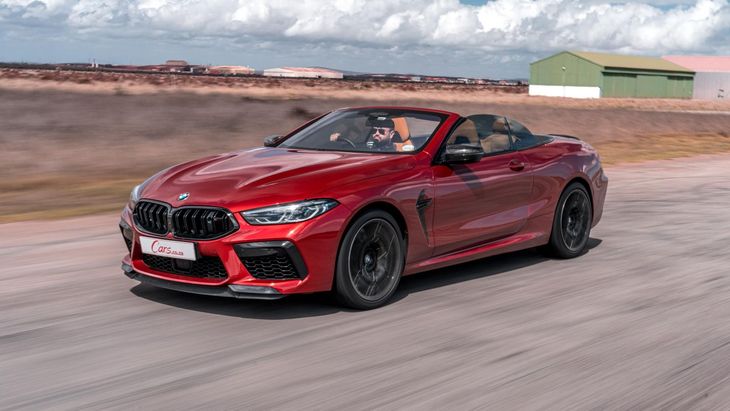 The first M8 ever takes the M-car brand into a new, hyper-expensive territory where "drama" is valued as much as ability.
The M8 Competition (whether in Coupe, Gran Coupe or Convertible form) sits at (or very near) the pinnacle of BMW's product line-up. It boldly forges into new territory for the brand, but also runs the risk of upsetting M-car traditionalists, of which South Africa has many. You see, at face value, BMW's M Division appears to be playing the numbers game with this car and, in this day and age, it seems the bigger the numbers, the better...
Let's start with the name. Essentially the new 8 Series replaced the previous 6 Series. So why didn't the Munich-based brand just call it the 6 Series, then? Well, 8 is bigger than 6 and therefore, from a marketing point of view, arguably more attractive. Besides, you can justifiably charge more for an M8 than an M6, can't you? Then there is the sheer size and weight of the thing...
Even with BMW's Carbon Core technology, this M8 still weighs around 2 tonnes, so it needs the "most powerful engine ever fitted to an M car" to deliver its smashing performance. But what impact will all that weight have on its dynamic abilities? After all, BMW M cars are supposed to be more than just straight-line dragsters...
With a whopping price tag of R3.6 million, the M8 Competition Convertible is currently arguably without rivals if you're looking for a super-fast, ultra-luxurious 4-seat convertible. But its asking price does set it on a collision course with smaller, but similarly fast exotics, from the likes of Porsche and Aston Martin, no less.
So, is this BMW cashing in on the allure of the M brand, or is the M8 Competition Convertible the real thing? Let's find out.
How it rates in terms of...
Performance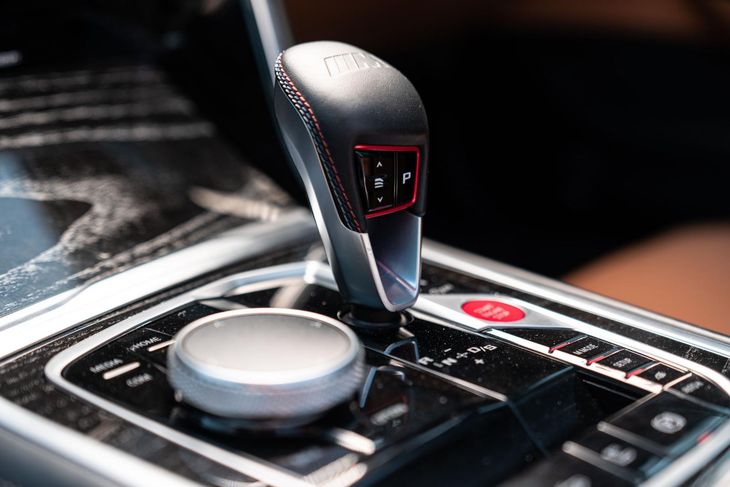 The M8 Competition offers various opportunities for finetuning the drivetrain to the driver's exact requirements.
To reiterate, the most powerful engine ever fitted to an M car sits underneath the M8 Competition's long bonnet. The twin-turbo 4.4-litre V8 thumps out maximum outputs of 460 kW and 750 Nm of torque. Peak torque is available across a long stretch of the rev range (from 1 800 to 5 800 rpm), which means the powerplant always has huge reserves of grunt available. The engine is mated with an 8-speed automatic transmission and, as is the case with most M cars, you have various settings to play with to set the car up to your specific requirements. I initially thought the M8 Competition was a little lazy to respond to initial throttle inputs (when left to its own devices) – in normal driving, it rushes through the gears to the top very quickly for greater efficiency. However, a previous driver had set up one of the M buttons on the steering wheel to my exact preference, and once that was pressed the performance potential became very clear as the M8 leapt in response to some decidedly delicate throttle inputs.
Watch the M8 Competition Convertible in a drag race against a Range Rover Sport SVR

BMW claims a 0-100 kph time of 3.3 seconds, which is downright startling given the fact that this bulky roadster weighs around 2 tonnes! Oh, and it only takes 11.3 seconds to reach 200 kph from a standstill! The top speed is limited to 250 kph, but you can optionally have the top-end raised to 300 kph. So, there's no denying the M8 Competition's performance credentials, it will comfortably run with the exotic machines it is priced against. And, despite initial concerns around throttle sensitivity, once it has been set up with responsiveness in mind, it reacts to driver inputs with alacrity.
In terms of aural character, the car falls well short compared with other high-performance machinery, however. Even with the roof down and the sportiest exhaust setting engaged, it's all a bit "shy", muffled.
Ride & Handling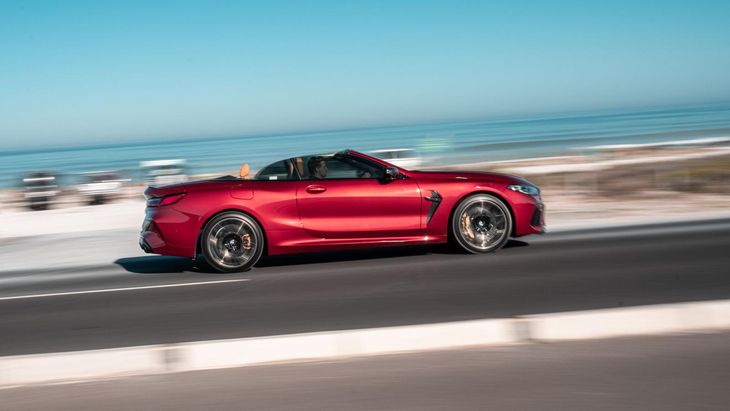 Though developed on the race track, the M8 Competition Convertible feels more at home cruising the beach front.
The M8 Competition Convertible rides on BMW's Adaptive M suspension (with variable damper control), and to harness all that power, it also gets the firm's xDrive all-wheel-drive system, albeit one that is rear-biased. However, depending on your driving ability and/or appetite for risk, you may want to explore either the 4WD Sport mode (which sends more power to the rear wheels) or DSC off, in which case the M8 is rear-wheel-drive only. BMW suggests the latter is meant for the "experienced wheelman".
Furthermore, BMW seeks to emphasise that the M8 Competition, even in Convertible form, remains a true M car and, as such, the firm has spent considerable time and effort developing the car on some of the world's most challenging racing circuits, including the Nurburgring. In fact, BMW says that the M8's model-specific chassis technology has been designed and tuned with the specific demands of track use in mind. We can't quite imagine anyone in South Africa taking their R3.6-million drop-top to a track day, but if you are so inclined, rest assured that your car even has a newly developed integrated braking system, the M-specific version of which presents the driver with 2 different brake-pedal-feel settings (Sport and Comfort).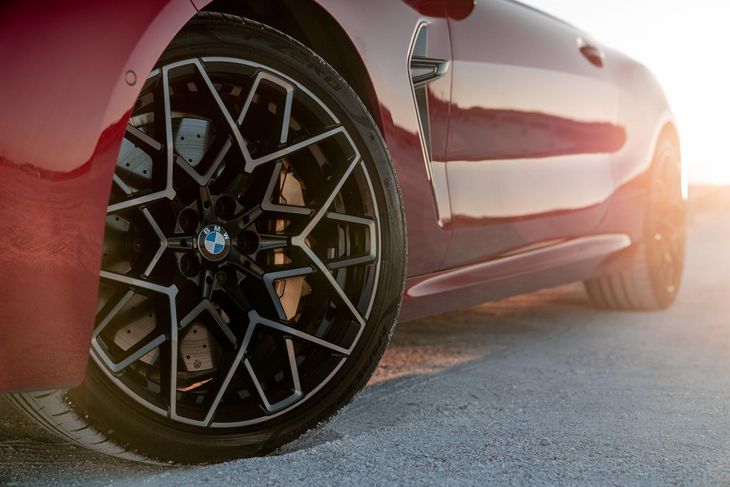 Striking 20-inch wheels on our test car. Note the M8 offers the driver two different brake performance settings.
With BMW's Carbon Core tech as a basis, the M8 Competition Convertible didn't display the worrisome creaks and groans one might expect from such a large, heavy convertible. Instead, the body feels reassuringly rigid, even when traversing surface-angle changes. In normal driving, and on smooth surfaces, the M8 wafts along like a big luxury car, creating the perception that it's a GT – not a sportscar.
If you dial in some "sportiness" via the various controls, the M8 Competition Convertible immediately transforms into a more engaging, responsive beast, but it never quite shrinks around the driver like the best sportscars do. One is always aware of its size and heft, and when the road surface deteriorates, the M8's confidence can be ruffled too. But make no mistake, on the right road (even if the surface is damp), the M8 Competition Convertible is stupendously fast from point A to B – and if the drivetrain setup is appropriate for the conditions, it will be a deeply satisfying experience for the driver, too. Even if the steering feels overly light (and possibly less communicative than it should be) at first, it becomes better with familiarity.
Design & Interior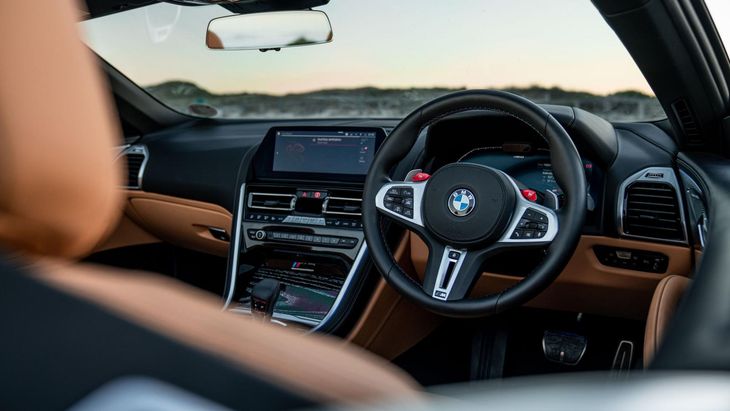 For a car at this price level, perhaps BMW's could've added some more "wow" to its very predictable cabin layout.
When you spend this much on a new convertible, you probably want people to notice you (oh, and your car, but mainly you). If the rubber-necking we encountered during our test term with the M8 Competition is anything to go by, BMW has nailed the aesthetics, even though our test team remains unconvinced. Nevertheless, this is an imposing machine with a broad, muscular stance and striking 20-inch alloy wheels that fill out the wheel arches nicely. It was also interesting to note that it garnered far more attention with the roof down, rather than up.
Inside, the M8 Competition Convertible certainly ticks the boxes in terms of quality (it has one of the most solid BMW cabins we've experienced in a long time), clever features (a highlight being the neck-level heating system) and comfort (the front seats are superb). While it lacks "drama" overall, there is very tasteful detailing (the ambient lighting is really special, and the quilted leather on the doors plush).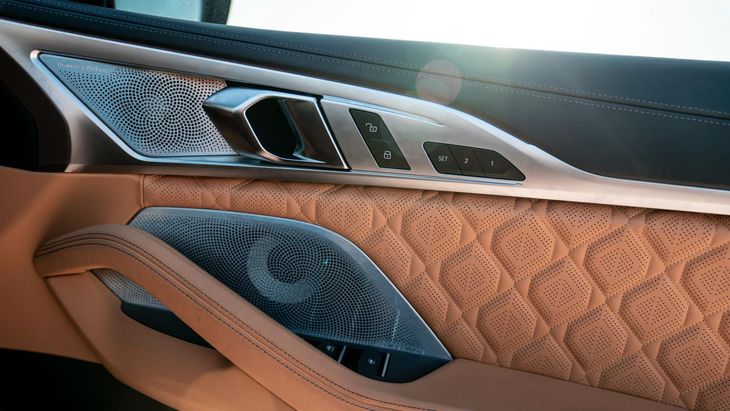 Beautiful detail of the leather application on the doors.
For such a big car, however, the BMW is quite compromised in terms of practicality. Rear legroom is very limited (but obviously more generous than in the back of a Porsche 911), and the boot capacity is reduced by the folding roof mechanism. Still, you can get quite a few overnight bags into the boot, even with the roof stowed. The exotics the BMW is priced against certainly are left behind in that regard.
Price and after-sales support
The BMW M8 Competition Convertible sells for R3 630 862 before options (April 2021). A 2-year/unlimited km warranty and 5-year/100 000 km maintenance plan are included in the price.
Verdict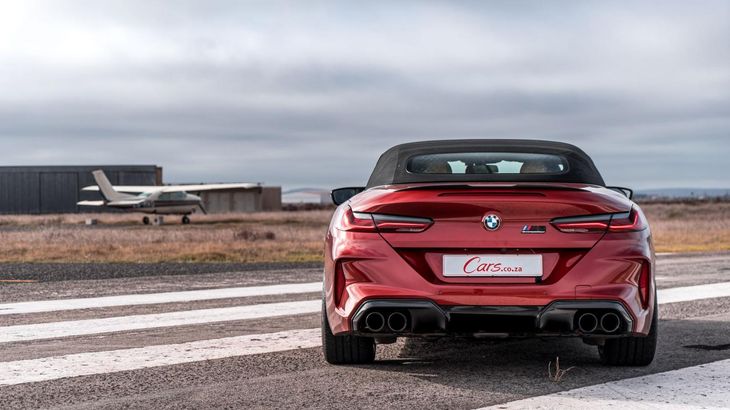 The only view most challengers to the M8 Competition Convertible would ever get to see.
On price, there is no direct rival for the M8 Competition Convertible in South Africa at the moment. So, if a super-luxurious, massively fast 4-seater convertible with considerable head-turning appeal is what your're after, it is certainly worth a closer look. But we're not convinced that BMW's ultimate drop-top is quite special enough, either as an M car – or a R3.5-million+ luxury convertible.
Firstly, it doesn't quite "carry itself" as a pure M car, because it lacks the intimate tactility and visceral character that we've come to expect from BMW's best. While we understand that the Bavarian marque may want to stretch its presence into the lucrative super-luxury segment, we're not convinced the M8 Competition Convertible has the super-GT aspect down, either... At this price level, the Bimmer's cabin doesn't represent enough of a style upgrade over its cheaper siblings, particularly when you consider that buyers could also consider vehicles from Porsche, Bentley, Aston Martin etc.
Weeks after the M2 CS left our offices, it's still frequently the subject of much enthusiastic talk. The M8? It's just not as memorable. Granted, perhaps it's unfair to expect every M car to deliver equally on all fronts, but we certainly think the top-dog M should be more special... So much of a vehicle's chance of success in this super-luxury segment is dependent on aspects that are hard to quantify – emotional design, aural character, tradition etc. Perhaps there's a little too much science in the M8 Competition Convertible – and not quite enough soul.
You may also be interested in:
New M3: Why did BMW mess with "Coke"?