BMW South Africa marked the local market introduction of its latest M car – the F90-generation M5 – with a track session on the Kyalami circuit. We were there to sample the super sedan and get a taste of what it's like.
What's new?
It's an all-new BMW M5, so obviously it's new from the ground up and based on the latest 5 Series platform. BMW made sure that this newest model was more powerful, even lighter and featured more adjustable driving programmes than ever before. There's still a 4.4-litre V8 under the bonnet with twin turbos nestled in between the V (the gap between the engine's pair of cylinder banks) delivering the added shove. The roof is made from carbon fibre reinforced plastic in order to lighten the considerable heft of the M5... to an extent.
Drive is sent to all wheels via an automatic (not dual-clutch) 8-speed transmission. All-wheel-drive isn't entirely new for the M5 as the previous model was available with xDrive (4wd) in some markets. The all-wheel-drive system is adjustable in 3 modes, which rank from all-wheel drive, mostly all-wheel-drive but with a little slidey action and rear-wheel drive only – which is only available with the traction control off.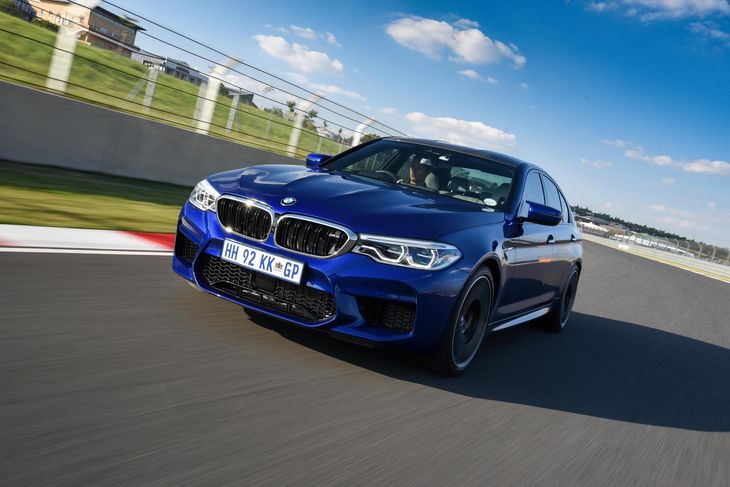 The new M5 still looks understated and restrained. The perfect sleeper.
The cabin differs from all other M cars as there are distinct additions to the transmission lever – it's a square lever has the gearbox ferocity settings atop. Then there's the rather out-of-place red M1 and M2 switches. I say out of place because they feel like gubbins an M4 DTM or track-focused car might have; steering wheel-mounted metallic red thumb switches seem very "boy racer" for a premium super sedan.
I happen to have driven the latest Mercedes-AMG E63 and E63 S so was looking forward to a bit of comparison, albeit not a perfect back-to-back but good enough to get a feel for the status of this new M car.
What's it like to drive?
I can only give you a quick impression of what it's like on the brilliantly smooth surface of Kyalami, a real-world road test will have to wait until we test the M5 on our local roads.
To begin my stint behind the wheel, I built pace gradually. I started with the M5 in Sport mode and was requested not to fiddle with the traction control settings. When I stomped on the sedan's throttle pedal it didn't provoke the loud bark of excitement from the exhaust I was expecting, but the Bimmer appeared to gather speed with alacrity.
The new M5 feels a little tame to me, having driven the previous generation in just about every form, I was expecting to be hurled back into my seat and sent on a wild ride. With 441 kW and 750 Nm of torque from the 4.4-litre twin-turbo V8, I was preparing for a ballistic missile. Its power is linear and never brutal, the numbers on the speedo evolve astonishingly quickly but the actual feel is smooth and undramatic.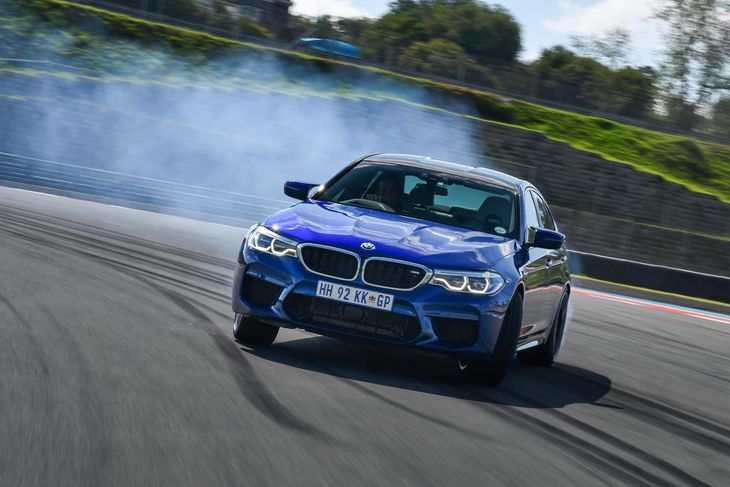 With a 2WD mode, you can execute these sort of long drifts, but it requires more provoking than in previous versions.
The same goes with the handling in 4WD modes. The nose tucks in quickly and it's alarmingly agile for a 2-tonne sedan, especially in the esses, where it flip-flops from maximum load on one side to maximum load on the other side within tenths of a second. That sort of manoeuvre in the old car would have had you sliding and fighting to keep it all under control.
Gone is the wild rear end when you power out of a corner, the all-wheel drive, combined with a more linear power delivery allows for amazing traction and corner exit speeds.
When you select 4WD Sport, you can provoke the M5's rear end into a bit of power on oversteer, but it's pulled straight by the differential before it gets to an advanced slide.
What's more, the shifts from the new torque converter automatic are less brutal than those of the outgoing car's M-DCT and deal with the 750 Nm of torque better than the rather viscous and jerky dual-clutch 'box. It will definitely be an improvement in everyday conditions. In fact, it doesn't feel out of place on track either, shifting seamlessly up and down with swift execution.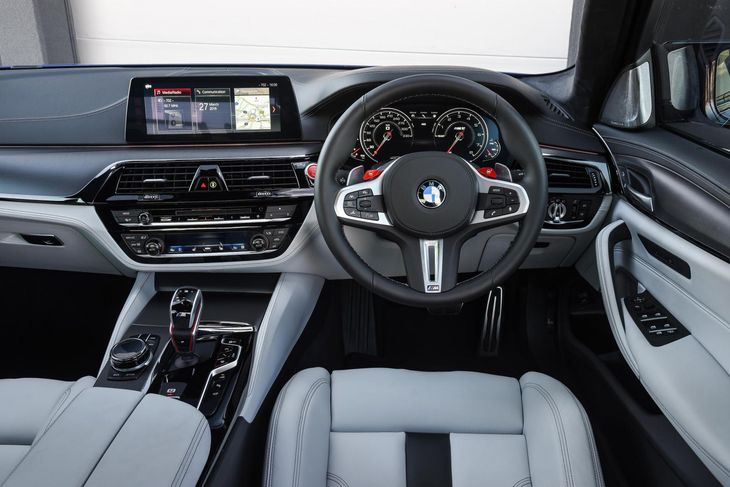 Those red levers for the M1 and M2 programmable settings look a little out of place in an otherwise superb cabin. Note the new square gear lever.
Rear-wheel drive is available if you want to get the M5's back-end out of shape or slide around, but the sedan needs to be provoked through hamfisted steering and blunt throttle inputs to get truly loose, it's not a naturally edgy performance machine, at least not judging by its performance at Kyalami. Long, well-controlled drifts are relatively easy to hold and throttle adjustments keep the rear end dancing to whatever you tune you prefer. It's probably this "ease of operation" that explains why the M5 now holds the Guinness World Record for the longest drift ever completed in 8 hours at some 235 miles (374 km)
Final thoughts
With the addition of 4WD, it seems the M5 has lost some of that killer instinct and hard-edged feel about it. Its abilities feel accessible; piloting the sedan at heady velocities is not something that you need to build up to and prove yourself before earning. The BMW handles with supreme confidence allowing the driver to take charge and turn in hard and, similarly, power out hard on corner exits.
These aren't really the traits I've become accustomed to in BMW M cars, however. To me it just doesn't feel as rewarding to push the latest M5 and see where its limits are. The engine is near perfect in terms of the linear acceleration it delivers, but because of that, the acceleration feel isn't as exciting nor as noticeable as you'd expect, unless you gaze down at the speedo. The Mercedes-AMG E63 S driven on track was more involving and entertaining to drive and had more character to it. It was hard to bond with the M5 despite its unbelievable performance.
In actual fact, it feels very much like a modern quattro Audi RS, and not like a BMW M car. That's either the perfect attempt to steal all Audi's RS6 sales or, it could backfire and have the opposite effect.
Pricing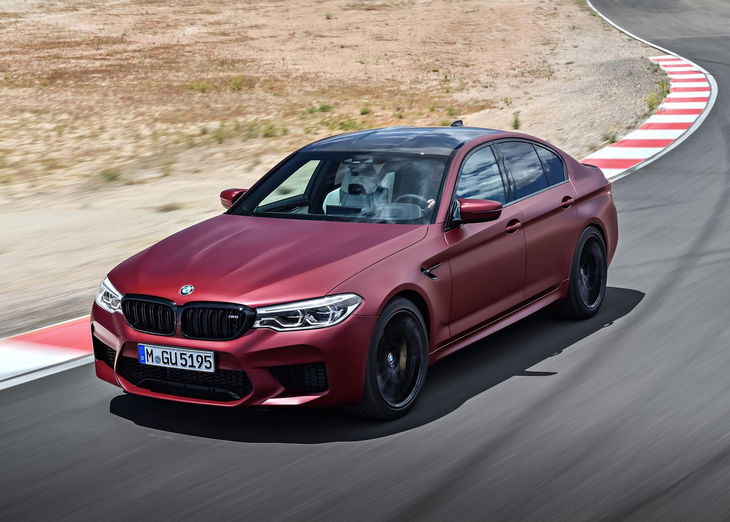 Only 5 of these First Edition models came to SA and have already been snaffled.
A standard BMW M5 is priced at R1 762 806 and is immediately available. The First Edition models, of which there are only 5 in the country, have all been sold for R2 024 006. The First Edition models are notable by the Frozen Dark Red Metallic paint scheme.
Related content
BMW M5 Prototype (2018) First Drive [with Video]
Mercedes-AMG E63 S 4Matic (2017) Launch Review
Searching for a used M5?