BMW has reinvented the CS badge and applied it to yet another special-edition M4. The highly desirable M4 CS, which was launched in South Africa in October 2017 with an eye-watering price tag of R1 838 500, feels more like a refinement than a reinvention, but it's better than an M4 Competition and more usable than a GTS...
By Matt Saunders
The BMW M4 CS is the BMW Motorsport Division's definitive take on the headlining 4 Series Coupe. Maybe. And if so, only at the fifth time of asking if we include the late "DTM Champion Edition" in the list of M4s we've been treated to already. Well, it's no more cynical than Porsche's profiteering with the '991'-generation 911 GT3, is it? Where desirable performance derivatives are concerned, it seems anything goes.
The M4 CS comes to market about a year after the even more expensive and specialised M4 GTS. It will be in production for the thick end of 2 years and although BMW initially said it's not a limited-series car ("we will simply make as many as (we) can within the time (we have) to make them," M boss Frank van Meel was quoted as saying), it now appears that only 3 000 units will be produced.

Expect BMW to carry the CS badging forward onto new products. Next up is possibly the M2 CS.
Perhaps most interesting of all, the M4 CS is the start of something new and interesting from the M Division. Cars in this mould, with CS badging, will be a constant feature of BMW M's model range from this point onwards – or so say company insiders. In light of that fact, Munich certainly wouldn't want to undershoot against expectations of the first one.
No danger of that last time around, you may remember. The M4 GTS was an incredible car, but one that stretched the margins of acceptability for a BMW M-car in all sorts of ways: most notably on usability and value. It cost R2.2 million, it had a relatively high-maintenance water-injected engine, it had manually adjustable coilover suspension, it had no back seats and – much too firm suspension to even attempt a daily drive to the shops and back. BMW said it would build 700 of them (23 made it to SA) and, a year on from the car's appearance, the word is that you can still get one overseas, with relative ease and without waiting too long. Not exactly a smash hit, then.
So if Porsche 911 GT3 RS-level mechanical execution and outlay turned out to be a bit rich for an M4, what happens when BMW M takes some of the GTS' more trick ingredients, halves that car's price premium (allegedly) and keeps everyday road suitability front of mind during the dynamic tuning process? The new M4 CS is the answer: a car with plenty of the special track-ready flavour of the GTS, but whose engine and suspension don't require a ready supply of distilled water and a garage with a hydraulic lift to get the best out of.
What's it like?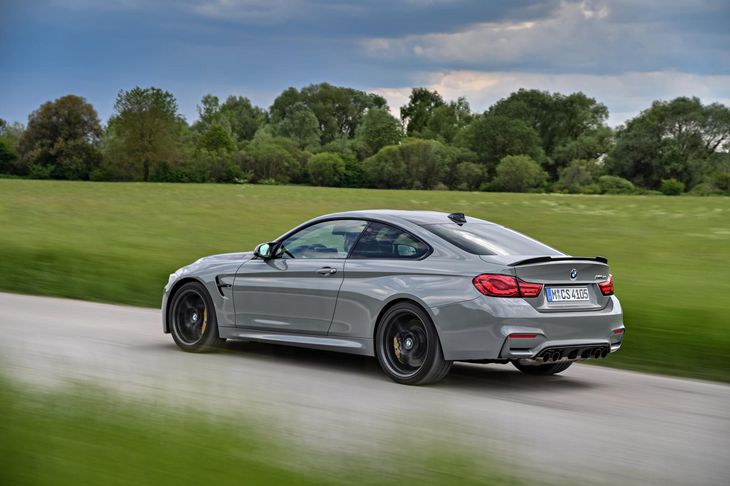 Half Competition Pack-half GTS, the M4 CS appears to strike a perfect middle-ground.
The CS uses the lightweight carbon fibre-reinforced plastic (CRP) bonnet and rear diffuser of the GTS and adds its own new fixed-height front splitter and rear gurney spoiler (also made out of CRP), while retaining the carbon roof of the regular M4 Coupe. Inside, it's got the weight-saving lightweight door skins and centre console of the GTS as well as the special pared-down stereo. But, it's also got back seats.
Unlike the GTS it doesn't get lightweight carbon buckets up front or BMW M's carbon-ceramic brakes as standard. Also, instead of the GTS' complicated coilover suspension, the CS uses a retuned version of the M4 Competition's suspension fitted out with new forged wheels and Michelin Pilot Sport Cup 2 tyres.
The upshot is that the new M4 CS goes only some of the way towards matching the weight saving of the GTS. It's 35 kg lighter than an M4 Competition (before you add those optional carbon stoppers) while the GTS enjoyed about twice that advantage.
But that's only half the picture...
The M4 CS' engine makes a sizeable improvement to the real-world performance of the even the M4 Competition mostly by matching the peak torque of the GTS – 600 Nm – without the need for that water injection system. Amazingly, the engine's internals are the same as those of the Competition Package car, but its software management is new and simply works its twin monoscroll turbos harder at middling revs.
Peak power increases to 339 kW, which remains a distance behind what the likes of the Mercedes-AMG C63 S Coupe and Alfa Romeo Giulia Quadrifoglio sedan produce. But BMW M will be trusting CS owners to realise that the combination of 10 per cent more torque, 35 kg less weight and some additional Cup-tyre-derived traction delivers this new M4 a claimed 0-100 kph time of under 4 seconds: 3.9- to be exact. That is just a tenth off that of an M4 GTS, and exactly what's claimed for both the Mercedes-AMG and the Alfa Romeo.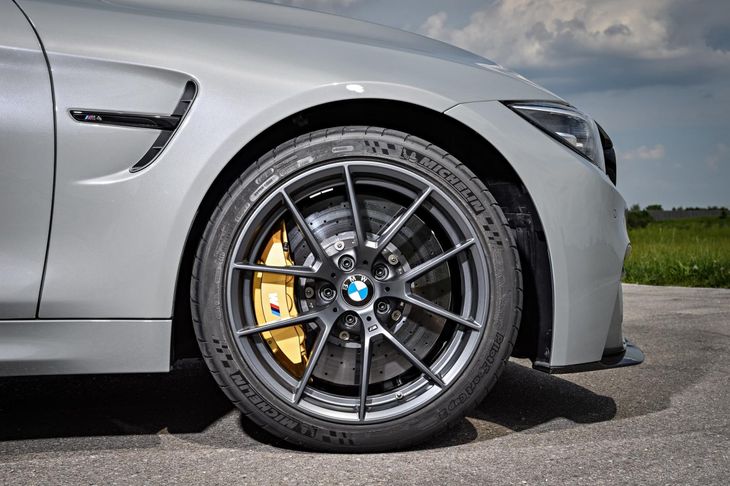 Carbon-ceramic brakes are optional but the sticky Michelin Pilot Sport Cup tyres are standard.
You install yourself into what seems like the same comfortable, thickly bolstered sports seat of the M4 Competition when you first get into the CS, identical, but for an illuminated logo on the backrest, a change to the upholstery theme and manual rather than motorised adjustment. The lightweight door skins and centre console on either side of you immediately bring the GTS to mind, conjuring a pleasing extra layer of performance purpose for the cabin that the "alcantara" suede trims for the fascia, transmission tunnel, roof and door consoles echo.
The manual, single-zone climate control system, slightly thin-sounding (but respectable) audio and Professional Media infotainment system combine to strike just the right balance between a sense of apparent hardcore purpose and pragmatic real-world usability. This is a car you'd happily drive every day, that has the convenience features you want of a modern German performance machine, but that's deliciously light on the luxury trimmings.
Stereo aside, it's also much better to listen to than a normal M4. The car's quad exhaust system is the same as the one on the M4 Competition but, shorn of some sound deadening and with the CS's new engine management in play (and a redline extended to 7 600 rpm) the CS sounds much more gritty and real than a standard M4. Not as angry as the titanium-piped GTS, granted; not even close.
But the improvement in the appeal of the car's sonic character is plain. And it helps no end that BMW M's lightweight door skins remove the stereo system's door speakers that might otherwise broadcast the "engine sound modulation" so many object to in the normal M4. You still get some electronic augmentation of the engine sound but, at low and medium revs and under load, the perfectly synthesised digital warble of a normal M4 is replaced by a much more detailed, spiky and authentic engine rumble that you'll instantly warm to on digging into the accelerator pedal travel.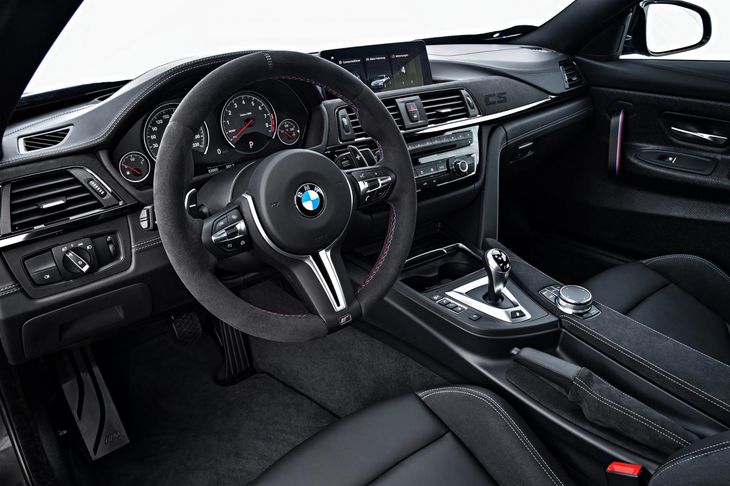 Straps for door handles and a 'feature-lightened' infotainment system help strip the cabin of a bit of weight.
BMW gave us a couple of hours only in its new car, on roads around the Nürburgring Nordschleife made busy by crowds gathered for the annual 'N24' endurance race. But even here, with no opportunity to really test the car up to the limit of its dynamic abilities, two things were clear: that the additional performance served up by the CS's engine is probably even greater than BMW's claims suggest, and that the extra grip and body control created by its chassis not only makes the CS a more composed and precise handling car than a normal M4, but also one very at home on the road.
As in any other M4, the CS allows you to select from Comfort, Sport and Sport+ modes for its adaptive dampers, power steering and engine calibration; to choose between 3 shift modes on the standard 7-speed 'M DCT' twin-clutch gearbox; and between 2 dynamic stability control modes besides the obligatory DSC-off setting. Whichever mode you're in, there's a small-but-tangible improvement in contact patch feel through the car's steering and a perceptibly sharper initial handling response as you feed the wheel through about 45 degrees either side of dead-centre.
New wheels, tyres aid steering feedback
We'd defy anyone who didn't know as much to believe it after a drive in the CS, but the car's extra steering feedback and body control come entirely from its new forged wheels and Cup tyres (the former an inch smaller in diameter up front, the latter getting a widened section at the rear, just like the GTS) and from redeveloped software calibrations for its dampers, power steering and active differential.
There are no hardware changes to the M4 Competition Pack's springs, dampers or anti-roll bars here. And yet back-to-back testing against an M4 Competition revealed that the CS turns in even more instantly and keeps its body more level during hard cornering, with better vertical body control and less float over really testing lumps and bumps, but without any greater harshness of ride, shortage of compliance or evidence of bump-steer.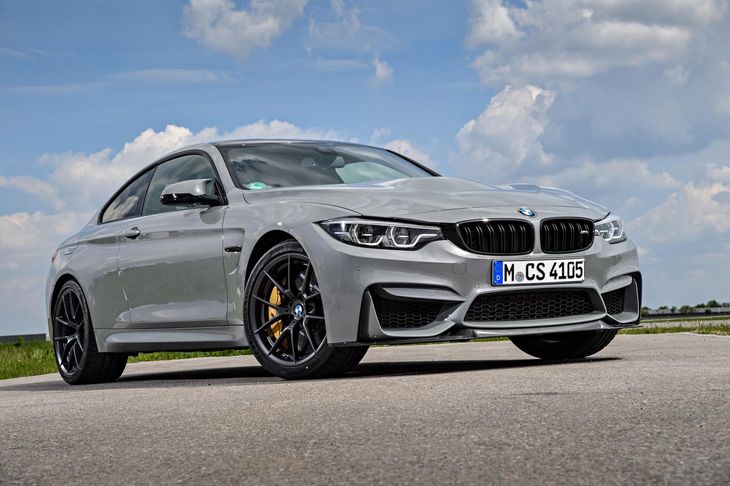 The CS is usable every day where the GTS is not and it has the right amount of power and torque to compete with newer rivals.
The CS's handling balance is similar to that of its sister car. Where the engine's greater mid-range torque allows you to give the driven axle more to do as you unwind the steering and exit a bend, those cup tyres reply with even greater adhesion, stability and traction than a regular M4 has. The CS enters bends flat and fast, then, and exits them even quicker with a composure unknown to the M4 Competition car.
You'd never believe a set of rims and tyres and a new adaptive damper tune could achieve so much. I suspect both a Mercedes-AMG C63 S and an Alfa Romeo Giulia Quadrifoglio have more adjustable handling; but I also suspect neither would produce the same needle-threading sense of handling accuracy as the CS has, which is its own reward on the road.
And I'd be very interested to compare the torque curve of the CS' 3.0-litre straight six to that of the M4 Competition because the new car feels much stronger through the middle of the rev range. This is probably where the M4 most needed attention, the standard car just beginning to feel a touch weedy compared to the very quickest of its rivals – at least until its motor starts spinning beyond 5 000 rpm.
But the CS doesn't feel weedy. At all. That extra torque has a big impact on its in-gear pace between 3 000 and 5 000 rpm, and there's quite a lot more acceleration on tap where you really need it as you power away from corners and along slip roads.
Should you buy one?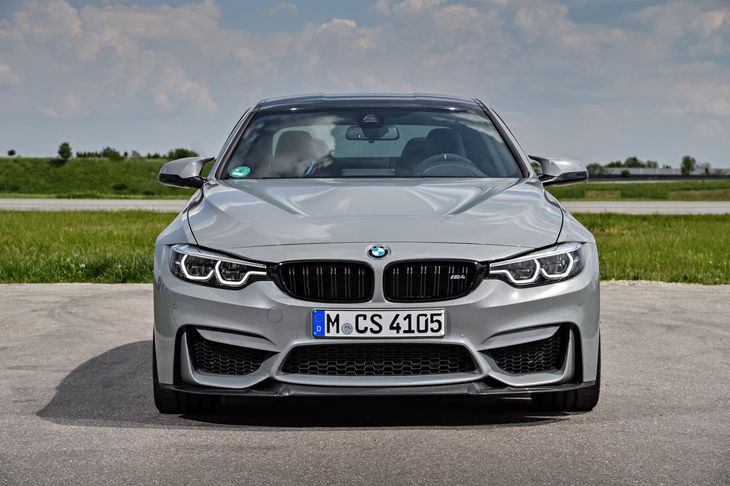 Indicative pricing suggests that it will slot perfectly in the middle between an M4 Competition and M4 GTS.
When you stand back and digest the car's abilities, you're likely to conclude that the M4 CS feels more like a refined and perfected M4 than a radically altered one. It handles better, sounds better, goes harder and still works very well on the road. But it feels familiar, and in that respect, it's probably notionally closer to a "Competition Package Plus" than a "mini-GTS" because its dynamic character and handling balance are broadly unchanged.
That's good news is you like the regular M4, of course. For others, it's probably too early to say whether BMW's premium of R426 364 for the M4 CS is worth paying; for R1.8 million, the floating voter should accept nothing less than the best sports coupe in the class.
So this could be the car to put the M4 back on the top of its particular performance niche – but it'll take a meeting with an Mercedes-AMG C63 S and an Alfa Romeo Giulia Quadrifoglio to establish it for certain. For now, it feels too close to call.
Quick Specs
Price: R1 838 500
Engine: 6-cyl in line, 2 979cc, twin-turbocharged petrol
Power: 338 kW at 6 250 rpm;
Torque: 600 Nm at 4 000–5 380 rpm
Gearbox: 7-spd twin-clutch automatic;
Kerbweight: 1 580 kg;
0-100 kph: 3.9 sec
Top speed: 250 kph
Related content
BMW M4 DTM & search for the perfect M car

BMW M4 DTM Champion Edition Lands in SA

BMW M4 GTS (2016) Review

BMW M4 with M Performance Parts (2016) Video Review

Spy Shots: BMW M4 Coupe Facelift

BMW M5 Prototype (2018) First Drive [with Video]

Alfa Romeo Giulia Quadrifoglio (2017) Video Review
Interested in buying a BMW M4?