The idea of a faster, more dynamic BMW M3 is a great one and we couldn't wait to get our hands on a quicker Bavarian sports sedan that has clearly been beefed up. How good is the BMW M3 Competition Pack? Let's find out.
We like: louder engine note, subtle and classy looks, raw yet uncompromised driving dynamics
We don't like: A little too firm for poor roads, anti-social levels of noise
Alternatives
Nemesis number one: Mercedes-AMG C 63 S offers a rorty biturbo V8 engine and recently, a coupe derivative. It's loud and incredibly fast in a straight line, but its dynamics are not as razor sharp as that of the BMW's.
Want the security of all-wheel drive? The Audi RS5 is still floating around after some years and it still packs a healthy punch (it is a coupe and not a sedan), while quattro all-wheel drive is useful for stability when pressing on. Perhaps consider a bigger, used Audi RS7...
Don't need the practicality? If you're willing to sacrifice practicality, then look to Porsche and specifically, the Cayman range.
Compare the BMW M3 Competition Pack to the Mercedes-AMG C 63 S and the Porsche Cayman here
The BMW M3 sedan and its M4 coupe sibling represent the brand's performance sedan interests, but since its local launch in the middle of 2014, some rivals have appeared and we've found that there are some minor drawbacks that prevent this vehicle getting that perfect end-of-year school report. See, if you're a performance car fan or a performance car owner, on-paper numbers count for a lot. Think of this as pub-argument ammunition.
Forget the on-the-road comparisons for a minute. If your rival from Affalterbach (the C63 S) comes waltzing in with an updated product featuring a 375 kW/700 Nm biturbo V8 and you're only packing 317 kW and 550 Nm, your back is against the wall immediately and your around-the-braai argument is suddenly invalid. By comparison, the BMW M3/M4 outputs look anaemic to the AMG's. How does BMW's M division counter this? More power, obviously.
What is a Competition Pack?
The recipe is simple. Take 1 standard BMW M3 (or M4) and add some go-faster visual kit, tweak the suspension and make that engine produce some more of those precious kilowatts that our inner petrolheads crave. It's crudely simplified, but that's exactly what the folks from the M Division have done.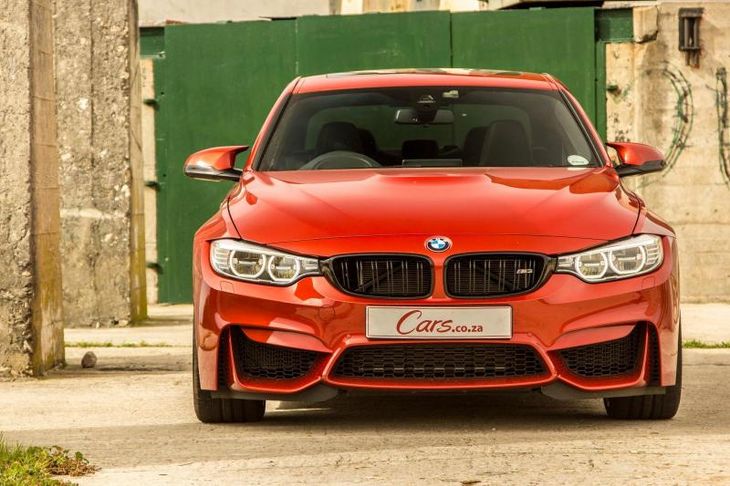 Sakhir Orange and Competition Pack gloss black detailing makes this M3 stand out more than normal
How does it fare in terms of…
Performance?
In terms of power outputs, the BMW M3 Competition Pack now boasts 331 kW, while torque remains the same at 550 Nm. The claimed 0-100 kph sprint time has been cut by 0.1 seconds and now sits at 4 seconds dead. See? Instant "ammunition". It'll top out at 250 kph (or higher if you opt for the M Drivers Pack), but the real strength of the BMW M3 is to provide a near supercar-like driving experience without infracting on those day-to-day driving requirements. You know, like a capacious boot, a pair of doors to accommodate rear passengers and not having your spine snapped when driving on poor quality roads.
To that end, the suspension setup on the BMW M3 Competition pack has been tweaked. Then you get new dampers, anti-roll bars and springs and the software on the (standard) adaptive suspension has also been upgraded. It translates to a more lively, but also more adaptable on-road experience than the standard M3 and while we needed the safety of a racetrack to best exploit its handling prowess, negotiating a few mountain passes at the wheel of the Competition Pack made us feel like Christmas morning had kindly been brought forward by a number of months...
Kerb appeal?
To let other road users know you're driving a non-standard M3, BMW has kitted its Competition Pack weapon with subtle, yet effective go-faster bits. There are some great black detail touches on the grille, the exhaust tips, the mirrors, gills and the best part is the black M3 badge perched proudly on its rump. Then there are the alloy wheels. These glorious goodies are the Star-spoke 666 M alloys which are wrapped in sticky high-performance Michelin rubber. These wheels also happen to be a little wider, which increases the size of the contact patch on the road, which in turn improves grip.
Driving excitement?
Fire up the M3 Competition Pack on a cold morning by stabbing the Start Engine button and be prepared to wake soon-to-be-angry neighbours with the Bimmer's vicious, distinctive bark. Watching the dials light up and feeling the beast of a motor come alive delivers one of the purest hits of Dopamine your grey matter can get. The burbling subsides a little as the mechanicals get warm, but that's about as subtle as it gets. Subtle isn't a word in the Competition Pack's vocabulary. If you're after subtlety a BMW 340i should be your port of call. This, on the other hand, is about as subtle as lighting a firework indoors.
Launching into a full-bore acceleration run from standstill is not easy as, even with launch control, the M3 Competition Pack is inclined to spin its rear tyres. Where the sedan really comes into its own is in its sheer overtaking ability, however. Select manual override on the M-DCT 'box and change down a gear, then accelerate. Even on dry roads, there'll be a little chirp from the rear tyres as they battle to maintain grip. The M3 Competition Pack will surge forward and its in-gear acceleration (combined with a raucous soundtrack to match) is one of its best attributes.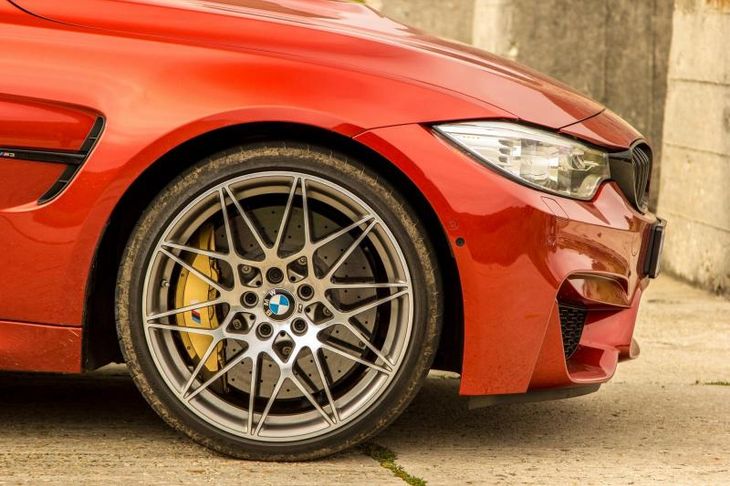 Ceramic brakes and Michelin sticky tyres make for one tremendous experience through the corners
The fun truly begins when you introduce the vehicle to some twisty sections of tarmac. The standard M3 is a fine-handling car, but it tends to feel a little insulated from its driver. The Competition Pack removes that "numbness" and it feels vastly more hands-on and involving. BMW fanatics will love its purity and how responsive the car is in the corners. Thanks to the uprated rubber and suspension, cornering ability is excellent and the vehicle feels more wieldy.
The ride in Sport and Sport+ modes (the latter with limited stability control – be aware!) firms up tremendously and on sections of poor quality tarmac, you'll really feel each and every pockmark, pothole and bump. When you're on higher-quality tarmac, the ride is excellent for a performance machine and the BMW M3 Competition Pack is really the ruthless-supercar-with-4-doors that it is marketed to be.
The brakes are stupendous. Our unit came equipped with carbon ceramic units which, while a pricey at R105k, are an excellent option worth ticking if you're an enthusiast or someone who does high-performance driving on a regular basis. They take some time to warm up so avoid the hooligan antics first thing in the morning, but once they're warm, you can confidently brake harder for longer; they're far less prone to fade than their standard non-ceramic counterparts.
Cabin quality?
BMW has adorned the M3 Competition Pack's cabin with some extra kit. The M3's interior already has an air of performance and prestige to it, but the Competition Pack adds some items which appeal to both the head and the heart. Let's start with the seats. These are lightweight units with cutout sections and these come with eye-catching M stripes on the seatbelts. Classy and enough to earn you plenty of bragging rights. If you're a BMW M fan, you'll be delighted to see these M seatbelts will match your BMW sports jacket perfectly...
Conclusion
BMW's Competition Pack addresses most of the criticism levelled at the F80 M3. It offers a sharper, purer driving experience – something we feel that the purists were craving – and it reduces the power deficit to its most obvious rival, but this on-paper comparison is irrelevant in the real world as most will find the BMW the sharper driving machine anyway. The vehicle now has a reassuring tighter performance feel to it and everyone will appreciate the extra traction from the bigger wheels with matching tyres. It no longer feels as if it will snap into wild oversteer if you ever ventured into the depths of Sport+ mode...
Downsides? Well, we're nit-picking... One gripe is that the Competition Pack is what the BMW M3 should have been right from the get go. With such an illustrious heritage such as the E46 M3 and E92 M3, the Competition Pack will sit nicely amongst its forefathers. We'll also have a mild complaint that our roads aren't all in perfect condition and the ride in the BMW M3 Competition Pack is now undoubtedly firmer than the standard model.
Given how significantly it improves the driving dynamics of the BMW M3, the Competition Pack makes a credible business case for itself. It's a worthy option if you're an enthusiast and take your precision performance driving seriously.
BMW M3 Competition Pack Price in South Africa
The BMW M3 Competition Pack retails for R 1 287 136 and the price of the Competition Pack costs R 135 900. Our test unit pictured here came with a few extras and was priced at R 1 457 286.
Further Reading
Want a more hardcore BMW M3/M4? Meet the BMW M4 GTS
BMW M4 with M Performance Parts (2016) Video Review
BMW M4 M-DCT with M Performance Parts (2016) Review
BMW M3 30 Years goes on sale in SA
Interested in buying a BMW M3?