The next chapter of BMW i in South Africa commenced this week when the Munich-based marque launched the facelifted i3 and i8, as well as the eye-catching i8 Roadster, in the Western Cape.
When BMW introduced its i brand in South Africa back in 2015, many were sceptical. Would South Africa's fledgling EV infrastructure be able to support the vehicles? Would they be "too niche" and sell in very limited numbers, primarily on account of their novelty value? We can confidently say that today, 3 years post-launch, the answers to these questions are a resounding YES and NO! South Africa has made substantial progress in terms of establishing support for electric vehicles and several BMW i products have found homes in South Africa. The recently facelifted i3 and i8 have now made landfall in South Africa and they're joined by the i8 Roadster – the sensational looking droptop version of the i8 Coupe.
BMW i3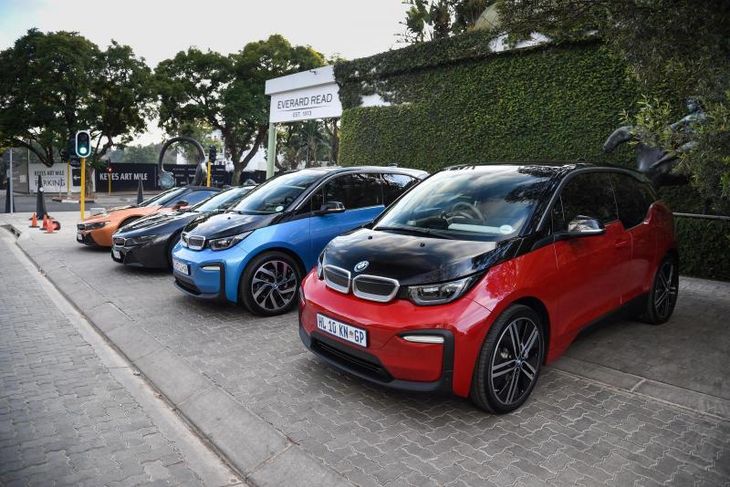 The facelifted BMW i3. Keen-eyed spotters will recognise the LED headlights and LED indicators.
Despite its quirky styling, the i3 has quickly become the best-selling electric car in the premium compact segment – it comfortably outsells the Nissan Leaf, of which the latest version has yet to be released in SA. The facelifted BMW i3 brings with it a number of changes, both inside and out. Visually, you'd be hard-pressed to spot the updates, but upon closer inspection, you can notice some tweaks to the front and rear styling, which give the car a sportier feel; LED headlights are now standard and LED tech has been adopted for all lighting functions in the vehicle. Some new colours are available too, but despite the changes, this is still unmistakably a BMW i3. Inside, there's a revised iDrive system with navigation and ConnectedDrive software developed especially for the i3. The voice recognition system has been upgraded and you can specify Apple CarPlay.
It's available in two flavours, fully electric and Range Extender (Rex). The Range Extender comes with a 28 kW 2-cylinder petrol engine. It is important to note that this petrol engine does not drive the wheels, but rather functions as an onboard generator to provide more electricity when the batteries are flat. So when you're driving and your range runs out, you'll hear a faint hum as the engine kicks in to generate power for the electric motor, which features in both versions and delivers 125 kW and 250 Nm. Thanks to the instant responsiveness, the BMW i3 is capable of sprinting from 0 to 100 kph in 7.3 seconds. The newcomer further features new lithium-ion batteries that are claimed to provide a range of 200 km in general use. The BMW i3 REX will go a bit further and you'll find you should be able to get 250 km out of a full charge and (small) tank of petrol.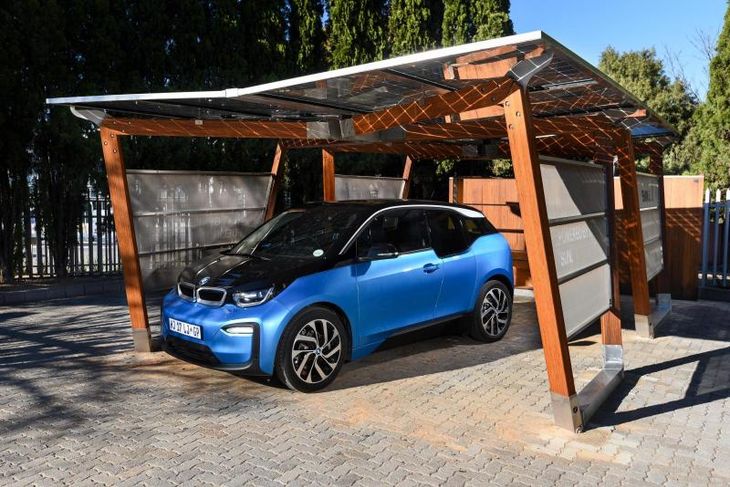 A facelifted BMW i3 charging at one of the solar-powered charging ports.
One of the aspects of the BMW i3 that we really appreciate is the use of recycled materials in its production. Officially, BMW claims more than 80% of the visible surfaces in the i3 are made from either renewable resources or recycled materials such as plastics and fibres.
What's it like to drive? Well, it still offers that addictive instant acceleration (by virtue of having full torque available from a standing start) and, as a result, inner-city driving is a pleasingly simple affair. Over time, the i3 encourages a single-pedal driving style; it has such an aggressive brake recovery system to harvest additional electricity, that the act of releasing the accelerator pedal induces the same feeling as lightly applying the brakes. The deceleration effect is substantial enough for the car to trigger its brake lights to signal that there's a notable reduction in speed.
From a standstill, there are very few conventional vehicles (at least of its size and power output) that can keep pace with a BMW i3, making it amusing to pilot in the city as you rapidly and quietly scoot away from slower traffic. With no gears, there's no hesitation in power delivery and you just ride this lovely wave of (seemingly unburstable) power. The steering is light, with decent weighting at slower speeds and this gives you some confidence when you want to "stretch the car's legs". But remember, the tyres are very narrow (to reduce rolling resistance); as a result, ultimate grip levels aren't very high. Our test route was wet thanks to seasonal rain and careless driving resulted in the traction control having to intervene.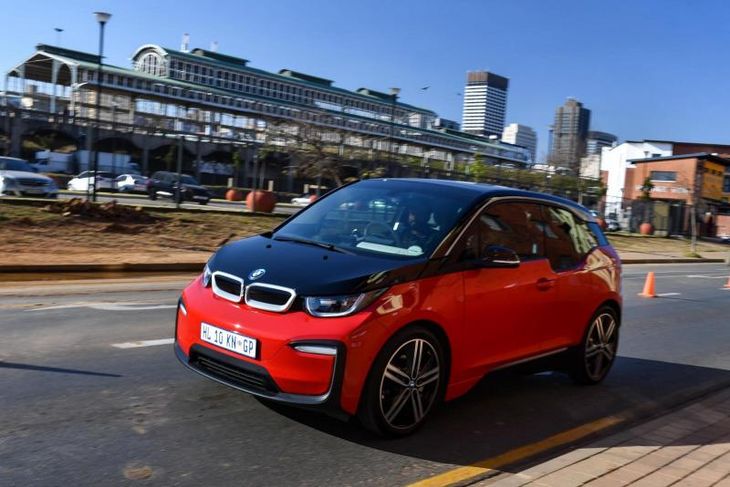 The i3's electric engine makes it most enjoyable to wield around town, with instant acceleration just a stab of the pedal away.
BMW i8 and i8 Roadster
Since its global reveal back in 2014, the distinctive i8 sports hybrid has wowed many with its high-tech powertrain and breathtakingly futuristic looks. That petrol/electric powertrain has garnered International Engine of the Year titles 3 years in a row and the plug-in technology has been shared across the BMW family; the i8 is rightly the talisman of the i Performance range. For those who appreciate the purity of the original design, there are thankfully no dramatic changes on the surface and we're glad to see the stylish gullwing doors have been retained on both coupe and roadster.
Under the skin, there have been substantial revisions to the plug-in hybrid technology, however. There's a higher power output and, as efficiency has been improved, the theoretical range is longer too. BMW claims the battery cell capacity has been increased from 20 to 34 ampere-hours (Ah) and gross energy capacity from 7.1 to 11.6 kilowatt-hours (kWh, net energy capacity: 9.4 kWh). The new numbers make for impressive reading... The revised turbocharged 3-cylinder petrol engine produces peak outputs of 170 kW and 320 Nm, while the electric motor now boasts 105 kW and 250 Nm. Together, they produce 275 kW and 570 Nm, which is enough to see the i8 hurtle to 100 kph in 4.4 seconds – very quick for a plug-in hybrid.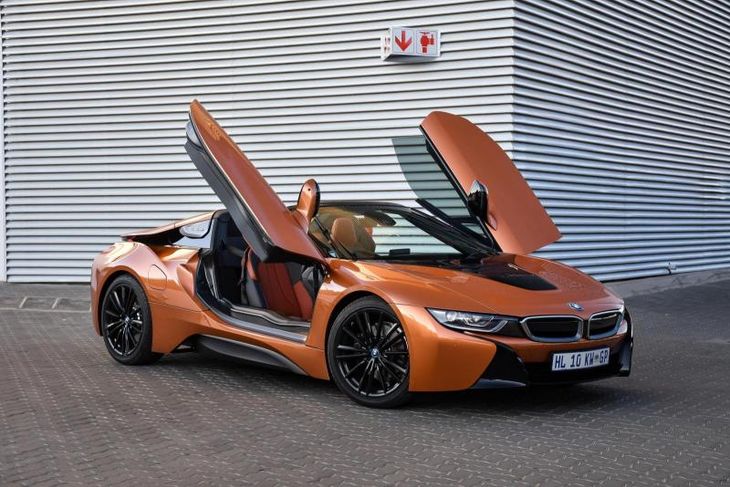 The facelifted i8 and i8 Roadster retains the gullwing doors and the futuristic looks are still as outrageous and awesome as ever
The i8 Roadster is a tad slower at 4.6 seconds. The petrol engine drives the rear wheels and the electric motor works its magic on the front wheels. If you want, you can drive on pure electric power alone and the EV-mode range has been substantially increased to 55 km (53 km for Roadster). Previously, it could only manage around 30 km. It can also drive at speeds of up to 120 kph on electric power only.
We spent most of our time behind the wheel of the new BMW i8 Roadster and despite the rainy conditions, we felt compelled to put the roof down. It's able to open and close in around 15 seconds at speeds of up to 50 kph, something we put to the test. The Roadster loses its 2+2 seating arrangement due to the roof mechanism and is now strictly a 2-seater with an extended parcel shelf, which is perfect for a brace of laptop bags.
What's the BMW i8 Roadster like to drive? Well, thanks to a combination of lightweight construction, responsive powertrain and low centre of gravity, the BMW i8 is a joy to pilot. You sit low down, which gives you that real sportscar sensation and the quick steering and negligible body roll means the i8 darts around with eagerness. Strangely, we noticed a few hints of scuttle shake in the BMW i8 Roadster, which is strange given the vehicle's solid carbon fibre tub, but on the whole, the vehicle's stiffness and rigidity really make it feel like a hands-on driving machine.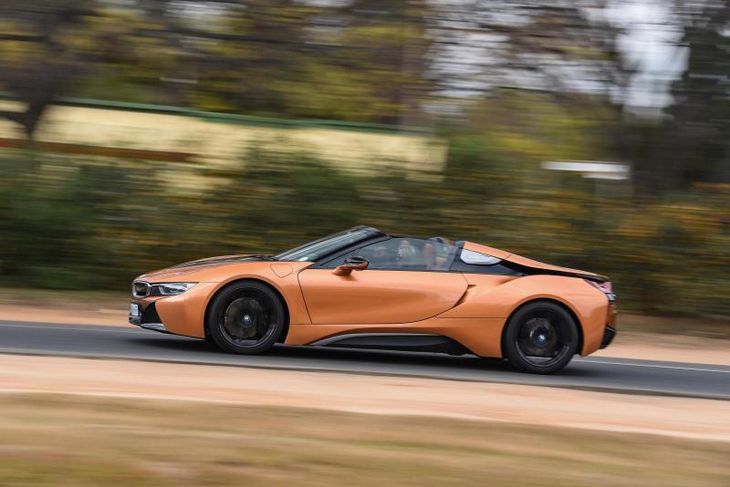 The i8 at at full throttle uses a combination of petrol engine and electric motor for some surprisingly quick performance
Flick through the various drive modes (Eco, Comfort, Sport) and you'll notice the car's demeanour changes dramatically, replete with distinct (and appropriate) colour schemes and themes displayed on the digital dashboard. Sport is intense and urgent, with a soundtrack to match. When you lift off the throttle after hard acceleration, the exhaust emits delightful pops and burbles. For maximum involvement, you can take control of the gear shifts yourself by utilising the well-positioned paddles on the steering wheel. With its "effective" all-wheel-drive configuration, the vehicle is unlikely to be unwieldy; even inexperienced performance drivers will be able to pilot the i8 with confidence...
However, while the i8 and its i8 Roadster sibling are pleasurable to drive, you feel that there could be more on offer. Perhaps BMW i is deliberately holding back and keeping a higher performance version on hold until the technology becomes more widely accepted and proven to be reliable in the long run, but we feel that with a platform as performance-focused as the i8, it has a lot more to give.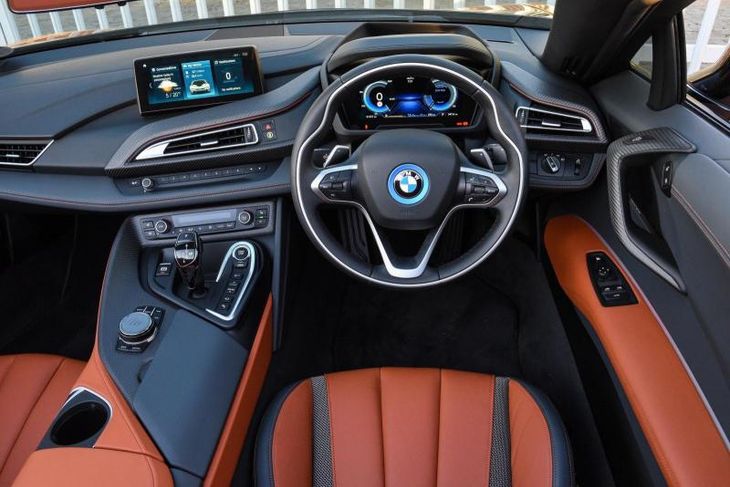 The cabin of the i8 is futuristic, yet ergonomically sound (in the traditional sportscar way...).
Infrastructure future and summary
The continued roll-out of charging stations across South Africa remains critical to the BMW i3 and i8's sustainability. As it stands, there are almost 60 in South Africa, the vast majority of which are in major cities. What's not being counted are the installations where companies and private owners have invested in their own charging stations. Through the agreement between BMW and Nissan, where both manufacturers are rolling out charging stations that can charge the German and Japanese products at the same unit, private entities have opted to install wall boxes at their premises.
On our launch route, we started at the V&A Waterfront (the shopping complex located in Cape Town's harbour), which has a dedicated electric car charging area, we then proceeded to Constantia Village, where there's a single charger next to the petrol station, before stopping for a coffee at the Rust en Vrede wine farm. This estate has invested substantially in solar panels and these power the BMW/Nissan charger, which is how it should be. Our lunch stop was at Bosjes Estate, near Worcester, which also has invested in some electric car charging infrastructure. It was really impressive to see and if it hadn't been for the readily available chargers, our route would have been dramatically shorter.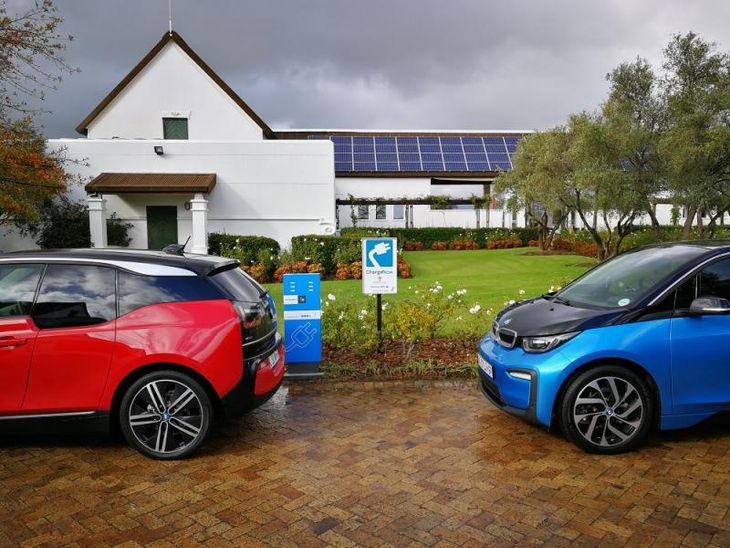 A brace of BMW i3 test units at Rust en Vrede wine estate awaiting a charge. Note the solar panels on the roof, which powers the car charger. This is how it should be done!
As for the BMW i3 and i8, both products have been improved significantly enough to remain relevant in our market (the Jaguar I-Pace is waiting in the wings); indeed, they're not novelties. As battery technology advances at such a rapid rate, it wouldn't surprise us to see successors to the i3 and i8 that are capable of even greater ranges. While we'd all love to cruise on a beautiful scenic road in an i8 Roadster with its top down, its target market is tiny. Realistically, the i3 Range Extender is the most practical (range anxiety-proof) option if you want a slice of the future of motoring.
But the BMW i8 has improved and its eco credentials are even higher than before. Sportscar performance with our launch route fuel consumption hovering around the 7.0 L/100 km mark sounds like fiction, doesn't it? On the other side of the coin, despite its hybrid eco skillset, the BMW i8 is still a marvellous vehicle to drive. To think that people were scared that all electric cars and plug-in hybrid vehicles would be boring to drive. Brands like BMW (and Tesla) are determined to prove that driving can still be an enjoyable pastime without negatively impacting on the environment...
Related content:
BMW i8 vs Audi R8 Spyder - The Strangest Sportscar Rivalry?
BMW i8 Roadster Price Announced [Video]
EV Charge Stations in SA: How Many & Where?
Interested in buying an i8?
Want to buy an i3?