It's hard to believe, but the BMW i3 electric car has been on sale in South Africa since 2015 – and it has received numerous updates. This week, we relished the chance to drive the latest version, equipped with a 120 Ah battery.
Since its launch, the i3 has become the most popular electric vehicle sold in the country. Granted, it's not like the market is teeming with electric vehicles (EVs) yet, but hundreds of South Africans have "swallowed the red pill" and become early adopters. Since the launch of the electric BMW i sub-brand, more than 600 i3 and i8 models have found homes in Mzansi. Which is impressive, considering there no government incentives or discounts to encourage consumers to buy EVs. Globally, it is a different story; BMW reached its goal of selling more than 140 000 EVs in 2018.
Own a BMW? Tell us about your experience here.
What's new for 2019?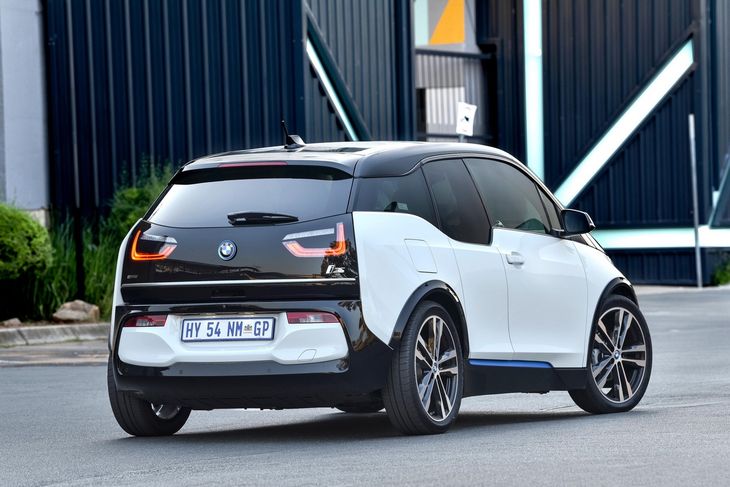 The design has remained the same, but the key updates focus on range which is critical for electric cars
It doesn't sound like much when we say there's a larger-capacity battery, but it's a critical change. When the i3 was launched in SA 4 years ago, it had a 60 Ah battery with an optimal range of approximately 130 km. Following a mild update, the battery spec increased to 94 Ah, which upped the range to 200 km, and now this latest offering boasts a 120 Ah battery, enabling the 2019-spec BMW i3 to travel up to 260 km on a full charge. While this doesn't sound like a big gain, it's impressive when you consider the range increases are from a battery that hasn't physically grown in size.
Oh, and before we forget, the 2019 BMW i3 range now includes an i3S derivative. The sportier version of the compact electric car offers a tad more power and torque, as well as more responsive steering and sportier suspension setups. Whereas the standard i3 produces 125 kW and 250 Nm, the i3S conjures up 135 kW and 270 Nm. BMW claims a 0-100 kph time of 7.3 sec for the standard car, with the i3S being a touch quicker (6.9 sec).
Inside, there aren't that many changes – the cabin still resembles "a cockpit from the future". What's really impressive is the extensive use of recycled materials throughout the i3's interior. The seats, for example, are made from recycled fibres, while the wooden dashboard comes from a sustainable forest. Being a premium offering, the standard specification is great with plenty of luxury and convenience features such as satellite navigation. Options range from an uprated audio system, some autonomous safety features to heated seats, but we wouldn't bother with those.
What's it like to drive?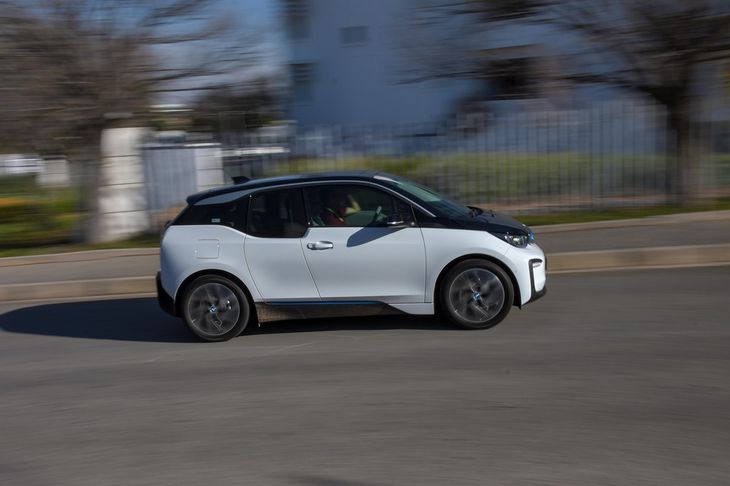 The updated BMW i3 is still an absolute delight to drive with addictive surges of power
The advantage of driving an EV is that it only has one gear and produces its peak torque instantaneously. In layman's terms, the i3 is simply ballistic from a standstill; it'll take something with serious performance credentials (and grip!) to pull away faster than this diminutive BMW. Its responsiveness and accelerative urge are addictive... We frequently found ourselves taking gaps in traffic that wouldn't normally be possible.
The best way to describe the "i3 driving experience" is to say that it feels like you're at the helm of a well-assembled and luxury golf cart. The steering is direct and light – the car is eager to dart about. Be mindful not to tug too enthusiastically at the steering wheel, however: the car gives a sensation that it is quite top-heavy. You see, the i3 rolls on narrow low-rolling-resistance tyres that are designed to make the car coast more freely down hills and in turn, recoup some energy. Fortunately, the car's centre of gravity is quite low because its battery pack is positioned in its floor.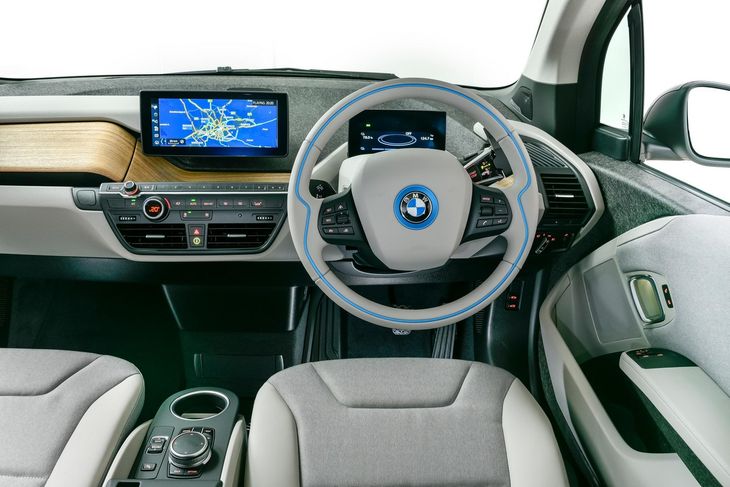 The interior is beautifully finished and assembled out of recycled materials.
The way that the i3 zips away is very entertaining and will put a smile on your face, but be mindful that, just like a heavy foot will ruin fuel efficiency in a conventional car, eager driving can – and will – limit an EV's range. We chose the longer test drive route that saw us leave BMW's head office in Midrand and head to the Zambesi Auto BMW dealership. The car's GPS seeks to avoid situations that will increase energy consumption and, given the distance of 43 km (in mild traffic and using the i3's least frugal driving mode) we were impressed to arrive with 89% of charge still available.
Nevertheless, we plugged the car in for a quick top-up, which is complimentary for BMW owners using the ChargeNow network. Within 10 minutes the car was registering full and seeing that we were pressed for time, we decided to open the taps and drive back to Midrand as quickly as possible. We've already mentioned that the i3 is scorching off the line, but the in-gear acceleration is also worth a mention. Getting from 60 kph to 100 kph in an overtaking manoeuvre is effortless, but you will find that the vehicle starts to lose overtaking urge once you're at the national speed limit.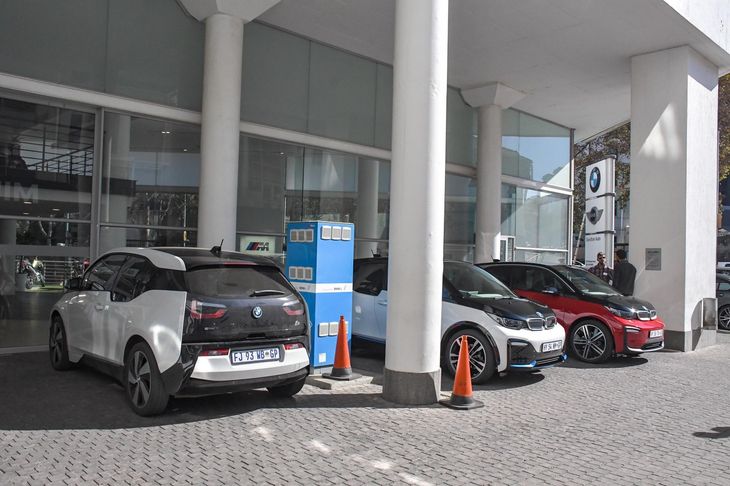 How viable is an EV in SA, realistically?
Naysayers will be quick to point out the lack of recharging infrastructure in South Africa, but there have been significant advances in that regard, just in the past year. BMW currently has 58 ChargeNow stations in the country, 6 of which are shared with Nissan. Back in 2015, the Japanese brand signed a memorandum of understanding with BMW and while the first-gen Leaf hasn't quite been a sales success, there's much expected of the 2nd-generation version, which is expected in the local market soon. There are also 5 DC fast chargers located at the following dealerships: Zambezi Auto and Club Motors Fountain (Pretoria), Sandton Auto (Johannesburg), Supertech (Durban) and SMG (Cape Town. The airports are next in line to receive chargers and chances are by the time you're reading this, the majority of SA's airports will have the capacity to charge electric vehicles.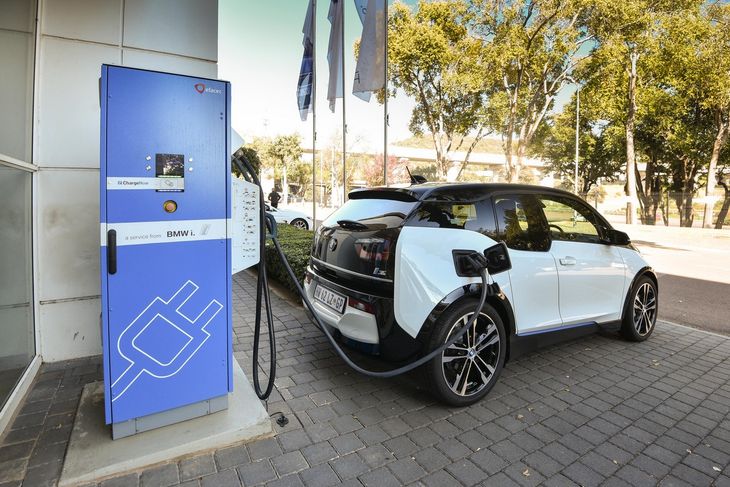 With the free ChargeNow card, BMW i3 owners can pop down to their local dealerships for a quick top-up.
These high-powered chargers can charge an i3 from 0% to 80% in about 45 minutes and, given the advances in the latest BMW i3 battery tech, this equates to an available range of about 200 km on the spot. Jaguar Land Rover has invested significantly in a charging network in our country and the BMW i3 can tap into that. The range claims for the pure electric-only BMW i3 make it worthwhile and if you're doing more than 200 km a day, then you must certainly be in the minority. The Johannesburg-Pretoria-Johannesburg commute comes to 150 km (in total), making it totally feasible and well within range. Of course, you can also charge your i3 at home overnight plugged into the wall of your garage and you'll get a full charge by the time you're ready to hit the road in the morning.
Summary
There's nothing dramatically new about the BMW i3, but the addition of a larger-capacity battery will further allay "range anxiety". We feel the key to owning an electric car and reaping the benefits is by reshaping your life around the car – treat it like a smartphone. Even when your phone's at 50% capacity, many people will plug it in just to ensure they have sufficient battery life in reserve. The same methodology should be applied with electric cars and customers should be taking advantage of chargers at malls and gyms as even a quick 15-minute charge is sufficient for 40 km.
Should you buy one? YES. There are a few Cars.co.za staffers who'd readily take the plunge given their lifestyles. However, the cost is a big barrier to entry and we imagine BMW Group SA is quietly frustrated with the government's reluctance to incentivise EV purchases. To add insult to injury, EVs are subjected to higher import duties than internal-combustion engined vehicles. In contrast with the rest of the world, where customers are offered incentives to go green and buy electric cars with discounts, cash in hand and much more, this seems a very backwards way of thinking...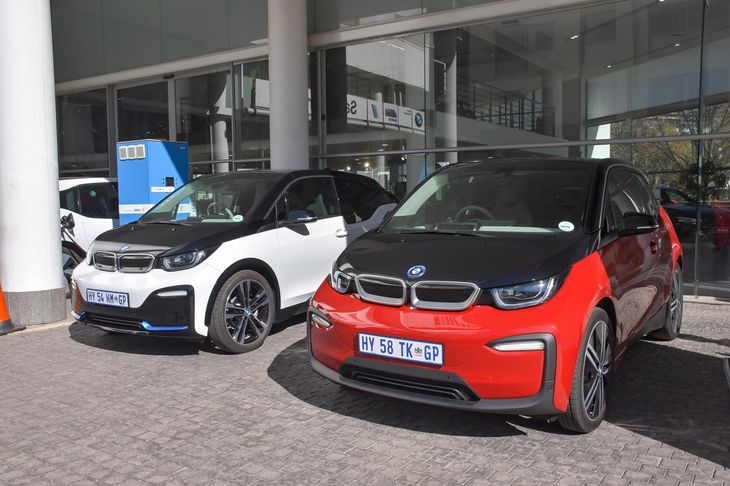 The BMW i3 continues to be a niche product in SA. Hopefully, our government can address the incentive issue and make electric car ownership appealing.
BMW i3 Price in South Africa (May 2019)
eDrive R658 500
s eDrive R716 900
eDrive REX R740 700
s eDrive REX R799 100
Further Reading
Jaguar I-Pace (2019) Launch Review
Jaguar I-Pace Is World Car of The Year
BMW previews i5 with i Vision Dynamics concept