The new seventh-generation BMW 5 Series has been revealed and it will be available in South Africa from the end of February 2017.
BMW has lifted the veil on its new 5 Series sedan and according to the Munich-based firm, the new 5er will offer improved dynamics, a host of new driver assistance systems, exceptional connectivity capability and a new operating system.
The first six generations of the 5 Series racked up more than 7.6 million sales worldwide and, just as Mercedes-Benz claimed at the launch of its E-Class, its Bavarian rival believes the new-generation 5 Series sets a new technological benchmark in the business sedan segment.
"We see technological leadership, emotionally rich products and digitalisation as essential factors in achieving success. With the expansion of our model portfolio in the large-vehicle classes, we are satisfying the wishes of many customers. I'm in no doubt that the new BMW 5 Series will set new benchmarks technologically, but also have huge emotional appeal. It remains the epitome of the business sedan," says Harald Krüger, Chairman of the Board of Management at BMW AG.
Enhanced dynamics for new 5 Series
The new BMW 5 Series sedan is up to 100 kg lighter than its predecessor thanks to the increased use of aluminium and high-tensile steel in the sedan's construction. Riding on a newly-designed chassis with a lower centre of gravity, the new 5 Series is said to combine dynamic driving ability with comfortable long-distance ability.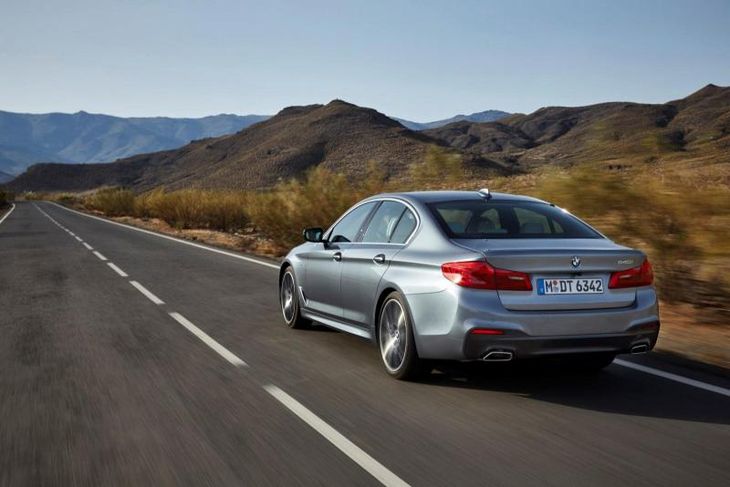 A wide range of driver assistance systems will offered with the new BMW 5 Series.

The new 5 Series is also packed with a wide range of driver assistance systems including a stereo camera that monitors the area around the car using radar and ultrasound sensors. New features include Evasion Aid, Crossing Traffic Warning, Lane Change Assistant and Lane Keeping Assistant with active side collision protection.

The new 5 Series also features extended automated driving functions for the optional Active Cruise Control system and steering and Lane Keeping assistant. These extensions include speed restrictions which is communicated to the cruise control system using the optional Intelligent Speed Assist. Minimal driver inputs are required when active cruise control is activated as the 5 Series will accelerate, brake and steer, improving the overall driving experience.
Interior features
The new 5 Series will be equipped with the latest iDrive system that will display navigation, telephone functions, entertainment and vehicle functions on a high-resolution 10.25-inch screen. Furthermore, the system can also be accessed using the iDrive controller, voice commands or gestures.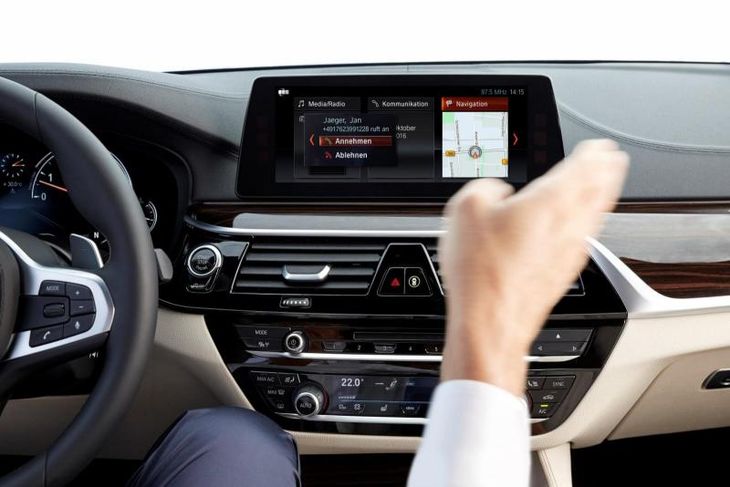 Gesture control will be offered in the new BMW 5 Series.

A full-colour heads-up display is also on offer and the projection surface is now 70% larger than before and communicates traffic signs, telephone listings, radio stations, music tracks, navigation and warnings to the driver.
BMW ConnectedDrive has also been updated to include new connectivity features such as ParkNow, On-Street Parking Information search function and the optional Parking Assistant. The newcomer can also be manoeuvred into parking spaces using the key fob, much like the 7 Series. Also, BMW's personal digital mobility assistant, BMW Connected will arrive in South Africa this year and will be offered on the new 5 Series next year.
Engine line-up
Four engines including two turbopetrol and two turbodiesel engines will be available from launch. All engines offered in the new 5 Series belong to the newly developed, modular BMW EfficientDynamics engine family. The new 5 Series will be available in rear-wheel drive guise only and xDrive all-wheel drive will not be offered in South Africa.
Starting with the petrol engines, the new 2.0-litre 4-cylinder engine in the 530i will offer 185 kW and 350 Nm of torque with a claimed fuel consumption figure of 5.4 L/100 km, which is an improvement of 11% over its predecessor. The range-topping engine is a 6 cylinder, 3.0-litre engine offering 250 kW and 450 Nm of torque in the 540i. Claimed fuel consumption is pegged at 6.5 L/100km.

On the diesel front, the 520d will be powered by a four-cylinder 2.0-litre diesel engine offering 140 kW and 400 Nm of torque with fuel consumption figures of 4.1 L/100 km (manual) and 4.0 L/100 km (8-speed automatic).
The 530d with its six-cylinder, 3.0-litre diesel engine will offer 195 kW and 620 Nm of torque. Claimed fuel consumption for this derivative is 4.5 L/100 km. A plug-in hybrid model will be launched at a later stage in the form of the 185 kW 530e iPerformance.

The launch is taking place at the end of February 2017 and we have pricing for this new model.
BMW 520d R780 156
BMW 530i R850 294
BMW 530d R963 296
BMW 540i R990 316


Related content:
Comparative Review: BMW 520d vs Mercedes-Benz E220d (2016)
BMW M5 Pure Metal (2016) Review
Mercedes-Benz E350d Exclusive (2016) Review
Want to buy a BMW 5 Series?