Although the latest improvements to BMW's 4 Series are welcome, does the 440i M Sport Convertible offer enough pizazz to outclass its rivals? We took the 440i on a long-distance road trip to find some answers…
We Like: Attractive styling, power delivery, engine refinement, interior comfort
We Don't Like: Impractical folding roof dramatically diminishes boot space, thirsty
Alternatives
Four-ring tyre shredder – Consider the Audi S5 Cabriolet quattro. Priced at R1 028 000, it's slightly cheaper than the BMW and offers more grunt from its 3.0-litre V6 turbopetrol engine with 260 kW and 500 Nm of torque. It will dispatch the sprint from zero to 100 kph in 5.1 seconds.We have yet to test it.
Half a dozen AMG cylinders – Consider the Mercedes-AMG C43 Cabriolet 4Matic. It's priced from R1 090 236 and its potent performance is developed by its powerful turbocharged 3.0-litre v6 engine with 270 kW and 520 Nm of torque. It's substantially faster than the BMW 440i, with a claimed zero to 100 kph sprint time of 4.8 seconds.
Sports car goodness – For roughly the same money, you may want to consider sports cars such as the Jaguar F-Type 250 kW convertible priced at R1 044 496 with its supercharged 3.0-litre V6 offering up 250 kW and 450 Nm. The Porsche 718 Boxster GTS PDK priced at R1 137 000 is also a worthy option to look at and it will provide 269 kW and 430 Nm from its turbocharged 2.5-litre engine. They are more dynamically gifted, but strictly 2-seaters however.
Compare the BMW 440i M Sport Convertible with the Audi S5 quattro Convertible and the Mercedes-AMG C43 4Matic Convertible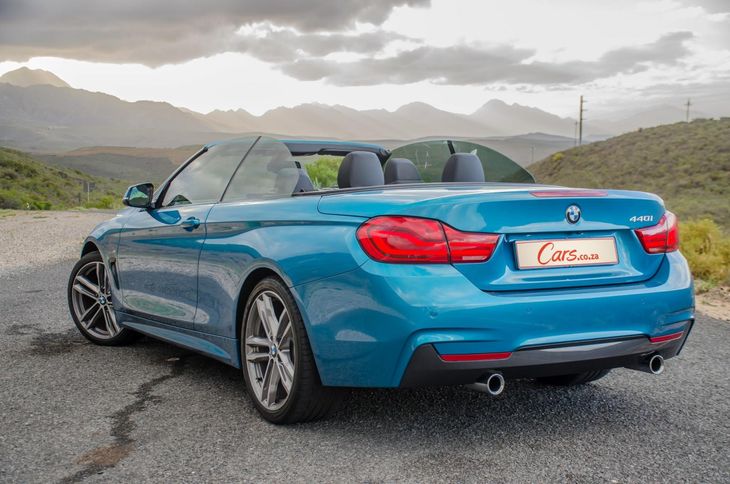 Not a bad choice of car to drive on the twisty R62 in the Western Cape. Drop-topping doesn't get much better than this...
What is it?
The BMW 4 Series has been around since 2013 (the line-up comprises the Coupe, Gran Coupe and Convertible) and it's closely based on the 3 Series sedan, not only in terms of aesthetic execution but underpinnings, electronic architecture, transmissions and engines. The 4 Series received a mild facelift last year which saw a number of stylistic and interior improvements being introduced and although the changes are subtle, they certainly liven up the package.
This BMW 440i M Sport Convertible is festooned in the arresting Snapper Rocks Blue paintwork, which is exclusively offered for the facelifted 4 Series. Revised front and rear LED light clusters modernise the car's look and in terms of proportions and dimensions, this 4 Series Convertible cuts an eminently athletic, yet elegant, figure.
We took the 440i convertible on a long-distance road trip from Cape Town to Knysna to stretch its legs, here's what we discovered...
The Good
Power on demand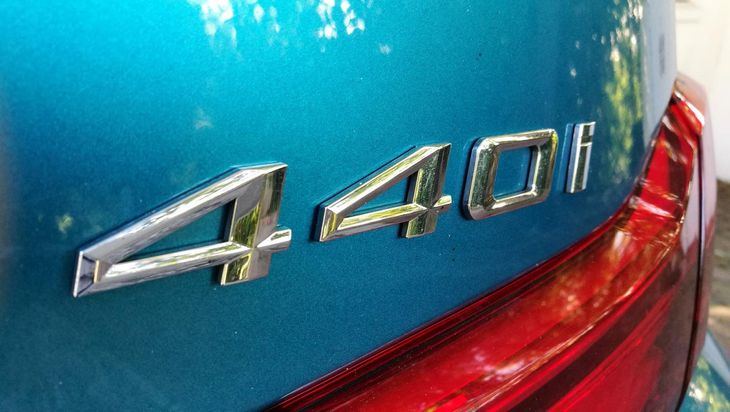 The 440i delivers potent performance and its 3.0-litre turbopetrol engine is arguably one of the best engines in BMW's stable.
We set off from Cape Town on the N1 but our progress was quickly snuffed by gridlock afternoon traffic. Once free of the clutches of the city, we turned off the N1, headed for the famous Route 62 (that stretches from Worcester to Oudtshoorn and will take you as far as just as just outside Port Elizabeth... if you let it) and the 440i went to work on devouring kilometre after kilometre of twisty tarmac.
The powerful 3.0-litre turbopetrol engine under the bonnet may not be the most powerful six-pot available on the market, but it is a characterful motor that offers peak outputs of 240 kW and 450 Nm of torque (it drives the rear wheels using a slick 8-speed automatic transmission). Need to overtake? No problem. Plant your foot flat and the 440i surges forward with urgency and it will just keep going as fast as you let it. It also delivers a delectable 6-cylinder thrum that needs to be appreciated too...
The transmission is well-matched to this engine and there are steering-mounted shift paddles for you play with if you wish to maximise the engine's might. The driver can also choose between 4 driving modes depending on what you want to achieve and they include Eco, Comfort, Sport and Sport+.
For those with an affinity for performance motoring, the 440i will do nicely, even though it's more of a fleet-footed cruiser than a sportscar. Refined as the Bimmer is, fuel consumption will suffer if you have a heavy foot. BMW claims 6.8 L/100 km, you're unlikely to get close to that claim. Alas, we averaged in the region of 11.0 L/100 km.
Capable handler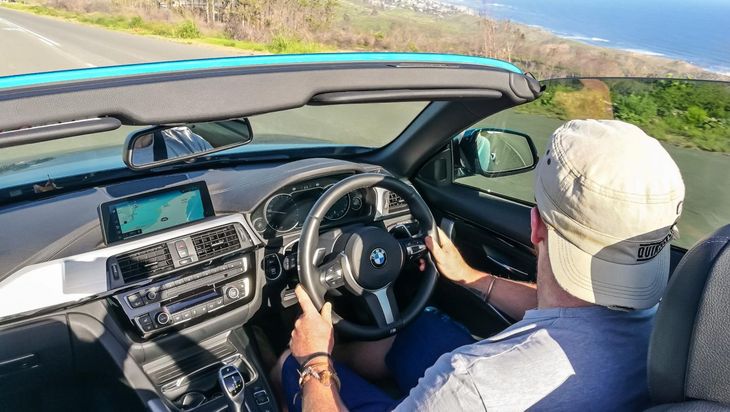 Comfortable to drive and handle, the 440i M Sport Convertible will satisfy most buyers looking for an attractive and engaging convertible.
The winding R62 gave us a chance to hook the 440i through some tight bends and for the most part it performed well by convertible standards. Being a hardtop convertible, the vehicle is heavier than its siblings, but the stiffened structure holds up well. However, when traversing uneven sections of tar with the top down, the 440i can feel a bit wallowy/uneasy, but the steering is nicely weighted and the driver has a good sense of what the front wheels are doing most of the time.
The suspension setup errs on the side of comfort, but it's stiff enough to feel sporty and only on the harshest bumps do the 255/35 19-inch wheels send crashy ripples through the cabin, but even so, it's still quite forgiving – the BMW 440i Convertible can definitely be driven every day.
It's not as dynamically capable as a fully-fledged sports car, but the 440i is still entertaining, communicative and engaging to drive and most buyers will find the Convertible to be adequately adept in terms of handling. Simply put, it's a pleasure to drive.
Interior niceties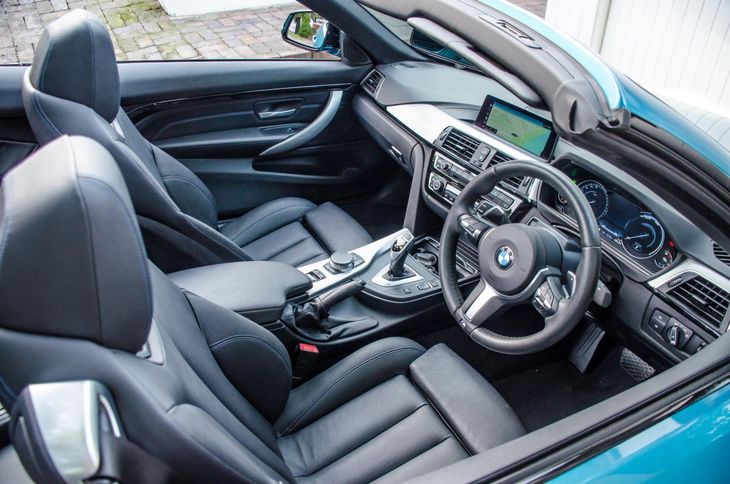 Driver and passenger are reasonably well-catered for with neck heating function and comfy electric leather seats with lumbar adjustment.
The interior is familiar from the 3 Series and it's solidly built and ergonomically sound. Some highlights include the optional digital instrument cluster that changes visually depending on what driving mode you choose. It modernises the interior somewhat and the colourful display brightens up an otherwise predominantly dark interior.
The optional navigation system professional with its new tiled layout was a pleasure to use and the navigation system, Bluetooth and sound system all worked seamlessly on our journey. We'd say that the digital instrument system and the navigation system professional are both well worth the extra spend as they are attractive and useful.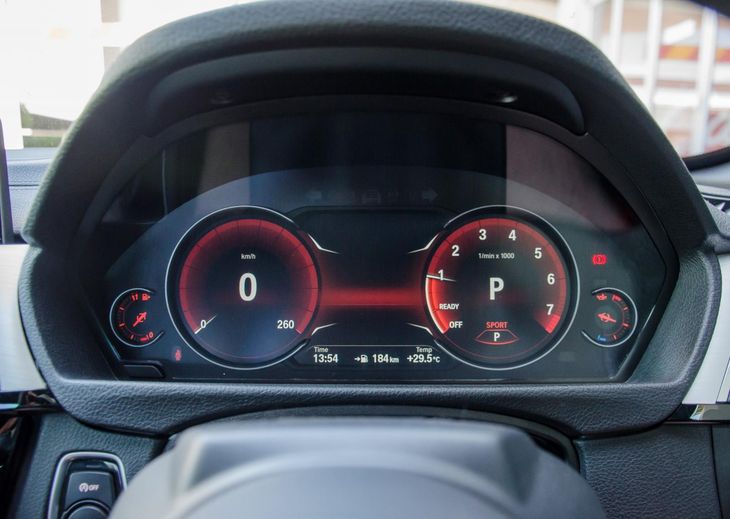 The digital instrument cluster is a nice-to-have feature in this 440i M Sport Convertible.
Other nice features include comfortable, heated electric leather seats with memory function and lumbar adjustment for the driver, cruise control and a steering wheel that is adjustable for rake and reach. Although the neck heating is frivolous in the extreme heat, it will be a welcome feature when you decide to drop-the-top on those cold winter days. Why there is no function to pipe cold air to driver's neck, BMW?
The Bad
Drop-top woes
Is the era of metal folding roofs coming to end? It's not clear whether the successor to this car will revert to a soft top in line with the configurations of the Mercedes-Benz C-Class and Audi A5 Cabriolets, but perhaps it should... because if you like this 4 Series Convertible then there are a few compromises that you will have to make. For starters, this is a 2+2 convertible, which typically means that rear passenger legroom is pretty woeful and will only be semi-comfortable for kids or really short passengers.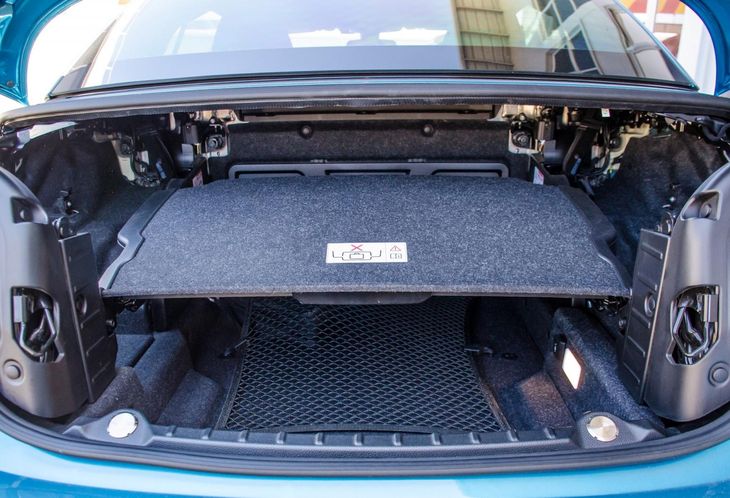 The partition for the folding roof cuts loading space dramatically, which can cause issues on those longer road trips.

Furthermore, the hard top roof takes about 20 seconds to fold away in the boot and requires you to manually deploy the luggage compartment partition before you can initiate the fold-away process, which means you have to do this before you leave on your journey or pull over somewhere on the side of the road.
When the roof is finally down, luggage space is severely hampered. We learned this the hard way. We had all our luggage in the boot, but when we wanted the roof down, we had to pull over to transfer much of our luggage onto the back seats. Now, for a couple going on a road trip this may not be an unbearable inconvenience, but if we had children or other passengers with us, it would pose a serious problem. At worst, with full luggage and passengers, you will sadly not be able to enjoy your trip with the roof down and worse still, you may have to consider taking another car for the journey. Insert sad face here…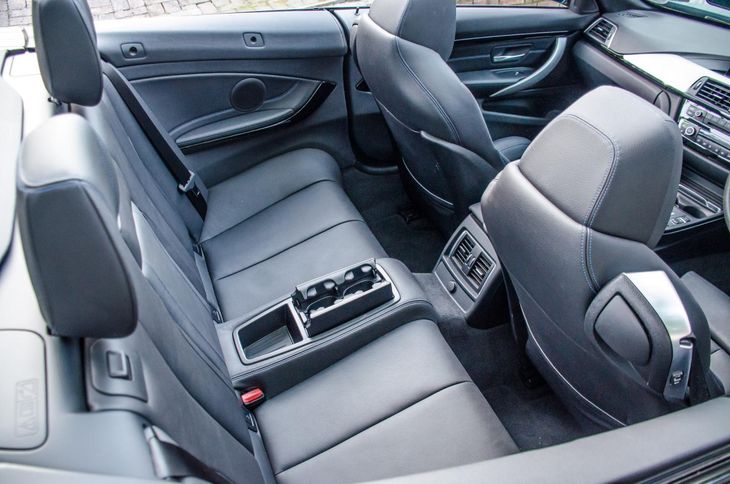 Space for rear passengers is limited and the reduced luggage space with the roof down further compounds the 440i's practicality woes.
The 4 Series can't quite hide its age
Although BMW applied tasteful updates to the 4 Series' interior last year, including electroplated detailing, chrome applications, double stitching on the instrument panel and a high-gloss black centre console finish, the reality is that the Convertible doesn't have the upmarket glamour of its Mercedes-Benz rival's interior or the cohesive, technically advanced and well-built cabin that is such a hallmark of Audi's A5 range, including its Convertible derivatives.
To be fair, the interior of the 3 Series (and its variants, such as this car) were always meant to be smart looking and elegant, as opposed to glamorous and, for lack of a better word, fancy. However, in terms of competition in the luxury market, interior appointments and function-richness are a lot more important than they used to be; in fact, a dated interior could be a deal-breaker for some buyers.
Price and warranty
The BMW 440i M Sport Convertible is priced from R1 049 646 and is sold with a 2-year/unlimited km warranty and a 5-year /100 000 km maintenance plan.
Buy a BMW 4 Series on Cars.co.za
Verdict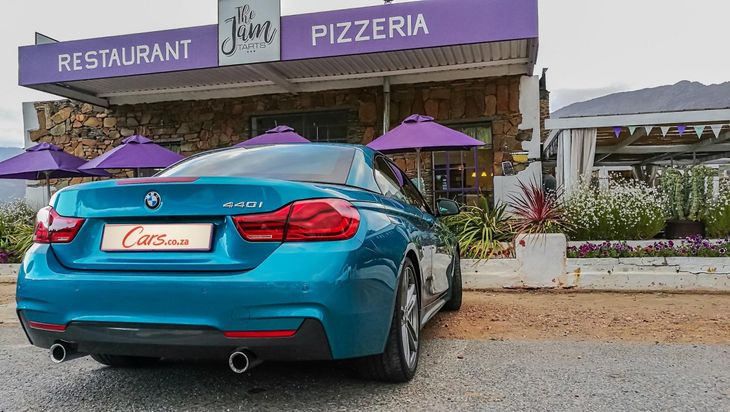 There is much to like about this 440i M Sport Convertible and its engine performance is perhaps its strongest drawcard.
The BMW 440i Convertible delivers pleasing kilometre-eating performance over long distances, a relatively comfortable ride and just enough in terms of dynamic handling ability. But there are drawbacks... The interior is not as lavish as the car's price tag would lead you to believe (even if it has most of the comfort features you would need) and then there are the practical pitfalls, which might not be noticeable in a showroom, but become apparent when two people and their luggage go on a road trip.
Yet despite its age, the BMW has loads of kerb appeal, especially in M Sport trim and the resplendent Snapper Rocks Blue finish. Buyers who seek the thrill of driving a 6-cylinder drop-top (even if that market isn't particularly large), will be impressed by the 440i's effortless performance and engaging driving experience. A car of this kind is largely bought with passion – rather than reason – and the Convertible's charm is undeniable. Whether it offers enough pizzazz and luxury will depend on personal taste...
Related Content
BMW 4 Series (2017) Launch Review
BMW 420i Gran Coupe (2017) Quick Review
BMW 440i Coupe M Sport (2016) Review
BMW M4 DTM vs Mercedes-AMG GTR - Drag Race
BMW M4 DTM vs Mercedes-AMG GTR - Track Race