With its popular 3 Series bound by marketing- and package-related 'non-negotiables' – and sales of SUVs making up a huge chunk of its business anyway – who could blame BMW for testing the waters with an unconventional 2nd-generation 4 Series? Contributor Ian McLaren squinted his eyes before sampling the new sports executive coupe.
Of the nearly 800 000 units of the 1st-generation 4 Series Coupe that BMW sold since 2013, around 45% of those orders were for the 4-door Gran Coupe variant. While sales of the all-important 3 Series continued to prosper during this time, it's a testament to both the firm's design team – and marketing nous – that a model that was so closely related (in terms of packaging) to the 3 Series could still find favour among enthusiasts.
Keen to explore the potential of this newfound niche, BMW has boldly "pushed the boat out" in terms of the shape and design detailing of the G22-generation 4 Series. It has also endeavoured to further distinguish the Coupé from its sedan sibling by way of added quality and dynamic ability.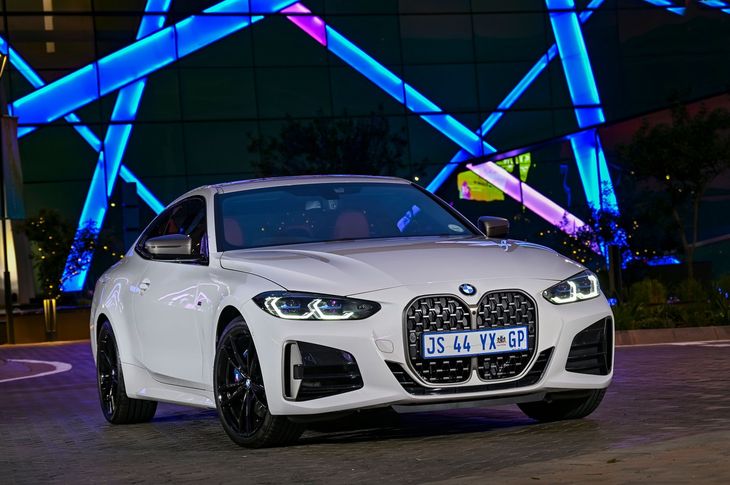 It can be tricky to tell some premium marques' sports executive variants apart from each other, but the G22 puts that to bed.
Irrespective of whether you like the upright grille design or not (you're not likely to be sitting on the fence!), there's no denying that the new 4 Series is an attention-grabbing coupe; 128 mm longer and 27 mm wider than the previous 2-door Four, the 2nd-generation car also boasts a heightened kerb presence thanks to its longer wheelbase, lowered ride height and wider track widths, front and rear, compared with the outgoing model.
Although it shares its CLAR platform with the contemporary 3 Series (and several other medium- to large-sized BMWs, for that matter), the Four nevertheless gains additional strengthening in areas like the front bulkhead and strut brace in order to make the Coupe that much more rigid than its 3 Series equivalent. BMW claims a slight decrease in luggage capacity in the new car, yet 440 litres should still easily swallow two golf bags.
While 2 lower-tier 4 Series Coupe derivatives are available with the optional M Sport Package exterior upgrade – including wheel sizes ranging between 17- and 19-inches – the top-of-the-range (for now) M440i xDrive is sold replete with this sportiest of styling packages.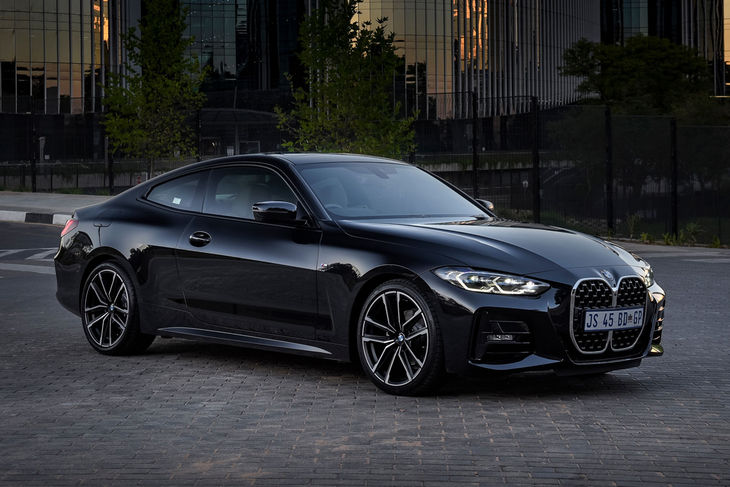 The upright grille has dominated conversations to such an extent that people have ignored the balanced proportions of the G22.
The range
With the new Gran Coupe and Convertible variants due to arrive in South Africa in the 1st quarter of 2021 (and the M4 Coupé following before the middle of the year), the new 4 Series Coupe's launch line-up offers a choice of 2 turbopetrol engines and 1 turbodiesel unit.
Powered by a 2.0-litre, 4-cylinder petrol engine, the 420i Coupe produces 135 kW and 300 N.m of torque, which is delivered to the rear wheels via an 8-speed Steptronic (automatic) transmission. The same drivetrain configuration is also featured in the 420d Coupe, with its turbodiesel motor supplying 140 kW and a healthy 400 N.m of torque, the latter available between 1 750 and 2 500 rpm.
The M440i xDrive, meanwhile, offers beefy outputs of 275 kW and 500 Nm from its 3.0-litre turbocharged inline-6, all of which is apportioned to all 4 wheels as driving conditions dictate. Featuring a launch control function, this junior M-car has a claimed 0-100 kph sprint time of just 4.5 sec.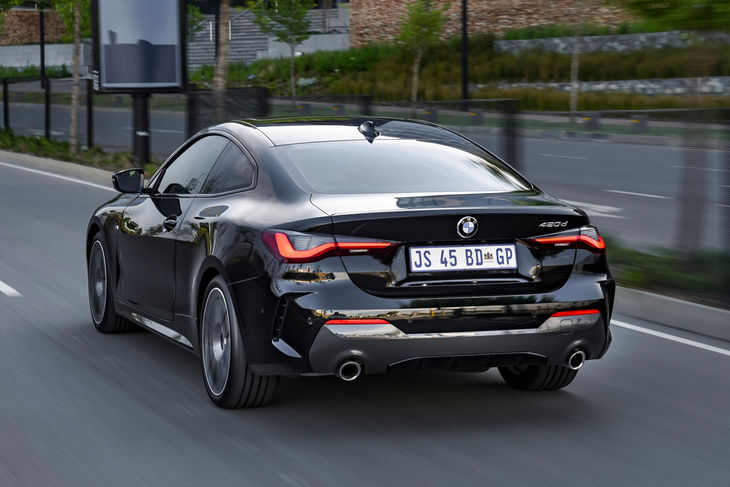 The 420d is an excellent long-haul cruiser; the M Sport package sharpens its looks, but the bigger wheels compromise its ride.
On the road
Otherwise impressively refined and – by virtue of BMW's class-leading Steptronic transmission – silky smooth in its workings, the 420d Coupe can feel somewhat overwhelmed by the level of expectation that comes with wearing an optional M Sport package. That said, while it's a drivetrain easily up to the task of (efficient) open-road cruising, overtaking acceleration doesn't quite match up with the various M badges scattered around the exterior. Ride comfort, too, is compromised by the fitment of the associated larger wheels, which are shod with corresponding low-profile tyres. I would either order my 420d Coupe sans a badge on the rear or, better yet, keep the car in standard form when it comes to exterior upgrades.
More convincing when it comes to wearing its M-sourced kit is the M440i xDrive. This temporary flagship derivative's standard adaptive M Sport suspension copes better in all driving modes with its 19-inch alloy wheels, while making the most of the 4 Coupe's modified front suspension (including adjusted camber, compared with the 3 Series), its M Sport-tuned transmission and electronically controlled (M Sport) differential.
Incidentally, the M440i xDrive (or, shall we say "M4 Lite") features a Sprint Function, which allows the driver to engage the raciest of the 3 driving modes (Eco Pro, Comfort and Sport) via a flick of steering-wheel-mounted transmission paddle.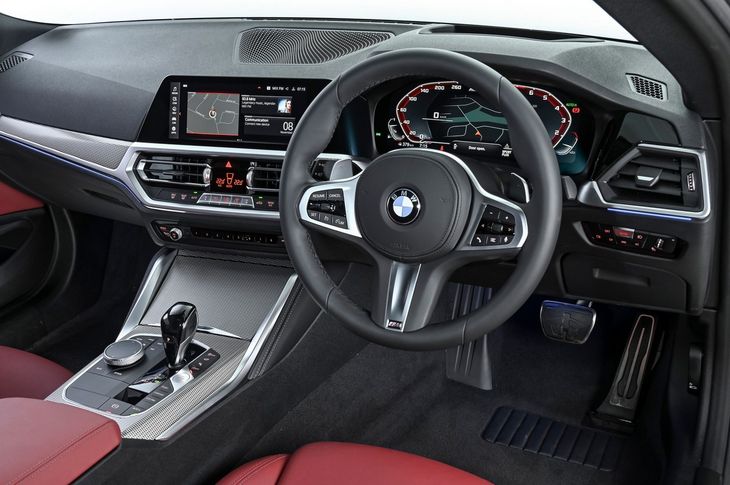 The 4 Series' interior architecture is very similar to that of the 3 Series, but its standard spec is slightly sportier.
With a fresh focus on dynamic ability, the new 4 Series Coupe's centre of gravity has been lowered by 21 mm compared with the previous model, with the front seats positioned that much lower within a cabin that feels both impressively well specified and, indeed, put together. Standard throughout the range is BMW's crisp digital 12.3-inch instrument cluster and 10.3-inch touch-enabled (and voice-activated) infotainment display.
From a low-slung driving position, the M440i xDrive, in particular, feels both effortlessly sophisticated and comfortable on the open road, while offering pin-sharp turn-in and near class-leading (assuming you include a 911 within its list of rivals) levels of mid-corner poise and body control in the twisties. It remains impressive how BMW's xDrive all-wheel-drive system manages to make the car feel rear-wheel-driven in most conditions.
Sure, much of this performance-based derivative's exhaust note is piped into the cabin via the car's audio system, but enough of the Bavarian brand's characteristic (and soulful) 3.0-litre inline-6 soundtrack remains, which will undoubtedly please the Bimmer faithful.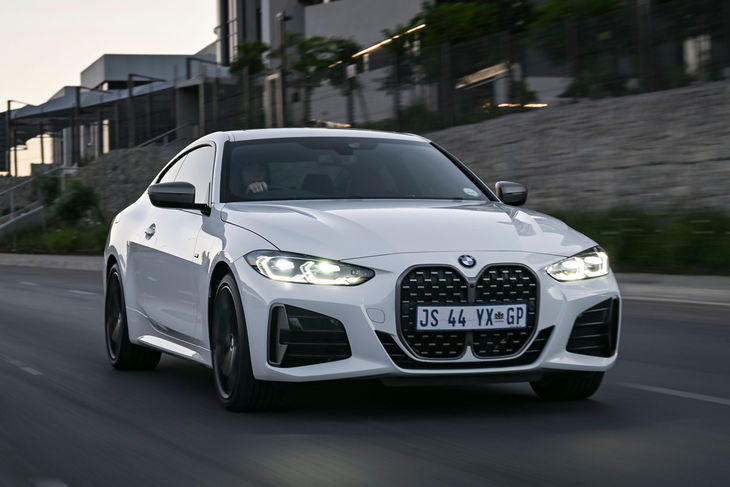 The G22-generation 4 Series is a much more sophisticated offering than its predecessor... and feels quite different to the 3er.
Summary
Not everyone will love the styling of the new 4 Series Coupe, but that's the whole point. For a marque with a proud history of individualistic designs and characterful packaging, BMW largely plays it safe these days. However, with non-trend-driven models like the 8 Series and, indeed, 2nd-gen 4 Series Coupe, the Bavarian brand is free to exercise its freedom of (creative) expression within a sea of otherwise necessary mainstream offerings.
If you fancy the 4er's new face and appreciate the level of individual expression this niche model brings to the party, BMW's newest coupe certainly backs up its bold stance with both class-leading levels of in-car- and on-road sophistication, allied with impressive dynamic ability.
Based on the G22-generation M440i xDrive, the forthcoming new M4 should prove to be a force to be reckoned with. Who're you calling ugly?!
Further Reading:
BMW 4 Series (2020) Specs & Price
BMW 4 Series Convertible revealed: It's not subtle
BMW M3 & M4 revealed, but no manuals for SA!