On test here however, is the 5-door BMW 125i M Sport Automatic in metallic Valencia Orange. Let's see how it stacks up!
The BMW 1 Series received an update earlier this year and so far we have managed to
test the M135i
, which was an utter blast to drive. In fact, the refreshed BMW 1 Series impressed us so much that the 120i M Sport Automatic was nominated as a semi-finalist in
Premium Hatchback category for the 2015 Cars.co.za Consumer Awards
, and who knows, it may just scoop the title. On test here however, is the 5-door BMW 125i M Sport Automatic in metallic Valencia Orange.
Special Features
BMW has done a fine job in improving the look of the 1 Series and there are actually changes you can see with the naked eye. The changes include a revised kidney grille with larger air intakes as well as revised, larger headlights. The rear LED taillights are now distinctly 'L' shaped too, which makes this facelifted version easily recognisable on the street.
This particular test unit was packed to the hilt with optional features. Key attributes included snazzy 18-inch double-spoke alloy wheels, electrically adjustable leather sports seats for the driver and passenger with lumbar support and a glass sunroof. The 125i is fitted with an M Sport package as standard and comes kitted out with M Sport brakes and suspension, as well as an M sport multi-function steering wheel and M Aerodynamic body kit.
The interior is plush, comfortable and solidly built and we particularly liked the use of brushed aluminium in the cabin. The freestanding 6.5-inch display which houses the BMW Professional Radio and iDrive operating system was easy to use and navigate and adds to the overall premium interior feel. Navigation is optional however. One of the only criticisms we have concerning the interior of the BMW 125i M Sport is the orange appearance of the instrument cluster, which looks dated and stands in contrast to an otherwise excellent, modern interior.
In terms of space, rear passengers can't complain with sufficient head, shoulder and legroom. Boot space is reasonable at 360L, which compares adequately to the Mercedes-Benz A-Class (341L), Volkswagen Golf (380L) and Volvo V40 (335L)). With the rear seats folded down, space increases to a very practical and spacious 1 200L, which comes in handy when you need to move larger items, like surfboards, or anything else really large.
Excellent Performance
This BMW 125i M Sport Automatic is powered by a meaty 2.0-litre turbocharged petrol engine that delivers 160 kW and 310 Nm of torque to the rear wheels via an 8-speed automatic sport transmission.
The performance of the 125i M Sport Automatic is impressive, particularly in the manner in which it lays down its power. It's not bullish or overly flamboyant, but rather feels more focused and sophisticated in its endeavours to please.
In urban situations, the 125i M Sport is a comfortable cruiser. Gear shifts are quite seamless and power is delivered in a smooth, linear manner. The real fun however begins when you put your foot down. Following momentary turbo lag, the 125i responds with vigour, leaping forward with purpose. The BMW 125i M Sport is no slow coach and can whip to 100kph in 6.2 seconds if you press on.
Handling is also something the 125i excels in. With well-balanced steering and a refined suspension setup, the 125i delivers excellent ride quality and copes well on poor road surfaces. The Start Stop system helps conserve fuel in close quarter driving and out on the highway, the 125i is more than capable of executing overtaking manoeuvres at speed with good in-gear acceleration.
Despite all the goodness this 125i has to offer, fuel consumption is maybe not its strongest attribute, even though BMW claims 6.3L/100km. In the week we spent with the car, the best figure we managed was 10.4L/100km, which easily climbed above 11L/100km during spirited driving runs.
Safety Features
As is to be expected, the BMW 125i M Sport is well equipped in terms of safety and comes fitted with ABS with EBD, Brake Assist, Electronic Stability Control (ESC) and traction control. A total of six airbags are also fitted as standard. This test unit was also fitted with optional front and rear Park Distance Control and Park Assist which will help you avoid kerbing or reversing into blind objects.
BMW 125i Price in South Africa
In terms of pricing, you can expect to pay
R466 973
for the base 125i M Sport Automatic. With a long options list to up-spec the car, the price can shoot upwards in a heartbeat. Our test unit came equipped with lots of optional features, bringing the total cost to
R611 923
.
BMW offers a 2-year/unlimited km warranty as well as a 5-year/100 000km Motorplan maintenance contract.
Compare the BMW 125i M Sport Automatic with its main rivals here!
Verdict
Overall, the BMW 125i M Sport Automatic is difficult to fault and it certainly is an excellent car. Not only does its performance back its case but the drive quality is something to be appreciated too. However at this price point, buyers are quite spoilt for choice and there are excellent options in the market such as the Volkswagen Golf, Volvo V40 and Mercedes-Benz A-Class, that offer the same level of performance, quality and refinement, at a lower price. The decision to buy this car will be determined not only by the depth of your pockets, but also by how much you value status and how badly you want that BMW badge.
Test Team Opinion
The 125i is nearly the complete package. It has a great engine that combines fuel efficiency and power perfectly. The chassis is comfortable and sporty when called on. Now it's just time for the interior to catch up.
-Ashley Oldfield
We Like: Performance, refinement, interior quality
We Don't Like: Pricey, dated instrument cluster
Also Consider: Mercedes-Benz A-Class, Volvo V40, Volkswagen Golf
Buy BMW 125i M Sport Automatic here!
BMW 125i M Sport Automatic - Quick Specs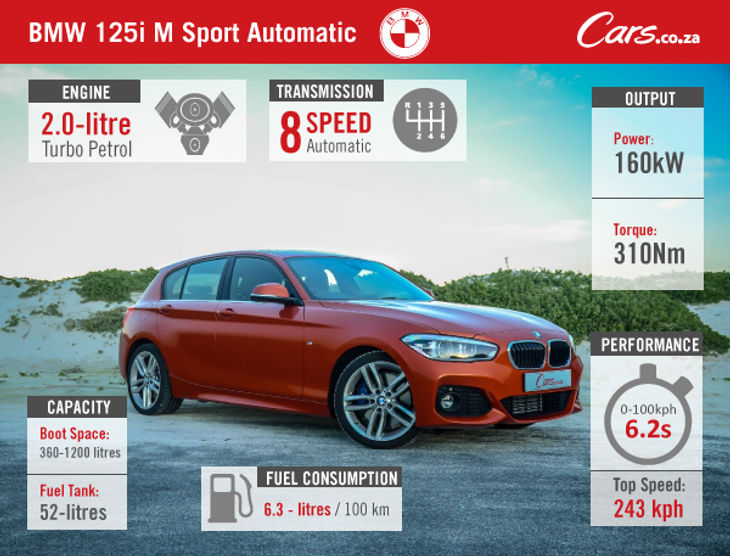 2015 BMW 1 Series Facelift – New vs Old