We've had the opportunity to sample this – the all-new BMW 1 Series – in Munich, Germany. Has the loss of the 3.0-litre straight-6 engine and a switch to a (primarily) front-wheel-drive layout affected the premium hatchback's famed driving experience? Is its interior now well and truly up to date? Does it look like an SUV? It's time to find out...
As an entry point to the brand, the 1 Series is pivotal for BMW. The premium hatchback has a funkier, more youthful appeal to BMW's increasingly conservative and upmarket 3 Series sedan, which has become out of reach for many consumers who want to buy into the Bavarian brand (from new). Their first port of call is now most likely to be the often controversial 1 Series, so the fundamentals of the F40-generation car need to be right.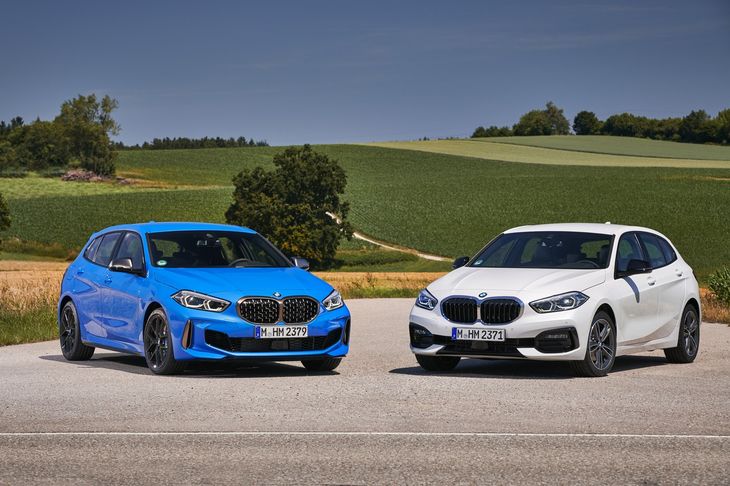 The all-new BMW 1 Series adopts the brand's latest exterior styling language and has switched to a front-wheel-drive focused platform
Controversy has most certainly followed this newcomer too! When the new 1 Series broke cover, many of our users reacted negatively to its styling. "Looks like a baby SUV," was the most common complaint. Even though the old cliche: "photos don't really do it justice" applies, the F40 does kind of resemble a new addition to BMW's X family. However, when you walk around the vehicle and view it from multiple angles, it quickly loses its SUV figure and settles into a more pleasing hatchback shape. Of course, because the 1 Series is a new BMW, its grille is a hot topic. In this iteration, not only does the grille dominate – in M135i xDrive spec, it looks fantastic with intricate detailing. Lesser models have to make do with a plainer grille.
Own a BMW? Tell us about your experience here.
Platform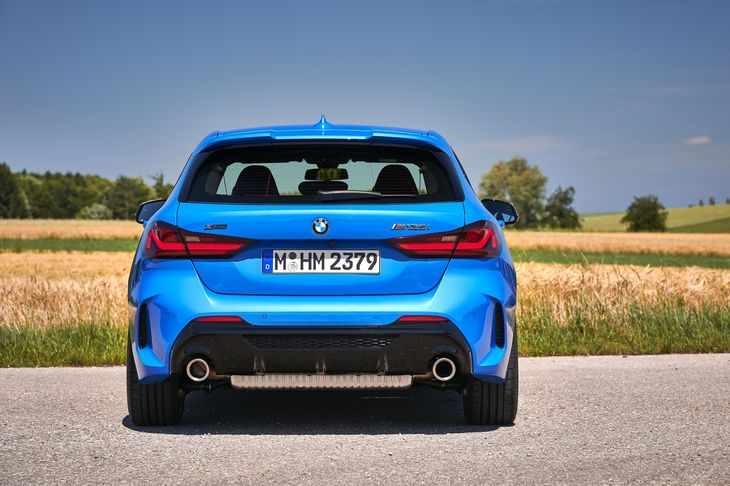 Being the performance variant, the BMW M135i needs to have the aggressive looks. A wing and twin exhausts should do it.
The F40-generation 1 Series is built on the UKL2 platform, which simply means the 1 Series is no longer a rear-wheel driven. This platform focuses on front-wheel drive and all-wheel drive setups and makes provision for electrification. Current BMW Group models built on this modular architecture range from the X1 and X2 crossovers to the Mini Clubman and Mini Countryman. While petrolheads are upset, we can see the logic behind BMW's strategy. Not only is it cheaper to have more models sharing the same platform, but BMW claims there are notable gains in terms of interior space.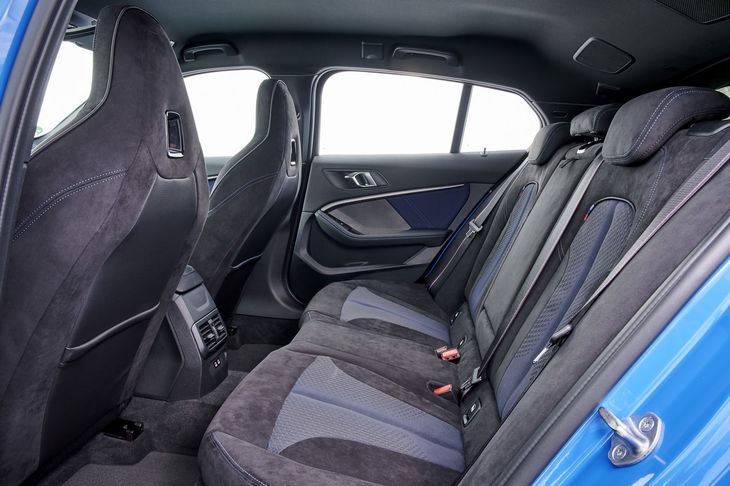 The 1 Series' cabin space has increased in several dimensions thanks to the new platform.
Speaking of space, the newcomer will be sold exclusively as a 5-door hatchback. Front- and rear occupants are availed 42 mm and 13 mm extra elbow room respectively, but, more importantly, aft passengers benefit from an additional 33 mm of knee room and 19 mm of headroom (if the outward-opening sliding panoramic sunroof is specified, BMW's press material notes). The Bimmer's luggage capacity is also said to have increased by an additional 20 litres. The total now sits at 380 litres, but if you fold the 40/20/40 rear seats down, you gain access to 1 200 litres of utility space.
Cabin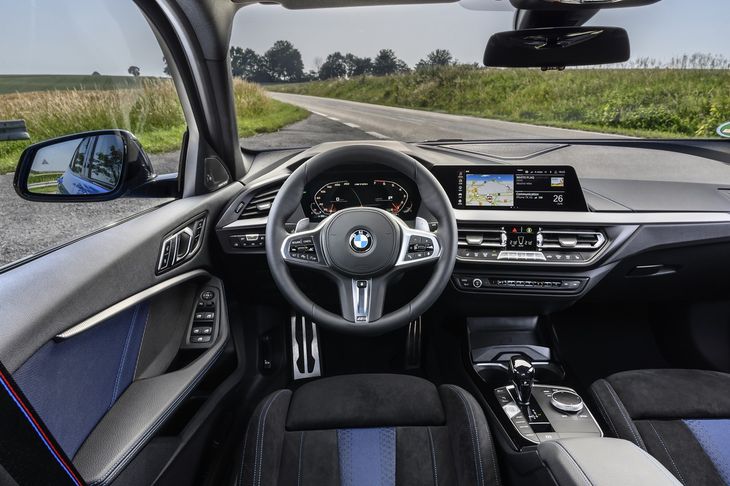 The cabin gains the new digital dashboard seen in the X5, 3 Series and X7.
When you step inside the newcomer's cabin, it's immediately apparent that most of the criticisms of the previous model's interior have been addressed. Firstly, the 1 Series' fascia has a fresh, modern and connected appeal, thanks primarily to the introduction of BMW's Operating System 7.0. We've experienced the comprehensive system, which encompasses an all-digital instrument cluster and crisp-looking and slick touchscreen infotainment interface in a number of new BMWs, and every time we've come away impressed with its intuitive functionality. In the new 1 Series, things are no different; we sampled the "Hey BMW" assistant, swiped away using gesture control and made full use of the wireless charging pad. Even though the F20 was only recently discontinued, it now looks and feels positively ancient inside compared to its successor's s(l)ick setup.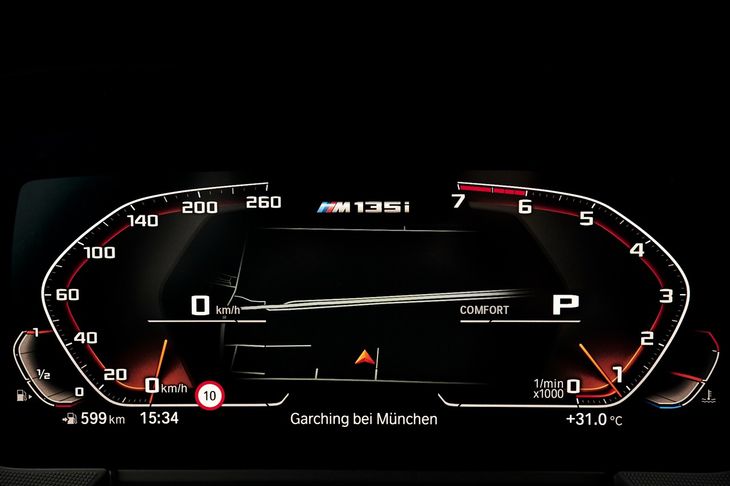 The crisp digital instrument cluster is not only aesthetically pleasing – it displays a host of information in the space provided.
SA's 1 Series engines
With a healthy balance of turbopetrol and -diesel engine choices, with the option of 2- or all-wheel drive, the 1 Series' line-up is diverse. However, South Africa will only be getting 2 petrol-powered derivatives initially, with diesel-powered versions coming later. Kicking off the range is the 118i, which is powered by a 1.5-litre turbocharged 3-cylinder engine. It produces 103 kW and 220 Nm, giving it a claimed 0-100 kph time of 8.5 seconds.
It's available with either a 6-speed manual or a 7-speed dual-clutch transmission. We'll have final clarity on transmission choice for the SA market closer to the vehicle's launch. The diesel options include the 116d (85 kW/270 Nm), 118d (110 kW/350 Nm) and 120d xDrive (140 kW/400 Nm).
M135i powertrain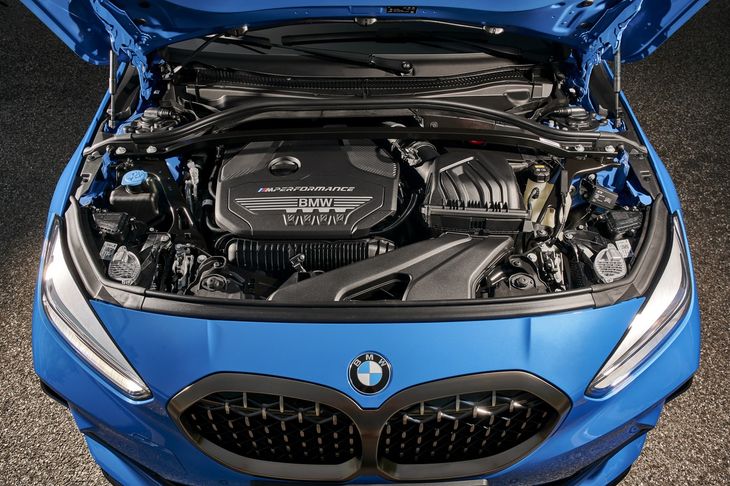 The 3.0-litre straight-6 engine is gone and has been replaced by a transversely-mounted 2.0-litre 4-cylinder motor
The now-discontinued M140i's 3.0-litre straight-6 is undoubtedly revered by BMW aficionados, but the M135i xDrive's all-new 2.0-litre 4-cylinder engine is no slouch. It stems from BMW's modular B48 family, but has been revised to deliver additional performance. Interestingly, this engine also does duty in the X2 M35i as well as JCW-branded Mini models. The twin-scroll turbocharged motor produces 225 kW and 450 Nm, which puts the flagship version of the new 1 Series right in the middle of the current crop of 2.0-litre turbocharged all-wheel-drive hatchbacks. In fact, a quick glance at the Cars.co.za Compare New Cars tool suggests the Bavarian hatch packs a 50 Newton metre advantage over its rivals. Cue dramatic music!
With power going to all 4 wheels via BMW's xDrive all-wheel-drive system, the M135i should be quick – and it is, with a claimed 0-100 kph time of 4.8 seconds thanks to a launch control system (supported by ARB – actuator contiguous wheel slip limitation technology borrowed from the BMW i3s) and a quick-shifting 8-speed automatic transmission. Despite its performance slant, it boasts a claimed economy figure of 7.1 L-6.8 L/100 km.
What's it like to drive?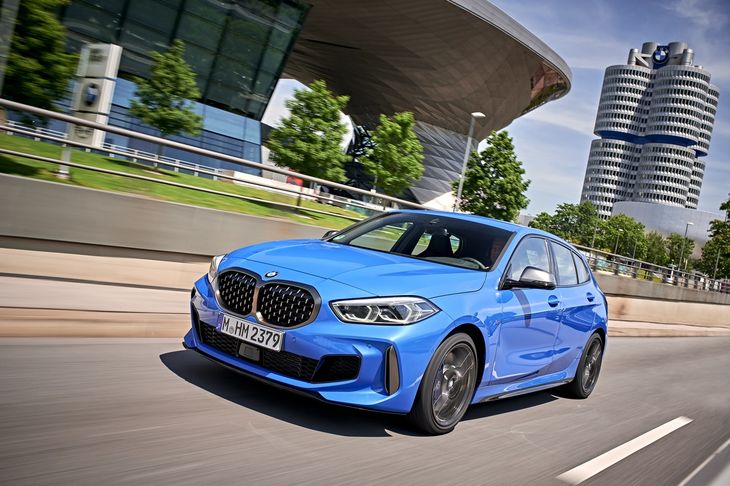 There's an admirable focus on ride quality and comfort in the new BMW 1 Series, but the real test will be on SA roads
We had an opportunity to sample the blue M135i xDrive you see here as well as a diesel derivative. Given that we're not likely to receive the latter in the immediate future, we chose to spend our time behind the wheel of the range-topper.
The driving experience commences the moment you plant your posterior in the body-hugging driver's seat. We're told that front sports seats will be standard fare, but we'll confirm that closer to the 1's SA launch in October. Stab that engine start button and hear that new motor fire up. If you're a petrolhead, you're most likely to select Sport mode from the get-go (to prompt those exhaust flaps to open up). The sound is a deep, throaty burble especially when the engine's cold, but we can't say its radically different to that of, say, an Audi S3. Granted, there's only so much acoustic trickery one can apply to the note of a 4-cylinder engine, but thankfully BMW has tuned it to emit generic pops and splutters on overrun. The best part? Even when the M135i xDrive is in Comfort mode, you're reminded that this is the performance version – a pleasant, engaging engine hum is omnipresent.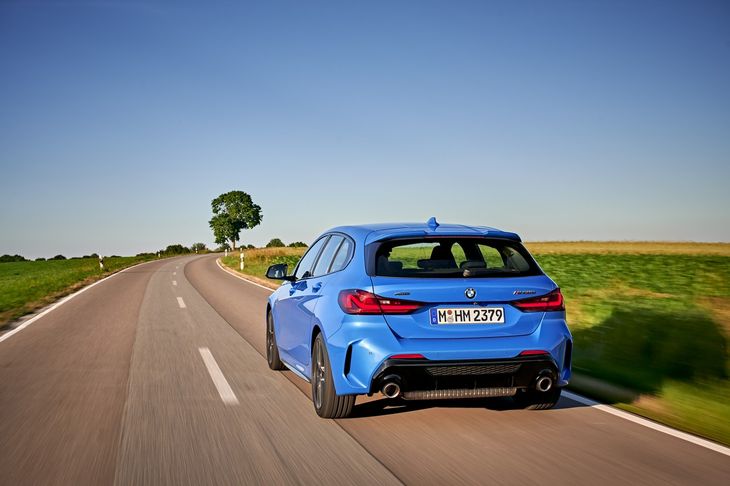 In its most aggressive settings, the BMW M135i made some terrific noises when accelerating at full throttle.
The new launch control system engages promptly, compared with those of previous dual-clutch-transmission-endowed M models that tended to hesitate (as if to insist on absolutely perfect conditions before they'd deliver the goods). The revs build, a Launch Control Active message appears on the digital dash' and then you release the brake pedal. You can either shift cogs yourself or, do what we did: let the 'box do its business. The 1st gear is short enough to give you a slingshot feeling as the Bimmer hurtles towards the horizon and I appreciated the loud tyre chirps between gear changes; they enhance the sensation of performance. It'd be ever so simple to dial them out with electronic intervention, but we're glad they're there.
Speaking of gear changes, you can actuate them by using the steering-wheel-mounted shift paddles, but note that when you manually change up at high revs, the next gear arrives with a deliciously mechanical thud. It's not too dissimilar to a hard dual-clutch 'box upshift, which is satisfying, but perhaps some users may complain about "whiplash"? The in-gear acceleration is thoroughly satisfying – the engine delivers its maximum torque on the proverbial silver platter from as low as 1 750 rpm and the thrust duly continues until the redline comes up. Grab the next gear, rinse and repeat!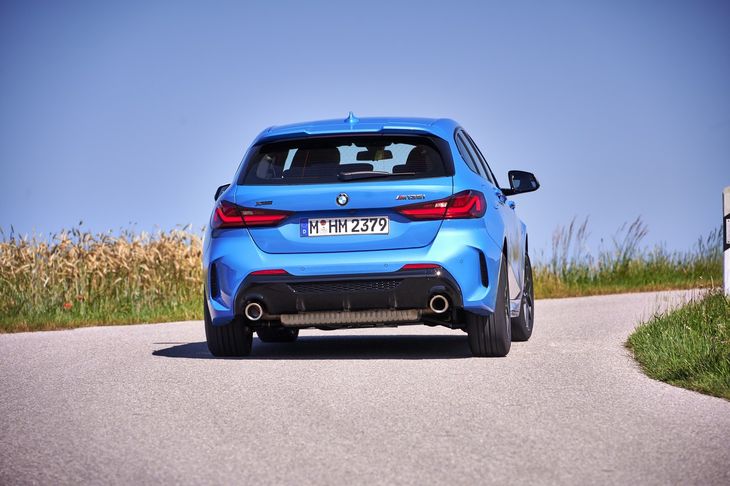 The xDrive offers terrific grip and inspires you to press on, something you couldn't casually do in the rear-wheel-drive 1 Series.
Being an M Sport model, the M135i xDrive features a thick-rimmed steering wheel as standard. It's not to my personal preference (I am happier with a slightly thinner rim), but aficionados will be most pleased. As for steering feel, the flagship comes with an electromechanical M Sport steering setup, which is thankfully not as ultra-direct or darty like that of the Z4 M40i, but conveys a modicum of sporty feel. However, there's always room for improvement; BMW should draw inspiration from hot hatches with "talkative tillers", such as the Honda Civic Type R and Renault Megane RS.
In terms of ride quality, our media launch units rode on 18-inch alloy wheels wrapped in Pirelli 225/40 R18 rubber. Despite the smallish size of these wheels, I think they looked the part and offered a fair blend of ride comfort and dynamic grip. However, on some of the coarser surfaces, some road noise presented itself, but it wasn't excessive. Our test units also featured optional adaptive damping, which aided the suspension's pliancy.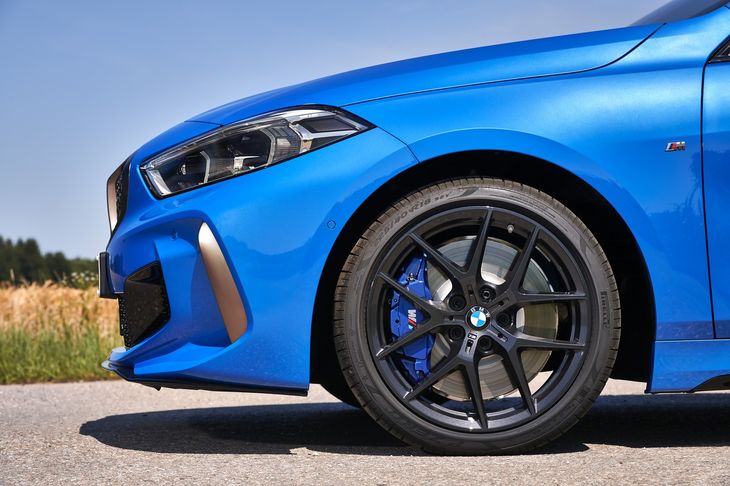 These 18-inch alloy wheels looked great. M Performance brakes are standard fare on the M135i
As our test route comprised B-roads through Bavarian hamlets and a few stints on the Autobahn, we didn't push the newcomer to its limits, but got a good inkling of its capabilities. I'll discuss the merits of the xDrive (the M135i comes with a Torsen limited-slip differential mounted to its front axle) in the next section, but suffice to say I experienced enough of the range-topper on this "first date" to make me very keen to sample it on home turf a second time. When the test team reviews the newcomer on our favourites stretches of twisty tarmac, more of the BMWs talents will come to light.
M135i vs M140i?
It seems the question that nearly everyone wants an answer to is this: Can this new M135i xDrive match the outgoing M140i (a finalist in the hot hatch category of the 2018/19 #CarsAwards) in terms of performance? Truth be told, there's no simple answer to that – you cannot compare the 2 vehicles with their on-paper specifications. This isn't a game of top trumps. Yes, there are detractors lined up on social media with their metaphorical pitchforks at the ready to lynch anyone who doesn't show due reverence to the straight-6, but the critical factor here is accessible performance.
I'd bet the majority of BMW M140i owners have not ventured into the "DSC Off" territory and tried to coax their cars' rears to step out deliberately. The risks are simply too great on public roads and if you dare to explore the limits of your personal car on a race track, your maintenance plan will go up in smoke if BMW finds out about it. Purists will always hold rear-wheel-drive in high regard, but with the addition of xDrive, BMW has made its flagship 1 Series' performance limits more safely attainable. An average driver will feel the confidence to press on, even in lower-grip conditions, without this constant worry in the back of their mind that, should their vehicle suddenly want to pirouette, they'd be skilful/lucky enough to control it.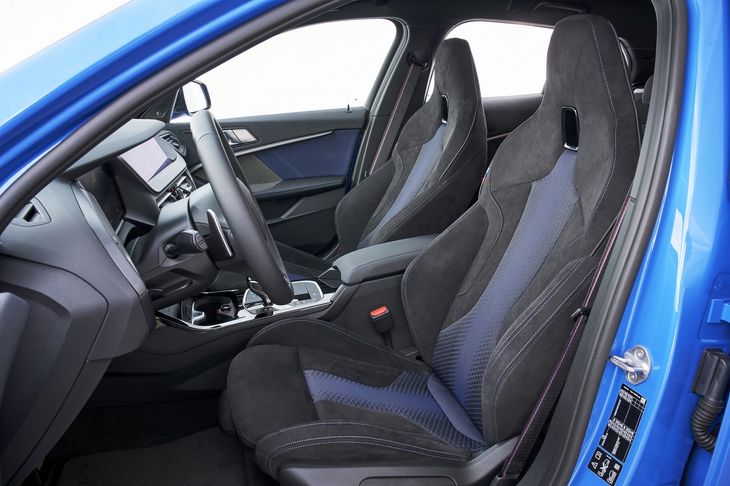 How pretty are these performance seats? They're also very comfortable and feel upmarket.
The primary benefit of the xDrive setup is that it endows the M135i with a tremendous amount of mechanical grip. We estimate that it'd take some serious talent from a BMW M140i driver to try to overtake a newer M135i xDrive on a tight and twisty road, especially when it's wet or even damp. In slippery conditions, the newer car will simply make the most of what grip it can muster and power away into the distance. Some of you have asked if BMW could fit a more potent engine in this new 1 Series? In terms of what's possible engineering-wise, no... This new platform only works with the engine mounted in a transverse position (parallel to the front axle), so a longitudinally-mounted straight-6 engine won't physically fit.
Verdict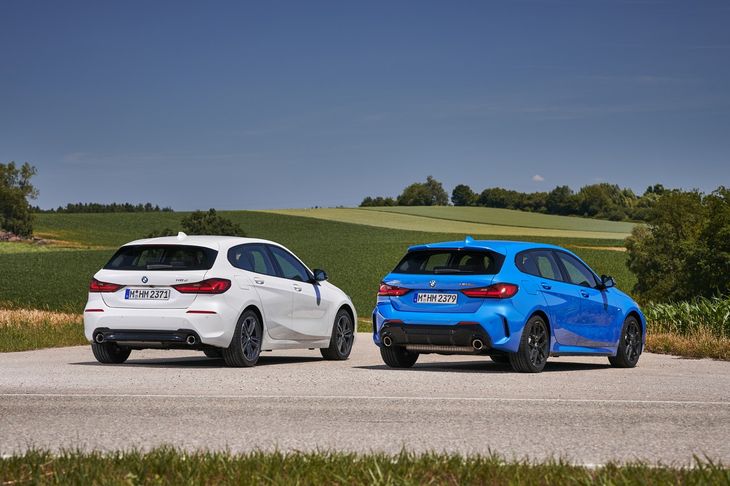 It's a big step forward for the BMW 1 Series and it brings new levels of tech and refinement to the premium hatchback segment
Does the all-new BMW 1 Series impress? Once you see the newcomer in the metal and realise that photos obscure its hatchback proportions, you'll disregard derogatory comments such as "It looks like an SUV!" The cabin deserves the lion's share of the praise because the previous generation's interior felt outdated compared with those of its digital dashboard-endowed rivals. Given the arrival of Mercedes-Benz MBUX and Audi Virtual Cockpit, BMW desperately needed something to match its rivals and the F40-generation car's infotainment system is a significant step up. Having experienced it in many applications, we've become quite fond of its slick touchscreen interface and gorgeous graphics. As for the luggage capacity and occupant space improvements yielded by the new platform, the 1 Series is more practical than before, but it's still no "family hatchback".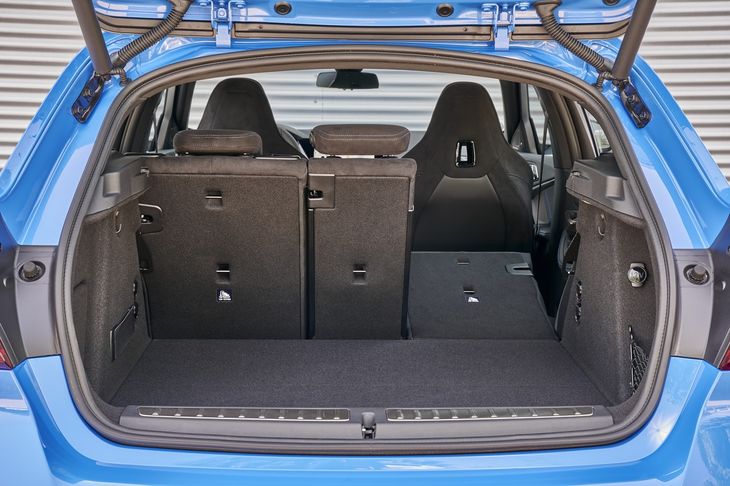 Whereas previous versions of the 1 Series offered meagre luggage compartments, the F40 generation's load bay is at least workable.
On balance, does the switch to an all-new platform work? Yes, it does. While the newcomer's improvements are incremental, they're enough to make this the most sensible 1 Series to date, especially in terms of the packaging. The build quality is even better than before, so much so that it feels more solid and better finished inside than the Mercedes-Benz A-Class. It's ahead of the Audi A3 in most departments too, but in the Ingolstadt-based firm's defence, there's an all-new A3 due in 2020. It'll be very illuminating to compare the 3 combatants back-to-back when the time comes.
To reiterate, our first taste of the all-new 1 Series was restricted to the M135i xDrive. While we lament the departure of the soulful 3.0-litre straight-6, we appreciate BMW's efforts to make the new 2.0-litre twin-scrolled turbo 4-pot as tractable and charismatic-sounding as possible. Granted, it's going to be damn-near impossible to replicate that glorious wail of the 6, but there's enough of a performance "note" to keep things interesting.
With this flagship derivative, BMW has elbowed its way into a segment dominated by the Audi S3, Volkswagen Golf R and Mercedes-AMG A35, the latter of which will soon be launched in the South African market. The M135i xDrive may be late to the party, but I'm glad it's here (well, you know, proverbially speaking...) and given the anodyne handling traits of the current crop of all-wheel-drive 2.0-litre turbocharged hot hatches, it's fair to say that the BMW injects some genuine vigour into the segment. We're itching to put all of them together for a face-off and see which one ends on top.
BMW 1 Series Price in South Africa (July 2019)
The all-new BMW 1 Series will be arriving in South Africa in October 2019, with 2 models offered initially.
BMW 118i - R480 897
BMW M135i - R705 451
Further Reading
BMW Showcases All-New 1 Series with M Performance Parts
Front-Driven BMW 1 Series to use i3 Traction Tech