If you're in the market for a vehicle, but shopping with a tight budget (as so many car-buyers are), the quest for good value for money has never been more paramount. The car you purchase also needs to be reliable, modern and have decent backup in SA. Here are our picks.
Pressure on household budgets is at an all-time high, but that doesn't mean that you have no choice but to drive around in a barely reliable scorro-corro or something that's so obsolete and stripped-out that it doesn't even have a radio. If you shop smartly, you will eventually find good value. We have set a very tight budget of just R100 000 and dug around the 2nd-hand car market to see what the best options are. If you want something new, perhaps look at our article on the cheapest cars under R3000 per month.
Our options are by no means foolproof; buying used has its risks. We don't know how each of these cars has been treated during its prior ownership and whether the servicing was done properly; be sure to do your own research and be as thorough as possible. You can read up on what to look out for and tips on buying a used or new car here.
Some of our choices here may seem bland, but it's for a good reason. You may be tempted by that hot European hatchback that's seemingly in budget with its 100-plus-kilowatts and rorty turbocharged engine, but spending lots of extra cash to fix failures that come part and parcel with a 250 000-km (starship) mileage isn't a smart choice if you're a first-time buyer or looking for something to get you from A to B cheaply, efficiently and not cost a fortune to repair. Be smart in your decision making.
Suzuki Swift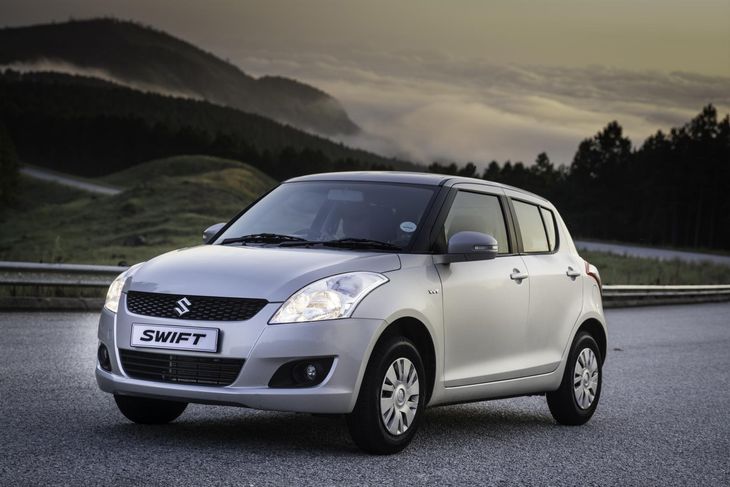 We get asked about budget-car candidates quite often and, in response, we invariably point people to the Suzuki Swift. It's reliable, extremely economical and actually quite fun to drive. Suzuki specs it quite well too, although in and around the R100k price point, there's a critical decision that needs to be made. You can look for an older Swift with a 1.4 or 1.5-litre petrol engine, which was built in Japan, or you can look for a newer model with a 1.2-litre engine that was built in India.
The Japanese-built units offer better all-round quality and also look a bit better on the road – their wheels seem to fit better into the arches. But the previous-generation Indian-built car is perfectly fine – Suzuki sold hundreds of thousands of them in India. The newer 1.2 will likely be a lower-mileage example, which was introduced in early 2014.
Search for a used Suzuki Swift here
Kia Picanto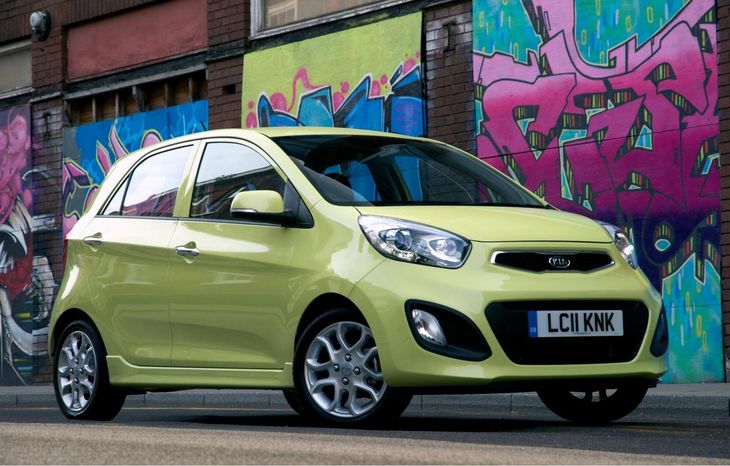 The Kia Picanto is another easy-to-recommend budget hatchback. Granted, the Korean offering is a little smaller than some of the other options on the list, but it offers really good finishes and build quality for the price. The Picanto you'll want to be looking at was introduced as a new car in 2011 and is only due for replacement sometime in 2020.
At under R100k, you'll have to decide between a 1.0-litre engine and a 1.2-litre engine. The bigger engine has obvious benefits, such as better freeway and acceleration behaviour, but if you plan on using the Picanto purely for city slicking, then the 1.0 will do well and save you a little on fuel (provided there aren't any big hills you need to climb).
Spec-wise, the Picanto range starts off as LS followed by LX and top-spec get EX nomenclature. Watch out for LS models though as they weren't specced with a radio so someone will likely have fitted an aftermarket unit, which won't cost the Earth to upgrade, if you want.
Search for a used Picanto here
Honda Brio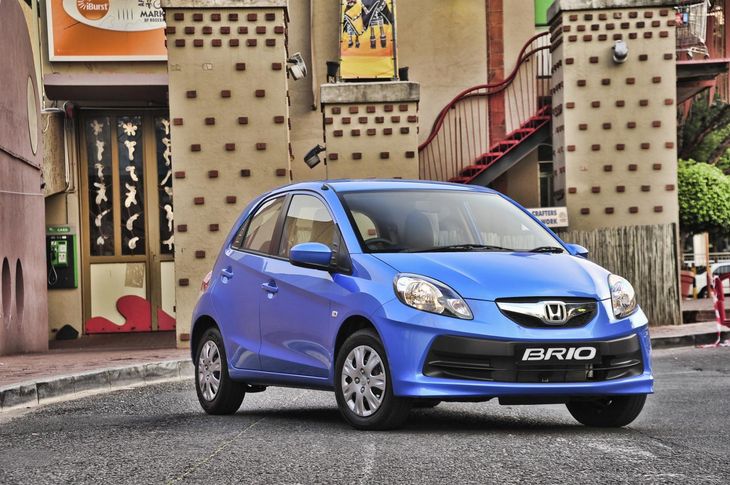 The Honda Brio is another Indian-made Japanese hatch. The Brio uses a basic 1.2-litre petrol engine that appears to offer typical Honda bulletproof reliability. It's a similar size as the Picanto and has an equally small load bay. It can't match the Picanto for quality feel and cabin materials, but you can pick up a reasonably new model. The Brio was updated in 2016 with Bluetooth, a new bumper treatment and a sleeker-looking dashboard. You should be able to find one of the newer ones with under 100 000 km on the odo.
The Brio's 1.2-litre engine is one of the better offerings in the segment, because it offers decent performance and a quick-shifting manual 'box. You can get an auto, but unless you have to absolutely have an auto, stick to the manual. In terms of spec, the Trend starts the range off followed by the top-spec Comfort version.
Search for a Brio on Cars.co.za
Volkswagen Up!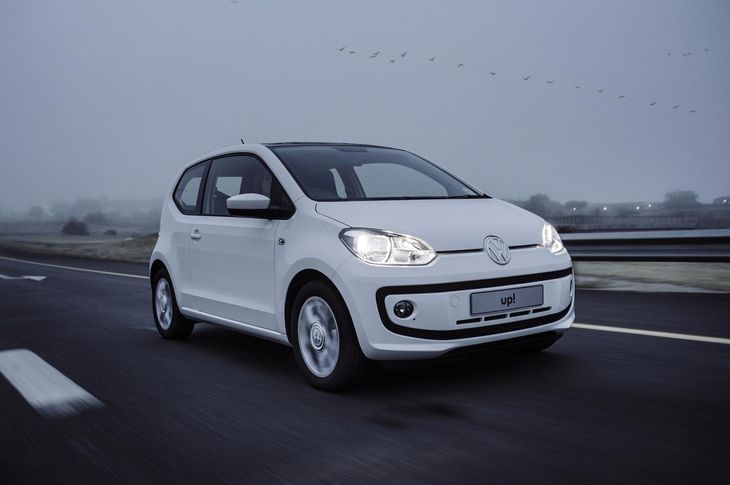 The Volkswagen Up! joined the South African market in 2015 as a 3-door unit before a 5-door was offered a year later. At under R100k you'll have to be patient and search far and wide to find a 5-door variant, but they do become available occasionally.
Suffice to say the Up! is a great hatchback for a first-time car buyer. The 1.0-litre engine feels perky and the driving experience is notably refined/upmarket for the segment. The boxy Volkswagen lacks a few modern features such as USB ports, which were only fitted to the facelifted model in 2017' there is an auxiliary audio port though.
Spec levels differ quite a bit as the top-spec Move up! was offered with multiple options. You could find a unit with 15-inch alloy wheels, a sound plus package or even an aftermarket Bluetooth system.
We praised the Up! for its relative refinement, sure-footed handling and refined engine, but it lacked certain techy features that most of its rivals have.
Search for an up! on Cars.co.za
Toyota Aygo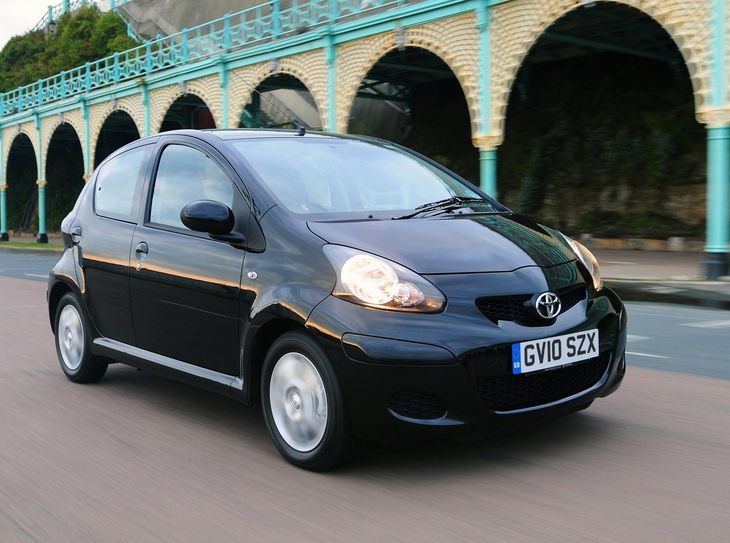 The Aygo is part of a 3-vehicle strong alliance. Whether it's an Aygo, a Citroen C1 or a Peugeot 107, they're the same product, only in different wrappers. It's just the price, badges and designs that distinguish them. The Aygo has great safety spec with ABS, EBD and brake assist. You can also get up to 4 airbags, depending on which spec you choose. The model was launched in 2011 and replaced in 2015, but you'll be hard-pressed to find one for under R100k and even if you do, it's probably cheap for a reason.
The Aygo comes with good backup from the 2019/20 Cars.co.za Consumer Awards Brand of the Year – Toyota, which happens the largest dealer network in South Arica. The Japanese budget car was also built to be easily repaired and body parts are relatively inexpensive. The 3-pot 1.0-litre engine isn't the most powerful in the business but the car only weighs 830 kg so it feels fizzy around town. Long-distance drives aren't its strong suit but passenger space is better than you think, except for the tiny load bay.
The range started off with a Fresh specced model, then the Wild, which additionally came with 14-inch alloy wheels, central locking, 2 more audio speakers and 2 extra airbags. There was also a limited edition Inferno which has suede seats, leather steering wheel specific burnt orange paintwork. It was also only available as a 5-door.
Search for one here on Cars.co.za
Related content
Which brand has the best salespeople?
Volkswagen dominates 2019/20 #CarsAwards [Video]