Meet the finalists in the Premium SUV category of the 2019/20 Cars.co.za Consumer Awards – powered by WesBank!
Now in its 5th year, the #CarsAwards was conceived to be South Africa's definitive automotive awards programme and is backed, for the 4th year running, by the country's leading supplier of vehicle finance, WesBank.
Read more about the finalists in the 2019/20 Cars.co.za Consumer Awards – powered by WesBank here!
Best Premium SUVs in SA
The Premium SUV category is guided by both eligibility factors and Pillars of Success.
Eligibility for this category includes a list price that falls between R1 000 000 and R1 500 000 at the time of semi-finalist voting (1 September 2019) to ensure a healthy measure of exclusivity and status.
Eligible vehicles must be a large SUV of the BMW X5/Mercedes GLE category, but crossover derivatives such as the BMW X6 and Mercedes GLE Coupe are also included. All-wheel drive must be standard.
Pillars of Success in this category include powertrain technology, luxury, brand strength, design and quality appeal, driving dynamics and space and practicality.
Visit www.carsawards.co.za for more information. The finalists are as follows:
Audi Q8 55TFSI Quattro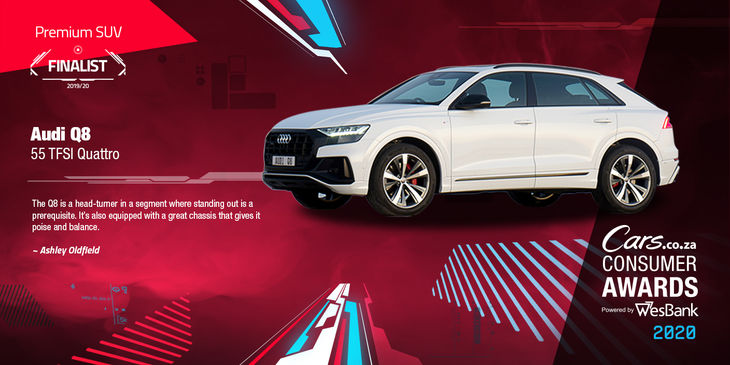 Audi recently introduced its groundbreaking Q8 as the Ingolstadt-based brand's flagship SUV in South Africa. Not only does it look the part, it introduces a new exterior design language, cabin architecture and infotainment system. It's made its Q7 sibling look rather dated by comparison...
View specification details for the Audi Q8 55TFSI quattro
Do you own an Audi? Have your say and complete our Ownership Satisfaction Survey here
BMW X5 xDrive30d M-Sport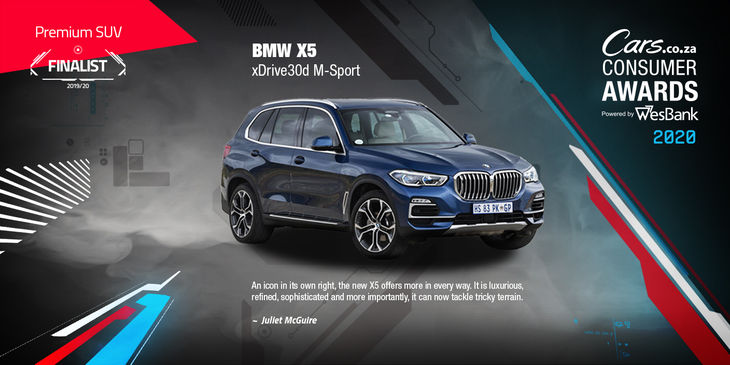 The BMW X5 epitomises everything this segment stands for. The all-new G05-generation X5 features significant improvements in almost every department. There are some stupendously strong diesel engines, an all-new infotainment system and much more.
View specification details for the BMW X5 xDrive30d M-Sport
Do you own a BMW? Have your say and complete our Ownership Satisfaction Survey here
Range Rover Velar D300 R-Dynamic SE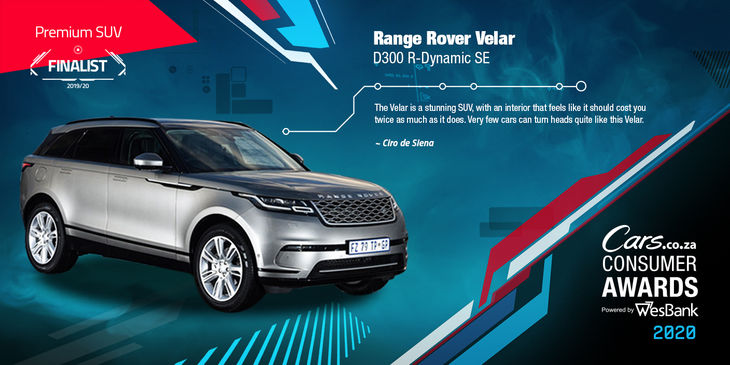 Range Rover revealed the all-new Velar in 2018 as a filler between the Evoque and Sport models. It has eye-catching looks, clever flush-fitting door handles and a potent turbodiesel engine. The interior has an all-new design and features two separate touchscreens in the centre console. If its prestige and excitement you're looking for out of your premium SUV, the Velar is the perfect offering.

View specification details for the Range Rover Velar D300 R-Dynamic SE
Do you own a Range Rover? Have your say and complete our Ownership Satisfaction Survey here