Meet the finalists in the Performance Car category of the 2018/19 Cars.co.za Consumer Awards – powered by WesBank!
Now in its 4th year, the #CarsAwards was conceived to be South Africa's definitive automotive awards programme and is backed, for the 3rd year running, by the country's leading supplier of vehicle finance, WesBank.

Read more about the finalists in the 2018/19 Cars.co.za Consumer Awards – powered by WesBank here!
Best Performance Cars in SA
The Performance Car category is guided by both eligibility factors and Pillars of Success. Eligibility factors include a listed price between R600 000 and R1 000 000 at the time of semi-finalist voting (September 1, 2018) to ensure that this doesn't become a category dominated by extravagant and unattainable exotics.

Pillars of Success for this category include drivetrain engagement, handling, sensory appeal and standard features.

Visit www.carsawards.co.za for more information. The finalists are as follows:
Audi TT RS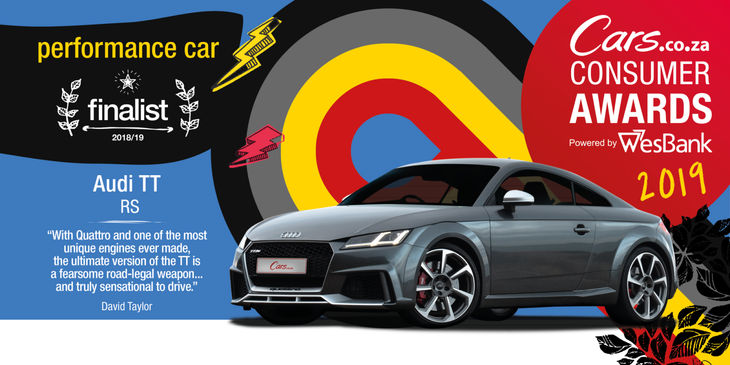 The Audi TT RS is a compact 2-door sportscar with one goal in mind: to deliver visceral, blistering performance. The RS badges, which are splashed prominently around the Audi's bodywork, leave no-one in doubt that the coupe is meant to be the fastest in its family.
This is a supercar-hunting weapon masquerading as a well-mannered coupe. Underneath the bonnet is a thumping engine, the TT's suspension has been overhauled and the visual go-faster bodywork serves as a reminder that this is meant to be hardcore driver's car.
View specification details for the Audi TT RS

Do you own an Audi? Have your say and complete our Ownership Satisfaction Survey
BMW M2 Competition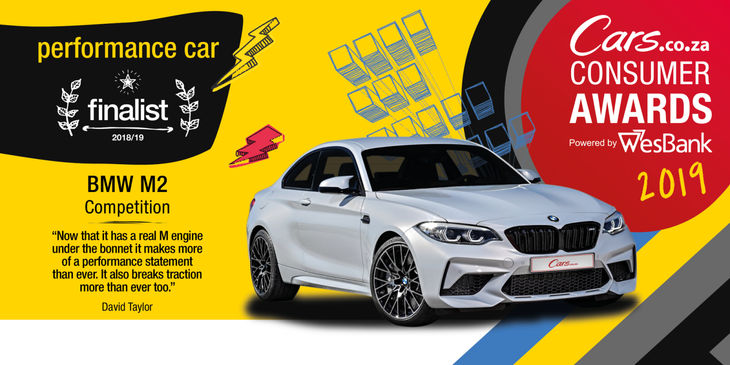 The 2017/18 Performance Car category champion returns in its latest, updated form: the BMW M2 Competition, this time in manual guise. Now fitted with a detuned bi-turbocharged engine sourced from its M3 and M4 siblings, the M2 Competition packs more power and torque while still delivering the performance and handling ability that makes it one of the greatest M-cars ever produced.
View specification details for the BMW M2 Competition

Do you own a BMW? Have your say and complete our Ownership Satisfaction Survey
Porsche 718 Cayman S Automatic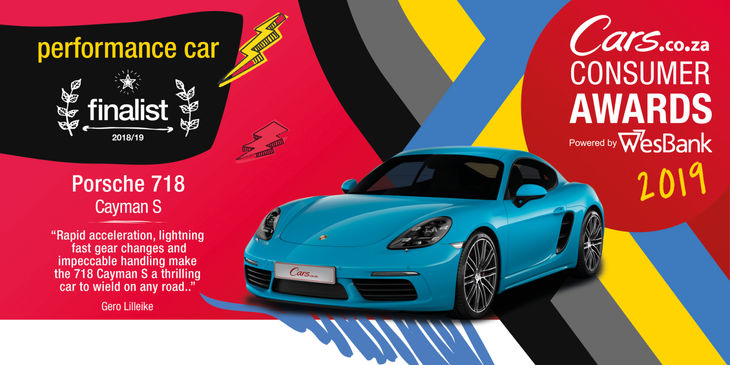 The Porsche 718 Cayman S, which is powered by a 2.5-litre flat-4 turbopetrol engine, offers exceptional performance for a sportscar priced under R1 million. Not only is the Cayman S an attractively styled coupe – it delights the senses by the manner it delivers accessible(but nonetheless engaging) performance.
View specification details for the Porsche 718 Cayman S
Do you own a Porsche? Have your say and complete our Ownership Satisfaction Survey