These are the 5 Executive Sedan semi-finalists for the Cars.co.za Consumer Awards – powered by WesBank!
The second annual Cars.co.za Consumer Awards – now powered by WesBank, is underway and the 65 semi-finalists across 13 categories have been chosen. Make sure you visit the Cars.co.za Consumer Awards – powered by WesBank website for all the vehicle and category information and also be sure to follow us on Twitter (@CarsSouthAfrica), Facebook (CarsSA) and Instagram (carssouthafrica) for the latest updates.
The Cars.co.za Ownership Satisfaction Survey, in partnership with leading data specialists, Lightstone Consumer, forms an integral part of the awards programme, with the survey accounting for 50% of the final result in each category. The brand-specific data incorporates feedback from thousands of South African new vehicle owners, based on their experiences of their vehicles (must be less than 5 years old and serviced through franchised outlets).
Have your say and complete the Cars.co.za Ownership Satisfaction Survey now!
These technological masterpieces represent an enviable blend of First Class luxury and comfort, and Business Class technology and dynamic appeal. More often than not, these are the most advanced cars on the road. Prestige is usually a given in this segment, but we're also looking for significant technological advancement, yet without compromising the level of comfort and refined style that these sedans are renowned for.
For a car to be considered in this category, the following criteria apply: its listed price must be between R750 000 and R1 000 000 at the time of semi-finalist voting (September 1, 2016), the vehicle must fit in the D/E-sedan segment and "four-door coupe" variants of applicable models are also considered.
The semi-finalists in the Family Car category of the Cars.co.za Consumer Awards – powered by WesBank are (in no particular order):
Mercedes-Benz E350d Avantgarde
The new Mercedes-Benz E-Class has shaken the Executive Sedan segment to its core. At a time when most of its rivals are due for replacement, the Benz features the most up-to-date cabin in its segment and unparalleled refinement. If you want an executive sedan with a brisk turn of pace, this derivative will not disappoint. With 190 kW and 620 Nm of torque on tap from its 3.0-litre V6 turbodiesel engine, the E350d is not short on power and it delivers unflustered on-road performance. The E350d pulls strongly when overtaking is required and its performance is enhanced by a 9-speed automatic transmission, which shifts in a smooth, unobtrusive manner. The steering wheel-mounted shift paddles allow the driver to exploit performance further with manual 'changes.
Read a review of the Mercedes-Benz E-Class here
Mercedes-Benz E220d Avantgarde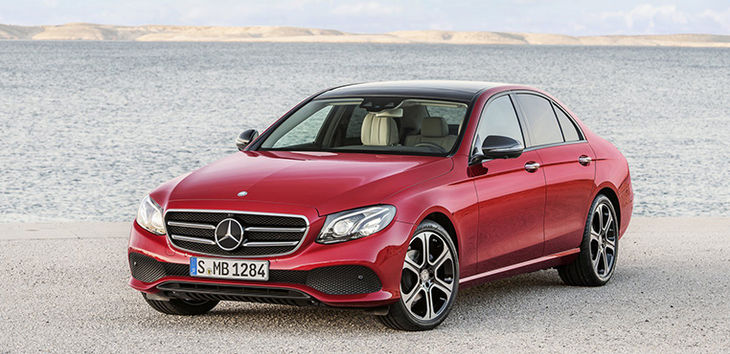 Mercedes-Benz's new E-Class is purported to be the most accomplished executive sedan on the market. Yes, it's awash with new onboard technology, but how well does it stack up against its segment rivals? The E220d is powered by a 2.0-litre 4-cylinder turbodiesel (143 kW/400 Nm), which is, like the E350d, mated with Mercedes' 9G-Tronic transmission. The maximum torque is available from only 1 600 rpm, promising great flexibility for overtaking.

It is a highly responsive, willing and civilised engine, which is about 17% lighter than its 2.1-litre predecessor and more compact, thanks to the decreased displacement and the setting of the cylinders closer together and a few other innovative measures. At idle there is very little to give away its turbodiesel configuration (inside the cabin), because the motor (when at optimal operating temperature) has a smooth tickover. Under hard acceleration there is no lag and even though the E220d loses about 1.0-litre of displacement to the 350d, the engine easly achieves and maintains high cruising speeds.
Read a review of the Mercedes-Benz E-Class here
Lexus GS350 F-Sport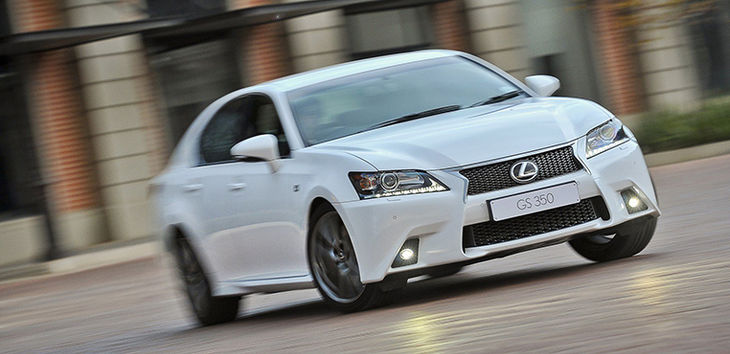 The Lexus GS was updated earlier in 2016 to give it a more assertive appearance and to introduce some new features in the well-made, fully loaded interior. As ever, Lexus's approach to the premium market is different – you don't have to pay extra to get all the toys. The GS350 F-Sport is powered by a 3.5-litre V6 engine that delivers a muscular 233 kW and 378 Nm of torque, through a silky smooth 8-speed automatic transmission. Those outputs make the GS350 F-Sport the most powerful car in this Awards category, and Lexus claims a blistering 0-100 kph time of only 6.0 seconds, as well as a top speed of 235 kph.
Lexus GS has been updated for 2016
Jaguar XF 25t Portfolio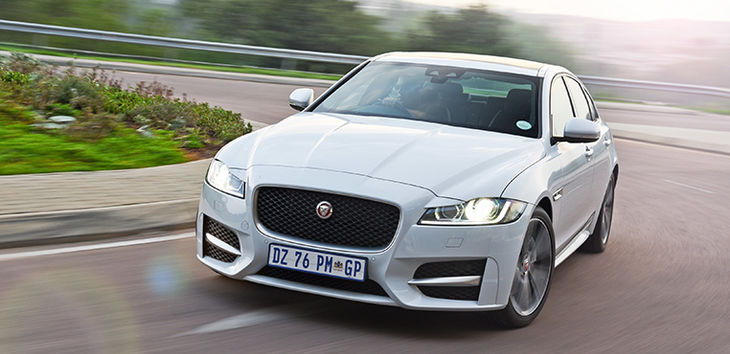 The latest Jaguar XF is positioned as a sportier, more dynamic offering in the Executive Sedan segment. Considerably lighter than before and boasting Jaguar's latest engines and onboard technologies, it's a thoroughly luxurious business express for the executive who enjoys driving. With peak engine outputs of 177 kW and 340 N.m, the turbocharged and intercooled 2.0-litre 4-cylinder powerplant delivers commendable performance… as the (claimed) 7.0-second zero to 100 km/h sprint time for the 25t Portfolio clearly attests. The engine is mated with Jaguar's 8-speed automatic transmission and the torque peak is available between 1 750 and 4 000 rpm, promising great flexibility.
Jaguar XF 25t R-Sport reviewed here
Audi A6 2.0T quattro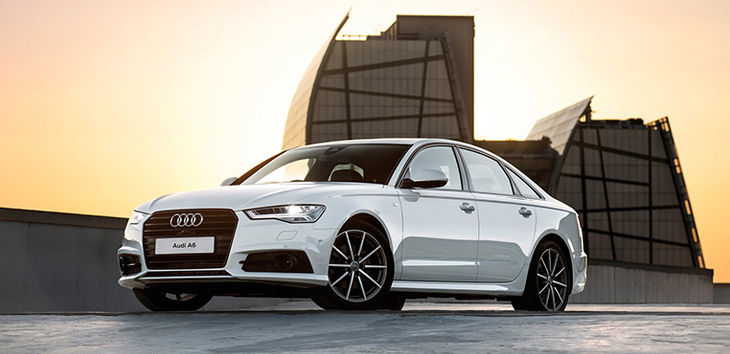 Following a facelift in 2015, Audi's A6 not only looks sharper, but benefits from the addition of some new technologies and options. The A6's biggest drawcards have always been its solidity and the smartly designed and beautifully finished cabin. This A6 is powered by a 2.0-litre, 4-cylinder turbocharged engine. On paper, this may appear a strange choice for such a large sedan, but not if you consider the power figures.
With outputs of 185 kW and 370 Nm of torque, available across a wide rev range from 1 600 to 4 500 rpm, this A6 is an enthusiastic sprinter, one of the fastest in this segment, in fact. It storms from zero to 100 kph in only 6.7 seconds and has a 250 kph top speed, using Audi's crisp 7-speed S tronic dual-clutch transmission, which, when left to its own devices, prioritises efficiency. Audi claims a commendable average consumption figure of 5.9 L/100 km.