As if the Mercedes-AMG G63 wasn't awesome enough, Carlex Design drew inspiration from steampunk to create an amazing work of art dubbed the G63 Steampunk Limited Edition.
For those of you who are confused as to what steampunk is, it can be defined as a "retrofuturistic subgenre of science fiction or science fantasy that incorporates technology and aesthetic designs inspired by 19th-century industrial steam-powered machinery" according to Wikipedia.
With that in mind, cast your gaze upon the Mercedes-AMG G63 Steampunk Limited Edition by Carlex Design. The workmanship is phenomenal in our opinion and according to Carlex, no less than 5 000 hours went into creating this unique vehicle.
Bronze detailing has been extensively used as seen on the wheels, exhaust tips, side trim, spare wheel cover and most notably the roof, which features detailed artwork depicting skulls, roses and diamonds.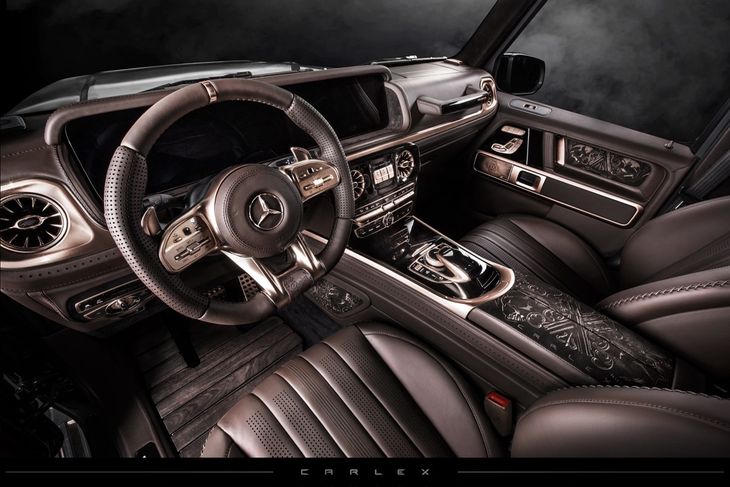 Bronze accents and brown leather finishes coupled with detailed artwork makes for an impressive interior.
Step inside and the detailing cranks up a notch. Extensive brown leather is used and the bronze theme continues as seen on the steering wheel, air vents, door handles, centre console and switches. The headliner is finished in Alcantara with incredible steampunk artwork blazoned on the roof. Further artwork is found throughout the cabin and the front seats have been specially designed for this vehicle.
The G63 is powered by a turbocharged 4.0-litre V8 engine that develops 430 kW and 850 Nm of torque and makes use of a 9-speed automatic transmission.
If the numbered plaque on the interior is anything to go by, Carlex Design will only make 10 examples of the G63 Steampunk Limited Edition.
What do you think of this build, is it something that you can see yourself driving?
Buy a Mercedes-AMG G-Class on Cars.co.za
Related Content
Mercedes-Benz G400d (2020) Price Announced
Mercedes-Benz G-Class to go Silent
Brabus Announces V12-Powered G-Class