Audi has revealed a limited-edition TT RS to celebrate 40 years of quattro - Audi's all-wheel-drive technology. Take a look!
When it was revealed 40 years ago, no-one could have predicted what an iconic piece of motoring heritage the Audi Quattro was going to become. It utterly dominated the rally scene and to celebrate 40 years of the quattro, the German carmaker has revealed a special edition Audi TT RS.
It's called the Audi TT RS 40 Years of Quattro and there will be just 40 units for sale, one for each year since the Audi Quattro's launch. As you can see from the pictures, Audi has gone all out with this limited-edition TT RS. It features Alpine white paint as well as special decals which are similar to those used by the original Audi Sport quattro S1. There are also glossy black accents throughout as well as a bonnet scoop.
The white 20-inch alloy wheels with red brake callipers look menacing, while there's additional aerodynamic kit in the form of winglets on the front and a DTM-style spoiler on the rear. Inside, there's a monster carbon fibre strut cross-brace which replaces the rear seats. These seats weren't of much use anyway with minuscule legroom, this carbon fibre strut brace looks way cooler! Audi claims it improves torsional rigidity as well as reduces weight by 16 kg. Every Audi TT RS 40 Years of Quattro features an individual number on the gear lever.
Speaking of gears, the Audi TT RS 40 Years of Quattro features the same 2.5-litre turbocharged 5-cylinder motor producing 294 kW and 480 Nm, and Audi claims a 0-100 kph in just 3.7 seconds. This is the same engine as the one found in the RS3 and the RS Q3. It's unlikely to come to South Africa, but the real stinger is the price. For €114 040, it's almost double the price of a base-level TT. We're pretty sure you could get a demo Audi R8 for that price too!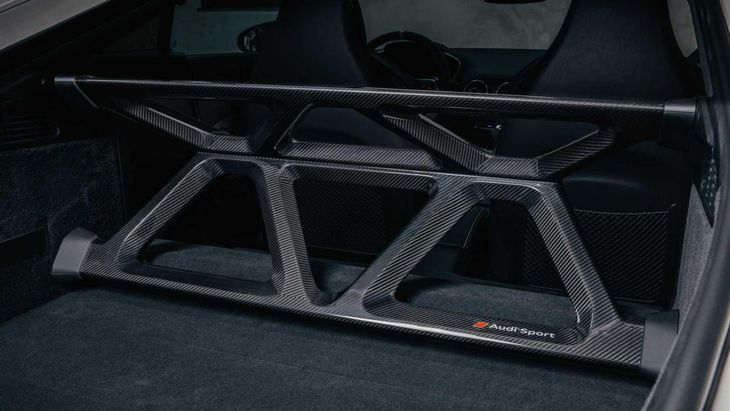 Further Reading
Audi adds 'Competition Plus' TT