Audi South Africa has announced specifications and pricing for its diesel-powered SQ7 and SQ8 sports SUV range.
Despite the Volkswagen Group's brush with the law surrounding oil-burning propulsion, diesel still has a future. The Audi SQ7 and SQ8 have landed in South Africa, albeit in limited numbers.
Powered by Audi's most powerful diesel engine, the SQ7 and SQ8 feature a 4.0-litre twin-turbocharged V8 motor producing an impressive 310 kW and a monstrous 900 Nm. Both vehicles are said to sprint to 100 kph in 4.8 seconds and will charge to a limited top speed of 250 kph. Other than the stupendous in-gear performance offered by diesel engines, the other benefit is decent fuel economy, with Audi claiming 8.7 L/100 km for the SQ7, while the SQ8 is a tad thriftier at 8.3 L/100 km. An 8-speed tiptronic gearbox and quattro permanent all-wheel drive are fitted as standard. Some clever mechanicals allow up 85% of the power to reach the rear axle.
Customers can choose from seven driving profiles: comfort, auto, dynamic, efficiency, allroad, offroad, and individual. Air suspension is offered, as is all-wheel steering. As standard the vehicle comes with 21-inch Audi Sport wheels, while 22-inch units for the SQ7 and 23-inch units for the SQ8 are optionally available. You can spot the newcomer with its subtle S-badges, aggressive grille and big exhaust pipes at the rear.
Inside, the Audi SQ7 and SQ8 are offered with sporty seats which feature heating and memory function. There are S-specific graphics in the Virtual Cockpit infotainment system, and the new haptic feedback system we've used before makes its way into these models. The Audi phone box is available, which allows for wireless charging and Apple CarPlay/Android Auto connectivity. A 23-speaker Bang & Olufsen sound system is available for those want an incredible audio experience.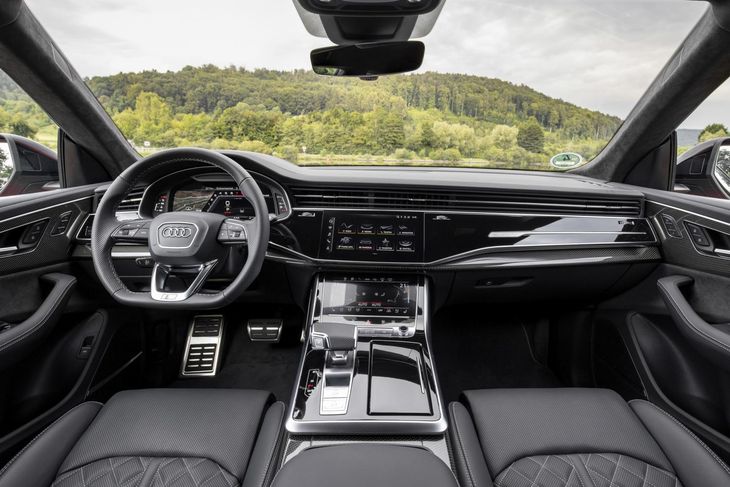 Audi SQ7 SQ8 Price in South Africa (February 2021)
Audi South Africa says its new SQ7 and SQ8 are available in limited numbers. The vehicle is sold with a 5-year Audi Freeway Plan.
Audi SQ7 TDI quattro R 1 679 500
Audi SQ8 TDI quattro R1 848 500
Further Reading