The Audi R8, which showed the world that Porsche isn't the only German marque that's brave enough to build a supercar – and that lofty performance potential does not need to be synonymous with driver discomfort, is back. Quattro GmbH has dispensed with the V8 and fitted a more powerful V10 in its flagship derivative. Is it still a great everyday sportscar, though?
We like: Screaming V10, sublime comfort and refinement, thrilling to drive.
We don't like: Steering controls can get in the way when cornering, not as much of a bargain as before.
Alternatives
For something with more prestige: McLaren 570S – if it's a supercar with a more exotic badge you're after, the "baby Mac" is a solid choice and offers rear-wheel-drive thrills. Its base price of approximately R3.6 million is not preposterous, but a moderately specced-up one will cost more than R4 million.
If you just wanna go fast: Nissan GT-R – it's harder and arguably faster, but you won't be doing any long journeys in this without a good physio at your disposal... We exaggerate, yes, but it is an old-school supercar in some ways.
For something with looks that can kill: Mercedes-AMG GT S – not as fast a sportscar as the rivals mentioned above, but there's still plenty power and torque available and has oodles of kerb appeal.
What's different?
The new Audi R8 hasn't changed much in terms of styling, it sports more of an enhanced, evolutionary look. It's still lip-pursingly gorgeous, but it's donned a new more modern suit. It's now only available as a 5.2-litre V10 model; the 4.2-litre V8 was discontinued to make way for the introduction of a twin-turbo V6 unit in the near future. Audi has spent its budget on improving the R8's chassis, interior and tech gadgets in what it believes is a much-improved supercar. We spent some time on-road and then on-track with this R8 V10 Plus, just to see how much better this new model is.
How does it fare in terms of…
Performance?
It's an invisible line – the border between sportscars and supercars. When does something stop being fun and playful and become seriously quick and a treasure trove of sensory overloads? Or is it simply down to the price? It's probably not the latter, but something intangible that you feel in your gut the very first time you bury the throttle or feather the steering in towards an apex. A supercar is just that bit more of everything: faster, grippier and louder. It sends adrenalin to all parts of your body in a manner that fizzy foam cascades from a full bottle of Coke when you deposit Mentos into its contents.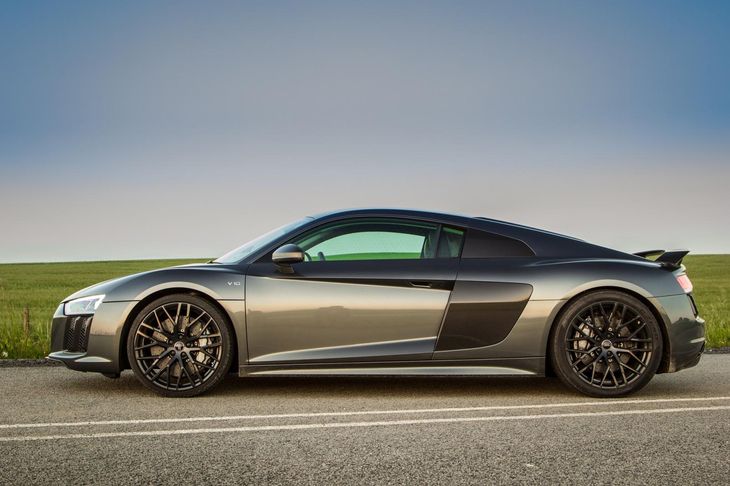 Evolutionary design is still so purposeful and eye-catching to gawk at
Audi has persisted with natural aspiration when every brand around it has seemingly bolted on a turbocharger, supercharger or electric motor to their cars' powerplants. As a result, Audi has a unique spot in the supercar market. If you're after sudden hits of torque and short intense power bursts then you're better off shopping in Turboland but, if it's instantaneous throttle response and linear power delivery right up until the 8 500 rpm redline you're after...
The purity of the sound produced by the R8 V10 Plus is enough to make you forget about its (relatively) peaky performance characteristics. There's nothing quite like a high-pitched wail from a V10 to get you involved in the experience and urge you to explore the car's limits. Those limits will test your mettle as the quattro system will send the R8 leaping from 0 – 100 kph in just 3.2 seconds and hit a top speed of 330 kph – that's in excess of the magical 200 mph mark.
Handling?
The original R8 was the car that demonstrated that sportscars could be used every day – and in veritable comfort. With the extra power, a V10-only lineup (at least for the time being) and an upgraded chassis, there was always the risk that it may have crossed over into the realm of outright supercar. We need not have worried, however, this is an Audi and a composed (but adaptable) ride quality is what drivers expect. The car's impressively comfortable around town and easily capable of pottering around in traffic. It's stiffly sprung, even in comfort mode, but it absorbs rough surfaces or potholes reasonably well.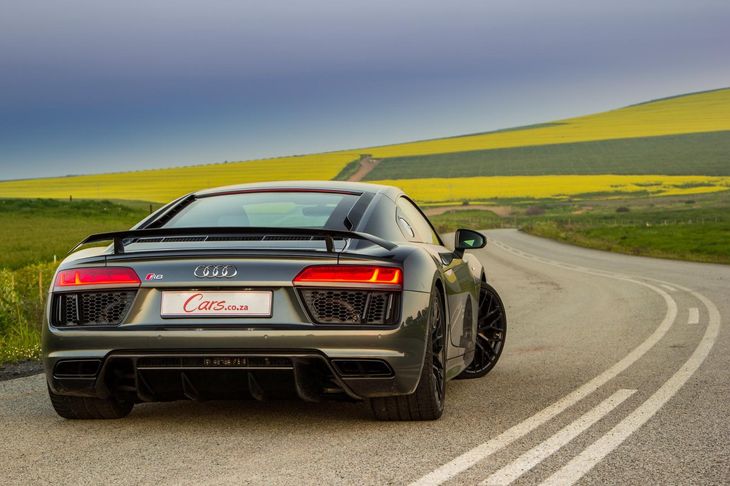 New R8 V10 Plus can be identified by its solid rear wing.
On anything but a racetrack, the R8 is an accomplished, multi-talented driving tool. Thread it through a mountain pass and the pliant suspension soaks up the road conditions, while the quattro system makes sure you never feel outmatched. For a 449 kW brute, the R8 can really be manhandled with confidence – it won't, as the saying goes, chew you up and spit you out. The grip seems endless and the front end eager to hold tight when you stomp on the power.
There never seems to be a moment when you feel like things are on a knife-edge or that you should probably tone it down a notch. Keep focused and keep hitting those apexes and adding power, it will make you feel like a very special driver as your input mistakes are forgiven with a small correction to the steering wheel.
It's not all good news, however. Purists might complain that the R8's forgiving nature will possibly enable a relatively unskilled driver to match the speed of a seasoned driving veteran (in some circumstances) when at the wheel of this supercar. Although that is unlikely to be true, the Audi's safety-first, always-planted and by-default neutral behaviour (all advantageous on a public road), preclude it from being a wholly engaging, visceral and challenging track car.
Feel good factor?
Step inside the R8 and may think the cabin's a bit bland, as least from a visual point of view. That's because Audi has crammed everything onto the steering wheel or the instrument cluster. Everything happens in front of you as there's no separate infotainment screen (it can take a bit of getting used to), but it is a very pretty screen! We feel Audi has put a few too many buttons on the R8's steering wheel, they tend to get in the way of your palm when you're twirling the tiller. For example, we often found the radio station had changed or a display had scrolled into a different setting after negotiating a sharp corner.
Among the multitude of buttons is a chequered flag button, which is a new addition. This button accesses performance modes within the R8 V10 Plus (additional modes to the drive select modes). These modes focus on achieving maximum traction from the stability control programme, while adapting the throttle, steering, suspension and exhaust flaps for utmost excitement.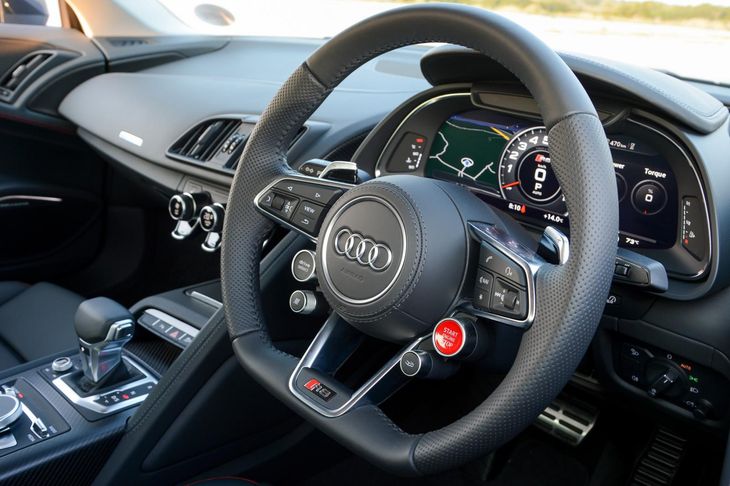 Chequered flag button acts like a shortcut button to access all the best parts of the R8 in one click
The R8 feels more luxurious and spacious compared with to its Lamborghini Huracan cousin, which we drove earlier this year. The driver's seat is more accommodating and larger fellows will feel more comfortable in either of the front seats. Overall, the Audi has a less constricting cabin with better visibility out the windows and rear view mirror, all of which underlines the fact that the R8 is not totally unsuited to the daily commute.
Pricing & Warranty
The Audi R8 V10 sells for R3 089 000 and comes backed by a 1-year/unlimited km warranty and 5-years/100 000 km maintenance plan.
Verdict
There wasn't too much debate as to whether the new R8 was going to be good – it was already an excellent sportscar. What the Ingolstadt-based manufacturer managed to do was finely tune just about every area of its supercar: from the engine to the super-fast dual-clutch gearbox to the chassis and handling characteristics and just make them a little bit better. Even its designers evolved the R8 into an even prettier car. As a starter supercar (if there is such a thing), this new R8 V10 plus is a brilliant piece of machinery, capable of making any driver feel like a superstar behind the wheel. It isn't daunting to drive quickly either... it'll get your adrenaline going, but it won't make you sweat in fear of running out of talent and suffering a "vehicular misadventure".
Related content
Audi R8 Spyder V10 in SA by mid-2017 [with Video]
Audi R8 V10 (2016) First Drive [with Track Video]
Audi RS6 Avant vs Jaguar F-Type Coupe AWD R - The Final Showdown
Drag Race: Audi RS6 Avant vs Jaguar F-Type V8 AWD
Interested in buying an R8?