A thoroughly-revised Q7 was introduced in South Africa towards the end of 2020. Has the notable styling-, mechanical- and interior upgrades to Audi's Premium SUV propelled it to the top of its segment? Cars.co.za journalist Gero Lilleike spent some time with the 7-seater Q7 45 TDI quattro S Line to find out…
We Like: Refinement, powerful engine, driving dynamics, interior tech, comfort, build quality
We Don't Like: Pricey options
Fast Facts
Model tested: Audi Q7 45 TDI quattro S Line
Price: R1 388 500 (as of February 2021)
Engine: 3.0-litre turbodiesel
Power/Torque: 183 kW/600 Nm
Transmission: 8-speed automatic
Fuel consumption: 8.0 L/100 km (claimed)
Load space: 865–2 050 litres
What is it?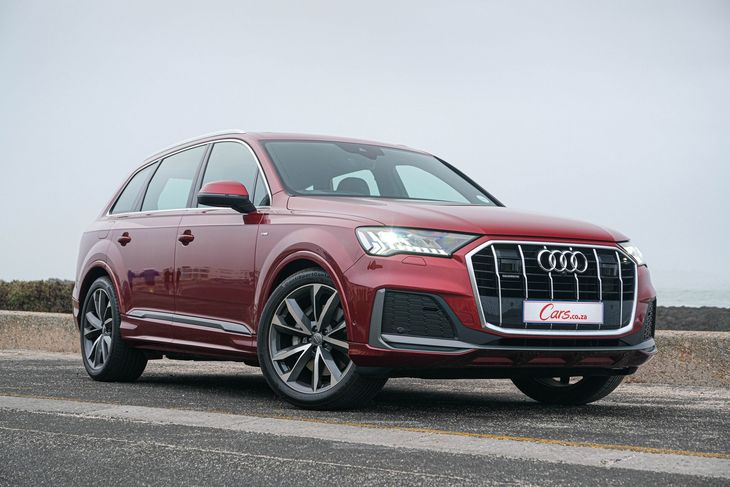 Audi's latest Q7 hits back at the competition with fresh styling and welcome technology updates.
Audi's 2nd-generation Q7 was launched in South Africa in 2015 and, at the time, it impressed commentators with its modern and comfortable cabin, which featured impressive tech features and exemplary levels of refinement, not to mention superb on-road comfort. The understated styling of the Ingolstadt-based brand's Premium SUV wasn't as convincing, but with this latest (and substantial) facelift, the Q7 offers considerably more kerb appeal and is notably more sophisticated than before, especially in S Line guise (as tested here). Moreover, the interior updates represent a major step forward...
The facelifted Q7 was not considered in the Premium SUV category of the 2020/21 Cars.co.za Consumer Awards – powered by WesBank (purely because it arrived after the cut-off date: 1 October 2020). Nonetheless, the Audi remains a formidable rival to other offerings in this segment, including the BMW X5, Mercedes-Benz GLE and Volvo XC90. Let's take a closer look at what the Q7 has to offer!
How it performs in terms of…
Kerb appeal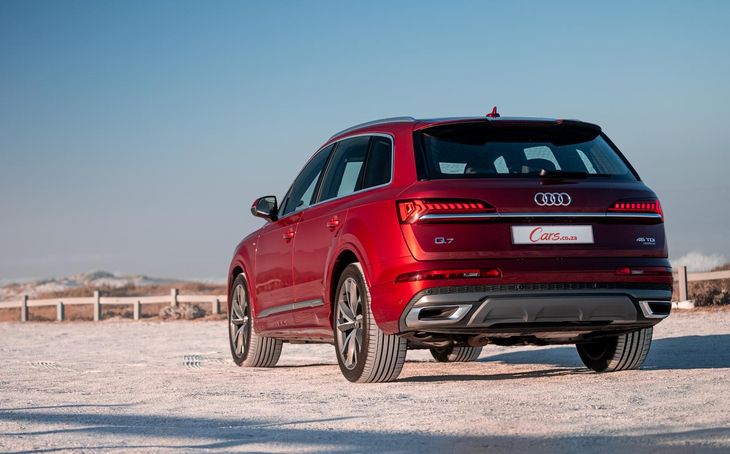 The Q7 boasts a more sophisticated and elegant look.
This facelifted Q7 is easily recognisable by its revised single-frame grille, which now features half a dozen (vertical) vanes – previously, they were (horizontal) slats. In S Line guise, a chrome blade runs the width of the front bumper, while the grille is finished in titanium black. The Q7's front-end styling is further enhanced by virtue of being equipped with Audi's Matrix LED technology, but it's an optional extra that costs no less than R19 900. The 45 TDI quattro S Line exudes further elegance courtesy of its brushed-aluminium roof rails and the smart glasshouse, which is framed in chrome-look trim. Large 20-inch wheels are offered as standard, but the fine examples on display here are 21-inch, 5-double-spoke V-style alloys finished in Graphite Grey. This set comes at an extra cost of R19 600.
Overall, we like the understated-but-elegant look of the Q7, but, then again, you might find the Audi's styling somewhat underwhelming given its premium asking price; we will let you be the judge…
Interior execution and features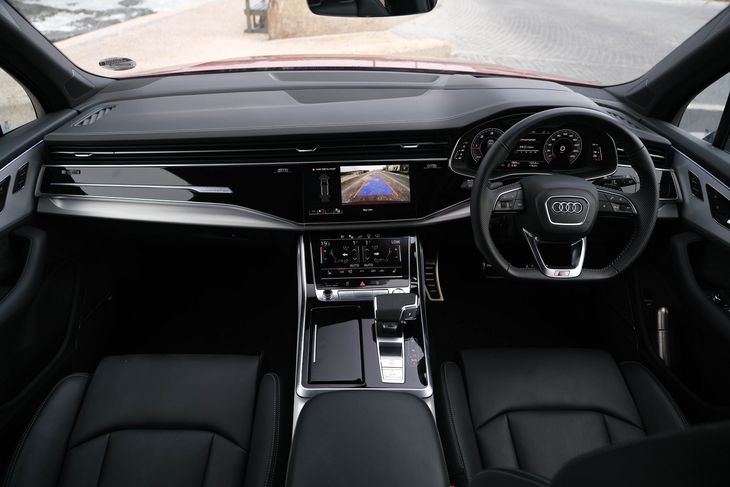 The Q7's cabin exudes a premium "look and feel" and, when specced to the brim, the technology is impressive.
The updated Q7's cabin is deeply impressive. When you ensconce yourself behind the Audi's elegant steering wheel for the first time, you'd be forgiven for being overwhelmed by the sheer number of technology- and luxury features in front of you. As you would expect for a vehicle in this price range, perceived build quality is top-notch and the overall "look and feel" is decidedly premium.
Perhaps the most significant upgrade is the dual digital screen setup, with the upper screen dedicated to core functions (such as infotainment, navigation, telephony and key vehicle information), while the lower screen provides easy access to the climate control system and also serves as a writing pad if you need to quickly search for contacts or navigation destinations.
The screens effectively reduce the need for physical buttons in the cabin, plus they offer acoustic and haptic feedback, so it still feels like you are pressing physical buttons when you tap on the surfaces. We found the screens' menus to be simple and easy to navigate and functions such as Apple CarPlay and Android Auto can be accessed wirelessly, which means you won't need to plug in a cable to access them. Bluetooth connectivity and voice control are always useful too. Meanwhile, Audi's wireless Phone Box charger is optional (R6 390) and is conveniently placed in the centre console, where it's neatly out of sight. Thanks to an embedded SIM, the Q7 offers live traffic information, weather updates, Wifi hotspot and full access to Audi's connected services.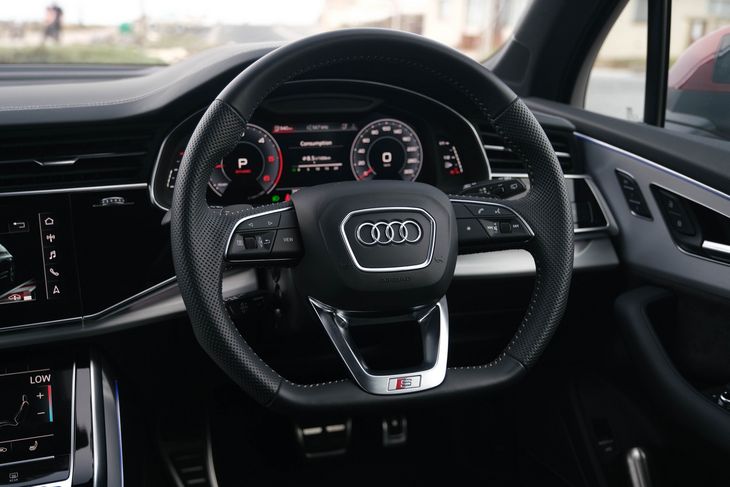 A sporty flat-bottom steering wheel provides quick and easy access to Audi's Virtual Cockpit.
What's more, Audi's Virtual Cockpit Plus (the digital instrument cluster, which is standard) can be easily configured using the mounted buttons on the Q7's multifunction steering wheel. It's a slick system and the graphic resolution is crisp and clear. This test unit was also fitted with a head-up display, but at a cost of an extra R23 770, it's a somewhat indulgent optional feature...
The sports seats (which are finished in fine Valcona leather and part of the S line package) provide excellent support (when they need to) and they're superbly comfortable. The S line package (R27 500) further adds a black headliner, stainless steel pedals and matte-brushed aluminium inserts. Buyers can also opt for Audi's Comfort Package (R33 200), which includes features such as all-wheel steering (more on this later), adaptive cruise control, swerve assist, efficiency assist and turn assist, as well as 3rd-row seating, which effectively turns the Q7 into a 7-seater (see practicality section below).
Overall, the Q7's interior execution is difficult to fault. If there is any aspect of the interior that deserves criticism, it would have to be the extensive use of gloss black surfaces. They look smart when they're clean, but they tend to attract fingerprints and dust; if you don't wipe down the surfaces regularly, they start looking tacky. We advise that you keep a soft cloth in the glovebox to solve this problem.
Space and practicality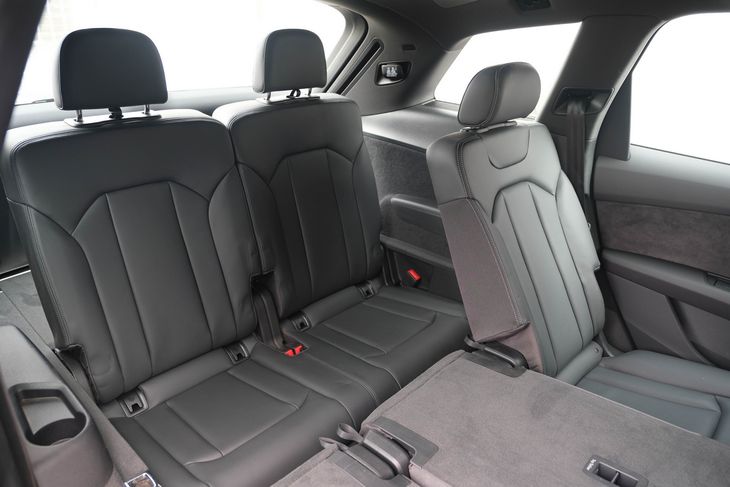 The third row of seats is best suited to children but more legroom can be accessed by sliding the second row forward.
In terms of space and practicality, the Q7 has much to offer. Head-, shoulder- and legroom for 2nd-row passengers is adequate, but when seated in the optional 3rd row, however, legroom is a bit tight and the seating position a trifle awkward, especially for adults. The last row's legroom can be improved by sliding the trio of middle-row seats forward, which is useful. In truth, the 3rd row is best suited for children and prospective Q7 buyers need to consider just how often do they're likely to utilise those 2 rearmost seats. If the answer is "not very often", perhaps leave that option box unticked.
Still, the pair of 3rd-row seats can be easily folded or flipped up electronically using the button in the load bay and when folded down, the load floor surface is flat and allows access to the full 865 litres of utility space. Should you need to load longer or bulkier items, you can fold the middle row of seats down individually with a maximum load space of 2 050 litres becoming available, which is substantial.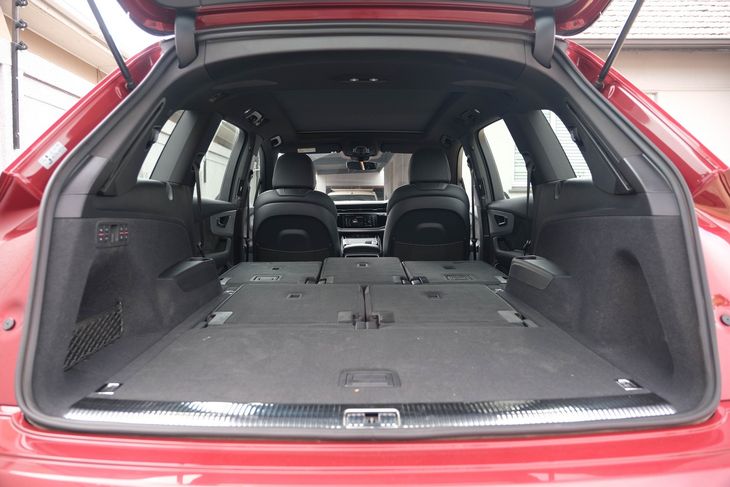 With all the rear seats folded flat, the load space is truly generous.
Adaptive air suspension is standard; it allows you to lower the vehicle using a load-bay button, which makes it easier to load larger/heavier items. The tailgate is electronically operated and is said to feature foot-activated gesture control, but no matter how many swipes we took, it never worked for us. An electronic tow bar can be optionally fitted for R20 700 and can be deployed using a switch in the load bay.
Overall, we think that the Q7 offers generous space and practicality to suit the needs of most buyers in this segment.
Performance & Efficiency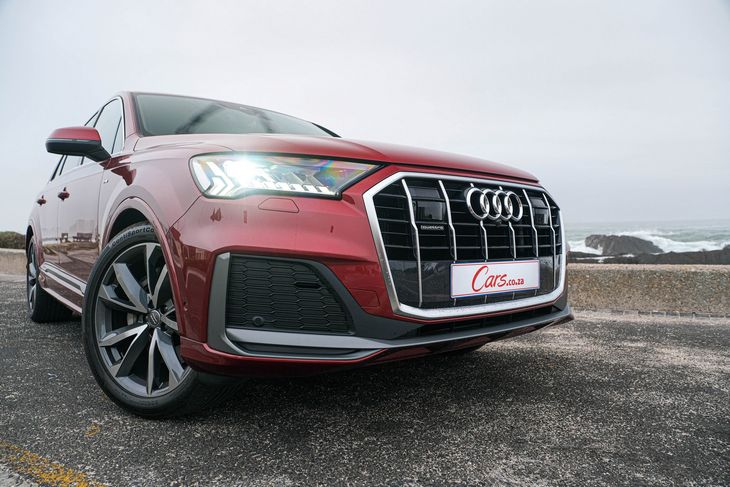 Powerful and efficient, 2 very attractive qualities of this Q7.
There's something so satisfying about driving a thrusting turbodiesel-powered SUV, especially when it's as refined as this Q7. The 45 TDI quattro S Line's outputs are pretty much on par with the rivalling BMW X5 30d and a smidge better than the equivalent Mercedes-Benz GLE 300d. There's plenty of pulling power on offer here and the Q7 is comparatively more affordable than the BMW and Benz...
Under the long and wide sculpted bonnet of this Q7 lurks a 3.0-litre V6 turbodiesel engine (the only powerplant currently available for the Q7 in South Africa) and it develops fairly healthy outputs of 183 kW and 600 Nm of torque. Those numbers are directed to the tar via a buttery-smooth 8-speed automatic transmission and Audi's quattro all-wheel-drive system.
The engine and transmission are superbly matched and you will be hard-pressed to notice the gear changes. Yes, it really is that smooth. There are steering-mounted paddles that can be used to actuate 'shifts manually on those spirited runs and you can select the appropriate driving mode using the Drive Select button in the centre console. The modes include Dynamic, Comfort, Allroad, Offroad, Auto and Individual, the latter of which allows you to tailor the steering, suspension and engine settings to your preference. With air suspension, the Q7 also adjusts the ride height according to the selected mode.
In terms of acceleration, the Q7 is fairly quick for a Premium SUV that tips the scales at over 2.2 tonnes and, with a claimed zero to 100 kph time of 6.9 seconds, it's only marginally slower than the equivalent offerings from BMW and Mercedes-Benz (if that matters to you). Nonetheless, that's easily forgivable when you consider that the Q7 delivers its performance in such a pleasingly refined manner. The Audi really is an utter pleasure to drive over long distances. The Q7 makes light work of overtaking and its in-gear acceleration (from 80 kph to 120 kph and beyond, if you must) is mightily impressive.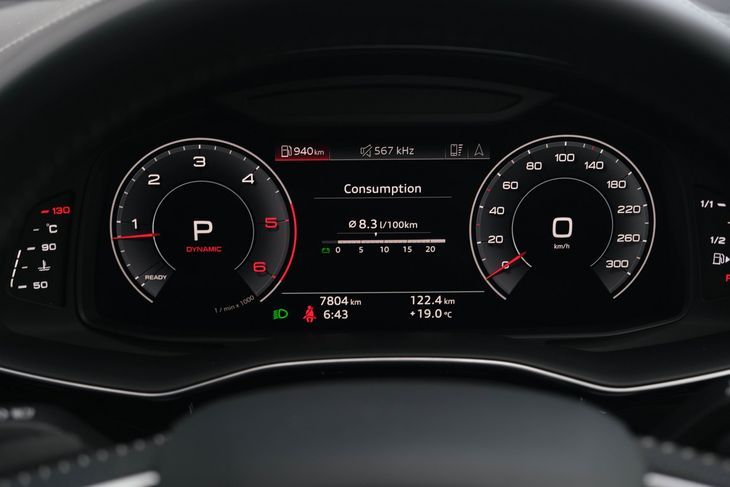 Average fuel consumption in the Q7 is very good, even when driven more spiritedly.
We think the Q7 strikes a near-perfect balance between capable performance and thrifty fuel economy. Audi claims 8.0 L/100 km and we saw returns of between 8.2 and 9.0 L/100 km, which is admirable.
However, if you want even more power and performance then perhaps you should consider the Audi SQ7 and SQ8, which are now available in South Africa. Both are powered by a 4.0-litre twin-turbocharged V8 petrol engine with no less than 310 kW and 900 Nm of torque on tap. That sounds plenty!
Ride & Handling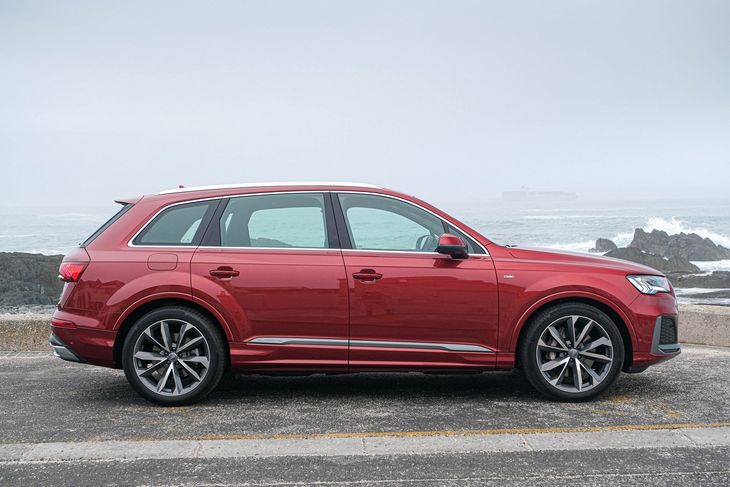 The Q7's plush ride is perhaps its strongest trait but it can be surprisingly sporty too when summoned.
It's incredible how some manufacturers can make a big chunk of metal, plastic and rubber, of which the Q7 is a shining example, feel like something far lighter and more agile than it is. This isn't even a performance Q7, yet it feels surprisingly nimble and capable of attacking corners with a modicum of enthusiasm. This increased agility might very well be the result of Audi's advanced 4-wheel steering (offered as part of the Comfort Package – R33 200), which is said to offer greater manoeuvrability at lower speeds (which shrinks the turning circle) while improving handling ability at high speeds.
You do, however, feel some of the Q7's heft at take-off under full-bore acceleration, but momentum soon takes over and the Q7 just keeps powering on towards the horizon.
The steering, even when set in Comfort, is pleasingly responsive to inputs and it can be dialled in further using the aforementioned Individual drive setting to endow the tiller with a firmer, sportier feel. As for the Q7's ride quality, it's supremely comfortable on both tar and gravel and we think that the Q7 arguably sets the benchmark for ride comfort in this segment...
Pricing and warranty
The Audi Q7 45 TDI quattro S line is priced from R1 328 500 (before options) and is sold with a 1-year/unlimited km warranty and a 5-year/100 000km maintenance plan.
See specification details for the Audi Q7 45TDI quattro S line here
Buy a used Audi Q7 on Cars.co.za
Verdict

The Q7 is now a much stronger contender in this segment and it may even be a future Premium SUV #CarsAwards finalist...
The refreshed Audi Q7 ticks just about all the boxes in this segment. Its styling might be a tad too conservative for some, but the latest updates have undeniably given the Q7 more kerb- as well as road presence. The interior is spacious and practical (even in 7-seater guise) and the cabin can be lavishly-equipped with Audi's latest technology, provided that you are willing to splurge on the Ingolstadt-based brand's extensive options list. In terms of performance, the Q7 performs quite spiritedly – it definitely doesn't lack punch and, as for its day-to-day efficiency, that's the cherry on top.
With a starting price of R1 328 500, this Q7 45 TDI quattro S line appears to be competitively priced compared with its rivals, but you are likely to spend additional capital on optional extras. This particular Q7 test unit came generously-specced with over R300 000 worth of extras, taking the overall price to over R1 668 790, which is substantial. You can almost buy the new SQ7 for that money...
Price aside, the facelifted Q7 is more accomplished than it was in 2015 and we think the latest updates have ultimately strengthened the Q7's buying proposition. So much so, in fact, that it's entirely conceivable that this latest Q7 may very well become a finalist in the Premium SUV category of the 2021/22 #CarsAwards. If that's not reason enough to take the Q7 for a test drive, what is?
Related content: