This might be worth waiting for... Scheduled to arrive in South Africa in the first quarter of 2017, the Audi Q2 will be a premium offering in the small crossover market, which is currently dominated by volume-selling manufacturers' wares. Many will assume that this newcomer will be an instant hit on the local market by virtue of its famed 4-ringed grille, but Audi doesn't produce mediocre products – and it's not about to start now, reports our UK correspondent.
By Neil Briscoe
The Q2 is the latest prong in Audi's assault on the "global No.1 luxury carmaker" award, a crown that the Ingolstadt company wants to lay claim to by 2020. Audi long ago figured out that the best way to do that was to create a phalanx of SUVs and crossovers, and the Q2 is the latest – a small crossover that will compete with the Mini Countryman and some of the mass-market brands' cars, such as the Peugeot 2008, Honda HR-V, Fiat 500X and Jeep Renegade.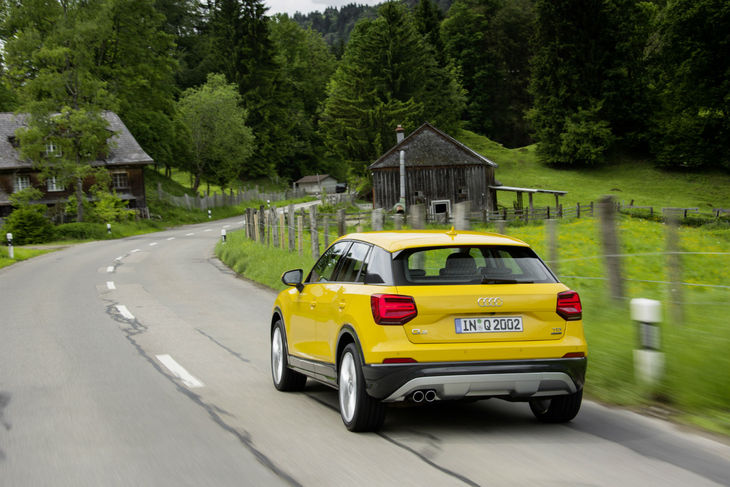 The Q2 doesn't look dramatically different to other contemporary SUVs, but its detailing in chunkier!

It's largely based on the MQB platform, so in spite of its diminutive size, it's more closely related to the A3 than the A1. But those hoping that means it's a practical family crossover will be disappointed – space in the back is quite poor, with limited headroom and legroom, even if there is a useful 405-litre boot.

At least it's good looking, especially on the inside. Our test car came with a few choice extras including the brilliant full-width Virtual Cockpit digital instrument panel and some cool-looking dash and door trim panels that are actually lit from behind at night.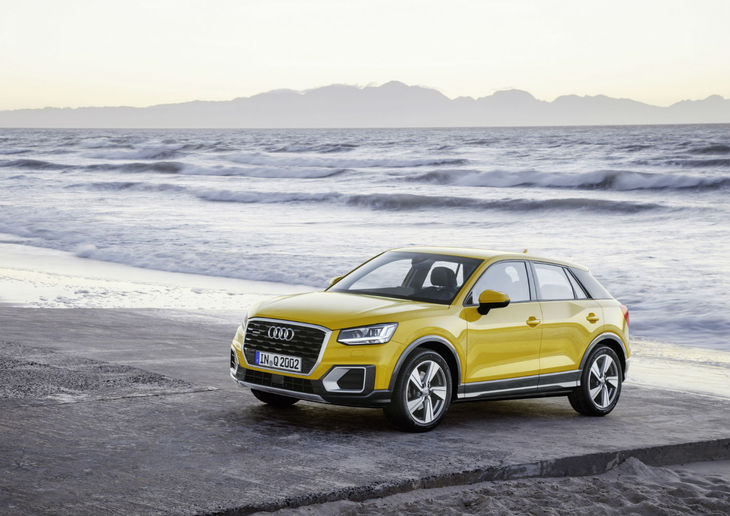 Black cladding beefs up the Q2's kerb appeal, but will those interchangeable C-pillar covers catch on?
Pictures don't do it justice
If you are not convinced by the Q2's exterior appearance, it's thankfully better looking on the outside than you'd guess from the photos. The rear-pillar "blade", which comes in a contrasting colour and can be swapped out for a fresh colour (at your behest), seems a bit gimmicky. Meanwhile, the Q2 looks okay in some colours, but less so in others, but the rest of the car is well proportioned – chunkier and squarer than the current norm for Audi, with enlarged head- and taillamps, heavily scalloped sides and a big, broad radiator grille. Not pretty-pretty perhaps, but cute in a shrunken Tonka Toy kind of way.

It's also very safe; Audi has equipped the Q2 with autonomous emergency braking with pedestrian detection and there is a wealth of other safety gadgets on the options list, including active cruise control (which can take over the driving entirely in heavy traffic), cross traffic alert, blind spot monitor and more.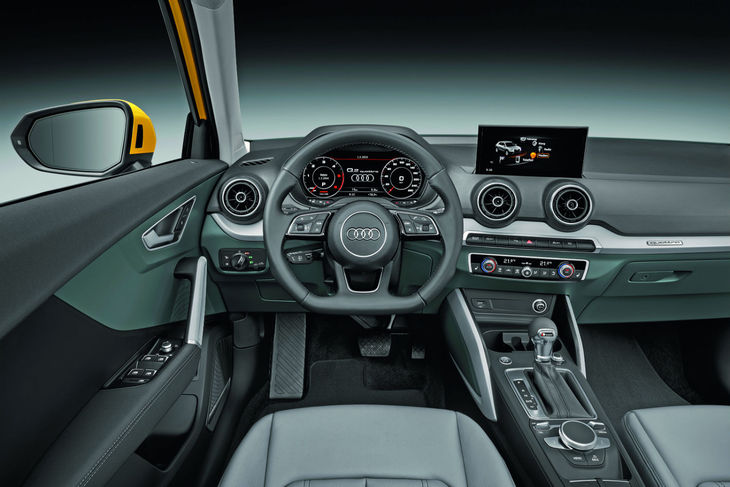 The provision of the (optional) Virtual Cockpit sees Audi's digital instrumentation technology filter further down its line-up.
That it's high tech will hardly come as a surprise. Audi has fitted it with the new AudiConnect package, which uses a built-in SIM card to link the infotainment system to the internet and which can, for an extra charge, be used as a Wi-Fi hotspot. Speaking of charging, there's also a wireless charging pad for phones, Apple CarPlay and Android Auto built in and other such niceties as a heads-up display. Obviously, most of that will be on the options list...
How does it drive?
Surprisingly well, as a matter of fact. Being based on the A3's underpinnings was never going to make it especially bad, but the Q2 feels tight and taut most of the time, with excellent steering. It uses, as standard, Audi's progressive steering system, which alters the ratio of the rack depending on various parameters, meaning it's more stable at high speed and faster to turn in at low speed.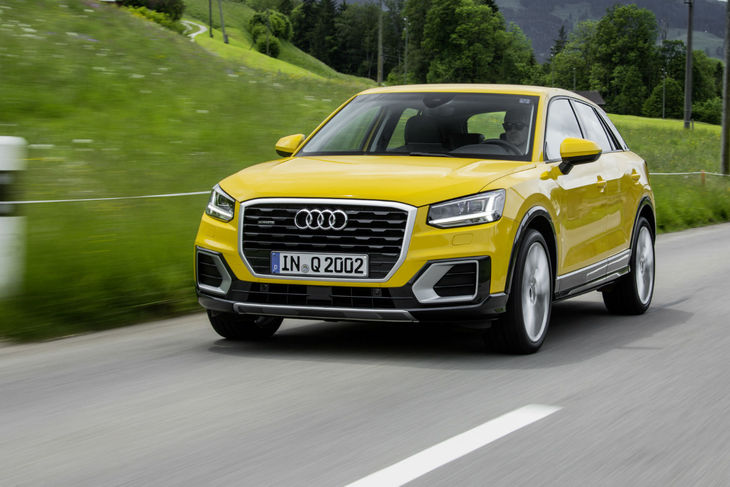 An engaging driving experience will not be high on buyer's lists of needs, but the Q2 is quite agile anyway.
You never notice the system altering the ratio, but it works really well and endows the Q2 with a nicely agile, but still well-planted, driving experience. It's not the most talkative steering ever, and less engaging than that of the Countryman, but the Q2 is quite good fun in the twisties; the firmly damped suspension is up to the task. Well, mostly; the ride quality it is a bit firm and occasionally fidgety, and that was on super-smooth Swiss asphalt. How will the Q2 ride on indifferent road surfaces when it reaches South African shores? We'll just have to wait a handful of months to find out.

Meanwhile, you might assume that the 1.0-litre, 3-cylinder TFSI engine would be far too small and weedy for this car, but no, it's actually quite brilliant. The motor is smooth-spinning and sweet-revving, it happily zings along, with a helpful (if not excessive) combo of 85 kW and 200Nm of torque. Impressively, it's as happy hauling up motorway inclines in sixth as it is accelerating up to its redline heading up and down some Swiss Alps.

The only black marks are against the cabin. Although the front seats are very comfortable, there is always a slight sensation of being crammed in, the driving position is slightly offset and the manual gear lever feels like it's positioned too far back for comfort.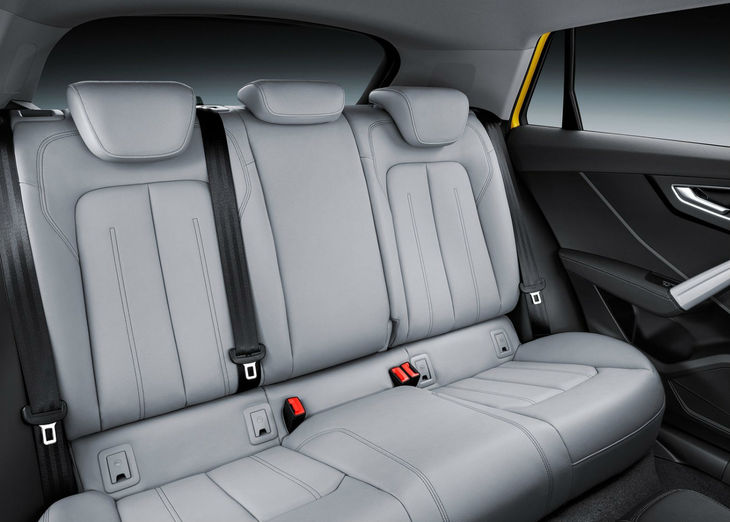 Rear accommodation is not the Q2's strong point, but that's true for most small crossovers.
Verdict
Everyone's going so "crossover crazy" at the moment, all Audi had to do was show up with a car that was roughly the right shape, slap the firm's emblem on it and sit back and watch sales take off. Had the Q2 been rubbish to drive, no-one outside of a few outraged motoring critics would have much cared. It's to Audi's credit, then, that the Q2 looks and feels like such a well-sorted product. The cabin is beautiful and well-made, the steering sharp, the chassis capable and really only some interior niggles, small back seats and that too-fidgety ride count against it. Having driven it, I genuinely think it deserves to succeed.
Pricing
Audi Q2 1.0T Manual R434 500 (May 2017)
Audi Q2 1.0T S Tronic R453 000 (May 2017)
Audi Q2 1.0T Sport Manual R464 500 (May 2017)
Audi Q2 1.0T Sport S Tronic R483 000 (May 2017)
Audi Q2 1.4T Manual R511 000
Audi Q2 1.4T S Tronic R529 500
Audi Q2 2.0 TDI Sport S Tronic R565 000 (May 2017)
Watch a 360-degree video of the Q2, filmed during its international launch in Cuba:
Related content:
Facelifted Audi A3 (2016) First Drive
Facelifted Audi A3 (2016) Specs & Prices in SA
New Audi A5/S5 Cabriolet Headed for LA Motor Show
Part 2: Audi R8 vs McLaren 570S Track Race
Part 1: Audi R8 vs McLaren 570S with Drag Race
Audi RS3 Sedan Coming to SA in Q2 2017
Audi TT RS (2016) First Drive
Audi Q3 1.4T S Auto (2015) Review
Interested in buying a second-hand Audi?