Given the importance of the A4 for Audi, it is understandable that the Ingolstadt-based brand would take its time to get this model just right. With an updated BMW 3 Series and superb Mercedes-Benz C-Class to contend with, it had to be good. Based on our experience with the new model thus far, it is indeed a strong challenger for best-in-class honours. Can the new A4 (in 2.0 TFSI S tronic Design guise) reinforce the solid first impressions?
We like: Refinement, build quality, relaxing drive, interior design
We don't like: Lengthy options list
Alternatives:
See where the Audi A4 sits in relation to the Mercedes-Benz C-Class and Volkswagen Passat here
A more elegant proposition
The Audi A4 2.0TFSI S tronic Design incorporates a number of options that differentiate it from the standard offering. You get 17-inch wheels with a 10-spoke crystal design, a radiator grille in high gloss dark chrome with inlays in chrome, a diffuser in dark matt chrome with diffuser in chrome, chromed exhaust ends, aluminium inlays (high gloss package), as well as a 3-spoke multifunction leather steering wheel. In the early morning sunlight and with the car covered in dew, it drew admiring glances from onlookers driving past. Despite its safe, evolutionary styling, it remains a desirable vehicle.
See what the differences is between the old Audi A4 and the new model here.
How does it fare in terms of...
Interior quality?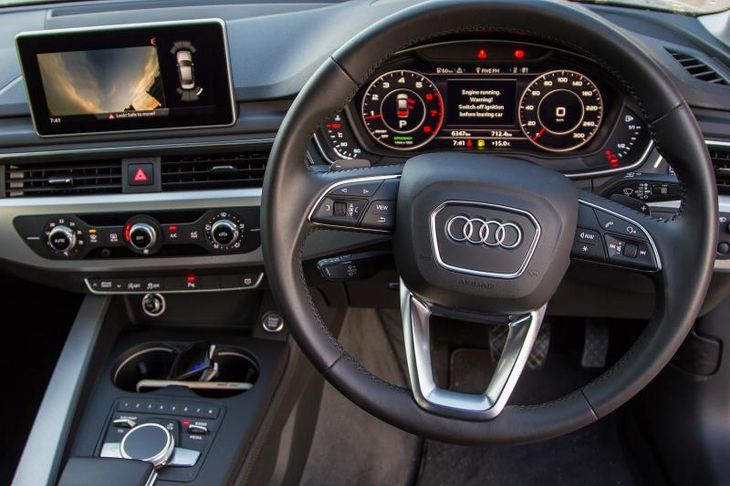 Tick the box marked Audi Virtual Cockpit. Trust us on this one.
Audi is renowned for the progressive design and exceptional quality of its interiors, and the latest A4 is no exception. The design and layout are clean and minimalistic, but upon closer inspection you'll see the devil's truly in the details. Some would say it's over-engineered, but we like it that way.
The fascia has a neat, uncluttered layout, with the traditional big infotainment screen perched atop the centre of the dashboard. The infotainment selector is aided by a nifty piece of ergonomic design: you can rest your wrist on the transmission lever handle while you browse the menus. The cabin, and entire car, for that matter, feels meticulously built. We'll go out on a limb and say that it makes some of its rivals' interiors feel obsolete…
There's a lot of room too, even with four adults ensconced in the vehicle. Helped by a concave front seatback design, there's decent knee- and headroom for tall adults in the rear. And, those who require a large luggage capacity will be satisfied by the A4's cavernous boot. The reason behind this increase in space? Compared with the previous A4, headroom has increased by 11 mm, cabin length by 17 mm and the rear legroom by 23 mm.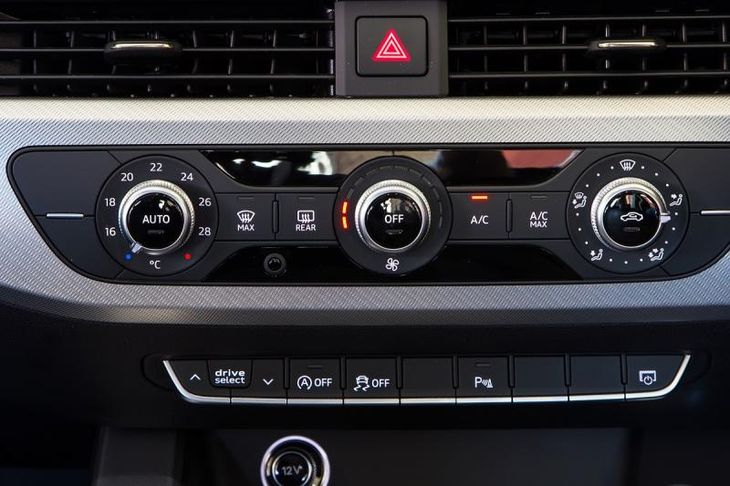 Audi's buttons are well made and have a weightly, positive action to them.
Performance and efficiency?
Before we discuss the abilities of the powerplant, bear in mind the A4's body is around 120 kg lighter, which aids performance and efficiency. The engines in the A4 are all 4-cylinder units with capacities of either 1.4- or 2.0-litres. In this application, there's a 2.0-litre turbocharged motor under the bonnet (anoraks will note it's the EA888 unit, as found in the Volkswagen Golf GTI). In this derivative, the motor produces 140 kW and 320 Nm.
Power reaches the front wheels through a 7-speed version of Audi's dual-clutch S tronic transmission. While this derivative is available with a manual 'box, we suggest the slick S tronic is preferable. It delivers ultra-smooth shifts and allows the Audi to shine in the efficiency department.
Thanks to excellent gearbox/engine mapping and a slippery drag coefficient, this A4 is claimed to consume only 4.4 L/100 km in freeway driving conditions. You can set the Audi Drive Select to Economy mode and while Audi claims an average of 7.0 L/100 km (and we tried our best to get close to that), the relentless traffic jams in Cape Town wouldn't allow us to get consumption under 7.9 L/100 km, which is still a commendable figure.
Comfort and features?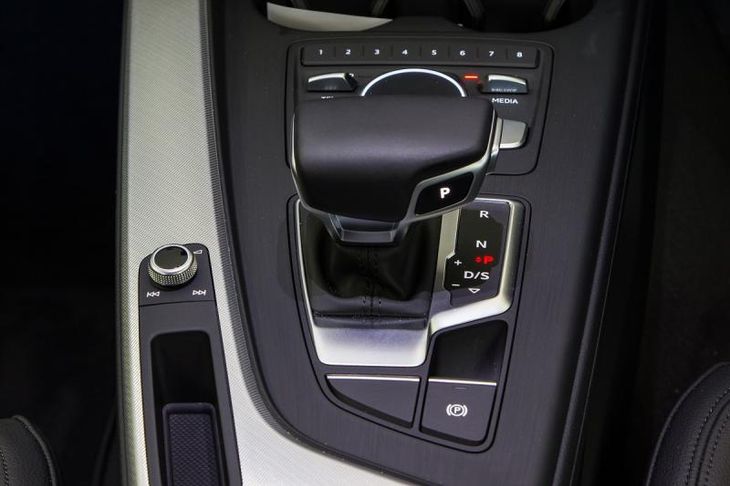 The transmission lever is a nifty resting point for your wrist as you navigate through the menus.
The Audi A4 is positively laden with state-of-the-art technology, even if some of the features aren't immediately visible. Audi's Matrix headlights, heated and cooled seats, automatic parking, Virtual Cockpit digital dashboard and adaptive suspension will make your life safer, smoother and infinitely more comfortable. Granted, some of these features are optional, but if you can tick those boxes, you're unlikely to be disappointed.
The safety specification of the new Audi A4 is comprehensive too. There are extra-cost features such as Audi active lane-assist, Audi pre-sense, side assist, as well as City Assistance and parking assistance packages, but the standard car includes such systems such as Audi pre-sense city, secondary collision brake assist, ABS with EBD, stability control and a plethora of airbags. Our advice would be to tick the City Assistance package, which will add in a self-parking system and a reverse camera, Audi side assist, rear-cross traffic assist, Audi pre sense and exit warning systems.
Ride quality and handling ability?
The A4 driving experience is a relaxed, refined affair. Drive Select affords the choice of different driving modes such as Dynamic, which sharpens everything up, and Eco, which leans energy usage and curtails throttle responsiveness. There's also Comfort, Auto and Individual, which lets you customise your settings. You can set your steering feedback to sporty, while retaining an eager engine and pliant suspension settings.
Forget the drive modes for a second. The core purpose of a premium sedan that costs R500 000 should be to provide a driving experience that's comfortable, quiet and absorbent by default. The A4 delivers that by the bucketful... Some would go far as to say the drive is almost too clinical, even sterile, but when you're driving to the office and back every working day, you're unlikely to require a lively, hands-on and dynamic experience.
Select Dynamic mode and take control of the gears with the steering-wheel-mounted shift paddles and the A4 will tighten up and do its utmost to deliver more driver involvement. Is it as sharp and exciting to steer as its rivals? Almost, but that's not what this sedan was designed for. The firmer suspension and great chassis will placate driving enthusiasts, but otherwise, the Audi strikes a fine balance between refinement and performance.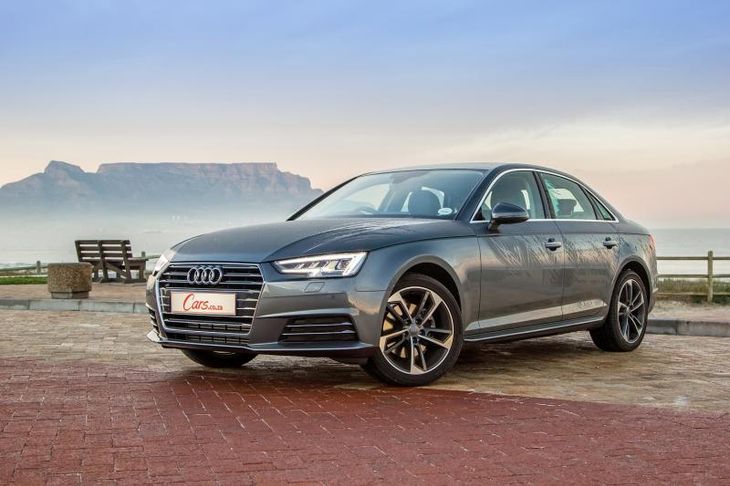 Subtle changes to the exterior looks are dwarfed by the massive improvements in ride, drive and interior.
Verdict
Irrespective of the fact that the arrival of the new-generation A4 felt overdue (perhaps because its predecessor was considered conservative and staid even when it was new), the newcomer remains an impressive and accomplished product. Some observers may have expressed mild disappointment with the sedan's "underwhelming looks", but under-the-skin changes show how modern, efficient and complete this vehicle is.
In 2.0-litre turbocharged guise, the A4 delivers a relaxed, refined performance that will please Audi's target market. You could be forgiven for daydreaming in gridlock traffic: it's that comfortable and quiet. That engine is smooth and while the 1.4-turbo looks like it offers a great blend of performance vs economy, we'd still recommend the 2.0-litre because it offers flexible performance, even if the latter's not the vehicle's speciality.
Spec your Audi A4 carefully – an eagerly-ticked options list could easily add R100 000 to the vehicle's asking price, but don't discount the extras out of hand: there are some worthwhile options that will significantly enhance the vehicle's overall appeal. Audi's Virtual Cockpit is a must in our opinion as its underlines what a techno-fest the Audi A4 is. The Bang and Olufsen audio system and the Audi Connect system are worth a look as well.
It's a great effort from Audi. While the A4 doesn't shout loudly (like most of its rivals do), no-one should underestimate this solid, premium offering.
See how the Audi A4's specification compares with the Mercedes-Benz C-Class and Volkswagen Passat
Audi A4 Price in South Africa
The Audi A4 is priced from R472 000, with this particular model costing R528 000 before options. Every A4 comes with a standard five year/100 000km Audi Freeway Plan.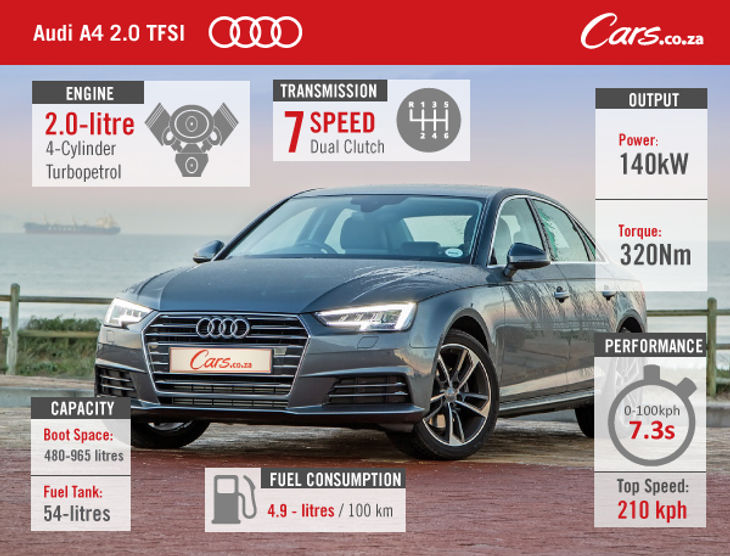 Related content:
5 Key Differences Between Old and New Audi A4 (2016)
Audi A4 2.0T vs BMW 320i (2016) Comparative Review
2016 Audi A4 vs BMW 3 Series – In-Depth Review & Comparison (Video)
New Audi A4 2.0T FSI (2016) First Drive
Interested in buying an Audi A4?