Audi fans have had to be patient... this new A1 Sportback has been long overdue. Now that it's here, however, does it represent enough of an improvement over its predecessor to again compete effectively for the young, stylish and ambitious professionals' money?
We like: Attractive design and stylish cabin, build quality
We don't like: Steep pricing. Somehow feels and sounds less "sporty" than the Polo GTI
Fast Facts
Price: R488 000 (November 2019, without options)
Engine: 2.0-litre 4-cylinder turbopetrol
Gearbox: 6-speed dual-clutch
Fuel economy: 6 L/100 km (claimed)
Power/Torque: 147 kW/320 Nm
Performance: 0-100 kph in 6.5 sec (claimed)
Own an Audi? Tell us about your experience here.
SERIOUS ABOUT BUYING?
Where does it fit in?

Chiselled design gives the new A1 a far more muscular appearance compared with its relatively demure predecessor.
Audi sold 13 700 of the first-generation A1 in South Africa, and will be hoping for more from this second-generation car, as the next A3 looks set to move considerably higher up the price ladder. The A1 competes in a difficult segment, not only bodyshape-wise, but also in terms of its pricing. Yes, it has to contend with the likes of the Fiat 500, VW Polo, Mini Cooper etc., but also with those fancy crossovers that are all the rage these days.
So who are the likely buyers for this particular (flagship) new A1? We think it targets the style-conscious, brand-aware single young professional that also wants a little bit of go underfoot. Let's see if the A1 Sportback 40 TFSI S Line ticks those boxes.
How it fares in terms of...
Design & Packaging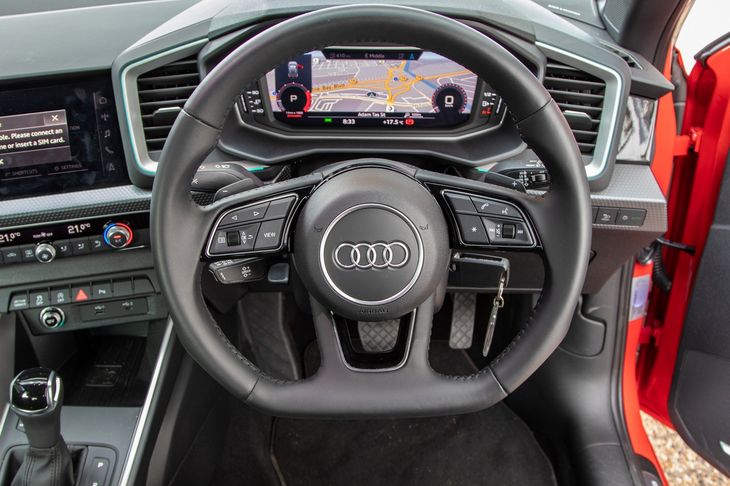 Certainly a stylish place to be, but you pay extra for nice-to-have items such as the virtual cockpit and flat-bottom steering wheel.
Compared with the relatively "soft" styling of its predecessor the new A1 Sportback has a far more purposeful, sporty look. It's only 56 mm longer but roughly the same width as its predecessor, but clever styling details such as the contrasting roof and the wide, flat and sloping C-pillar contribute to a more dynamic look. We also love the three flat slits on the leading edge of the bonnet, an homage to the iconic Sport Quattro from 1984.
This flagship derivative tested here comes standard with the S Line package, which includes 17-inch wheels, larger air inlets, additional sill trims, an elongated slit centrally below the hood with two fins and a larger rear wing. The 40 TFSI S Line also has twin exhaust outlets. LED headlights are standard on this model. Our test unit, however, featured several options that further improve the look – 18-inch Audi Sport wheels in a matte titanium look (R15 600), accent surfaces in silver grey (R500) and the Black Styling Package (R6 900) which includes a radiator grille in matte black and the grille frame; front air inlet frame; rear diffuser and front spoiler all in high-gloss black.

Front Sports seats are standard, but the "Derby" cloth upholstery is optional.
Inside, the Audi makes a good first impression, though it's still by no means what you'd call a spacious car. Audi claims a boot volume of 335L (65L more than before), which is bigger than what is quoted for the Polo and Mini Cooper S 5-door Hatch, but rear legroom does feel a little tight, particularly with tall front occupants, as you'd expect. Of course, the rear seats fold in a 60:40 split configuration to increase load capacity, but 5 doors or not... this would be a tight fit as a car for a young family.
Seated behind the lovely, flat-bottomed and leather-wrapped steering wheel and gazing at the slick graphics of Audi's Virtual Cockpit, you may feel that the considerable outlay was worth it – the A1 is very good at making its driver feel special. But there are some caveats... dig a little deeper and the quality the plastics is perhaps still too similar to the Polo's (already of a high standard), and though digital instrumentation is standard, you pay extra for the greater functionality of the Virtual Cockpit – in our test unit it was bundled in with the necessary smartphone interface (bringing Apple Carplay And Android Auto functionality) and a different sound system as part of the Technology Package for a reasonable R9 900. And that fancy steering wheel with the shift paddles... that'll be a further R3 400, dankeshön.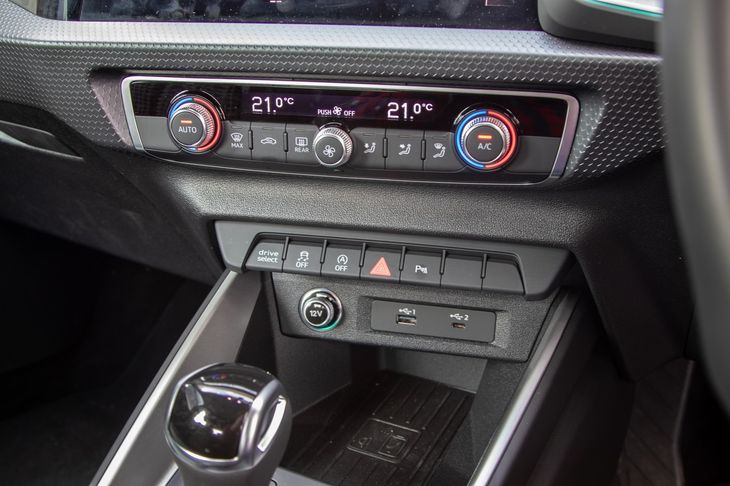 Dual-zone climate control and Audi Drive Select are standard on this model. Note charging pad and 2 USB ports.
Standard interior features on this model includes auto lights/wipers, hill-start assist, MMI Radio Plus with a Bluetooth interface/voice recognition, auto-dimming rear-view mirror, Audi Drive Select, dual-zone climate control, cruise control and front sport seats. Interestingly, our test unit didn't come with leather upholstery, but rather "Derby Fabric", a no-cost option instead of the standard "Novum" fabric upholstery.
Performance & Efficiency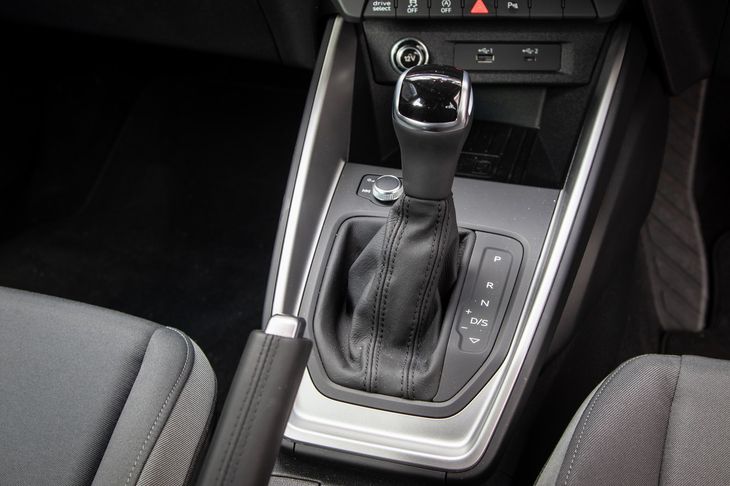 The A1 shares its 6-speed dual-clutch transmission with the VW Polo GTI.
Powered by the same 2.0L turbocharged engine that you'll find in the Polo GTI, this A1 has 147 kW and 320 Nm of torque to play with through the VW Group's 6-speed dual-clutch transmission. Interestingly, Audi claims a 0-100 kph time of 6.5 seconds for this A1, which is 0.2 seconds faster than the Polo GTI. The latter hits back with a slightly higher top speed, however.
It was interesting to note the difference in sound between the Polo GTI and A1 Sportback 40 TFSI – yes, the Polo GTI doesn't quite give you the same Vrrr-Pahh! of a Golf GTI, but the test team was still of the consensus that the VW sounded a bit rortier than the Audi, which is interesting because the A1 Sportback 40 TFSI S Line comes standard with the Dynamic Package, which includes in addition to the sportier suspension set-up, larger brake discs and Audi Drive Select and also a "sound actuator". We wish it made its presence known a bit more readily...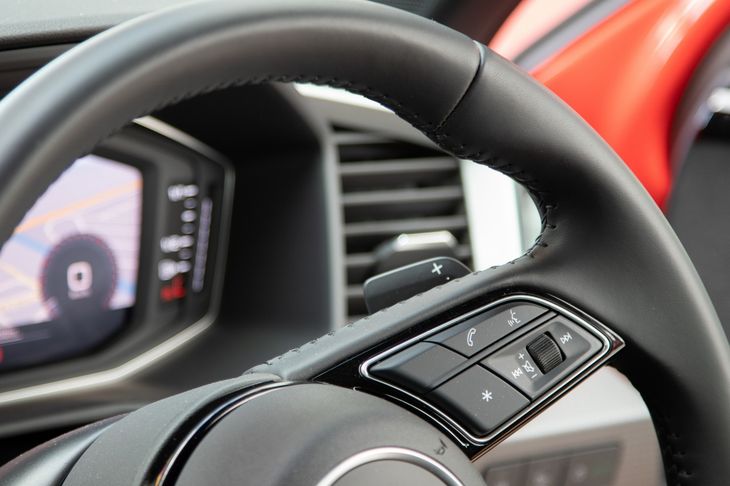 There's plenty of power underfoot, and a slick 6-speed dual-clutch 'box to help you find that oomph.
Nevertheless, this is by no means a slow car, and we enjoyed clicking through the gears of that 'box to keep the engine in its preferred power band (between around 2 000 to 5 000 rpm). Drive it like this often, though, and the fuel economy will suffer. With a more efficiency-minded approach, you should be able to achieve a consumption figure of around 7.4L/100 km (Audi claims 6.0L/100 km).
Ride & Handling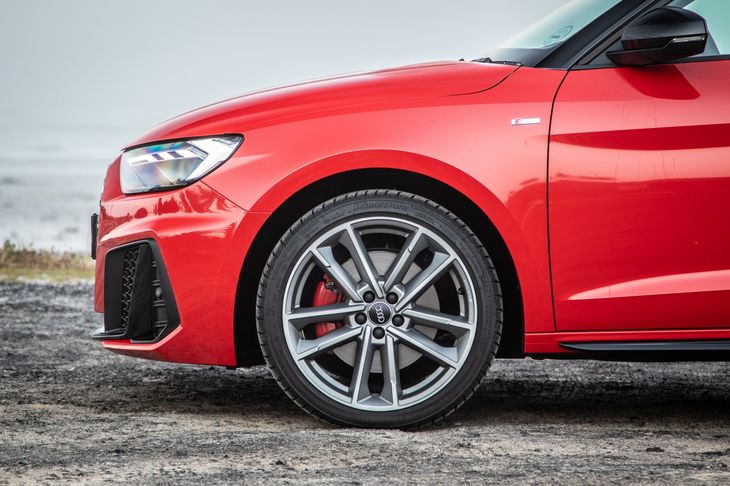 The 18-inch Audi Sport cast alloy wheels with a titanium look are R15 600 extra.
Riding on the same MQB-A0 platform as the Polo, you'd expect a similar ride and handling experience, but perhaps because of the larger wheels combined with the standard sport suspension, this A1 Sportback 40 TFSI S Line comes across as a bit stiffer... perhaps slightly too stiff. If the car had an overall more overtly sporting character and targeted the hot hatch buyer, this would be very acceptable, even desirable, but we suspect many buyers would prefer a more supple set-up, particularly on coarser surfaces, where the Audi's otherwise premium cabin ambience is spoilt by considerable road noise.
The steering is lacking in feedback (as you'd expect), but is of a nice weighting, and when you start hustling this little Audi you may well find levels of enjoyment that you didn't expect. It's then that it starts to make more sense as a more "premium" alternative to the car that it is underneath, the Polo GTI.
Price and warranty (November 2019)
As standard, the Audi A1 Sportback 40TFSI S Line sells for R488 000, and the price includes a 1 year/unlimited km warranty and 5-years/100 000 km maintenance plan. But if you want to make your A1 Sportback 40TFSI look like this one, you'll have to spend an extra R106 400, which is the total cost of all the options fitted to this particular test unit. Notably, you'll want to specify the technology package (R9 900) which gives you the Virtual Cockpit, smartphone interface and a different sound system.
Verdict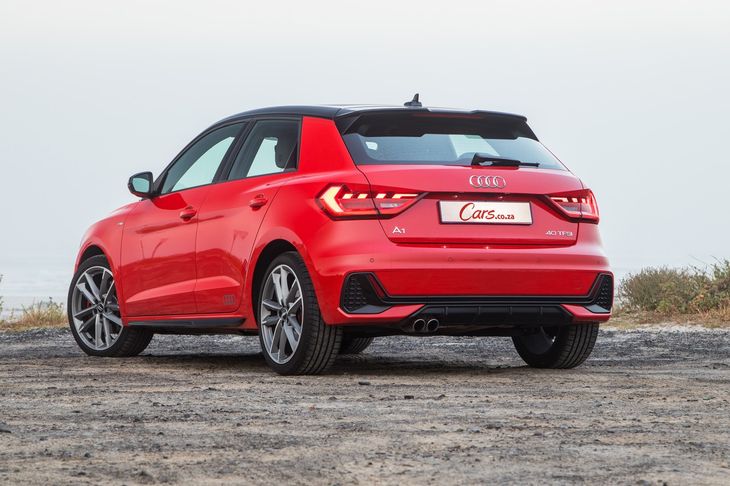 Undeniably stylish and swift, the A1 Sportback 40TFSI is, however, steeply-priced and struggled to justify its price positioning.
During our test period, the bright red Audi A1 Sportback drew a lot of favourable comment (and rubber-necking) from millennials that seem to be immediately drawn to this stylish new entrant from Audi. The fact that it combines good looks with a desirable badge will get many buyers to sign on the dotted line alone. We rate the standard specification as decent (remember, adaptive suspension is standard), but given the vast price difference between this model and the Polo GTI, you'll have to really want the 40 TFSI's performance (and badge) to justify the outlay, and then you'll still have to budget for a few extras to get the most enjoyment out of this cool little car.
Compared with its aged predecessor, however, this new A1 Sportback gives Audi a potent new entry-level model, but we suspect one of the smaller-engined derivatives, specced with more of the glitzy options, would be a better investment for most buyers.
Looking to buy a new/used Audi A1?
Find one on Cars.co.za by clicking here