After "unprecedented customer interest" in the Aston Martin Vanquish Zagato, the Gaydon-based firm is putting the car into limited production.
Earlier in May 2016, Aston Martin showcased the Vanquish Zagato concept at the Concorso d'Eleganza Villa d'Este on the banks of Lake Como in Italy. Unsurprisingly, the Vanquish Zagato was so well received that Aston Martin has decided to build only 99 examples of the car at its production facility in Gaydon, UK. If you're interested, it's too late, because reports are suggesting that all units are already spoken for. Sorry about that…
The Aston Martin Vanquish Zagato is the fifth vehicle born from the relationship between the British automaker and Italian design house, Zagato.
The Vanquish Zagato is fitted with a 6.0-litre V12 engine developing 441 kW, enabling the GT car to clock 100 kph in just 3.5 seconds from standstill.
Design details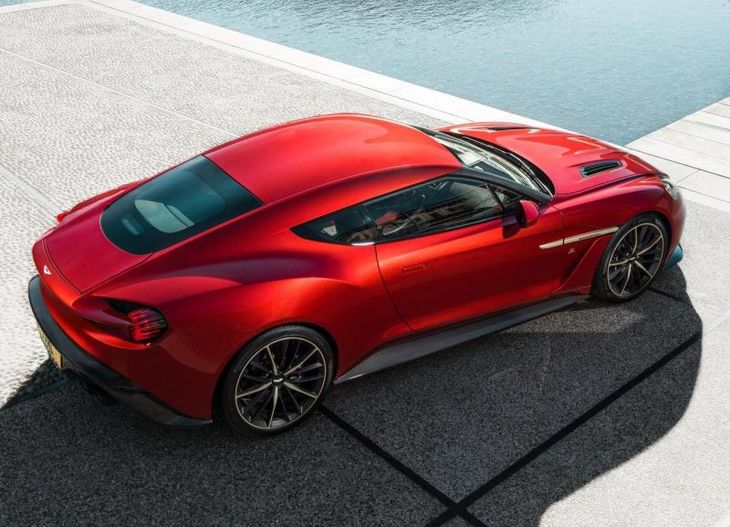 Only 99 examples of the Aston Martin Vanquish Zagato will be built.
The bodywork is shaped entirely from carbon fibre, with large one-piece panels reducing visible split lines on the car. The Vanquish Zagato borrows design cues from previous Aston Martins, such as the Vulcan, One-77 and DB11. The rear taillights feature the Vulcan's 'bladed' LED technology with round taillight reflectors. The side mirrors are similar to those found on the One-77, while the rear-end design shares similarities with the DB11.
The rear-end also features a retractable spoiler and carbon fibre sills run around the vehicle and also house the quad-exhaust system. Wrap-around glass with Zagato's trademark 'double-bubble' roof enhances the Vanquish Zagato's look even further.
Bespoke design features are found on the inside too. Herringbone carbon fibre, shadow and anodised bronze combine with aniline leather to achieve a high quality finish. The seats and door coverings also feature 'Z' quilt stitching as well as a Zagato 'Z' embossed on the headrests and centre console.
The Vanquish Zegato is reportedly priced at over R11-million and owners are expected receive their fine machines in the first quarter of 2017.
Watch the video below to see the Aston Martin Vanquish Zagato driving in Italy!