Aston Martin has released a limited edition DBS Superleggera to celebrate 50 years of the Concorde supersonic passenger jet's first flight.
There'll be just 10 units available and they feature some really interesting touches, both inside and out. With luxury trimmings from Q by Aston Martin, the DBS Superleggera Concorde features bespoke side strakes milled from solid aluminium; a bespoke paint scheme featuring British Airways colours on the roof strake, aero blade and rear diffuser; black tinted carbon fibre roof with Concorde silhouette graphic; the famous British Airways 'Speedmarque' logo in chrome on the front wings; a unique Q by Aston Martin wing badge with black enamel infill; unique and authentic jet black painted Civil Aviation Authority aircraft identifier numbers and bespoke inspection plaques signed by Aston Martin Lagonda President and Group CEO Andy Palmer and British Airways Chairman Álex Cruz.
Inside the cabin, there are Concorde logos on the front seats, a Mach meter graphic on the sun visor, paddle shifters made from titanium from Concorde compressor blades; floor mats in Terence Conran design pattern; seatbelt buckle badges milled from solid aluminium and bespoke sill plaques.
The engine is untouched and for the record, it's the 5.2-litre twin-turbocharged V12 with 533 kW and 900 Nm. 0-100 kph and 0-160 kph are obliterated in a claimed 3.4 and 6.4 seconds respectively. A portion of the sales from each Aston Martin DBS Superleggera Concorde Edition will go to the Air League Trust.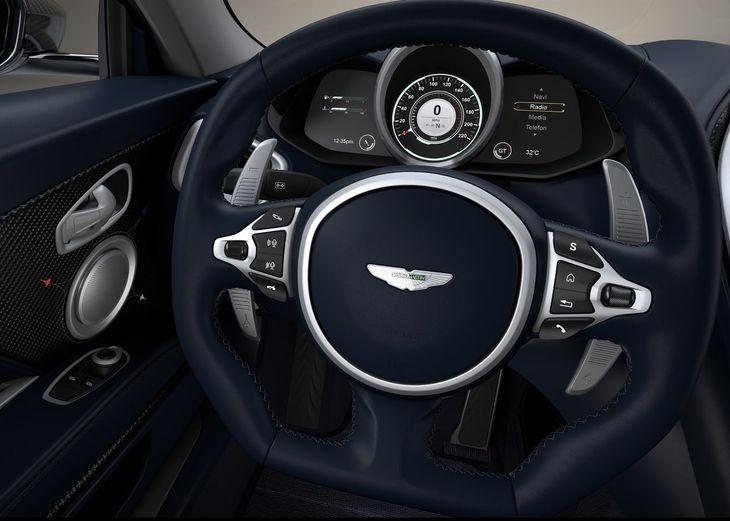 The paddle shifters are made from titanium from Concorde compressor blades, which has to be next-level cool!
Further Reading
Aston Martin DBX Revealed with 404 kW
Aston Martin Announces DBS Superleggera Volante