Aston Martin has released details of its all-new 3.0-litre V6 turbopetrol hybrid motor. It's the first all-new engine that the Gaydon-based firm has designed and built in-house since 1968 and it will debut in the upcoming Valhalla mid-engined supercar.
Unlike most supercar makers, Aston Martin has relied on the supply of engines from other manufacturers, which are then fettled and modified for their installation in the British marque's various models, throughout the years.
Mercedes-AMG supplies its 4.0-litre V8 turbopetrol for Vantage, DB11 and DBX first-class SUV, but before that, when Aston Martin was part of the now-defunct Premier Automotive Group (along with Jaguar, Land Rover, Lincoln and Volvo) in the early 2000s, it utilised engines from the Ford stable. In fact, Aston Martin's current 5.2-litre twin-turbo V12 still comes from the Ford plant in Cologne...

The compact V6 can be utilised for front- or mid-engined installations and it is said to produce in excess of 500 kW in its raciest configuration.
However, although the TM01 – named in honour of legendary Aston Martin engineer Tadek Marek ­– will debut in the mid-engined Valhalla in 2022, it will eventually be implemented in a number of Aston Martin models, ostensibly to replace the AMG-supplied 4.0-litre V8. The motor has already undergone extensive dyno testing and will be offered in conjunction with either hybrid- or plug-in hybrid systems.
Even though it will be the smallest Aston Martin engine in recent memory (in terms of the number of cylinders and capacity), the V6 is said to be able to produce peak power in excess of the DBS Superleggera's 533 kW (Autocar reports) in its highest state of tune.
The motor features a dry-sump and a "hot V" configuration – the turbochargers are mounted between the engine's 2 banks of 6 cylinders. It weighs less than 200 kg and, by virtue of its compact nature, Aston Martin expects to utilise the powerplant in both front and mid-mounted applications.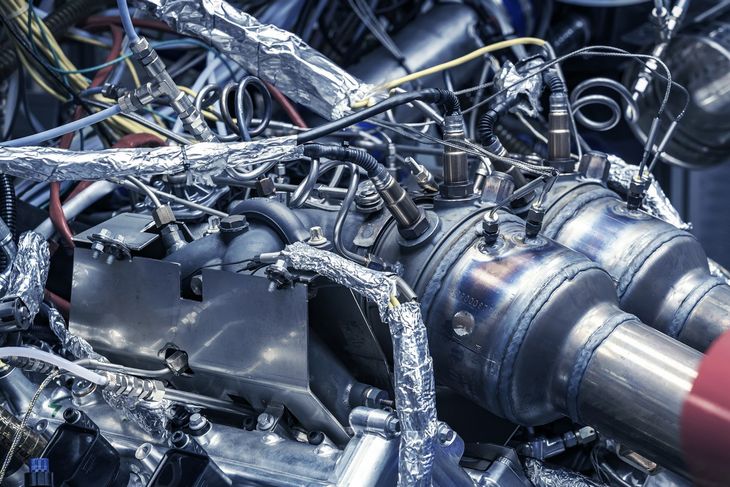 We expect that the new hybrid V6 will appear in everything from the Vantage to the next Vanquish, as well as the DBX at some point.
Aston Martin CEO Andy Palmer said of the new engine: "Investing in your own powertrains is a tall order, but our team have risen to the challenge. Moving forward, this power unit will be integral to a lot of what we do and the first signs of what this engine will achieve are incredibly promising."
Meanwhile, the upcoming Valhalla will be the latest V-named model in Aston Martin's history; it follows a 70-year tradition dating back to the 1951 Aston Martin DB2 "Vantage". Apart from Vantage, the Gaydon-based marque has produced the Virage, the Vanquish, the Vulcan, as well as the Valkyrie.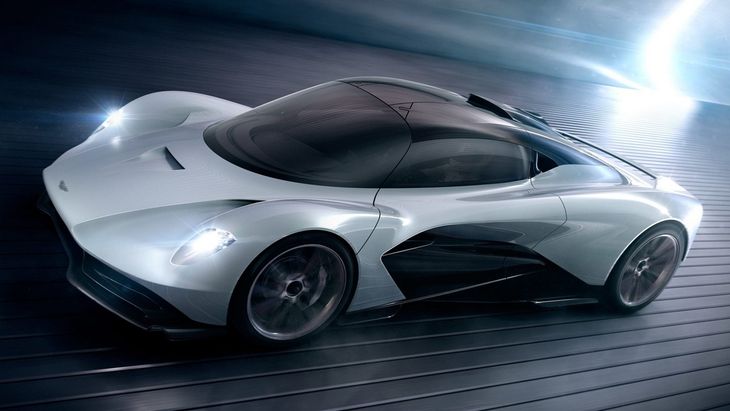 The Valhalla is very much a micronised Valkyrie, only it has half as many
In many ways, the Valhalla is a "baby Valkyrie". It is also a collaborative effort between Aston Martin and Red Bull Racing (and the F1 team's chief designer, Adrian Newey, in particular), based on a carbon-fibre monocoque and clad in a plethora of carbon fibre panels to keep kerb weight to a minimum. What's more, the Valhalla adopts the Valkyrie's elaborate bumpers and haunches, but it doesn't; resemble an "F1 car with a body shell" to the same extent.
Newey's influence is best demonstrated by the Valhalla's active aerodynamic addenda, including FlexFoil technology – claimed to be a first for a production car. FlexFoil, which has already been proven in the aerospace industry and has been tested by Nasa, enables the Valhalla's rear wing to improve the amount of downforce it generates by physically altering its shape at speed.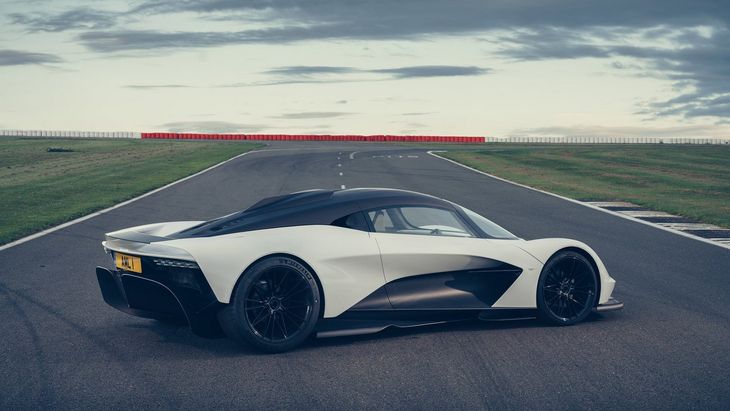 How's that for racy? The Valhalla's diffusers appear to protrude further than its Flexfoil rear wing.
Compared with the Valkyrie, however, the Valhalla's interior is far more comfort-oriented – after all, it was designed to be a road car. A section of the roof has been incorporated into the scissor doors to make ingress/egress easier, while a 3D-printed centre console affords occupants more room.
Meanwhile, AutoExpress reports that a digital instrument cluster sits atop the steering column... "Aston Martin's solution to in-car entertainment is to 'bring your own', with the Valhalla offering a smartphone mount in place of an integrated infotainment system for maximum simplicity and flexibility".
Aston Martin will build 500 units of the Valhalla, but whereas the Valkyrie will cost R50 million, the former is believed to cost a much more reasonable R20 million.
Watch the Valkyrie and the Valhalla take to the track:
Related content:
Aston Martin Valkyrie hits the road
Koenigsegg Jesko Absolut is Crazy Fast
Bugatti Chiron Pur Sport Focuses On Driving
Aston Martin V12 Speedster Goes Official
Hot Pininfarina Battista Anniversario Revealed [w/video]
Boulogne is an 820 kW Spanish Supercar