Renault's eagerly anticipated mid-engined Alpine A110 sportscar recently went into production for right-hand drive markets and is firmly in the French firm's sights for introduction in South Africa. Why should local consumers sit up and take notice? Because the A110 is being heralded as one of the best driver's cars in years. In fact, our UK correspondent Matt Prior thinks the Alpine could be a landmark sportscar...
Spoiler alert: the Alpine A110 is the best and most exciting car I've driven in ages. It is all kind of good things, this compact marvel, as refreshing and cheering to drive as a nearly-great car which has had its unfulfilled wishes granted without compromise.
It's as joyful as finding a Toyota 86 has been given the power it always wanted or the latest Mazda MX-5 with seats in the right place and greater roll control. It is like an Ariel Nomad without hypothermia, a Smart Roadster Coupe with a terrific gearbox, a Lotus Exige with lighter steering, a Porsche 964 RS with driveline refinement or an original Honda NSX with repairable panels. Imagine those 'I love that car but…' moments, only with the qualifier removed. That's how well Alpine has absolutely nailed this car.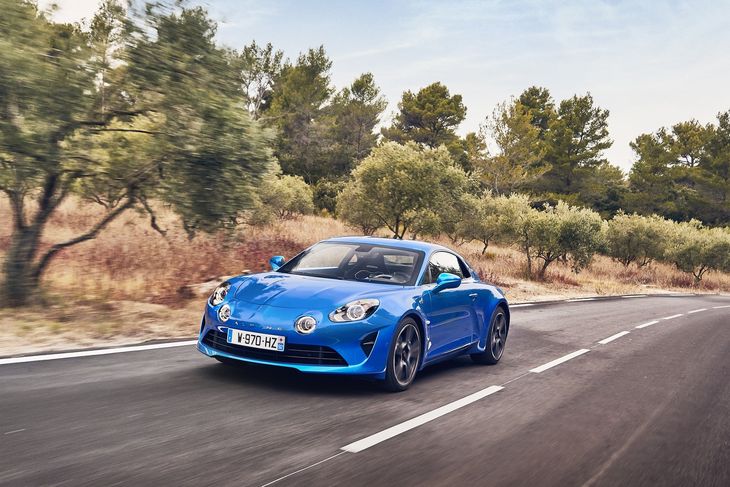 A sportscar from France in the mould of the Alfa 4C, Porsche 718 Cayman and Jaguar F-Type 2.0.
Am I overegging it? I could be, but I hope not. The new Alpine A110 is quite something, even of itself, but it could be the start of something much, much bigger again, too.
What you're seeing is the rebirth of a classic French brand, established in 1955 but which met its end under Renault ownership in 1995, presumed gone forever. But now Renault has brought it back, first with this small two-seat coupe, but its bosses name-check Mini when they're talking about its future.
Not that they're inclined to say much yet about that future, which will presumably involve some faster and less roofy variants. "We have decided to be undecided," says Alpine boss Michael van der Sande, with the air of mystery of a man who has decided precisely. You suspect, then, that this is the start of something – a premium brand from the Renault-Nissan Alliance that, unlike Infiniti, might actually gain traction outside the USA.
Lightweight chassis
How could it not be something else? Surely it's too expensive to justify otherwise. The Alpeen-a-one-ten isn't a platform-sharing special. It has a brand-new all-aluminium architecture, will be sold through specialist Alpine dealerships and requires the refurbishment of a good portion of Renault's Dieppe factory, in Alpine's home city, where Renault Sport Clios are still made and where the Renault Spyder and the Mk2 Clio V6 were produced. It's an area that still thinks so wistfully about Alpines that local government has put money into completing the factory. Suppliers are to be found there, too; the location isn't just good for nostalgia, it's good for business.
You might remember, too, that Caterham was involved in this for a while – from the project's announcement in 2012 until Caterham pulled out with little explanation in 2014.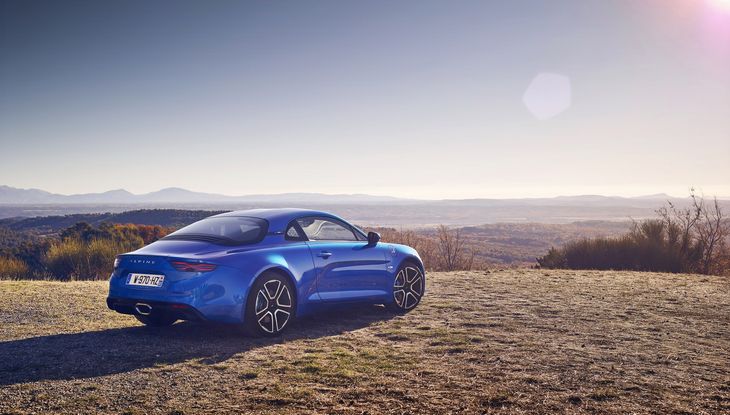 It's called the A110 after its predecessor and wights 1 100 kg. Coincidence?
The Alpine and Caterham derivatives of this architecture were to have the same glass area but relatively different bodies, but the Alpine has matured since Caterham upped and left. Caterham's variant would have been even emptier inside and lighter still, but even so, the Alpine A110 tips the scales at just 1 080 kg, even with all of its fluids aboard. This Première Édition specification, which comprises the first 1955 cars built and which will take the first eight months of next year to build, weighs only 1 103 kg.
But still, 1 100kg is a heck of an achievement, today. "We will have the lightest, most agile car in whatever class we're in," says van der Sande. Whatever class you're in, eh? Hmm. Anyway, steel wouldn't have been light enough for this class, and you can't make money by using carbon-fibre at this price point. A price point of around R900k, it should be noted. This car is Porsche 718 Cayman money.
So here we are, with an all-aluminium platform, made up mostly of extrusions, with pressed body panels dressing it and the odd forging for the engine and suspension mounts.
Weight saving tech
Weight has been shaved everywhere. Alpine has asked Sabelt to make seats so light that you have to get out spanners to adjust the height. The speakers weigh only 450g each, rather than a 1.5 kg norm. And the Brembo rear brake calipers have an integrated parking brake actuator, so there's no need for an additional one. It's electrically operated, too, because that's lighter than having a manual bar and cable and so on.
Incidentally, that wasn't a straightforward decision, because of the kind of people who are engineering today's Alpine. They're the kind of people who thought it would be quite nice to retain a manual handbrake, a 'lever of fever' for locking the rear wheels into hairpin bends. The boss himself owns an Alfa SZ and once built his own Caterham 7. You'd like these people.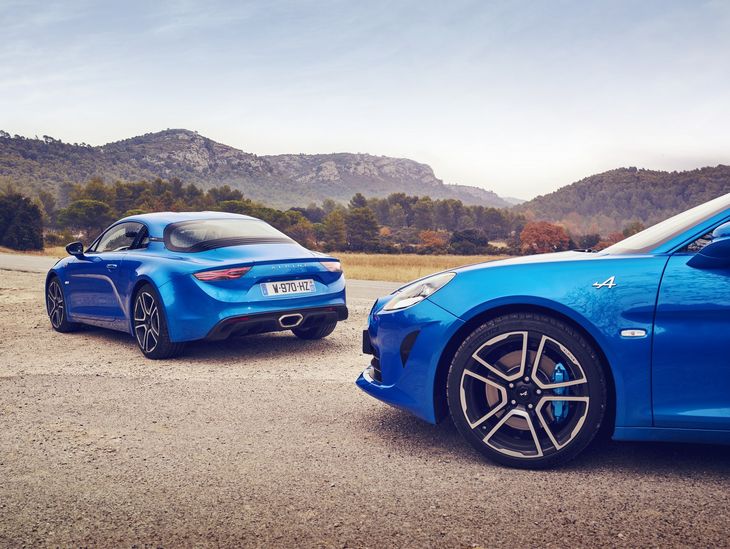 Weight has been saved in reasonable areas so it's not entirely empty inside and out.
The suspension is unique to the A110, too: double wishbones, front and rear. Their presence means making everything fit into the car's 1.8-metre width is a pain. Wishbones occupy a fair amount of lateral space, and the engine has to be fitted transversely between the rear set, with the fuel tank sited between the front set. But it's worth the effort: thanks to where the fuel tank sits, weight distribution is 44/56 front to rear, putting the centre of gravity square between the driver's and passenger's respective hips. Tyre widths are 205 on the front, 235 on the rear; wheel diameter is 17-inch as standard on base Pure models, 18-inch on alternative Legende cars and this launch edition.
New turbo 4 pot
There's a 1.8-litre four-cylinder turbo engine that makes 185 kW and drives through a dual-clutch automatic gearbox to the rear wheels. But why no manual? Two reasons. First, there wasn't the money to do one, and second, there was no guarantee anyone would buy one anyway. So they spent the money making the Getrag DCT better than it is in, say, a Renault Sport Clio. It has wet clutches rather than dry ones, to improve refinement and response. As well as a relatively clean centre console, then, there are paddles fixed to steering column in an interior that is, compared with a Porsche 718 Cayman, for example, what, exactly?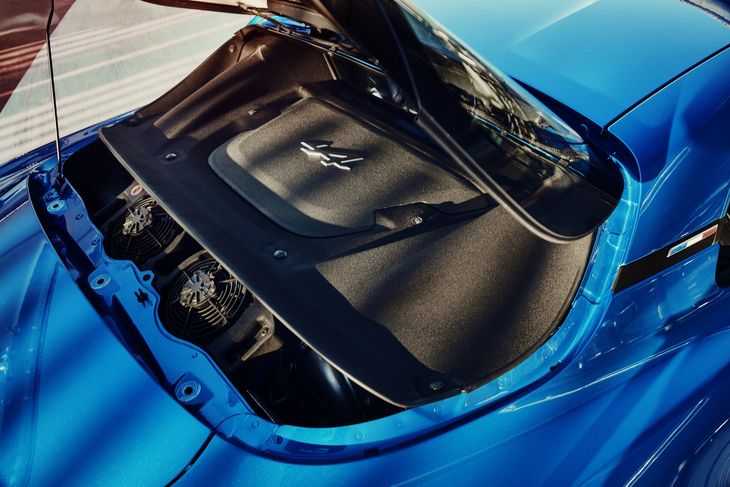 Mid-engined with a balance of 44/56 towards the rear provides an excellent base from which to make a good-handling sportscar.
Well. Lower in perceived quality of materials, if we're being honest. There are more brittle plastics, inevitably, because if you want to make a sub-1 100 kg coupé then them's the breaks. There's a reasonable-sized touchscreen, and maybe buyers will insist the A110 has its own infotainment system, but frankly, I'd prefer a mirror match with the smartphone all buyers will surely have anyway, and which would operate more effectively and save a few quid and kilos.
What's it like inside?
That the A110 is a small car – length 4 180 mm, width 1 798 mm and height 1 252 mm – means there's minimal oddments storage inside, while the luggage compartments are small too. The rear is short because only the metal bootlid, not the glass hatch above the engine, lifts, while the front boot is shallow because the fuel tank sits beneath it. But, hey, you don't complain that a motorbike doesn't have a spare wheel; this is a 1 080 kg car, for heaven's sake. Of course it's little.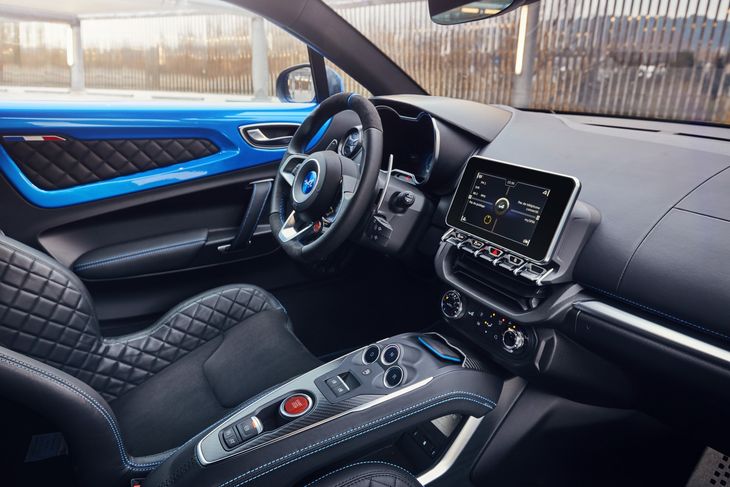 Interior isn't quite Porsche quality and weight-saving procedures mean there isn't any extra fancy tech.
What it isn't, is cramped. Even the tallest of my colleagues had no trouble finding sufficient room, which is more than you can say for a Jaguar F-Type, while the diddy steering wheel adjusts massively. It's pleasing enough and features a button for the driving modes, which, fortunately, don't adjust the way it drives extensively. A short push gives you Sport mode, which increases steering weight, throttle and gearbox response and relaxes the stability control; an extended push puts it in Track and does all those things some more. There's also an ESP-off button on the dash that does what it says.
The drive
None of these things, though, notably changes the way that the A110 goes down the road, because it runs on passive dampers that always do precisely the same thing: give it a ride that's impressively absorbent yet supremely well controlled. This Alpine was never slated to have adaptive dampers, because they are heavy and so is the control unit, and so forth. And because Alpine engineers say that roll isn't a bad thing. But the A110's body is so light that you don't notice much roll anyway, even on a circuit, while the soft springing and damping and hollow, relaxed anti-roll bars mean that it breathes and flows as it mooches down even some of the worst-surfaced roads we could find. There's a hint of a modern McLaren in the way it glides and breathes, with uncorrupted steering and progressive, linear rates of lean.
It steers, too. Lightly, granted and, at first, you think, with less feel and precision than a 718. But there is road feel there, and accuracy; it's just more discreetly telegraphed than in a 718, or an 86. At 2.2 turns between locks, it's plenty fast enough, mind, and it really communicates on a circuit as cornering forces build.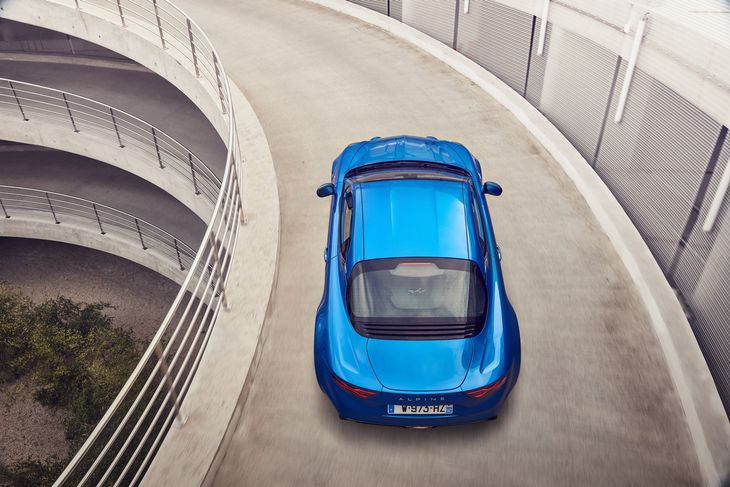 Handling is what makes the A110 a future classic or landmark vehicle we will remember.
And at all times, the A110 is more agile than any competitor. On the road, its poise and willingness are as natural as they are addictive.
Does the car need a limited-slip differential? It doesn't have one, relying instead on a (lighter) open diff and with inner-wheel braking to prevent a single wheel from spinning, but these systems can only do so much. In some hairpins, when that inside wheel gets unloaded, the A110 can spin a wheel up like a basic MX-5.
But when you have more lateral load applied – on track, for example – it certainly doesn't need one at all. There's a tiny bit of understeer if you look for it, accelerating under power or overloading the fronts under braking. But more subtly shift the weight balance as you turn and it's a doddle to take the A110 from neutral to oversteer, at which point there's easily enough power to ride out a slide a little, or a lot, with a divine handling balance and a supreme level of adjustability. I think I'd leave the diff alone.
Regardless of the driving mode, the A110's engine develops plenty of zing and fizz. In the angrier modes, the exhaust delivers angrier pops, but in all there's a touch of lag as revs build to the 6 750 rpm limit, which it fairly whizzes up to. Alpine says the A110 isn't about outright speed and that lap times and straight-line pace don't really matter when it comes to driving pleasure. Which is true, and refreshing to hear from a car maker, but this is still a car that covers the 0-100 kph sprint in 4.5sec and which has to be limited to 250 kph. Don't for a moment think it's slow. The seven-speed gearshift has been improved over the six-speeder in the current Clio. It shifts quickly and mostly cleanly, but there's still an occasional feeling like it has pulled a neutral when you're on the overrun and expect better engine braking than it delivers. It's not a match for Porsche's PDK.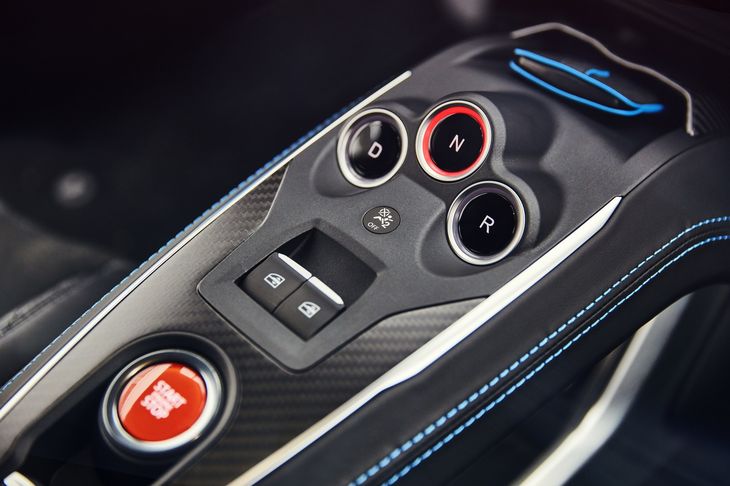 No manual gearbox on the A110 but the dual-clutch 'box has been improved from the Clio RS significantly.
But I liked the car so much anyway that sometimes I found myself wondering if it wouldn't matter if the gearbox were made of butter and the steering was joined with cheese strings; perhaps I'm just overlooking faults because it's an 1 100 kg two-seater? I don't think so. Remember the Alfa 4C. I expected that to be good too, but it only works on the smoothest of places. The A110 works all over the place. You don't have to just get the ingredients right; you have to do the hard work too.
Final thoughts
What Alpine has done here, then, is nothing short of an utterly remarkable job. The A110 is a gem. In a land of lumpen rocks, it gleams like the brightest jewel. It takes the 86, MX-5, 4C and Lotus Elise templates and builds on them, melding their respective qualities into a wonderful blend of poise, comfort, agility, adjustability, desirability and beauty; is it just me who thinks this is a fabulous-looking car?
And all at, hmm, yes, R900 000, or thereabouts; it rather depends on what happens to the exchange rate by the time right-hand-drive A110s arrive early this winter. It's a lot. But do the maths, given that they'll sell a few thousand a year, and you wonder how they'd do it cheaper.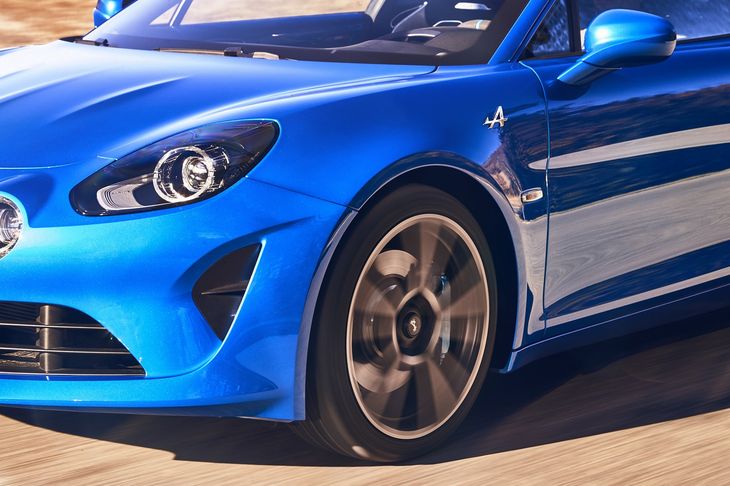 An Alpine or a Porsche? The answer isn't as simple as that, the Alpine outshines the Cayman in many areas.
Would you get out of your Porsche 718 Cayman for one, though? That, I suppose, is the question. The Porsche will be quieter, it has better gearbox response and there's no argument that the Cayman has - especially with a limited-slip differential – its own compelling version of adjustable mid-engined poise.
But I think the A110 – and I didn't expect to be writing this – has yet more ability again. It must be the reduced inertia, the reduction in mass and the utter honesty of its passive suspension and low, central centre of gravity that make it one of the most intuitive, rewarding cars on sale at any price.
Sometimes you drive a sports car – a Ferrari 458 Speciale, McLaren P1, Porsche 911 GT3 RS 4.0 or Ariel Nomad – and know that, somehow, you're driving a landmark car. That's the kind of feeling – even without considering the bravery of Renault to push the button on making it – the A110 gives me. Perhaps it really will be the start of something big. But even if it isn't, the A110 is truly, wonderfully, special.
Quick specs
On sale: Maybe in 2018
Price: R900 000 (est)
Engine: 4cyl, 1.8-litre, turbo petrol
Power: 185 kW at 6 000 rpm
Torque: 325 Nm at 2 000 rpm
Gearbox: 7-speed dual-clutch automatic
Kerb weight: 1 103 kg
Top speed: 250 kg (limited)
0-100 kph: 4.5 sec
Fuel economy: 6.1L/100 km (combined)
Rivals: Alfa Romeo 4C, Porsche 718 Cayman, Jaguar F-Type 2.0
Watch the Apline A110 climb the Col de Turini
Related content
Update: Renault Alpine sportscar on the cards for SA
Porsche 718 Cayman S (2016) First Drive