With the 2017 Volkswagen Polo finally revealed, attention now turns to the performance flagship: the Polo GTI. What's new?
The big news for the Volkswagen Polo GTI fans is that the 1.8-litre 4-cylinder turbocharged petrol engine has been replaced by a 2.0-litre 4-cylinder turbocharged unit. Power has increased to 147 kW, up from 141 kW and the new Volkswagen Polo GTI comes with a standard sport chassis, with the option of a Sport Select Chassis.
Visually, you'll be able to differentiate between this Polo GTI and lesser Polos as it features a specially-designed bumper with spoiler lip and standard fog lights. Trademark GTI touches such as a red stripe on the radiator grille, honeycomb air vent screens and a GTI badge. Optional LED headlights with a red winglet are available, while at the rear, the Volkswagen Polo GTI has a large roof spoiler in high-gloss black, a diffuser in the bumper, GTI-specific dual exhausts, LED tail lights and a GTI badge. Also, the brake callipers are painted red.
The Volkswagen Polo GTI comes standard with 17-inch alloy wheels, with the option of 18-inch. The cabin boasts typical GTI features such as sports seats with a tartan pattern, a multifunction leather-trimmed sport steering wheel with red stitching, roof lining and roof pillars in black and a GTI gear shift grip.
In terms of performance, the standard Volkswagen Polo GTI does 0-100 kph in a claimed 6.7 seconds for the DSG-equipped model. This new Polo GTI should shave perhaps one or two tenths off this time and we reckon it'll have enough go to match the likes of the recently launched Renault Clio RS Trophy 220.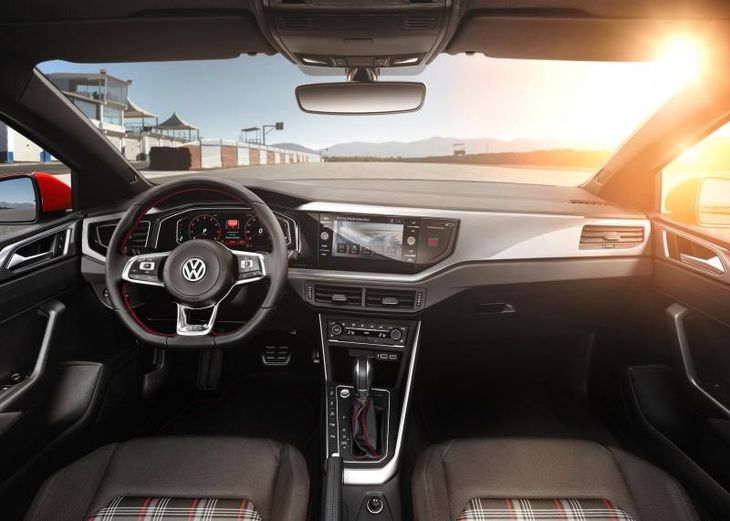 The cabin of the new Volkswagen Polo GTI
Related content:
Meet the all-new Volkswagen Polo here
6 Rivals the 2018 Volkswagen Polo Needs to Beat
Volkswagen Polo 1.0 TSI R-Line (2017) First Drive

Volkswagen Polo CitiVivo (2017) Specs & Pricing

Volkswagen Polo Vivo Storm in SA - Specs and Pricing

Volkswagen Polo Beats Pricing in SA

Top 5 Cool Facts: Next Ford Fiesta (2017)

Kia Rio (2017) First Drive

Facelifted Renault Clio (2016) First Drive
Want to buy a Polo?