After a long wait, the all-new Toyota GR 86 has been revealed. Here are some details about the naturally aspirated rear-wheel-drive coupe.
The Toyota GR 86 is a lightweight, rear-wheel-drive coupe that's been engineered from the ground up to be an enthusiast's car. It ticks all the boxes for driving engagement; rear-wheel drive, nimble, light, manual gearbox and a rev-happy naturally-aspirated motor. Granted, most modern performance hatchbacks would leave it for dead, but that's not the point of this car.
As the saying goes, 'it's more fun driving a slow car fast, than a fast car slow' and the GR 86's thrills could be had at 70 kph, with plenty of manageable driving action. It wasn't without fault though, that engine could have done with a touch more torque and it became surprisingly expensive at the end of its lifespan.
Now for 2021, there's an all-new Toyota GR 86. Again developed in conjunction with Subaru, who revealed its BRZ late in 2020 for the North American and Japanese markets only, the new GR 86 brings a new design, new suspension and most importantly, a new engine. The new Toyota '86 is the third model in the GR portfolio, underlining Toyota's ambition to shake off its predictable and no-fun image from a few years back. With the Supra GR and the new Yaris GR (due in South Africa in the middle of 2021), Toyota is keen to show it still knows how to build fun and engaging driving machines.
The new engine is again a lightweight, horizontally-opposed 4-cylinder petrol unit, but capacity has been up to 2.4-litre. Power is rated at 173 kW and 250 Nm, which is a big jump from the 147 kW and 205 Nm of the outgoing GR 86. Toyota has worked extensively on the car's weight-saving program and there's lightweight materials across the board, such as aluminium roof and body panels. The work doesn't stop there though, with torsional rigidity increasing by around 50% and the vehicle tips the scales at 1 270 kg – about the same as a Volkswagen Golf. Toyota claims its will be the lightest 4-seater coupe in its class.
By keeping the weight down and maintaining a low centre of gravity, the Toyota GR 86 should be a hands-on driving machine. The previous generation sold more than 200 000 units, proving there's a case for a back-to-basics analogue sportscar. We're yet to hear from Toyota SA with regards to local availability, but Toyota has confirmed a European market introduction with more details coming this year.
Want to buy a current-shape 86? Browse stock now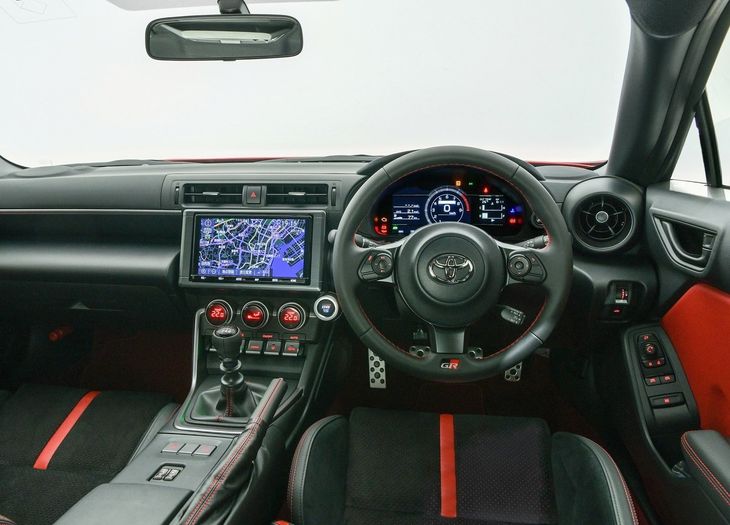 The inside of the all-new Toyota GR 86. A manual gearbox is offered. Cue the Initial D music...
Further Reading
Toyota 86 High (2017) Quick Review
New Toyota Cars For SA in 2021