Porsche has unveiled the next version of its high-performance Cayman GT4. With a potent new 4.0-litre 6-cylinder boxer engine at its heart, the new Cayman GT4 is faster, more efficient and aerodynamically cleaner.
The previous generation Porsche Cayman GT4 was an instant classic. Thanks to some thrilling dynamics, glorious engine note and rarity, the Cayman GT4 enjoyed a cult following and is highly sought after amongst the classic Porsche fraternity. Now for 2019, there's an all-new Cayman GT4.
Under the bonnet is a new 4.0-litre 6-cylinder motor which Porsche claims is based on the current 911 Carrera engine. Producing 309 kW and 420 Nm, it's not a slouch and Porsche claims 0-100 kph in 4.4 seconds. With a redline of 8 000 revolutions, the new Cayman GT4 boasts a top speed of over 300 kph, while consuming just 10.9 L/100 km. Porsche claims its new Cayman GT4 is more than 10 seconds faster than the outgoing car.
That's quite some performance, we think it'll tread on the toes of the new 911 - Read the Porsche 911 Carrera S Launch Review
It's not just about the fabulous engine however. The new aerodynamics package is said to produce up to 50% more downforce, while the rear spoiler is harder-working than the previous model with 20% more downforce. At 200 kph, there's 12 kg of downforce.
Underneath the good looks is a sharp high-performance GT chassis, Porsche Torquing Vectoring with mechanical differential lock. For those wanting even more, there's the option of a Clubsport package comprising rear steel roll bar, in-cabin fire extinguisher and 6-point seatbelts.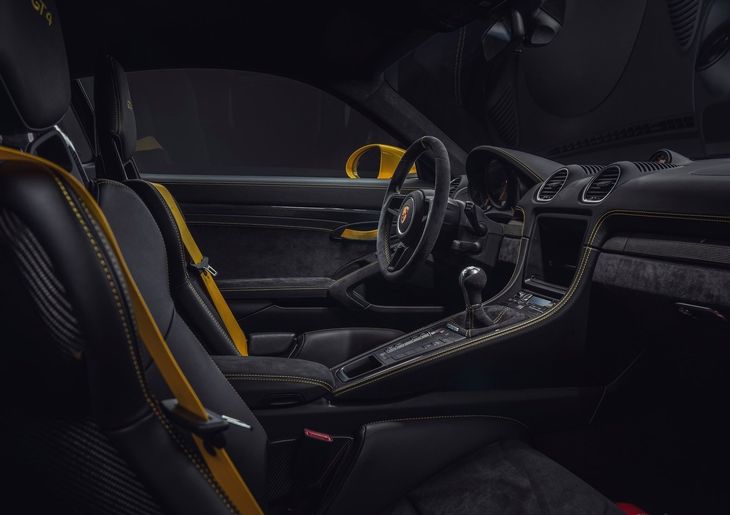 The interior of the Porsche Cayman GT4. Note, this is a Clubsport-equipped car with the fire extinguisher.
Further Reading