The all-new Porsche 911 GT3 has been unleashed. Let's take a look at this incredible performance machine.
Now in its 7th generation, the new Porsche 911 GT3 was developed as a collaborative project alongside Porsche Motorsport.
Lurking over the rear axle is a 375 kW and 470 Nm 4.0-litre flat-6 engine. Porsche is offering the 911 GT3 with a dual-clutch PDK or for those craving the ultimate pure driving experience, a 6-speed manual gearbox. In terms of performance, the new Porsche 911 GT3 has a top speed of 320 kph (318 kph with PDK) and Porsche says it will accelerate from standstill to 100 kph in just 3.4 seconds.
Impressively, this engine can rev all the way to 9 000 rpm. Porsche says this motor is based on the drivetrain of the 911 GT3 R, the trophy-winning endurance racecar. There's an adjustable exhaust that complies with the latest emissions standard.
The key changes here are the aerodynamics, where Porsche has used its motoring racing experience to enhance downforce without affecting the drag coefficient. When in aerodynamic mode, the manually-set wing and diffuser elements significantly increase the aerodynamic pressure for high cornering speeds. Physically, the new Porsche 911 GT3 has a wider body and larger wheels, but its weight is near identical to that of the predecessor.
Naturally Porsche took its new product to the Nurburgring Nordschleife track where the all-new 911 GT3 was over 17 seconds faster than the outgoing model. The final time? 6:59.927 minutes for a full 20.8-kilometre lap with development driver Lars Kern behind the wheel. For those who are interested, the car was riding on the optional Michelin Pilot Sport Cup 2 R tyres.
Inside, the new Porsche 911 GT3 features a track screen, which reduces the digital displays to the left and right of the central rev counter, which reaches up to 10,000 revs, to information such as tyre pressure indicator, oil pressure, oil temperature, fuel tank level and water temperature, which are essential when driving on the circuit.
As far as pricing and availability goes, the first European deliveries are scheduled for May 2021. South African availability is from last-quarter 2021. Pricing to be confirmed.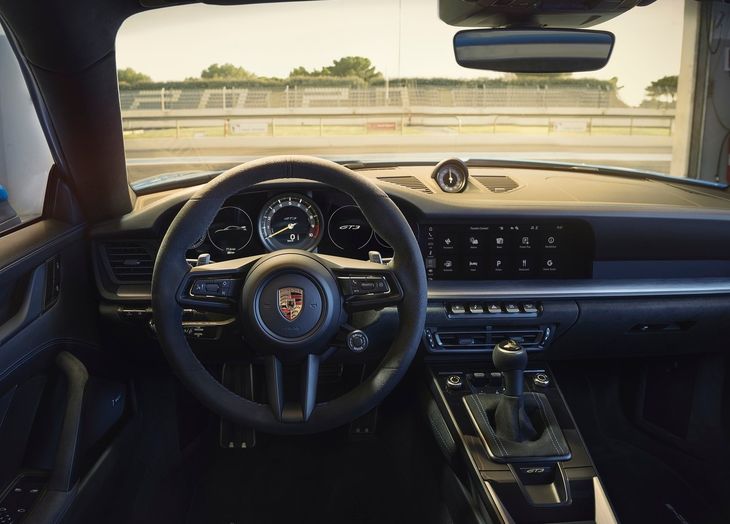 Further Reading
Time-testing the new Porsche 911 Turbo S : Can it beat Porsche's claimed times?
Porsche 911 GT3 RS (2020) Review
Porsche GT3 RS Weissach Review - Is this the best road-going racecar ever?